Guide For Animal Pellet Feed Machine
What is pellet machine for animal feed?
The feed pellet machine belongs to the feed making equipment, and is a feed processing machine that directly compresses the pellets from the crushed materials of corn, soybean meal, soybean, wheat, straw, grass, rice husk and other raw materials. It is usually used in conjunction with animal feed hammer mill crushers, animal feed mixers, pellet coolers, screening machines, packaging machines, pellet crumblers and other feed equipment.
With the goal of building a global strategy, RICHI actively promotes technology, management, and service innovation, optimizes business and service models, cultivates a large number of high-quality and compound talents that adapt to global business development, and creates a team of experienced and skilled services participates in the cooperation and competition in the global market on a larger scale, in a broader field and at a higher level, and continuously enhances the international competitiveness of the enterprise, and helps the national industry to move forward by leaps.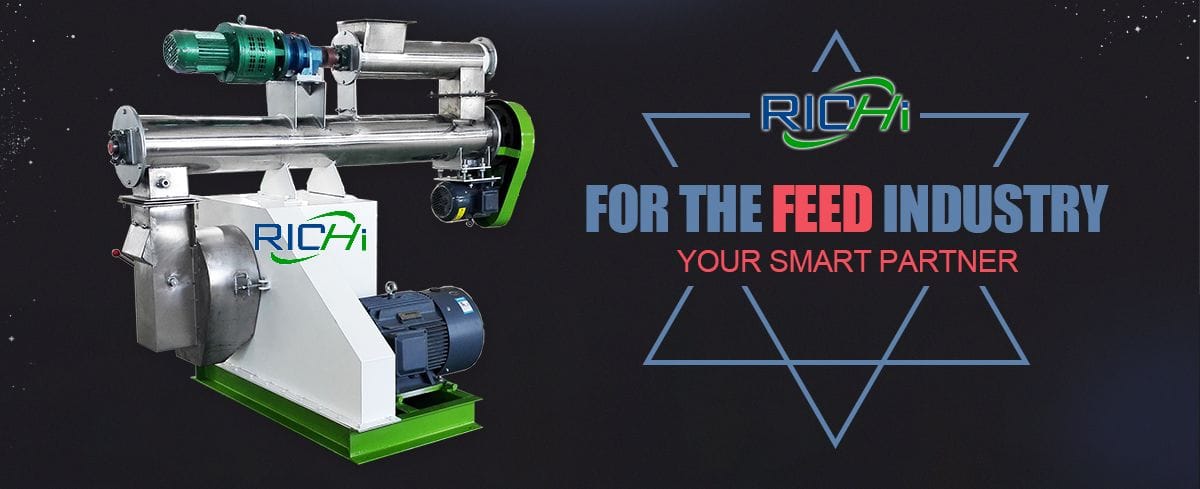 Classified by animal species, common ones are: poultry feed pellet machine, chicken feed pellet machine, pellet machine for cattle feed, pellet machine for fish feed, etc.
Classified by pellet machine output: 1t/h, 2t/h, 3t/h, 4t/h, 5t/h, 10t/h, 15t/h, 20t/h, 25t/h, 30t/h, 40t/h, etc.
Classified by conditioner: one-layer conditioner, two-layer conditioner, three-layer conditioner, etc.
Classified by voltage: single-phase electricity , two-phase electricity, three-phase electricity.
How to make a feed pellet machine?
Feed pelleting is the process of compacting powdered feed, extruding the die hole, and forming pellet feed. Before this, the conditioning process is indispensable, and conditioning needs to be a process of high-humidity, high-temperature, and mechanical comprehensive treatment of feed. The purpose is to make starch gelatinization, protein denaturation, and material softening, so as to facilitate granulation and improve the quality of granules, and improve the palatability of feed and increase its digestibility.
Through proper conditioning, the granulating ability of the feed granulator can be improved, harmful germs can be killed, and the quality of granular products can be improved, especially the hardness, durability and water stability of aquatic feed. Therefore, the production of feed pellet machine requires comprehensive industrial design, mechanical design and other multi-disciplinary expertise. Generally speaking, without professional mechanical knowledge and nutritional knowledge of feed, it is impossible to manufacture high-quality feed pelletizers.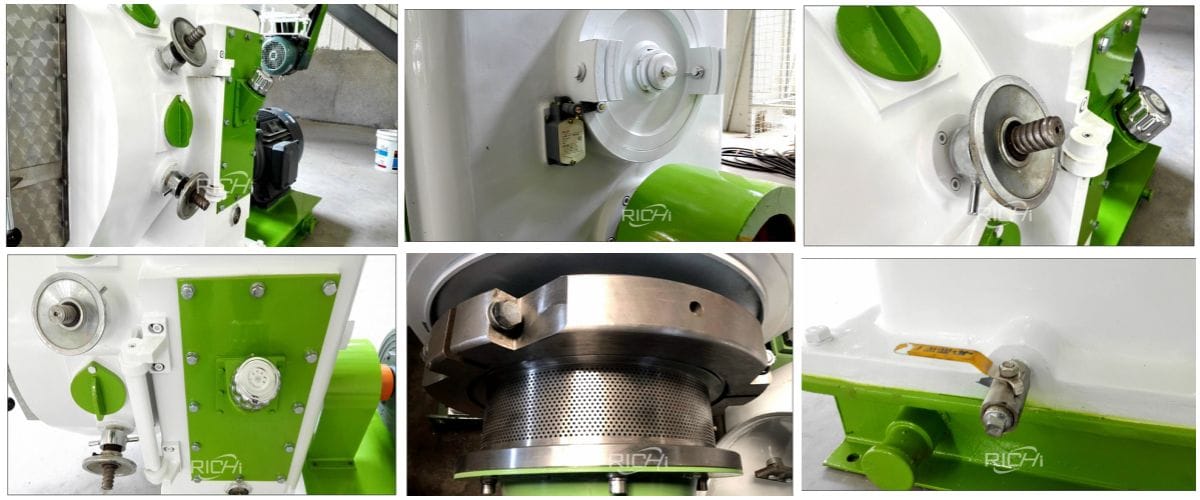 How does a feed pellet machine work?
The pellet machine for animal feed is composed of several different machines designed to most efficiently accomplish the pellet manufacturing plants' pelleting production. A ring die feed pellet machine is composed of a screw feeder, conditioner, roller and ring die, discharge port, electric motor, gearbox, pedestal.
After the feed has been mixed and before going to the machine it should go through a scalper. This removes everything such as metal (ferrous and non-ferrous), stones, string, paper, wood, feed lumps and gives a dressed feed into the bin above the machine. A pelleting machine is not designed to pellet these materials, let alone the animal stomach to digest them. The pelleting process starts with a bin in which the mixture of mash is stored. From there, the mash will flow by gravity into the feed pelletizer.
This pelletizing machine is usually located on the ground or main work floor level. The hot, extruded mash (pellets) flows by gravity into a cooler where it is held for three to six minutes while being cooled and dried by a flow of air. The air is drawn through the mass of pellets and passed into a dust collecting device, such as a cyclone collector. The dust from the outlet of the collector is returned to the machine to again be compacted into a pellet feed.
How much does a feed pellet machine cost?
Feed pellet making machine is used to process animal poultry, livestock, ruminant and aquatic feed pellets. It can both be utilized by feed mills, animal farms and those who want to make feed pellets for sale.
Model: SZLH250, capacity: 1-2t/h, price: 7000-10000 USD
Model: SZLH320, capacity: 3-4t/h, price: 15000-20000 USD
Model: SZLH350, capacity: 5-7t/h, price: 20000-30000 USD
Model: SZLH420, capacity: 8-12t/h, price: 30000-40000 USD
Model: SZLH508, capacity: 10-18t/h, price: 40000-60000 USD
Model: SZLH558, capacity: 15-25t/h, price: 60000-70000 USD
Model: SZLH678, capacity: 20-30t/h, price: 70000-80000 USD
Model: SZLH768, capacity: 25-40t/h, price: 80000-90000 USD
Model: SLZH858, capacity: 25-42t/h, price: 90000-100000 USD
What is fish feed pellet machine?
The Fish Feed Pellet Making Machine is one of the offered model of feed machines, which can prepare many type of fodder such as aquaculture fodder and fishery fodder - Fishes, Shrimps, Crab, Eel, Catfish, etc.


Advantages of RICHI pellet machine for fish feed
1. High output and long service time
Produce both sinking and floating fish feed. Service time of the die with hole diameter Ø1.8mm is up to 8500t, with continuous production of 2500h and output of over 4.5t.
2. High-quality fish feed
Double-layer or three-layer conditioner and double-shaft differential conditioner. Optional hygienic conditioner, better maturing performance. The reverse opening structure and improved cutter make the cutting more convenient and improve the quality of feed incision.
3. Advanced structure and smooth operation
Equipped with pneumatic external discharging structure, realize automatic external discharging when it is blocked or overloading of the main motor current. The improved feeding scraper divides material into two pressing areas, ensuring smooth discharging and stable operation.
What is pellet feed?
Pellet feed refers to the pellet feed obtained by pressing the processed powdered compound feed through a pellet machine for animal feed. Compared with powdered feed, pellet feed has many advantages, which can be summarized in 5 aspects: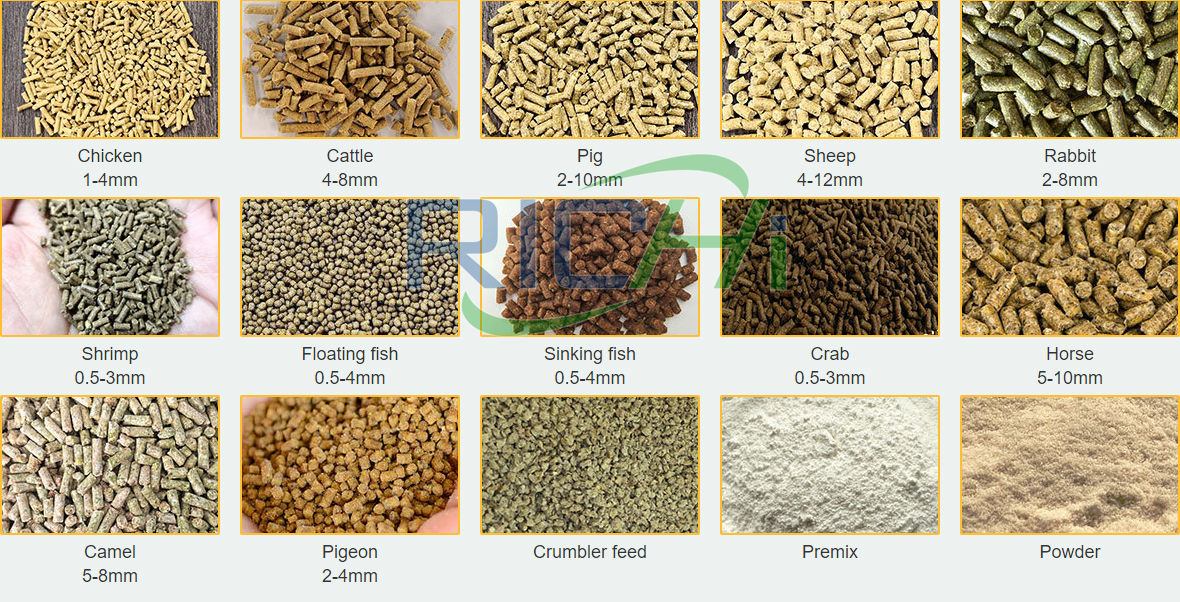 First, in the pellet granulator machine granulation process, under the combined action of water, heat and pressure, starch is gelatinized and cracked, and the structure of cellulose and fat is changed, which is conducive to the full digestion, absorption and utilization of livestock and poultry, and improves the feed Digestibility. Steam high temperature sterilization reduces the possibility of feed mildew and insects and improves the palatability of feed.
Second, the nutrition is comprehensive, and the animals are not easy to picky eaters, which reduces the separation of nutrients and ensures the daily supply of balanced feed.
Third, the volume of the pellets is reduced, which can shorten the feeding time and reduce the nutritional consumption of livestock and poultry due to feeding activities; it is easy to feed and save labor.
Fourth, it is small in size and not easy to disperse. It can store more products in any given space, is not susceptible to moisture, and is convenient for bulk storage and transportation.
Fifth, in the process of loading, unloading and transportation, the various ingredients in the feed will not be classified, and the uniformity of the trace elements in the feed will be maintained to prevent the animals from picky eating.
Although pellet feed made by animal feed pelleting machine has many advantages, its cost is higher than that of similar powdered feed, and it should be selected according to the actual production situation when purchasing.
Where to buy fish feed pellet machine in Nigeria?
In recent years, with the development of Nigeria's aquaculture industry, more and more Nigerians have participated in relevant training in fish farming, and the number of people engaged in aquaculture has increased.
According to the Nigerian Institute of Oceanography, Nigeria has a population of more than 200 million. It is a country with a large population and residents have a huge demand for aquatic products. The development of the aquaculture industry will improve the level of the agricultural value chain and benefit the country.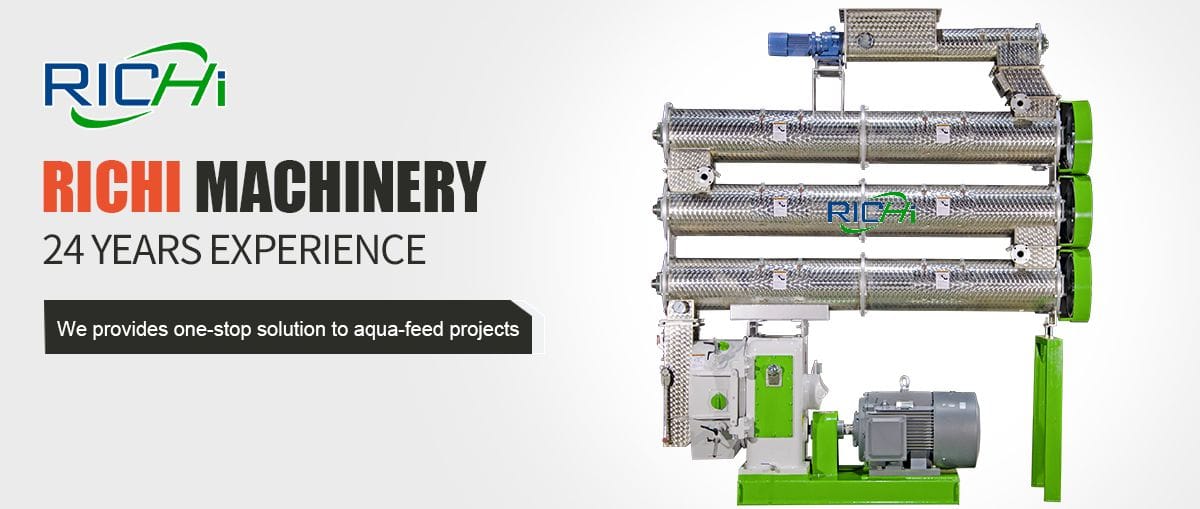 To help fish feed plants and fish farmers provide balanced fish feed pellets at a bargain price. As a professional feed machine manufacturer from China, we have launched a series of pellet machine for animal feed with reasonable prices and high quality according to the local market conditions, including fish feed pellet machines, feed mixers, feed crushers, feed dryer, pellet cooler, packing machines , etc.
Fish feed can be divided into sinking fish feed and floating fish feed according to their buoyancy. In Nigeria's fish farming industry, there is a great demand for fish feed. Therefore, pellet machine for fish feed demand in the fish farming industry is huge. Thanks to government support and local abundant raw materials, fish feed production is a profitable business in Nigeria.
The main steps of fish feed pellet production in Nigeria are as follows:
Collect raw materials such as corn, cowpea, peanuts, melon, potatoes, cassava, etc.
Clean the materials, remove impurities, and grind the raw materials into powder with a feed hammer mill.
The powdered raw material is put into a fish feed pellet machine to make feed pellets for fish.
The finished feed pellets are cooled and dried in a cooler and dryer or in the sun, and then these pellets can be fed directly to the fish.
Pack feed pellets with packaging machine (optional).
How to make pellet feeds?
The following processing procedures are complete animal feed pellet manufacturing process, but not all sections are required in practical production. The exact animal feed pellet production process are strictly designed by combining requirements of feed pellets type, investment cost, capacity and others.
1. Raw Material Reception and Storage
Animal feed raw materials vary, they include: long material like crop straw, grains like wheat, maize, and others like oil cake/meal, additives, etc. different raw materials have different storage methods. For example, in complete animal feed pellet line of large capacity, storage silo is necessary for storing maize, wheat, and other grains.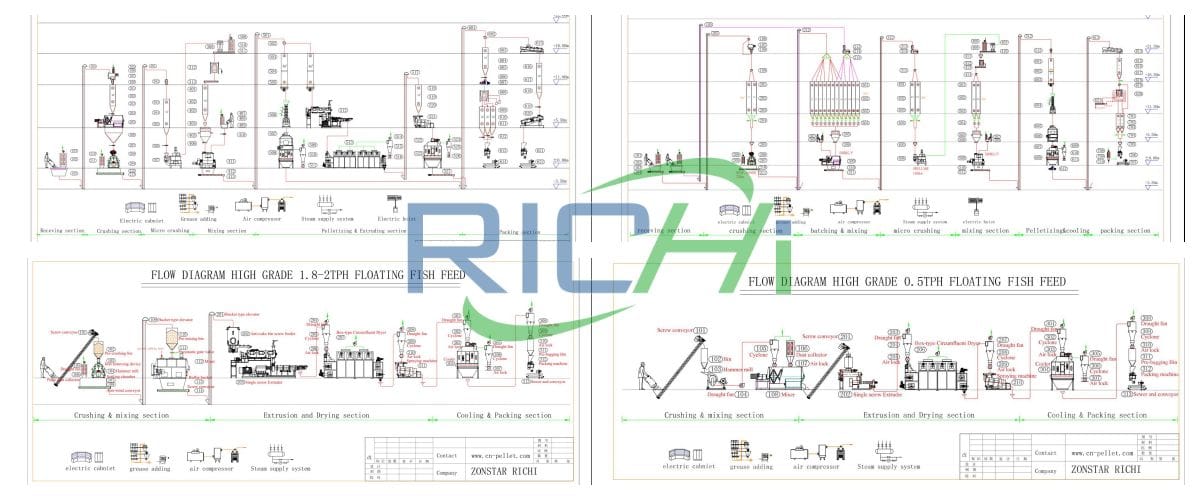 2. Feed Material Cleaning
The impurities in feed raw materials not only affect the quality of feed pellet products, but also directly relate to the feed processing machines and personal safety. In serious case, the whole equipment can be destroyed, which impacts the smooth progress of the pellet feed production, so the impurities must be removed in time. The cleaning equipment of the feed pellet production line is based on screening and magnetic separation equipment. Screening equipment is used to remove large and long impurities such as stones, mud blocks and sacks. The magnetic separator is mainly used to remove iron impurities.
3. Feed Raw Material Crushing
The technological process of feed crushing is determined according to the required fineness and the variety of feed. Animal feed hammer mill is the most commonly used feed making machine in this process.
4. Feed Material Batching Process
At present, the commonly used batching processes include manual batching, automaitc batching. Manual batching is mostly utilized in small feed pellet plant ; automaitc batching is mostly utilized medium and large scale feed factory.
5. Feed Mixing Process
There are 2 feed mixing methods: batch mixing and continuous mixing. Batch mixing is to blend all the components together according to the proportion of the formula, and mix them in the periodically running "batch mixer". This mixing method is convenient for replacing feed formula, and the intermixing between each batch is less, so batch mixing is commonly applied at present. However, as the start and stop operation is complex, the automatic program control is mostly used.
The continuous mixing process is a continuous measurement of all kinds of feed components at the same time respectively and proportionately matched to a stream containing various feed components. When the stream enters a continuous mixer, it is mixed continuously into a uniform flow of material. The advantage of this process is that it can be carried out continuously, easily with granulation, so the production does not need to operate frequently. but when changing feed formula, the adjustment of the flow is more troublesome and the material residue in the continuous conveying and continuous mixing equipment is more, so the intermixing problem between the two batches of feed is more serious.
6 Feed Pelletizing
In animal feed factory, feed material conditioning (tempering) is necessary, so ring die feed pellet machine is usually equipped with a conditioner on the top. The conditioning result directly influences feed pellets quality. The purpose of conditioning is to add water to the feed powder to let it has certain moisture content. After conditioning, the feed material is distributed evenly between the roller and ring die, so the feed pellets are pressed out through ring die holes, cut and discharged.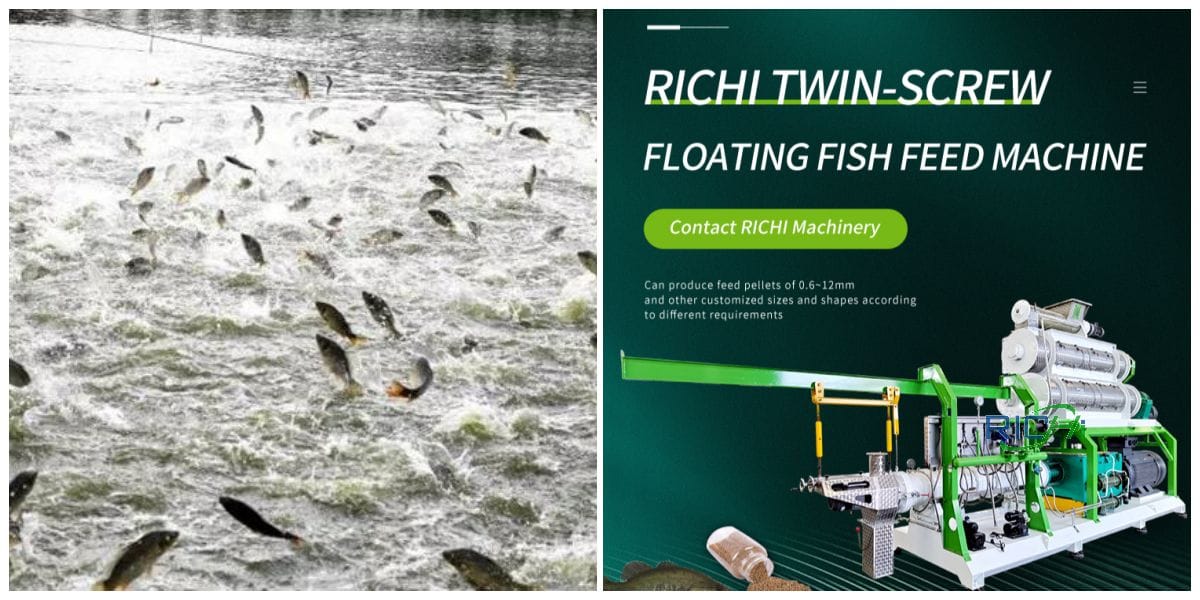 7. Feed Pellets Cooling
As in the process of pellet machine for animal feed, the feed is input high temperature and humidity steam, and the squezzing process generates great heat, so the feed pellets moisture content can reach 16-18%, and temperature reach 75 ℃-85 ℃. Under this condition, the feed pellets are easily deformed and broken, and would bond and mildew in storage, so it is necessary to use feed pellet cooler to reduce their moisture to below 14% and decrease the temperature to below 8 degrees Celsius.
8. Feed Pellets Crumbling
For making animal feed pellets of small size, crumbling is also necessary. In order to save electricity, increase the output and improve the quality, the feed material is often made into a certain size pellets in order to save electricity, and then broken into required smaller pellet size. But it is not a must for all feed mills.
9. Feed Pellets Screening
In feed pellet processing line, the pellet sieving machine is also needed, since it can separate the powder from eligible feed pellets, so that uniform feed pellets can be deliver to later packaging process, and the powder or uneligible feed pellets can go back for reproduction.
10. Feed Pellets Packaging
Produced feed pellets are weighted and packaged for sale on the market.
How to make feed pellets at home?
Small feed pellet machine is generally a type of flat die pellet mill that is relatively small in the output capacity when compared to ring die feed pellet machine. It can be used for farm use, home use. More important, this small feed machine price is cheap, ranging from a few hundred dollars to a few thousand dollars.


Low cost, convenient operation and maintenance.
All parts are made from wear-resisting materials and processed by advanced facilities.
It covers a small area, high yield, energy-saving and environmental friendly.
Various power sources are available: electric motor, diesel engine, PTO, gasoline engine, you can choose according to your own needs.
What is the difference between ring die pellet machine and flat die pellet machine?
The pellet machine for animal feed is divided into two types: flat die type and ring die type. The production capacity of the ring die pellet machine is faster, and the hardness of the pellets is stronger than that of the flat die. In addition, there are many ring die type pelleting machines has many models and strong selectivity, any materials can be processed. It mainly depends on your scale. For large scales, ring die pellet machines are required. For small scales, flat die pellet machine can be considered.
As for the model, you have to consider how much it can produce per hour, how much feed you consume per day, and whether to increase your production scale in the future, and you are deciding which model to use. The machines range from hundreds of kilograms per hour to dozens of tons per hour, with great selection.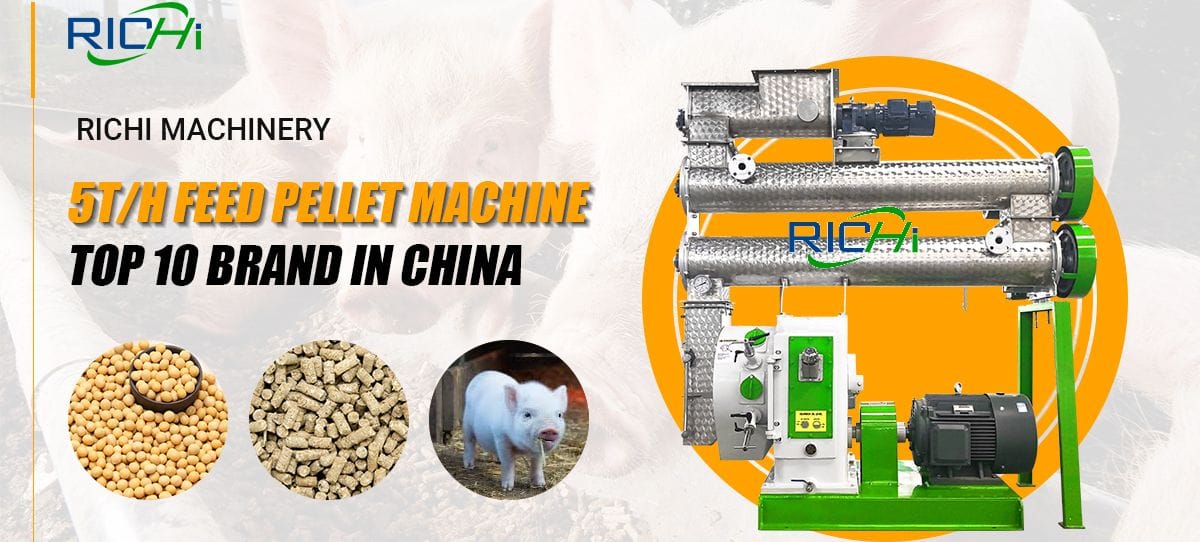 The difference between flat die pellet machine and ring die pellet machine:
1. Feeding method: The ring die pellet machine adopts mechanical forced feeding, high-speed rotation and centrifugal distribution into the granulating chamber, and the scraper is used to distribute the material, and the feeding is uneven; the flat die pellet machine relies on the weight of the material to enter vertically The pressing room can feed evenly.
2.Pressure: In a mold with the same diameter, the diameter of the ring die pressing wheel is limited by the diameter of the ring die, and the pressure is not adjustable. When pressing coarse fiber materials, it is difficult to form under the pressure of the machine design, even if it is formed. Due to the overload work, the machine wears a lot, the die roller skin needs to be replaced in time, and the die can only be used once, and the follow-up cost is very high; the flat die pellet machine adopts three conical press wheels with a complete steel structure, and there is a strip in the middle.
The large shaft is equipped with a specially heat-treated mold underneath. The rotation of the mold drives the rotation of the three pressing wheels above. The pressure is adjustable, the output is stable, the particle density is high, and both sides of the mold can be used. In addition, the diameter of the flat die press wheel is not limited by the diameter of the die, and the internal shaft space can be enlarged. Large bearings are used to enhance the bearing capacity of the press wheel, increase the pressing force of the press wheel and extend the service life.
3. Discharge method: ring die belongs to high rotation speed, and the damage rate is lower when the material is discharged; while flat die belongs to low rotation speed, and the damage rate is lower.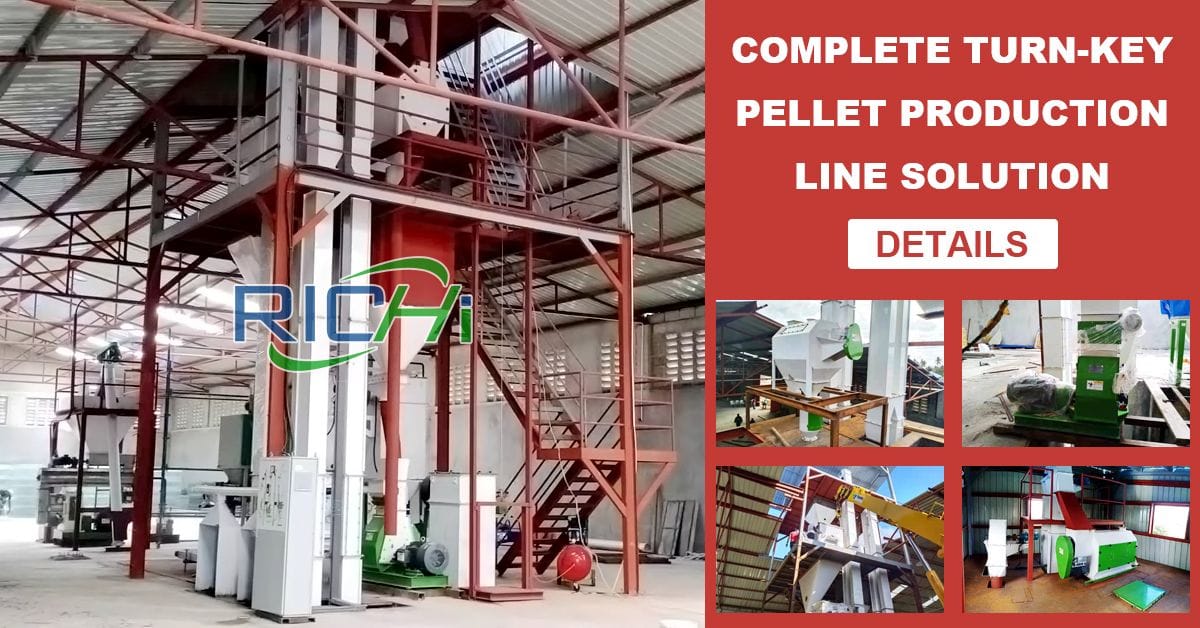 4. The pressure wheel adjustment method: If the ring die pellet machine uses two screws on the eccentric wheel in the middle of the press wheel to adjust the pressure; the flat die pellet machine adopts the threaded screw center adjustment mechanism, and the falling is stable and the pressure is uniform.
From the above comparison, we can see that the concentrate raw materials are generally corn and soybean meal, etc., which are highly viscous and easy to form, and can be formed without a lot of pressure. The ring die pellet machine is indeed a good choice in suppressing feed concentrates. For high-temperature granulation of wood chips, straw, grass meal, waste tires, and other difficult-to-form crude fibers, and the granulation of organic fertilizers such as municipal solid waste, sewage treatment, and animal manure, the ring die pellet machine is still the best choice. If you want to choose a flat die pellet machine for animal feed, it is usually a very small application, such as home use.