Applications Of Waste Tire Pellet Machine
Waste tire pellet machine, also known as waste tire rubber pellet machine, waste tire textile cord pellet machine, is a combination of two processes of tire decomposition and crushing to process waste tires into pellets. Rubber pellets have extremely high utilization value and rich profits. They are widely used in rubber floor tiles, recycled rubber plants, and waterproof coils. Factory, rubber runway, rubber products factory, etc., this equipment can be tested on the spot to provide sales.
Operation process: waste tires → Circle cutting machine → Slitting machine → Slicing machine → Conveyor → Coarse crusher → Conveyor → Medium crusher → Conveyor magnetic separator → Particle machine → Cyclone magnetic separator → (Screening machine) → Inspection → Warehouse.
1. The main drive adopts high-precision gear transmission, and the ring die adopts quick-release hoop type. The output is about 20% higher than that of belt drive type.

2. High quality imported bearings and oil seals are selected in the transmission part of the whole machine to ensure high efficiency, stability and low noise.

3. Strengthen and lengthen hardening conditioner with large open door for cleaning.

4. Compensation snake spring coupling with advanced international level has novel structure, compact, safe and low fault performance.

5. Increase efficiency and high output. High degree of automation, strong applicability.

6. Frequency conversion feeding can be used to effectively prevent the uneven feeding caused by voltage instability.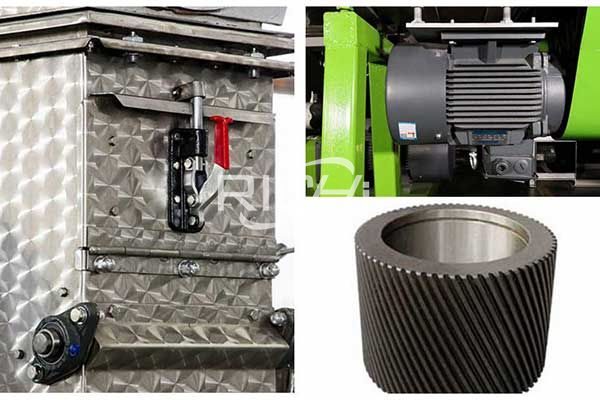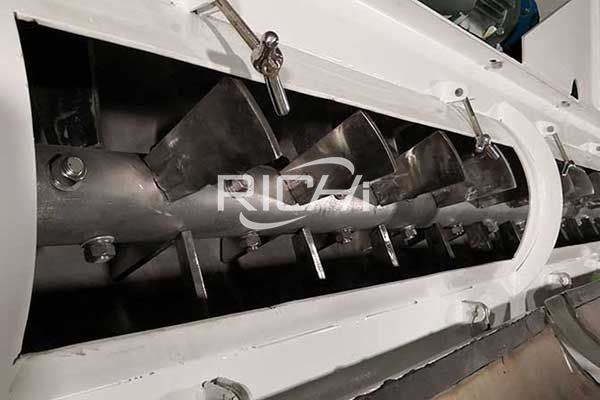 Working Principle Of Waste Tire Pellet Machine
Waste Tire Textile Cord Pellet Machine is the third step in the who tire recycling step. At this step, wire free mulch (10-20mm rubber ) is processed from rasper into the granulator, which grinds further into 1-5mm granules. The granules are rescreened and re-circulated until the desired size is reached. During the crumb rubber granulation process, 99.9% of the fiber is removed.
| | | | | | | |
| --- | --- | --- | --- | --- | --- | --- |
| Model | MZLH320 | MZLH350 | MZLH420 | MZLH520 | MZLH768 | MZLH858 |
| Capacity | 300-400kg/h | 500-700kg/h | 1.0-1.2 t/h | 2.0-2.5 t/h | 2.5-4 t/h | 3-4.5 t/h |
| Power | 37kw | 55kw | 90kw | 110/132kw | 250/280kw | 280kw |
| Final Pellet | 6-12mm | 6-12mm | 6-12mm | 6-12mm | 6-12mm | 6-12mm |
| Weight | 2500kg | 3500kg | 4000kg | 4500kg | 5000kg | 5500kg |
| Dimension | 22200*900*1300mm | 2500*1100*1600mm | 2800*1150*1730mm | 3000*1260*1860mm | 3300*1500*2000mm | 3500*1600*2180mm |