Applications Of Grass/Alfalfa Pellet Machine
Uses: Green grass-like granules with alfalfa as the main raw material and pressed by a granulator are 20㎜-30㎜ in diameter and 6㎜-8㎜ in diameter. The density is 600-1200㎏ / m3, which is 2 to 2.05 times that of loose grass powder. Can reduce the contact area with air, reduce oxidation, and facilitate transportation and storage.
Feeding objects: cattle, sheep, rabbits and other fish.
1.RICHI grass/alfalfa pellet machine, the support bar and main shaft are forged together, keep uniform gap between roller and ring die, ensure high efficiency. Increased forced feeding device, output increases 10-12%.

2.Add oil when starting up, user can set the adding oil volume and period according to the case, avoid wrong operation hurting the machine. Stainless steel gate, long durability.

3.Pneumatic fast discharging gate, avoid burning the motor or damage the equipment.

4.Forged bearing, long durability.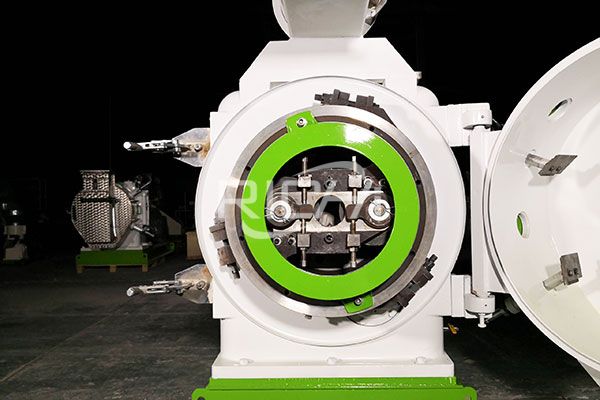 Working Principle Of Grass/Alfalfa Pellet Machine
The pellet machine is the main equipment in the production line to make pellets, it compress the dry finely pulverized material and transform them into a cylinder shape pellet at a temperature of 80 degree. The raw material is delivered into the pallet machine though the conveyor and then transferred into a rotating ring die by a feeder. Finely pulverized material will be pressed into ring die through two press rollers. The resulting pressure compresses the material and extrudes it through the holes in the die.
| | | | | | | |
| --- | --- | --- | --- | --- | --- | --- |
| Model | MZLH320 | MZLH350 | MZLH420 | MZLH520 | MZLH768 | MZLH858 |
| Capacity | 300-400kg/h | 500-700kg/h | 1.0-1.2 t/h | 2.0-2.5 t/h | 2.5-4 t/h | 3-4.5 t/h |
| Power | 37kw | 55kw | 90kw | 110/132kw | 250/280kw | 280kw |
| Final Pellet | 6-12mm | 6-12mm | 6-12mm | 6-12mm | 6-12mm | 6-12mm |