Applications Of Sunflower Seed Shell Pellet Granulator

Sunflower seed shell pellet granulator is also called sunflower seed shell pellet mill machine. It is the solidification and forming equipment which processes sunflower seed shell, peanut shell, straw, forest harvesting residues and other various as biomass energy fuel materials into fuel blocks through dust removing, compression and shaping processes. After the suppression, the bulk fuel has small volume, high density, easy storage and transportation, and the unit area value of combustion will be increased by more than ten times. The sunflower seed shell pellet pelletizer maker produced by richi machinery is also suitable for other raw materials, such as peanut shell pellets, walnut shell pellets, palm shell pellets, and so on. Our products have been sold to 113 countries and regions.
Applied Materials: It is suitable for pressing materials which are difficult to bond and form, such as sunflower seed shell, rice husk, peanut shell and other melons shell; tree branches, tree rod, etc. various kinds of wood bark waste; all kinds of crops straw; rubber, cement, slag and a variety of chemical raw materials.

The pressing roller adopts bevel wheel. The ends are in line with the mold plate and the outer ring line speed, which will not appear dislocation friction of wheel and the mold to reduce the resistance, the kinetic energy loss and prolong the service life of the die, which is the significant difference with the similar compressed and forming equipment.

Application Fields: Feed factory, wood processing plants, fuel plant, fertilizer plant, chemical plant, biomass power plant, etc.

The new automatic cooling technology effectively enhances the discharging speed, improves the capacity of 10%, prolongs the service life of the ring mould and reduces 20% of the production cost of particles.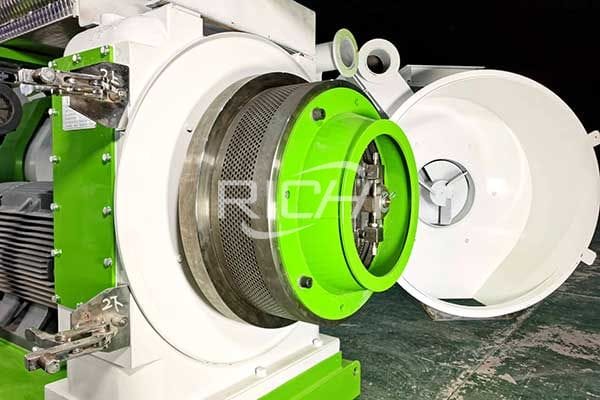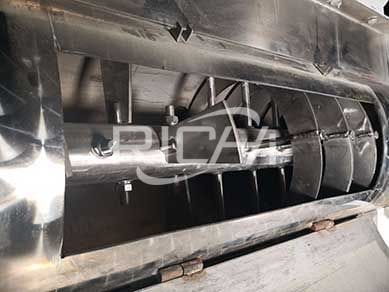 Working Principle Of Sunflower Seed Shell Pellet Granulator
How to Make Sunflower Seed Shell into Pellets?
1. Crushing process
This process is to crush the sunflower seeds hull into fibrous pieces in order to be better pelletized.
2. Pelletizing process
This process is to grind the fibrous piece to pellet with 6mm,8mm,10mm and 12mm size, which is the core part of the whole production line. Before pelletizing, it needs to pick out iron, stone etc. our company adopts the most advanced ring die sunflower seeds hull pellet machine to pelletize, which features minimum energy consumption, minimum wearing, maximum stress and wide application. What's more, it has lowest sensitivity to different materials.


How to Make Sunflower Seed Shell into Pellets
3. Cooling process
The discharged pellets have the temperature of 70-90 degree, which is unable to be packed. The cooling machine will make the temperature reduce to minis or plus 5 degree with room temperature. And then the cooled pellets are packed. This process uses counterflow cooling machine, which features good dust cleaning and short cooling time.
4. Screening process
During pelletizing, cooling and conveying process there will produce some powder for collision. So it needs to use vibrant screening machine to separate the unqualified pellets to achieve the requirement of the packing.
5. Packing process
The final pellets need to be packed, and then sold to customers. It usually uses bags and tons bags. This process packs according to customer's requirement. The packing machine is automatic, which features large capacity, less labor and less packing cost.
Advantages of Sunflower Seed Shell Pellets
These sunflower seed shell biofuel pellets have the following advantages:
● High calorific value of 4.3-4.5 kW/kg, which is similar to coal, and is 1.6 times more than wood. When 1,000 kilograms of them are produced, they release the same heat energy as the burning of 685 liters of fuel oil, or five hundred liters of diesel oil or 479 m3 of natural gas, or 1,600 kilograms of wood.
● Extremely tough, their durability index is 18, and that makes them even harder than an olive cake. Plus, they transport easier and are very uniform in shape and weight.
● Inexpensive: If compared to other fuels, they are cheaper than gas, coal or fuel oil, therefore they are very efficient if you want a solid fuel.
● Ecofriendly: they are ecofriendly and only release the same CO2 levels as is done when biomass decomposes naturally. That means zero emission of CO2 gas. Plus, no dangerous or cancer-causing material is put out while burning them or storing them.
Sunflower seed shells can now be used to make biofuel mass pellets. These pellets have been used for fuel in power plants in the UK and Poland. They are made by compressing the shells into cylindrical shaped pellets. They range from ten to 30 millimeters long and from six to ten millimeters wide and have a density level of 1.2 kilograms for each 1,000 cubic meters and have eight percent moisture.
| | | | | | | |
| --- | --- | --- | --- | --- | --- | --- |
| Model | MZLH320 | MZLH350 | MZLH420 | MZLH520 | MZLH768 | MZLH858 |
| Capacity | 300-400kg/h | 500-700kg/h | 1.0-1.2 t/h | 2.0-2.5 t/h | 2.5-4 t/h | 3-4.5 t/h |
| Power | 37kw | 55kw | 90kw | 110/132kw | 250/280kw | 280kw |
| Final Pellet | 6-12mm | 6-12mm | 6-12mm | 6-12mm | 6-12mm | 6-12mm |