Overview of 1-2tph advanced small poultry feed plant for sale Angola
Maybe this is the first time you see an Angola poultry feed plant project on Richi Machinery's website, but as a feed equipment manufacturer that has exported to more than 120 countries, it is impossible for Richi Machinery to give up Angola, a very promising market.
The 1-2tph advanced small poultry feed plant project is also very memorable for RICHI, because this is the first complete poultry feed plant project that Richi Machinery has done in Angola, and we have also successively signed 1-1.2TPH biomass pellet plant projects, PLC control 3-5T/H & 5-7T/H feed processing plant project, etc.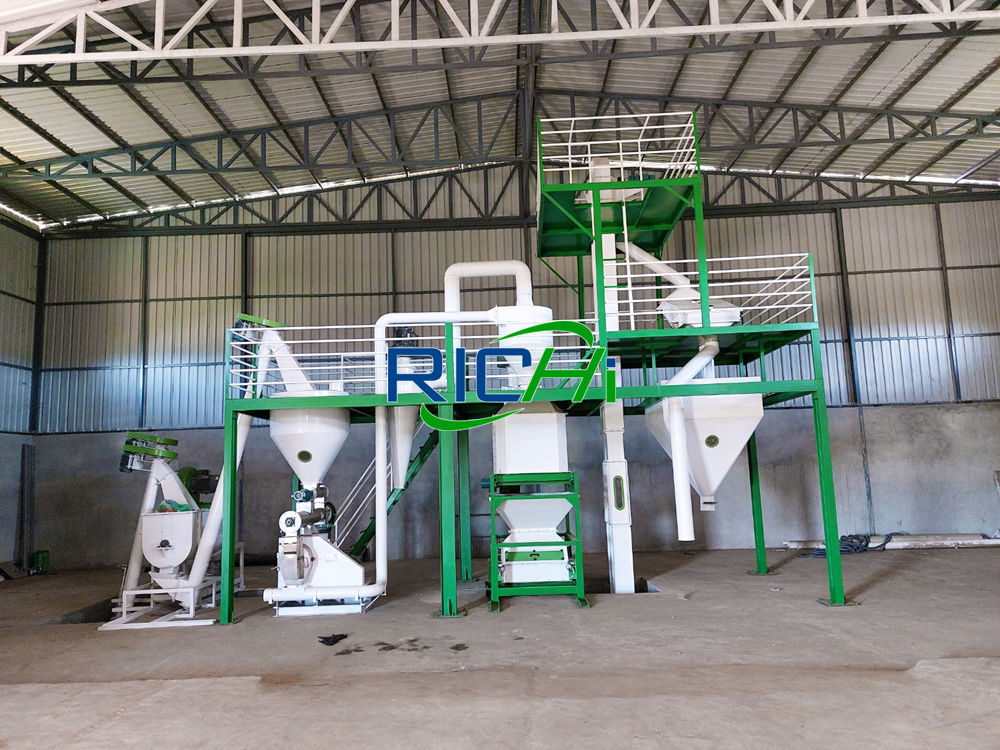 This 1-2tph advanced small poultry feed plant project is a complete turnkey project with a very complete chicken feed production process. It can be said that the poultry feed making equipment configuration of this poultry feed project is the top configuration of the 1-2t/h poultry feed mill plant.
Although the output does not seem to be large, this is a chicken poultry feed plant for commercial use, and all feed processed in this small scale poultry animal feed mill machine project will be used for sales.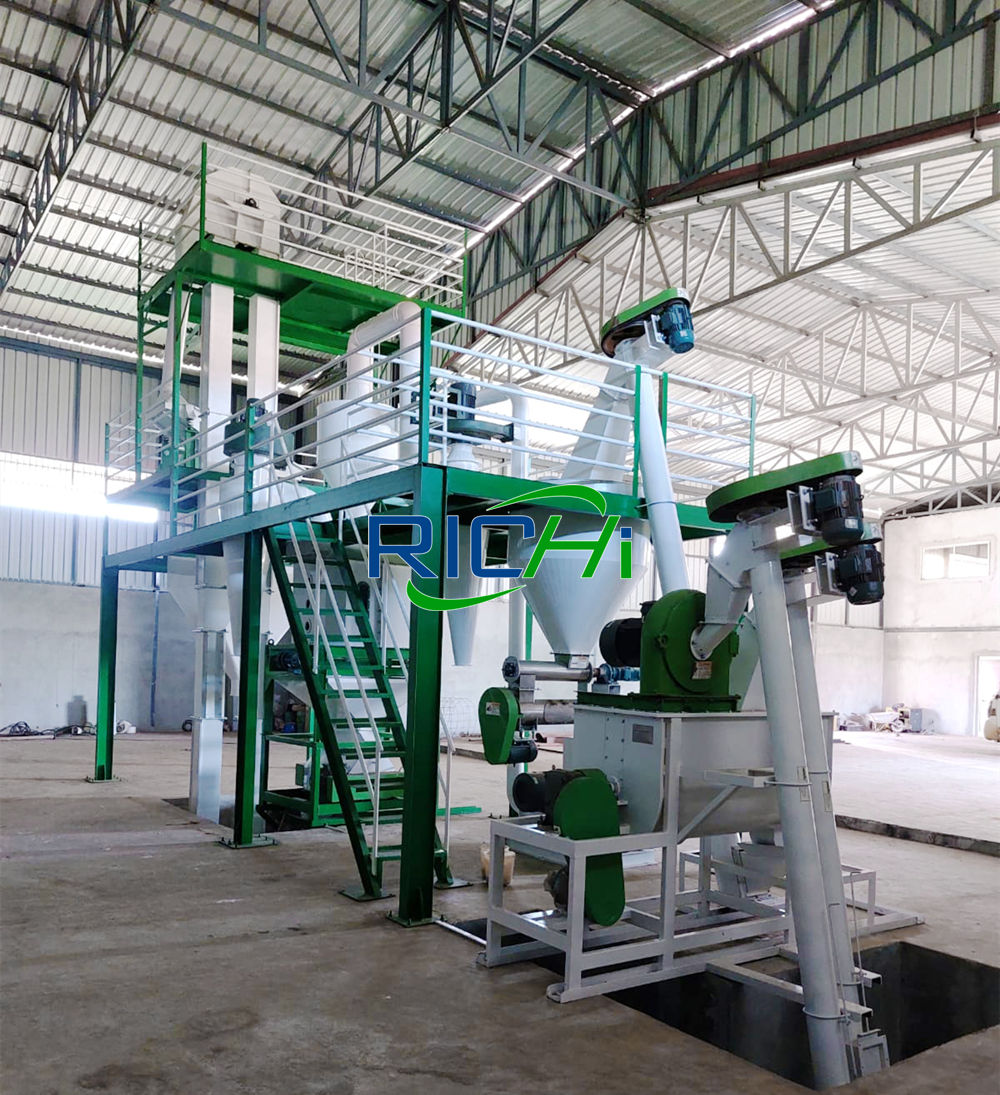 In addition, according to the client, this poultry chicken feed production line project is his first investment in feed processing business, but he wants to make the poultry feed equipment quality, installation quality, civil construction quality and other aspects of this poultry feed production plant excellent.
After getting a stable return on investment, he will also expand the output of this poultry feed production plant, because according to his inspection, he sees the field of chicken feed processing very much, and already has a good sales channel.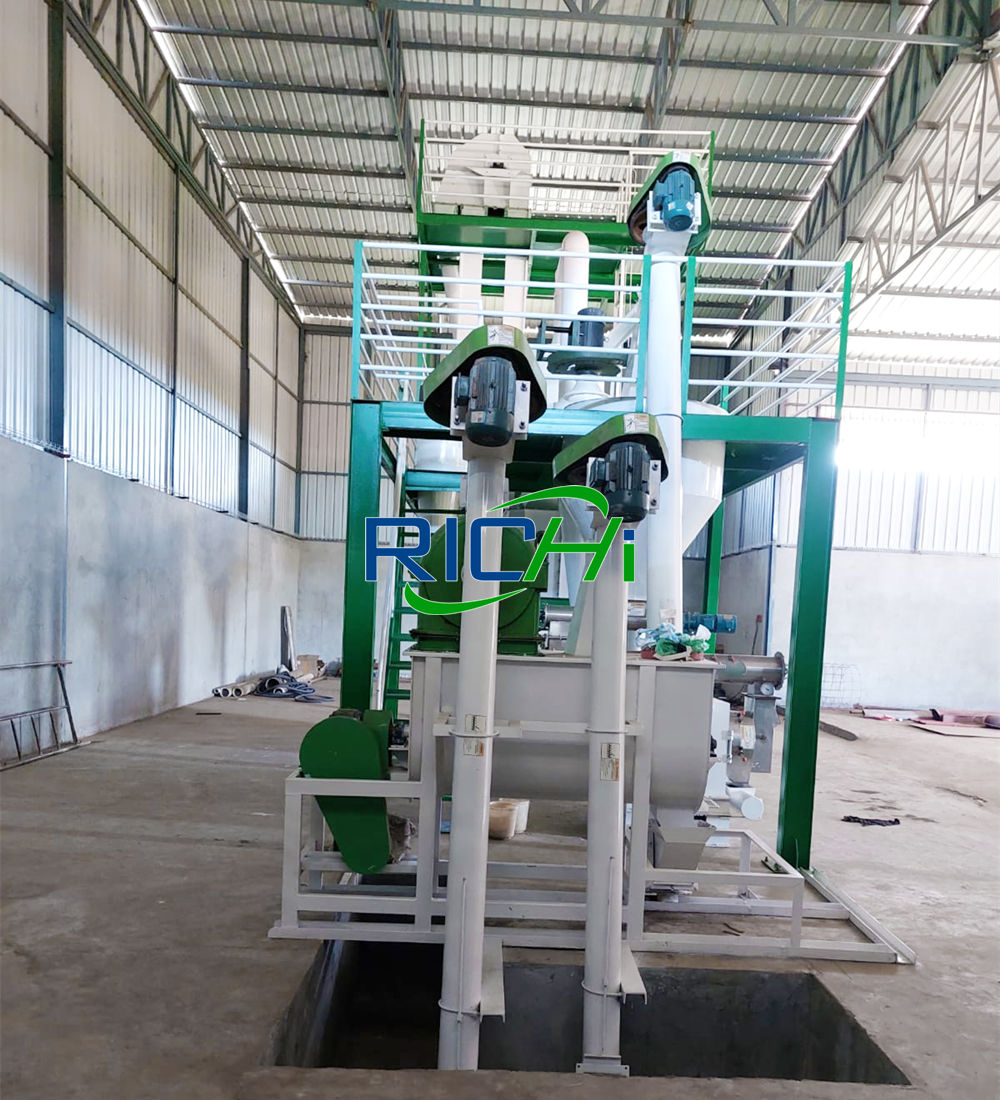 The 1-2 tonne per hr poultry feed plant is specially designed for meeting the demand from our Angola client, which can process the poultry chicken feed pellets with the size varying from 1.5 mm to 4 mm based on the requirement of the Angola customer.
It is mainly used for making chicken feed pellets different growth stages. Generally speaking, 1-2t/h production lines are mainly built in poultry farms and small poultry chicken feed factories, and for investors to start poultry feed production business.
Angola 1-2tph turnkey project poultry feed mill plant layout
01
1-2T/H poultry feed manufacturing process flow chart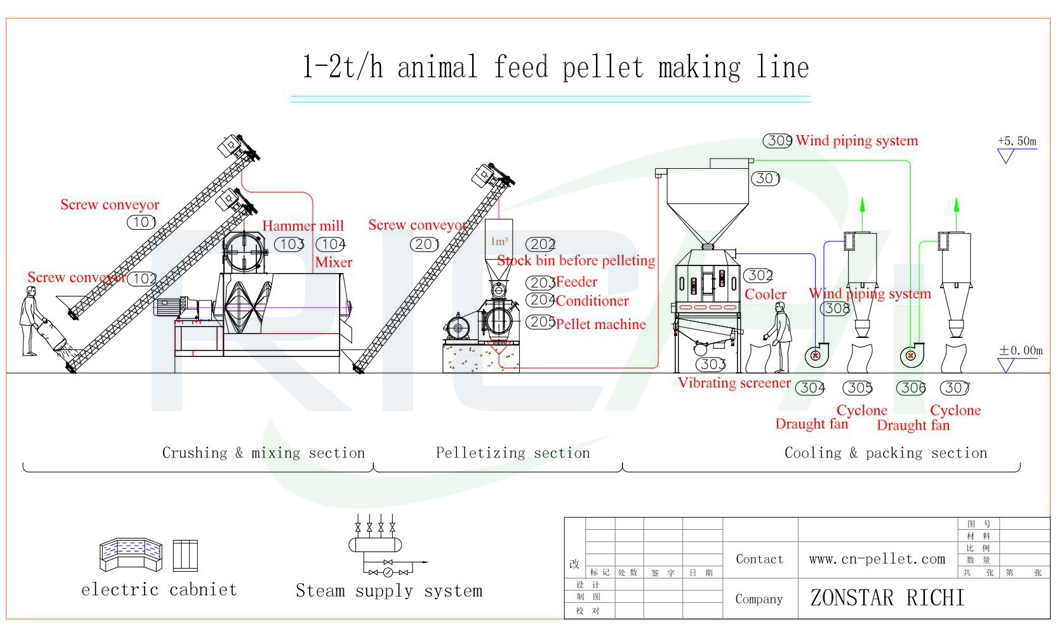 01
Customized 1-2tph chicken poultry feed manufacturing process design
The manufacturing process of poultry feed from this Angola 1-2tph poultry feed mill plant can be divided into several stages, and there is one specialized poultry feed making machine for each stage of the poultry feed manufacturing process.
According to the poultry feed raw materials conditions, the poultry feed making process can be added or reduced, RICHI can customize the poultry feed plant process for our clients!
Step 1: Poultry Feed Raw Materials Reception and Cleaning Process

The first stage involves receiving and cleaning the raw material such as grain, beans, grass or fish meals used for making pellet feed.

Step 2: Poultry Feed Crushing Process

The material is then passed into the poultry feed grinder hammer mill, where it is ground into a size which is suitable for making feed pellets.


Step 3: Poultry Feed Mixing Process

The crushed fodder materials are then passed through a poultry feed mixing machine, where different ingredients are added to the feed raw material to ensure that the finished poultry pellet contains all the required nutrients.

Step 4: Poultry Feed Pelleting Process

The pelletization stage is the most important stage in the feed mill plant for poultry, since the feed powder is converted into pellets of the desired size and shape. In this stage, ring die poultry feed pellet machine is the best choice.


Step 5: Poultry Feed Pellets Cooling Process

The poultry feed pellets are produced at a temperature of 88 degree centigrade and have a moisture level of 17-18%. For cooling, drying and storage, the moisture level should be reduced to 10-12% .

Hence the feed pellets are passed through the poultry pellet cooler, where they are cooled to a temperature which is close to room temperature, dried to reduce the moisture levels.


Step 6: Poultry Feed Pellets Packaging

After the poultry feed pellets are produced, an automatic packing machine is used to put the pellet feed in bags so that they can be stored or transported to the end customer. A computerized packing machine will measure the feed of a specific amount for each bag, and it will be pneumatically discharged to the bag for packing.

The bag with the poultry pellets will move on a conveyor to the area where machines will automatically stitch the open tops of the bag, so that they can be transported.
Cost of setting up a poultry feed plant with 1-2t/h in Angola
The following are the main poultry feed plant machinery and poultry feed plant cost of this Angola poultry feed production project. The total investment of this turnkey poultry feed production plant project is 38000-60000USD.
| Poultry feed plant machinery | Poultry feed making machine price |
| --- | --- |
| Corn grinder for poultry feed | 1300-1500USD |
| Mixing machine for poultry feed | 2700-3000USD |
| Storage bin for making pellet | 800-1000USD |
| Poultry feed pellet machine | 7000-8000USD |
| Poultry pellet cooler | 4300-4600USD |
| Poultry feed crumbling machine | 4300-4600USD |
| Bucket elevator | 3500-3800USD |
| Poultry pellet screening machine | 1850-2100USD |
| Auto Packing machine & Sewing+belt conveyor | 5000-6000USD |
| MCC Control Center ;Mimic Control Panel | 2400-2600USD |