Applications Of Shrimp Feed Pellet Production Line
Aquatic products are one of the most important agricultural products. About 7.5% of the world's total food comes from oceans, lakes and rivers. The animal protein ingested by people in developing countries mainly comes from aquatic products. With the shrinking, people will become more and more dependent on the aquaculture industry. In the world's aquaculture industry, more than 75% come from developing countries in Asia.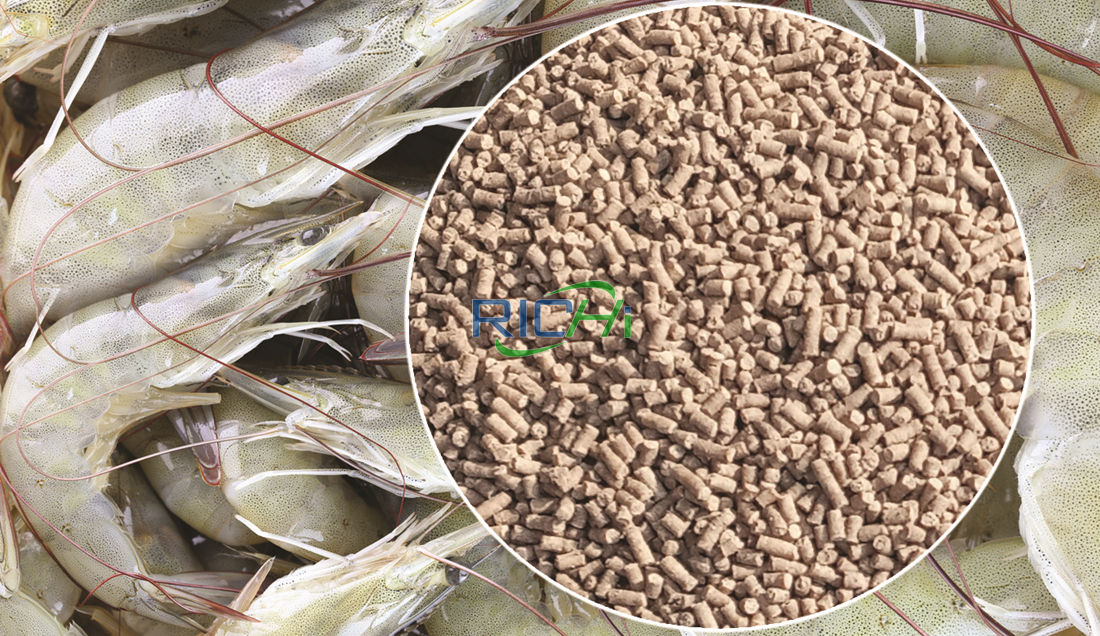 RICHI's shrimp feed production line is designed to meet the process design of the shrimp and crab compound feed factory. The aqua feed production process mainly includes: crushing, mixing, pelleting, post-curing, drying, cooling and other processes.
Due to the high requirements of shrimp and crab feed's crushing particle size and water stability, our shrimp feed plant design adopts the process of pulverizing first and then batching, pulverizing twice and mixing twice.


Post-maturation can increase the viscosity of shrimp and crab feed and enhance its stability in water. Multi-level distribution of shrimp feed factory workshops and reasonable placement of shrimp feed making equipment are conducive to automatic production of shrimp feed machinery and cost savings.
While providing shrimp feed pellet production line, we also provide a complete extruded shrimp feed processing line for customers to choose from. At present, aquatic feed companies are facing special challenges. On the one hand, they must provide special feeds needed by aquaculture farmers, and on the other hand, the aquatic feeds produced must be competitive in terms of quality and price.

The above needs can be solved by the processing of pelletized and extruded shrimp feed. This shrimp feed plant processing method can not only reduce the cost of shrimp feed production and increase efficiency, but also enable farmers to obtain considerable economic benefits from the use of pelletized shrimp feed and extruded shrimp feed.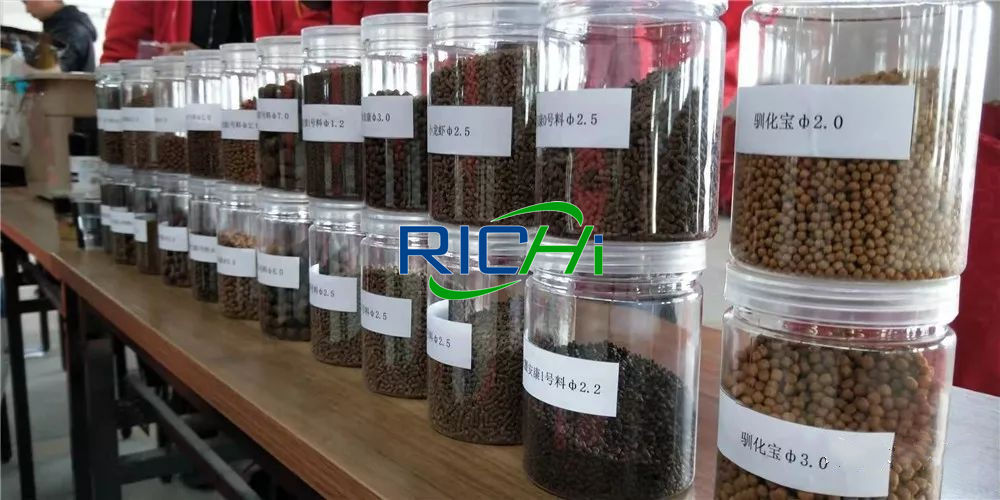 Shirimp feed production business plan & shrimp feed manufacturing project report
Richi Machinery have provided 1-60t/h shrimp feed production lines, shrimp feed mills and single shrimp feed making machines for hundreds of feed manufacturers, and we hope that in the future, we can also help you successfully realize a high-efficiency, high-quality, and high-return shrimp feed production business.
The followings are some shrimp feed mill project proposal / shrimp feed business plan/ shrimp feed manufacturing project report for you:
How to build a new shrimp feed production line for your shrimp feed plant or shrimp farm?
According to customer different shrimp feed production types, different output configuration can be customized. We devote ourselves to undertaking all shrimp feed production line with 1-20 tons per hour and to providing more value added service to all the shrimp feed companies.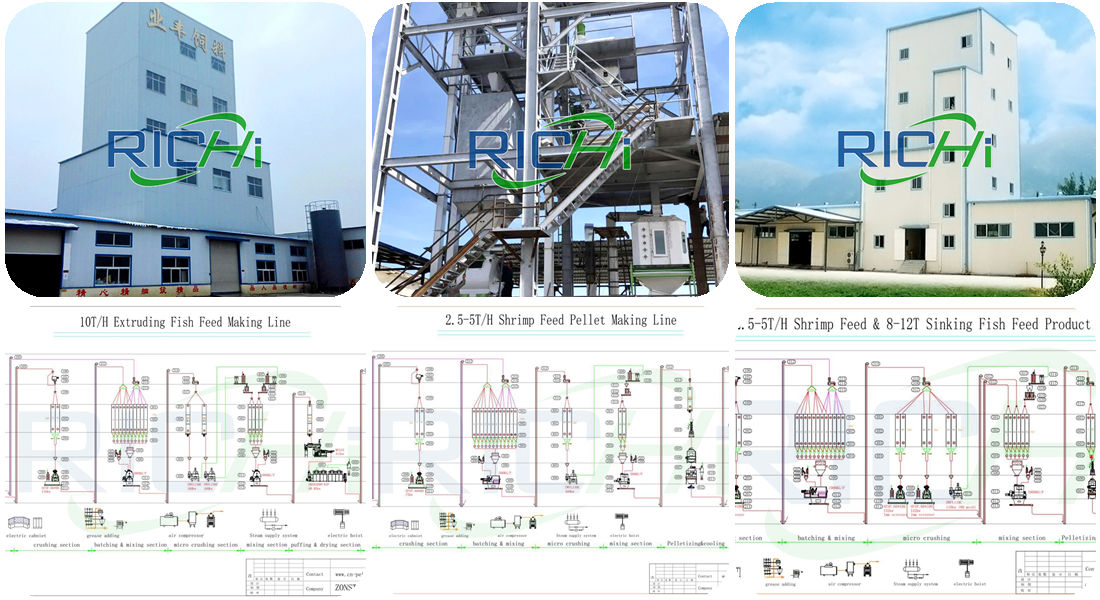 Richi Machinery provides global shrimp feed companies with a one-stop, complete set of professional shrimp feed production plant solutions (business plan for shrimp feed production) to solve the problems of shrimp feed companies, especially pure investment customers, such as technical difficulties and poor understanding of shrimp feed making machine, so that the needs and positioning of the project are more clear, and at the same time, the shrimp feed companies' shrimp feed machine selection range is more concentrated, reducing the cost of energy and financial resources.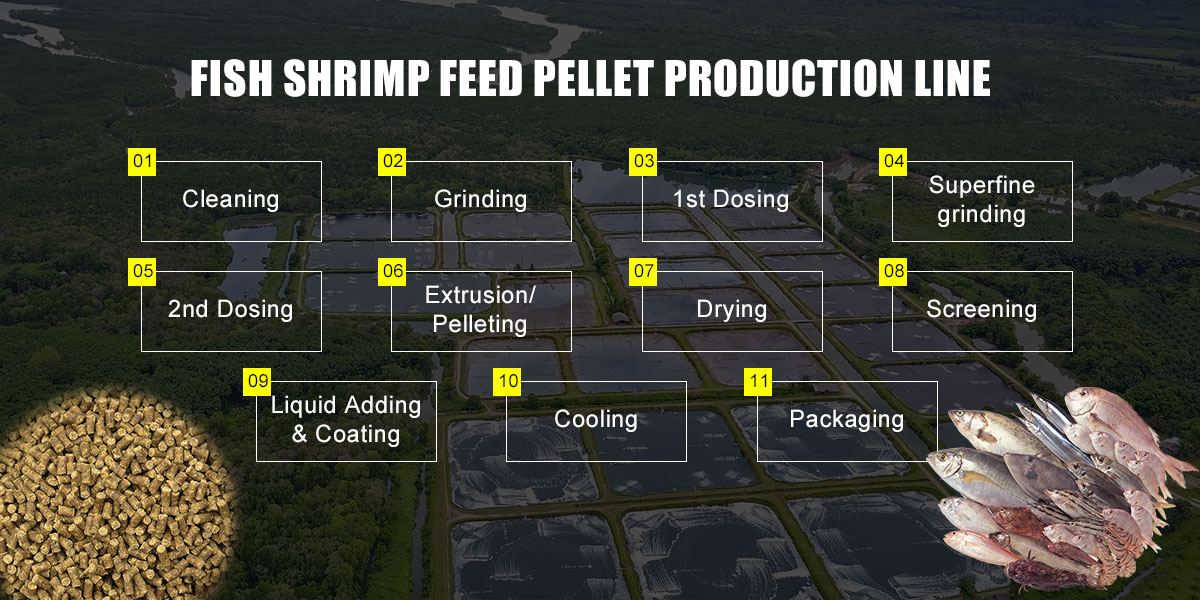 If you want to start a new shrimp feed pellet plant for your shrimp feed factory or shrimp farm, you should pay attention to the following main shrimp feed manufacturing process:
Determine the scale of complete shrimp feed plant.
Determine the shrimp feed production process and recommend shrimp feed machine.
Control mode selection of the shrimp feed mill plant.
Shrimp feed manufacturing plant structure selection.
Planning the general drawing of shrimp feed mill plant site.
Due to the influence of various objective factors such as shrimp feed raw materials, shrimp feed plant process, shrimp feed formula, shrimp feed plant project area, local regulations, etc., various technological shrimp feed production process and shrimp feed equipment configurations have appeared in the actual shrimp feed mill design.


Therefore, if you want to build a high-efficiency, high-quality, high-return shrimp feed production line, please do not hesitate to contact Richi Machinery and communicate directly with our engineer team, you will definitely get a satisfactory answer.
Below is a demonstration of our shrimp feed production line project: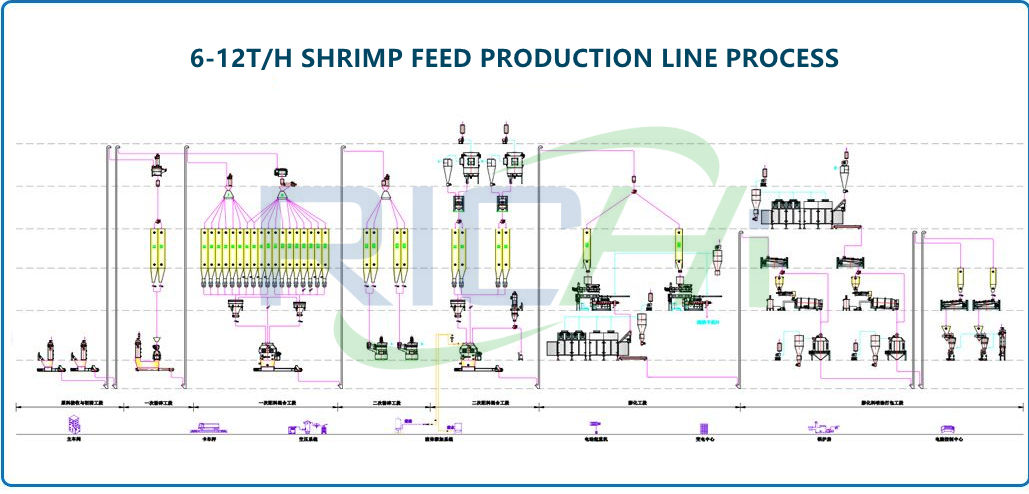 6-12T/H shrimp feed plant design
This automatic extruded shrimp aqua feed production line is designed with an hourly output of 6-12T/H. It uses primary crushing, primary ingredient mixing, secondary superfine pulverization, secondary mixing, extruding, drying, spraying, and cooling, and the final product is packaged.
The total power of the shrimp feed machine is approximately: 1496KW; the construction area of ​​the shrimp feed plant production area is approximately 30.6×12.5×31m (height); it is equipped with 2*2T or 1*4T boilers. The whole shrimp feed line has compact design, reasonable structure, meets environmental protection requirements, and can be oriented design according to customer requirements.
Shrimp feed machine in 6-12t/h shrimp feed plant
Cleaning equipment: SCY80 pellet sieve, powder sieve SQLZ60×50×100
Aqua feed hammer mill feed grinder: SFSP668×800, 110KW, (¢2.0mm mesh)
Batching scale: PCS15/PCS05, batching accuracy: dynamic ≤ 3‰, static ≤ 1‰.
Shrimp feed mixing machine: SHSJ3, (22KW, 1500kg/batch), mixing uniformity CV≤5%.
Ultrafine powder equipment (2 sets): SWFL130, 160+15+2.2KW
Batching scale PCS15, batching accuracy: dynamic ≤3‰, static ≤1‰.
Shrimp feed mixer: SHSJ3, 22KW, 1500kg/P, mixing uniformity CV≤5%.
Shrimp feed extruder machine(2 sets): SPHS130×2,
Shrimp feed drying equipment (2 sets): SHGW240×2-7
Spraying machine (2 sets): SYPG1000, 2.2KW
Pellet cooler (2 sets): SKLB6, 1.1+1.5KW, 6m³ volume
Packing equipment (2 sets): with a packing range of 20-25kg/bag, 4-6 bags/min.