Applications Of Fish Shrimp Feed Pellet Production Line
Fish Feed Pellet Production Line & Shrimp Feed Pellet Production Line can produce and process aquatic feed pellets such as catfish, grass carp, catfish, Shrimp, tilapia, ornamental fish, turtles, and bullfrogs. Fish feed size range: 1mm, 1.5mm, 2.0mm-10mm. Puffed fish feed processing equipment configuration:
Crusher → Mixer → Feeder → Twin Screw Feed Extruder → Conveyor → Multi-layer Drying Equipment → Seasoning Line → Cooling Conveyor → Vibrating Screen → Packaging
1.Determine the scale of fish feed mill.

2.Determine the feed process and recommend fish feed machine.

3.Control mode selection.

4.Fish feed manufacturing plant structure selection.

5.Planning the general drawing of fish feed mill plant site.

6.According to customer different feed types, different output configuration can be customized.

7.We devote ourselves to undertaking all fish feed production line 1-20T/H.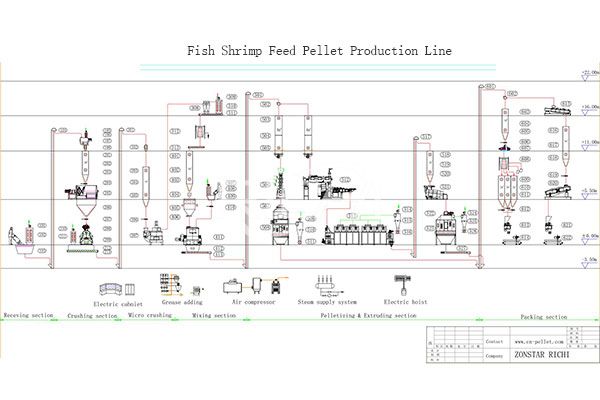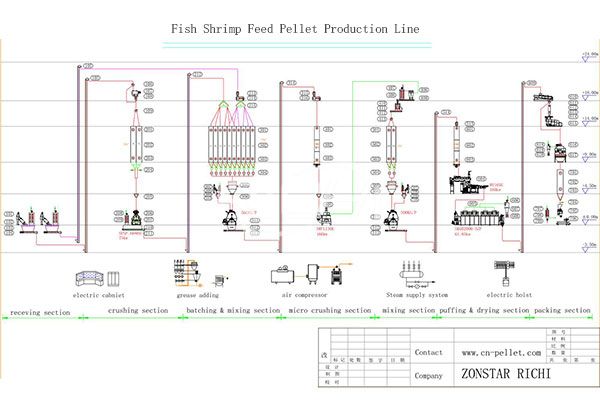 Working Principle Of Fish Shrimp Feed Pellet Production Line
Heating the materials by the frictional force, this fish feed extruder machine squeezes raw materials out of the holes of the mold under the action of screw extruder. The pressure and temperature of the pellets sharply decreases when coming out of the machine, and the moisture evaporates. Then materials are puffed and become pellets with porous structure. During the process, the moisture ranges from 15 to 20 percent.
Parameter And Model Of Shrimp Feed Making Machine
| Model | Capacity(TPH) | Main Motor Power(kw) | Feeder Motor Power(kw) | Conditioner Power(kw) | Dia.of Ring Die(mm) | Final Pellet(mm) |
| --- | --- | --- | --- | --- | --- | --- |
| SZLH250 | 0.2-1.4 | 22 | 0.75 | 1.5 | 250 | 0.8~12 |
| SZLH320 | 0.6-2.8 | 37 | 1.5 | 2.2 | 320 | 0.8~12 |
| SZLH350 | 1-5 | 55 | 1.5 | 3 | 350 | 0.8~12 |
| SZLH420 | 1.5-8.5 | 90 | 1.5 | 7.5 | 420 | 0.8~12 |
| SZLH508 | 2-12.5 | 132 | 2.2 | 11 | 508 | 0.8~12 |
| SZLH558 | 3-17.5 | 180/200 | 2.2 | 11 | 558 | 0.8~12 |
| SZLH558D | 2.8-15.5 | 160/180/200 | 1.5 | 7.5 | 558 | 0.8~12 |
| SZLH678 | 4-21 | 220/250 | 2.2 | 11 | 678 | 0.8~12 |
| SZLH678D | 3-17.5 | 200/220/250 | 2.2 | 11 | 673 | 0.8~12 |
| SZLH768 | 5-28 | 280/315 | 2.2 | 11 | 768 | 0.8~12 |
| SLZH858 | 5-30 | 280/315 | 2.2 | 15 | 858 | 0.8~12 |