Technical Features Of Shrimp Feed Pellet Production Line
1.From customized non-standard models to multi-combination standard configuration models, RICHI is always in accordance with market trends and customer needs, constantly introducing new ones. In Richi Machinery, each shrimp feed plants design and shrimp feed making machine can be customized.
2.Although the shrimp feed production technology of different shrimp feed companies is different, we always follow when designing for shrimp feed companies: reasonable configuration, stable performance, convenient operation process, and high economic benefits.
3. This shrimp feed mill is suitable for shrimp feed production of various sizes, various hardness, various lengths and various types.
4.The replacement of shrimp feed machine wearing parts can be completed quickly, reducing downtime and maintenance time.
5.Reasonable initial shrimp feed mill investment cost and low maintenance cost in the later stage.
Applications Of Shrimp Feed Pellet Production Line
Aquatic products are one of the most important agricultural products. About 7.5% of the world's total food comes from oceans, lakes and rivers. The animal protein ingested by people in developing countries mainly comes from aquatic products. With the shrinking, people will become more and more dependent on the aquaculture industry. In the world's aquaculture industry, more than 75% come from developing countries in Asia.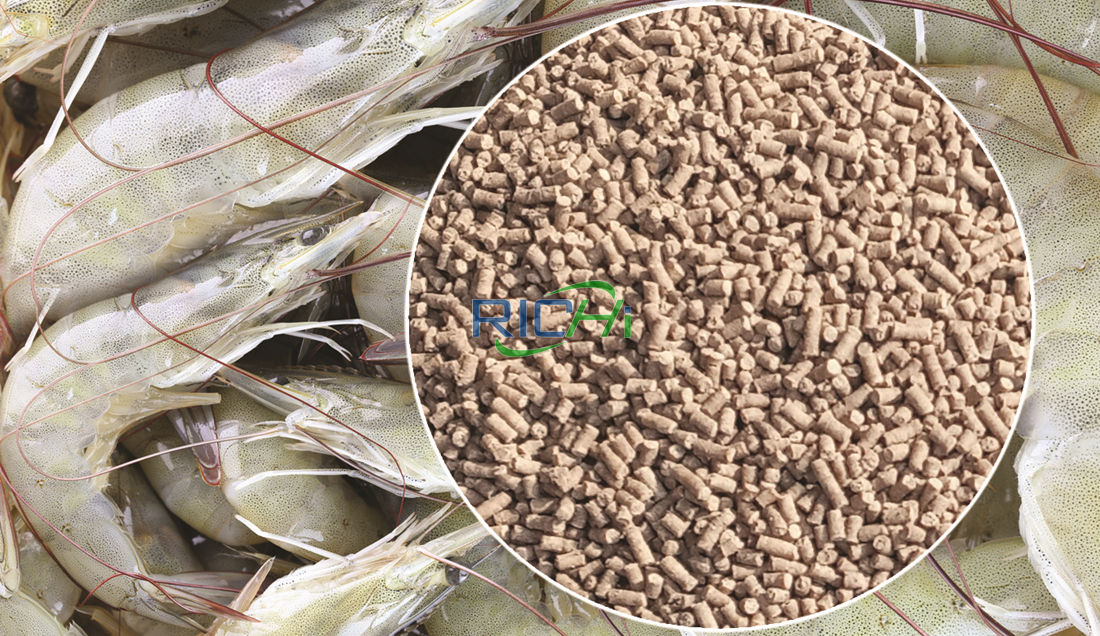 RICHI's shrimp feed production line is designed to meet the process design of the shrimp and crab compound feed factory. The aqua feed production process mainly includes: crushing, mixing, pelleting, post-curing, drying, cooling and other processes.
Due to the high requirements of shrimp and crab feed's crushing particle size and water stability, our shrimp feed plant design adopts the process of pulverizing first and then batching, pulverizing twice and mixing twice.


Post-maturation can increase the viscosity of shrimp and crab feed and enhance its stability in water. Multi-level distribution of shrimp feed factory workshops and reasonable placement of shrimp feed making equipment are conducive to automatic production of shrimp feed machinery and cost savings.
While providing shrimp feed pellet production line, we also provide a complete extruded shrimp feed processing line for customers to choose from. At present, aquatic feed companies are facing special challenges. On the one hand, they must provide special feeds needed by aquaculture farmers, and on the other hand, the aquatic feeds produced must be competitive in terms of quality and price.

The above needs can be solved by the processing of pelletized and extruded shrimp feed. This shrimp feed plant processing method can not only reduce the cost of shrimp feed production and increase efficiency, but also enable farmers to obtain considerable economic benefits from the use of pelletized shrimp feed and extruded shrimp feed.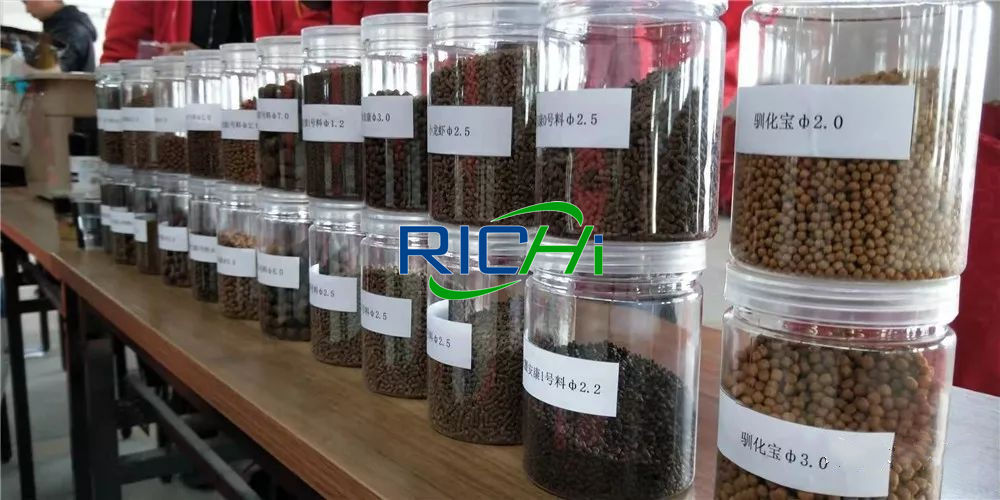 Shirimp feed production business plan & shrimp feed manufacturing project report
Richi Machinery have provided 1-60t/h shrimp feed production lines, shrimp feed mills and single shrimp feed making machines for hundreds of feed manufacturers, and we hope that in the future, we can also help you successfully realize a high-efficiency, high-quality, and high-return shrimp feed production business.
The followings are some shrimp feed mill project proposal / shrimp feed business plan/ shrimp feed manufacturing project report for you:
How to build a new shrimp feed production line for your shrimp feed plant or shrimp farm?
According to customer different shrimp feed production types, different output configuration can be customized. We devote ourselves to undertaking all shrimp feed production line with 1-20 tons per hour and to providing more value added service to all the shrimp feed companies.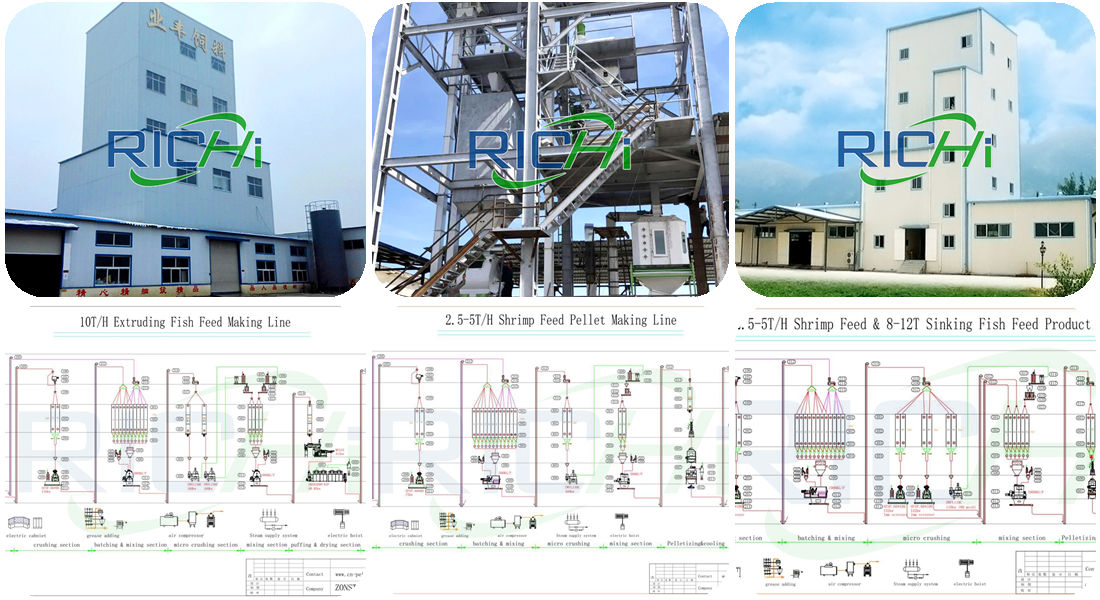 Richi Machinery provides global shrimp feed companies with a one-stop, complete set of professional shrimp feed production plant solutions (business plan for shrimp feed production) to solve the problems of shrimp feed companies, especially pure investment customers, such as technical difficulties and poor understanding of shrimp feed making machine, so that the needs and positioning of the project are more clear, and at the same time, the shrimp feed companies' shrimp feed machine selection range is more concentrated, reducing the cost of energy and financial resources.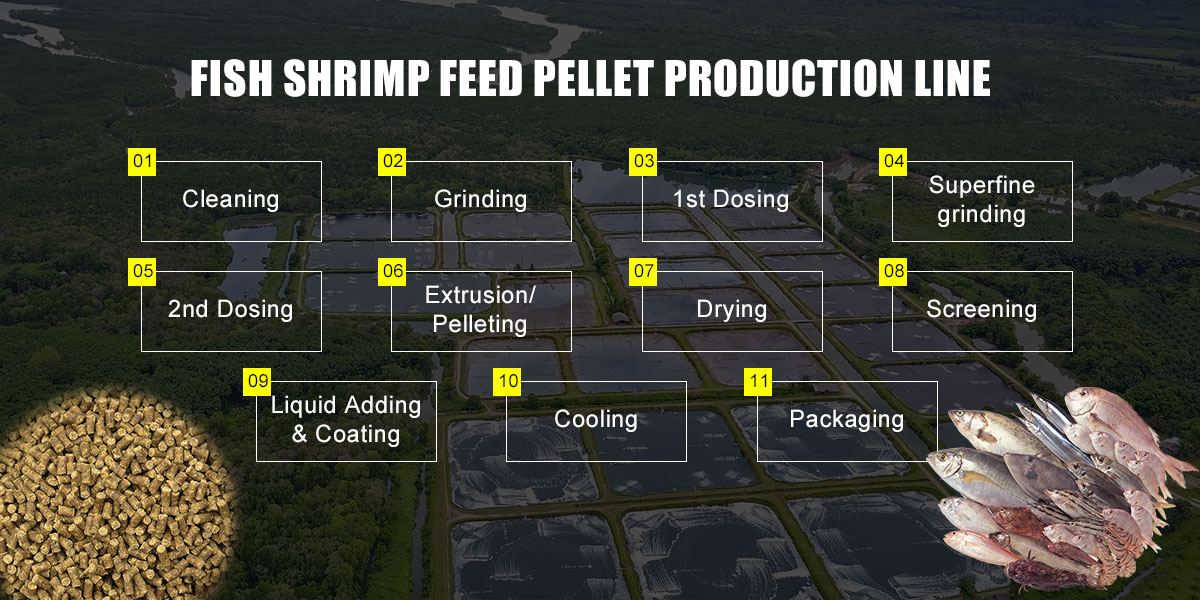 If you want to start a new shrimp feed pellet plant for your shrimp feed factory or shrimp farm, you should pay attention to the following main shrimp feed manufacturing process:
Determine the scale of complete shrimp feed plant.
Determine the shrimp feed production process and recommend shrimp feed machine.
Control mode selection of the shrimp feed mill plant.
Shrimp feed manufacturing plant structure selection.
Planning the general drawing of shrimp feed mill plant site.
Due to the influence of various objective factors such as shrimp feed raw materials, shrimp feed plant process, shrimp feed formula, shrimp feed plant project area, local regulations, etc., various technological shrimp feed production process and shrimp feed equipment configurations have appeared in the actual shrimp feed mill design.


Therefore, if you want to build a high-efficiency, high-quality, high-return shrimp feed production line, please do not hesitate to contact Richi Machinery and communicate directly with our engineer team, you will definitely get a satisfactory answer.
Below is a demonstration of our shrimp feed production line project: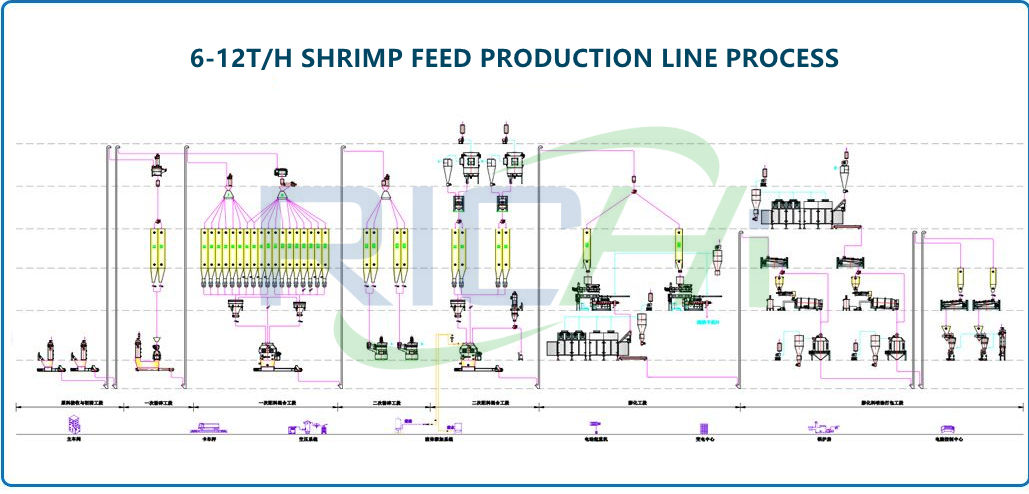 6-12T/H shrimp feed plant design
This automatic extruded shrimp aqua feed production line is designed with an hourly output of 6-12T/H. It uses primary crushing, primary ingredient mixing, secondary superfine pulverization, secondary mixing, extruding, drying, spraying, and cooling, and the final product is packaged.
The total power of the shrimp feed machine is approximately: 1496KW; the construction area of ​​the shrimp feed plant production area is approximately 30.6×12.5×31m (height); it is equipped with 2*2T or 1*4T boilers. The whole shrimp feed line has compact design, reasonable structure, meets environmental protection requirements, and can be oriented design according to customer requirements.
Shrimp feed machine in 6-12t/h shrimp feed plant
Cleaning equipment: SCY80 pellet sieve, powder sieve SQLZ60×50×100
Aqua feed hammer mill feed grinder: SFSP668×800, 110KW, (¢2.0mm mesh)
Batching scale: PCS15/PCS05, batching accuracy: dynamic ≤ 3‰, static ≤ 1‰.
Shrimp feed mixing machine: SHSJ3, (22KW, 1500kg/batch), mixing uniformity CV≤5%.
Ultrafine powder equipment (2 sets): SWFL130, 160+15+2.2KW
Batching scale PCS15, batching accuracy: dynamic ≤3‰, static ≤1‰.
Shrimp feed mixer: SHSJ3, 22KW, 1500kg/P, mixing uniformity CV≤5%.
Shrimp feed extruder machine(2 sets): SPHS130×2,
Shrimp feed drying equipment (2 sets): SHGW240×2-7
Spraying machine (2 sets): SYPG1000, 2.2KW
Pellet cooler (2 sets): SKLB6, 1.1+1.5KW, 6m³ volume
Packing equipment (2 sets): with a packing range of 20-25kg/bag, 4-6 bags/min.
Working Principle Of Shrimp Feed Pellet Production Line
The impact of the design of the shrimp feed plant process flow is mainly reflected in the rationality of the process layout, the continuity of production and the adaptability of shrimp feed processing plant production. Whether the layout of the shrimp feed production line is reasonable will directly affect the consistency of production.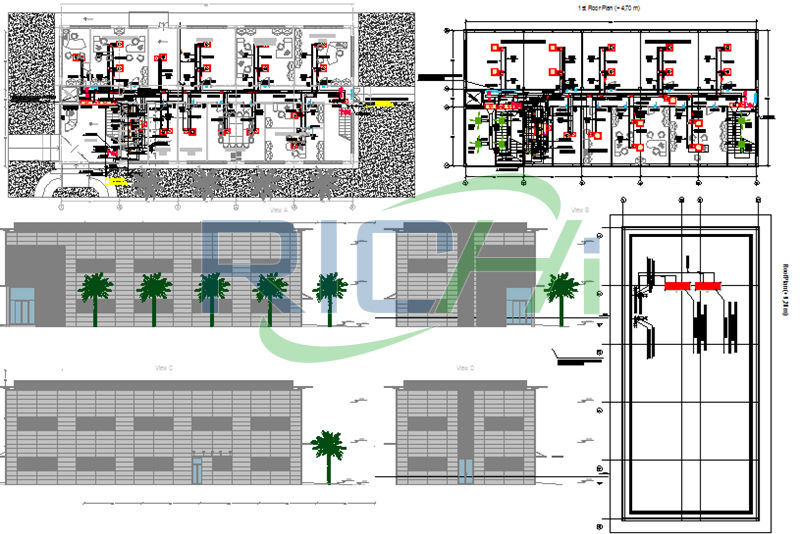 If the shrimp feed mill production is not smooth, it will be difficult to achieve various production requirements and variety switching. Therefore, the standardization of the layout of the shrimp feed production line and the rationality of the process are the basis for ensuring the high quality of shrimp feed.
From the current situation of compound feed production, the process is basically the same. The main processes are: raw materials cleaning, ingredients, first crushing-first mixing-second crushing-adding additives and grease-second mixing-granulating or puffing-oil spray drying-packaging and storage.
Raw material receiving and coarse crushing of shrimp feed production line
For shrimp feed mill, the raw materials in the formula are mainly fish meal, soybean meal, peanut meal, corn meal, corn gluten meal, high-gluten flour, fish oil, phospholipids, etc. Different raw materials have different requirements for crushing. The raw materials that need to be crushed by feed grinder, such as corn gluten meal, soybean meal, etc., need to enter the primary crushing system for coarse powder. Because it is coarse crushing, the requirement for fineness is not too high.
First batching and mixing of shrimp feed production line
Other raw materials that do not need to be crushed directly enter the silo to participate in a batching. Some meal-like raw materials and crushed corn gluten can directly enter the primary batching system, and then enter the secondary crushing according to the formula ratio.

In some cases, raw material acceptance can be mixed with first ingredients, that is, raw materials are received first, then ingredients are added, and then pulverized once. In this way, the raw material warehouse can be comprehensively utilized, the cost input of the warehouse group can be reduced, and labor can be saved.
Secondary crushing of shrimp feed production line
The secondary pulverization is generally done by using an ultrafine feed pulverizer. Since the production of shrimp feed requires 95% of the raw materials to be crushed over 80 mesh, if the crushing fineness is not uniform, it will cause uneven water absorption in the mixer, uneven steam absorption in the shrimp feed pellet machine conditioner, and granulation.

It can be seen that the uniformity of crushing fineness is very important to make qualified and high-quality shrimp feed. The ultra-fine feed grinder not only meets this requirement in fineness, but also guarantees the output; therefore, the secondary crushing of the shrimp feed line generally adopts the ultra-fine feed grinder.
Secondary ingredients and secondary mixing of shrimp feed production line
The material after the secondary pulverization needs to be compounded again according to the formula, and other trace materials such as premix can be added during the secondary compounding process; the main part of liquid addition is the secondary compounding and secondary mixing process.

The liquid addition of shrimp feed is divided into water, liquid phospholipids, grease, etc.; when adding water to the mixer, it should be controlled between 3-5%. According to the performance characteristics of the shrimp feed pellet machine, add as much water as possible to help uniform moisture The distribution and maturation are improved; the overall moisture content of the raw materials after the secondary mixing should be controlled at 12-14% as much as possible.
Pelleting or extruding process of shrimp feed production line
The shrimp feed plant granulation process includes tempering system, shrimp feed pellet machine granulation, dryer, cooler, screening and entering the finished product warehouse or entering the crumbling process. After being mixed for the second time, the materials are sent to the granulation bin, and are subjected to moisture heat treatment of water and steam in the shrimp feed pellet mill conditioner.

The shrimp feed pellet machine conditioning time is 120-180 seconds. If ingredients with high water content such as fish paste are added to the shrimp feed mixer or shrimp feed pellet machine conditioner, or the temperature is low during conditioning and the water content is high before granulation. It needs to be granulated and stabilized and then enter the feed dryer for drying. If it is a general formula, it can be directly cooled in the maturer without drying.
Crumbling process of shrimp feed production line
The crumbling system of the shrimp feed plant processing technology is a significant feature that distinguishes shrimp feed production from other feed types. The purpose of crumbling is mainly to produce small pellets to adapt to the feeding of shrimp larvae and juveniles. The shrimp feed line crumbling process is generally an independent system.

The reason is that the shrimp feed is finely crumbled, the output is low, and the yield of the finished product is low. After crumbling, it is equipped with a high square sieve, and the shrimp feed sieved by different sieve paths can be 0#, 1#, 2# and fine powder. For larger shrimp feed pellets after crumbling, secondary crushing can be carried out to improve product yield.
Grease adding process of shrimp feed production line
The grease should be added evenly, and the grease can be sprayed on the surface of the feed particles with a high-pressure oil spraying device. It can not only improve the molding quality, but also prolong the stable time of feed pellets in water and improve the palatability.

However, the fat added in shrimp and crab bait contains a large amount of unsaturated fatty acids, which are easily oxidized and deteriorated. Therefore, the temperature should not be too high when the feed is stored, and the storage time should not be too long. 3 months is appropriate, 1 month It is best to finish internal feeding.
Finished feed packaging process of shrimp feed production line
The finished product is packaged and delivered in a quantitative form in bags. It is transported by vehicles to dealers and farms, and is fed by artificial bulk feeding and spray feeding by feed machines. The packaging process of shrimp feed is that the production workers use automatic packaging equipment to weigh, bag, and sew the finished products for packaging.
Copyright © 2015-2022 by HENAN RICHI MACHINERY CO,LTD.All rights reserved.