1.The process flow is continuous and reasonable, and each machine has good performance.

2.The unit has a compact structure, small occupation area, low energy consumption,and high efficiency.

3.Large capacity, suitable for commercial feed pellet plant. Easy maintenance, safe and reliable, less investment and quick effect.

4.Application from one single pellet plant to multiply combined plants.

5.Professional services for global customers.

6.Triple-layer stainless steel conditioner improves feed maturity and quality.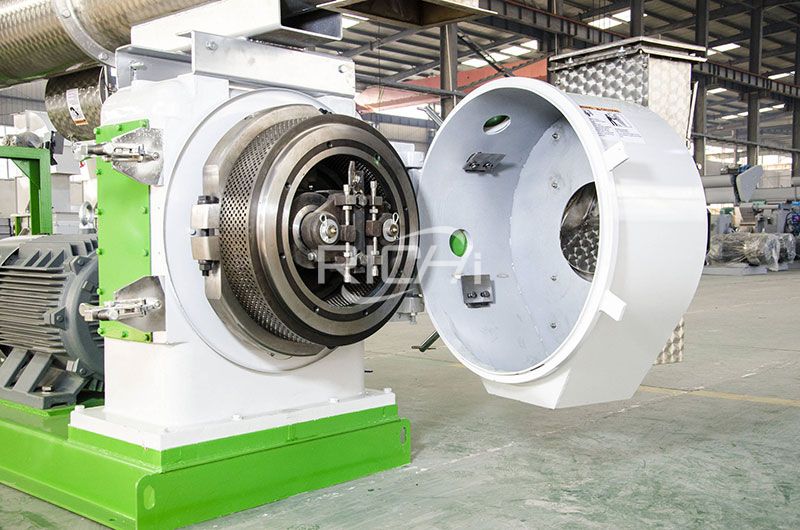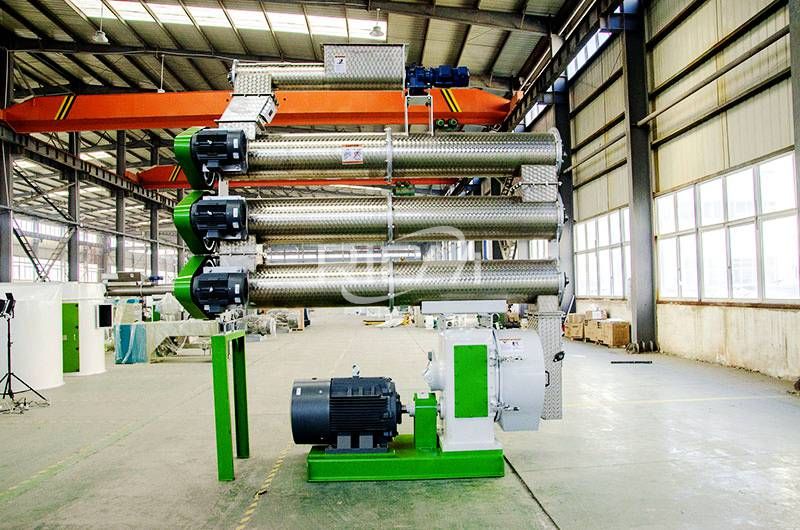 Overview
Pelleted feeds have been defined as "agglomerated feeds formed by extruding individual ingredients or mixtures by compacting and forcing through die openings by any mechanical process". Basically, the purpose of pelleting is to take a finely divided, sometimes dusty,unpalatable and difficult-to-handle feed material and, by using heat, moisture and pressure,form it into larger particles. These larger particles are easier to handle, more palatable and usually result in improved feeding results when compared to the unpelleted feed.
Working Principle
The medium-scale feed pellet production line process: Feed Crusher—Feed Mixer–Feed Pellet Mill–Pellet Cooler–Feed Package.
Firstly, the raw materials will go through the crushing and grinding process, and they will be processed into powder and then mixed completely. Then, through the feed pellet mill machine, the mixed feed mash will be made into pellets. After the cooling process, the feed pellets can pack directly.
Parameters
| | | | | | | |
| --- | --- | --- | --- | --- | --- | --- |
| Model | Capacity(TPH) | Main Motor Power(kw) | Feeder Motor Power(kw) | Conditioner Power(kw) | Dia.of Ring Die(mm) | Final Pellet(mm) |
| SZLH250 | 1-2 | 22 | 0.75 | 1.5 | 250 | 2~12 |
| SZLH320 | 3-4 | 37 | 1.5 | 2.2 | 320 | 2~12 |
| SZLH350 | 5-7 | 55 | 1.5 | 3 | 350 | 2~12 |
| SZLH420 | 8-12 | 110 | 1.5 | 7.5 | 420 | 2~12 |
| SZLH508 | 10-18 | 160 | 2.2 | 11 | 508 | 2~12 |
| SZLH558 | 15-25 | 180/200 | 2.2 | 11 | 558 | 2~12 |
| SZLH558D | 14-22 | 160/180/200 | 1.5 | 7.5 | 558 | 2~18 |
| SZLH678 | 20-30 | 220/250 | 2.2 | 11 | 678 | 2~12 |
| SZLH678D | 15-25 | 200/220/250 | 2.2 | 11 | 673 | 2~18 |
| SZLH768 | 25-40 | 280/315 | 2.2 | 11 | 768 | 2~12 |
| SLZH858 | 25-42 | 280/315 | 2.2 | 15 | 858 | 2~18 |