Applications Of Peanut Shell Pellet Maker & Pellet Plant
Peanut is one of the five largest oil crops in the world, and its production spreads across all continents of the world. In recent years, the output of peanuts has continued to increase, the total amount of processing and utilization has increased, and the utilization channels and scope of peanuts have gradually expanded.
Judging from the current global peanut utilization, there has always been a peanut processing that pays attention to its kernel and ignores the utilization of by-products such as the skin, shell, and meal. Except for a small amount as roughage, a large amount of peanut shells are burned or thrown away in vain, which is not fully and rationally used, and resources are wasted.


Peanut Shell Components Analysis
The peanut (Arachys hypogaea) is a plant of the Fabaceae family (legumes), as are chickpeas, lentils, beans, and peas. It is originally from South America and is used mainly for culinary purposes, in confectionery products, or as a nut as well as for the production of biscuits, breads, sweets, cereals, and salads. Also, due to its high percentage of fat, peanuts are used for industrialized products such as oils, flours, inks, creams, lipsticks, etc.
Although the composition of peanut shells or hulls may vary with its types, the main chemical compositions of peanut shells are not changed largely by the varieties. The main compositions of peanut shells or hulls are cellulose 37.0%, lignin 28.8%, protein 8.2%, , carbohydrate 2.5%. The compositions of peanut shells make peanut a treasure in disguise, which can be used for fuel and for feed production.
Chemical components of peanut shell
| Characteristics | Cellulose | Hemicelluloses | Carbohydrate | Proteins | Calcium | Phosphorous | Crude ash | Minerals |
| --- | --- | --- | --- | --- | --- | --- | --- | --- |
| Peanut shell | 65.5-79.3% | 10.1 % | 10.6-21.2% | 4.8-7.5% | 0.24-0.27% | 0.08-0.09% | 1.9-4.6% | 4.3% |

Characteristic of peanut shell pellets made by peanut shell pelleting machine
Shape. The shape of peanut shell pellet is cylindrical. their surface is smooth with a slight sheen. According to different requirement, could produce different size pellet.
Heat value. Peanut shell pellet has large densities, so the combustion efficiency is high, when burning, the center temperature can reach more than 1100 degree centigrade, heat value can reach 3700 ~ 4000 kcal / kg, ash content less than 8%. Compare with coal and oil, the peanut shell also has its own unique advantages.
High firepower and less ash. Because of high pressure molding and larger density, the peanut shell pellet is heat- resistant with high firepower and less ash. During burning, the pellet can keep shape, no distortion and fall apart. The pellet fuel ash can as the potash fertilizer to return into soil.
Clean and environmental protection. Use the peanut shell pellet fuel can reduce environment pollution. When burning the pellet, ash discharge concentration is less than 40 mg / m3. So use the pellet fuel can improve air quality and avoid greenhouse effect.
Convenient transportation and easy to store. The peanut shell pellet has small volume, so it is easy to store and transport, that can reduce transport cost.
Peanut shell or hull are easy to get, which will lower the production cost of peanut shell pellet, providing a big profit margins.
Peanut pellet fuel is a green biomass energy will lower emission and is environment-friendly.
Peanut shell or hull pellets can be used widely either in civil heating and daily energy supplying or in industrial production.
Technical Features Of Peanut Shell Pellet Maker & Pellet Plant
1. Whole transmission parts (including motor) of this peanut shell pellet machine chooses high-quality NSK/SKF bearings to ensure the transmission efficient, stable, low noise. Main motor choose Siemens.
2. Adopting high-qualified components on this peanut shell pellet making machine, with stable performance, long service life and low noise.
3. Adopting international advanced technology on this peanut shell pellet mill: German gun drill and vacuum furnace heat manufacturing process in ring die making to ensure the pellets smooth and of high quality.
4. This peanut shell pelletizer machine is equipped with full single layer stainless steel feeder, forced feeder, ring die and cutter .
5. Advanced gear-driving system with motors on this peanut shell pellet press machine, stable and reliable.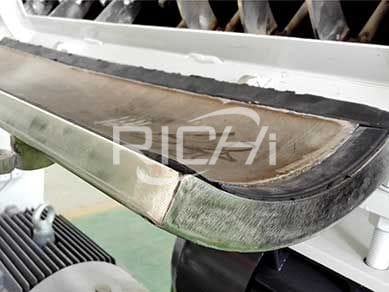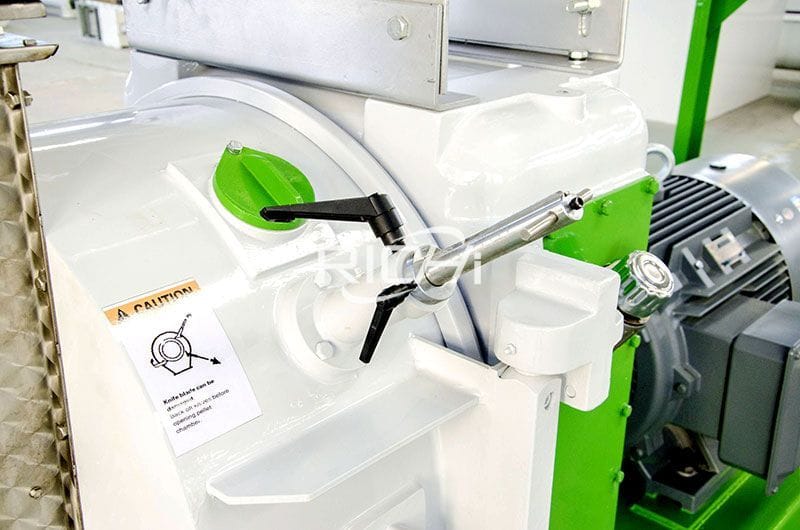 Working Principle Of Peanut Shell Pellet Maker & Pellet Plant
Adopt high-precision gear driving, the output is improved by about 20% compared with the belt drive one. Imported high-quality bearings and oil seal are adopted to ensure efficient, stable and low-noise operation.
The mixed or tempered pulverized peanut shell material passes through the chute through the compression mold cover, and is uniformly fed into the two pressing areas in the peanut shell pellet machine ring die by gravity, centrifugal force generated by the rotation of the ring die, and the action of the feeding scraper.
Under the strong extrusion of the peanut shell pellet production machine rollers, the material is gradually compacted and extruded into the die hole of the ring die to form. Since the extrusion of the material between the die rollers is continuous, the formed material continuously emerges from the die hole. The column is discharged, and then a cutter is cut into the required length of peanut shell pellets, and then enters the next peanut shell pellet production line process.
Peanut Shell Pellet Machine Specification
Model
MZLH320
MZLH350
MZLH420
MZLH520
MZLH768
MZLH858
Peanut Shell Pellet Machine Power
37KW
55KW
90KW
132KW
250KW
280KW
Capacity
300-400KG/H
500-700KG/H
1.0-1.2 T/H
2.0-2.5 T/H
2.5-4 T/H
3-4.5 T/H
Final Pellet
6-12mm
6-12mm
6-12mm
6-12mm
6-12mm
6-12mm
Weight(KG)
2500
3500
4000
4500
5000
5500
Peanut Pellet Machine Price
10000-100000USD
How to Build a Peanut Shell Pellet Production Line?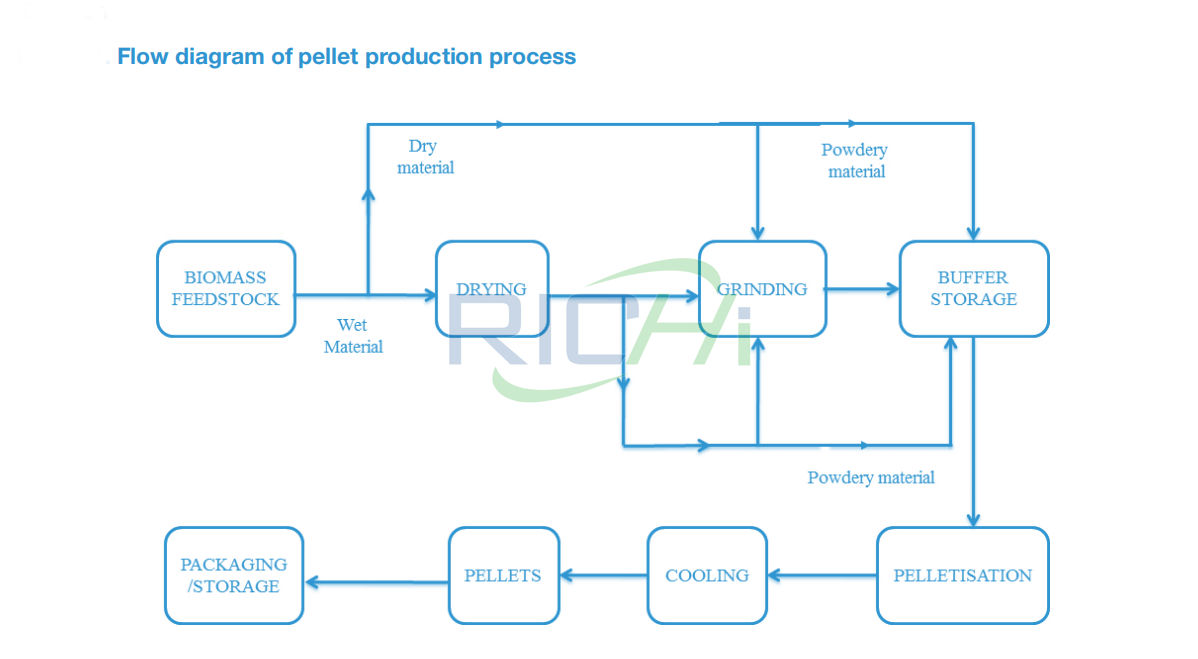 1. Crushing process
This process is to crush the peanut shells into fibrous pieces in order to be better pelletized.
2. Pelletizing process
This process is to grind the fibrous piece to pellet with 6mm,8mm,10mm and 12mm size, which is the core part of the whole production line. Before pelletizing, it needs to pick out iron, stone etc. our company adopts the most advanced vertical ring die pellet machine to pelletize, which features minimum energy consumption, minimum wearing, maximum stress and wide application. What's more, it has lowest sensitivity to different materials.
(The application of peanut shell pellet production line pelleting technology increases the bulk density of peanut shell particles by 4.44 times, effectively reducing the transportation cost and storage space of peanut shells. When peanut shell pellets are exposed to air with a relative humidity of 60% and 80%, the particles absorb moisture, and when the relative humidity of the air is 50%, the pellets lose moisture. The prepared peanut shell pellets not only did not destroy the effective ingredients, but also increased the content of soluble dietary fiber.)


3. Cooling process
The discharged pellets have the temperature of 70-90 degree, which is unable to be packed. The cooling machine will make the temperature reduce to minis or plus 5 degree with room temperature. And then the cooled pellets are packed. This process uses counterflow cooling machine, which features good dust cleaning and short cooling time.
4. Screening process
During pelletizing, cooling and conveying process there will produce some powder for collision. So it needs to use vibrant screening machine to separate the unqualified pellets to achieve the requirement of the packing.
5. Packing process
The final pellets need to be packed, and then sold to customers. It usually uses bags and tons bags. This process packs according to customer's requirement. The packing machine is automatic, which features large capacity, less labor and less packing cost.
8T/H biomass fuel peanut shell pellet production line for peanut shell, straw and wood pellets production

No
Main Equipments
Model
Quantity
1
Commercial Drum Chipper
JLBX-218
2
2
Biomass Material Hammer Mill
SFSP66*80
2
3
Rotary Dryer for Sawdust
ф2400*100000*3 Layer
2
4
Peanut Shell Pellet Machine
MZLH-520
4
5
Vibrating Screener
TDZS63
1
6
Pellet Packing Machine
DCS-50
1
7
MCC Control Center ;Mimic Control Panel
/
1
8
More Auxiliary Equipment
Belt conveyors*PDS650, Buffer bin*2m³, Cyclone*ф1000, Pulse dust collector* TBLMa.36b, U-screw conveyor*TLSSU32, Bucket elevator*TDTG60/23, Storage bin*20m³, etc.

Get Latest Price

400KG/H small peanut shell pellet plant project for peanut shell,mushroom-stick and crop waste pellets production

No
Main Equipments
Model
Quantity
1
CE Approved Chipper
JLBX-215
1
2
Hammer Mill For Sawdust
SFSP66*60
1
3
Small Rotary Dryer
ф1200*120000
1
4
Peanut Shell Granulator
MZLH-320
1
5
Vibrating Screener
TDZS63
1
6
Pellet Packing Machine
DCS-50
1
7
MCC Control Center ;Mimic Control Panel
/
1
8
More Auxiliary Equipment
Buffer bin*2m³, Cyclone*ф1000, Pulse dust collector*TBLMa.36b, Draught fan*9-19-5.6a, U-Screw conveyor*TLSSU30, Bucket elevator*TDTG40/23, Storage bin*4m³, Anti-caking equipment, Bucket elevator*TDTG36/18,etc.

Get Latest Price
Peanut shell pellets made by peanut pellet plant can also be used as animal feed
Peanut shells are rich in crude protein, crude fiber and mineral elements necessary for the growth of poultry and livestock. Peanut shells can be used as feed for poultry and livestock. However, because it contains certain chemicals that are harmful to animals, and about 20% of lignin is not easy to be digested by animals, and even affects digestion, this makes peanut shells unable to be directly used as feed.
However, extensive research has been carried out abroad (such as India), and satisfactory results have been achieved: the method is to crush the peanut shells, then treat them with chemical and biochemical methods to decompose them, and then mix them with rice bran and bran. Skin, etc., can be made into mixed pellet feed. In addition, the peanut shell powder can be mixed with rice bran, bran, etc. and fermented, and then made into pellet-like feed.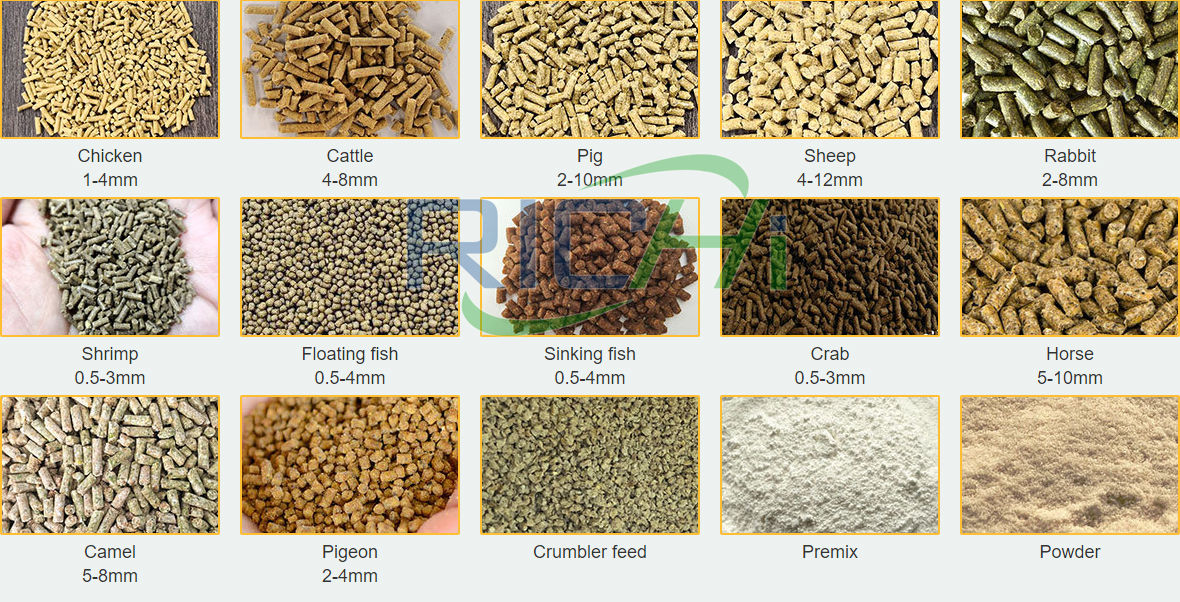 These feeds can be used to feed pigs, cows, chickens, and fish. Feeding this feed not only increases the egg production rate of chickens, the meat yield of broilers and pigs, but also shortens the fattening time of feeding pigs. The digestibility of animals can be increased from 20% to about 70%, and the economic benefits are significant.
Copyright © 2015-2022 by HENAN RICHI MACHINERY CO,LTD.All rights reserved.