1.Determine the scale of aquatic feed mill.

2.Determine the feed process and recommend aquatic feed machine.

3.Control mode selection.

4.Aquatic feed manufacturing plant structure selection.

5.Planning the general drawing of aquatic feed mill plant site.

6.According to customer different feed types, different output configuration can be customized.

7.We devote ourselves to undertaking all aquatic feed mill 1-20T/H and to providing more value added service to all the customers.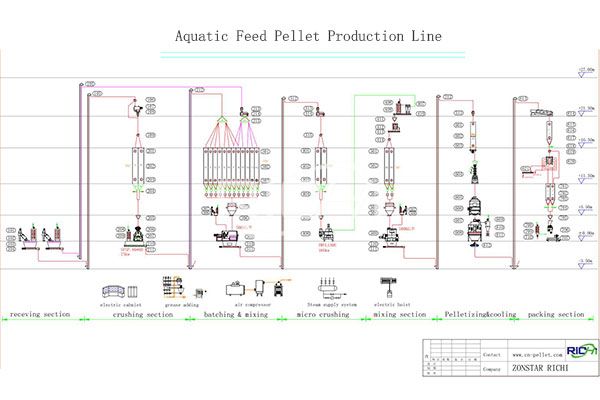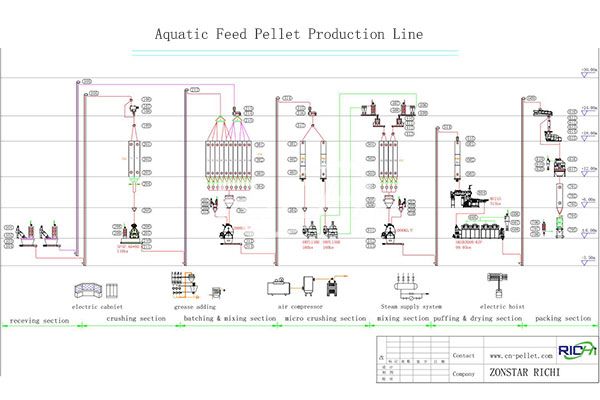 Overview
Aquatic feed is bait for aquatic animal farming. According to the feeding species, aquatic feed can be divided into fish feed, shrimp feed and crab feed; according to feed characteristics, it can be divided into compound feed, concentrated feed and pre-mixed feed.
Unlike livestock and poultry farming, aquaculture is more significantly affected by seasonal factors. Since the best growth animals for most aquatic animals such as fish and shrimp are between 20-30 degrees Celsius, it is the best growth for aquaculture from May to October each year. This is also the peak season for aquatic feed sales.
Working Principle
The material in the extruding chamber of the fish feed making machine is subject to high pressure and temperature, making starches gelatinize and denaturing the protein, so that to improve the water stability and digestibility of feed pellet. Meanwhile salmonella and other harmful bacterium are killed in the process. When the material goes out from the outlet of the fish feed extruder, the pressure is released suddenly and the steam blows off rapidly. Then the pellet is formed. A cutting device on the machine will cut the pellets into required length.
Parameters
| | | | | | | |
| --- | --- | --- | --- | --- | --- | --- |
| Model | Capacity(TPH) | Main Motor Power(kw) | Feeder Motor Power(kw) | Conditioner Power(kw) | Dia.of Ring Die(mm) | Final Pellet(mm) |
| SZLH250 | 1-2 | 22 | 0.75 | 1.5 | 250 | 2~12 |
| SZLH320 | 3-4 | 37 | 1.5 | 2.2 | 320 | 2~12 |
| SZLH350 | 5-7 | 55 | 1.5 | 3 | 350 | 2~12 |
| SZLH420 | 8-12 | 110 | 1.5 | 7.5 | 420 | 2~12 |
| SZLH508 | 10-18 | 160 | 2.2 | 11 | 508 | 2~12 |
| SZLH558 | 15-25 | 180/200 | 2.2 | 11 | 558 | 2~12 |
| SZLH558D | 14-22 | 160/180/200 | 1.5 | 7.5 | 558 | 2~18 |
| SZLH678 | 20-30 | 220/250 | 2.2 | 11 | 678 | 2~12 |
| SZLH678D | 15-25 | 200/220/250 | 2.2 | 11 | 673 | 2~18 |
| SZLH768 | 25-40 | 280/315 | 2.2 | 11 | 768 | 2~12 |
| SLZH858 | 25-42 | 280/315 | 2.2 | 15 | 858 | 2~18 |