Fish feed manufacturing process of complete fish feed plant
Crushing section in complete fish food production line
Crushing with our fish feed crushing machine, we firstly break the raw materials into smaller pieces, for an efficient pellet making. This is done by fast-moving rotating hammers within the crushing chamber. To further reduce the size, the materials are run through a rapid airflow of very high pressure, breaking the materials into much smaller pieces. A fish feed hammer mill is therefore necessary for fish feed raw materials grinding in a fish feed plant.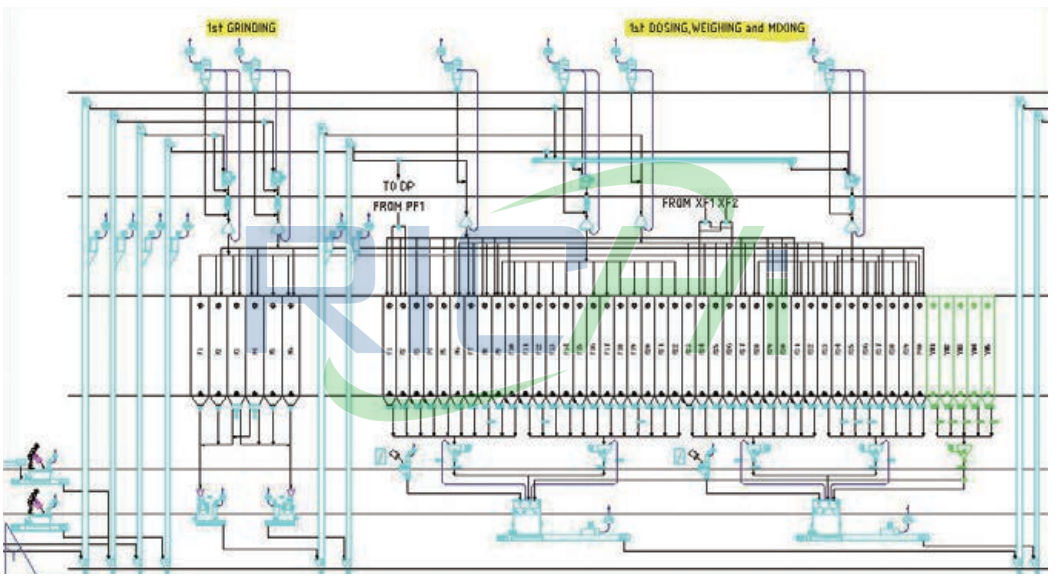 Batching and mixing section in complete fish food production line
The crushed materials which are now in powdered form should be thoroughly mixed to get a fish feed pellet that is nutritional and of high quality. One crucial part of the mixing process is shearing and convection, and this mixing effect is achieved with our fish feed mixer machine which has a twin ribbon and a single shaft.


First ingredients and mixing system
The first ingredient is mainly the preparation of popular raw materials, that is, the preparation of relatively large materials in the formula. This fish feed mill process is mainly completed by the electronic batching scale. The single-shaft horizontal ribbon mixer for fish feed can be used for the first mixing, and the grease addition system must be considered on the fish feed mixer equipment.


Secondary batching and mixing system
Due to the low food intake of aquatic animals, short digestive tract, and poor digestion ability, the aquatic feed requires a very fine particle size, and the uniformity of the feed can be reflected in a smaller range, which also requires the aquatic feed to have a finer particle size. Therefore, a fine pulverization process must be used. In the secondary pulverization process, the mixed materials are lifted by a hoist and then enter the warehouse to be pulverized, and then enter the micro pulverizer.
The cleaned materials are subjected to secondary batching and mixing. Various raw materials enter the secondary mixer after secondary batching. There is an artificial feeding port above the secondary mixer, which is mainly used for the addition of trace additives. At the same time, there is a liquid addition device on the mixer for the addition of grease.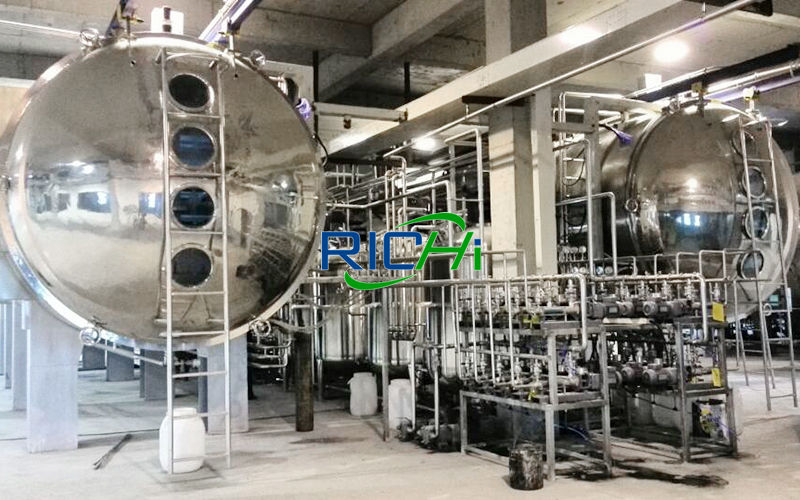 Extruding/pelletizing section in complete fish food production line
The mixed raw materials for fish feed production are compressed into desired shapes and fish pellet sizes with the fish feed machine (fish feed extruder machine or fish feed pellet machine). For a cheap, easy-to-operate, yet reliable fish feed making machine for a small-scale or medium-scale fish feed plant, the dry type fish feed extruder is highly recommended. For large fish feed factories however, the wet type feed extruder that has a conditioner will be able to produce in large quantity, a high quality pellet for fish.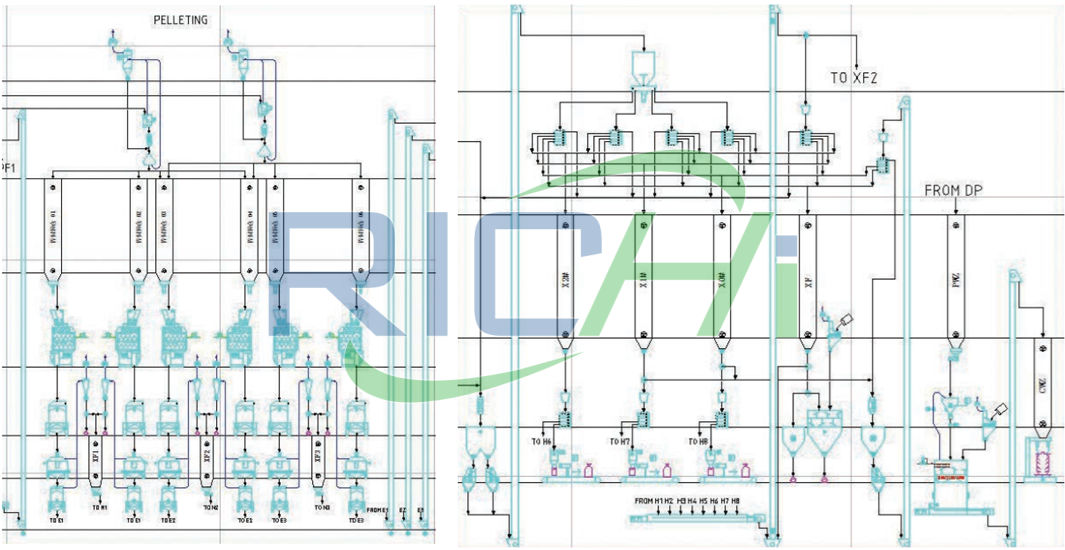 Drying section in complete fish feed production plant
When the feed material run through the fish feed pellet making machine or fish feed extruder, it becomes hot and has moisture in it, hence the need to lower its temperature and dry it off. An ideal fish food pellets drying can be achieved with a mesh belt dryer which is simple structured, not difficult to install and easy to maintain. This important fish feed mill equipment that must be included in the fish feed production line of a fish feed mill.


Oil Spraying section in complete fish feed production plant
The good taste and nice smell of the end product is owed to the Oil Spraying Machine. This equipment rotates with high speed, spraying atomized oil on both surfaces of the fish food pellets. Excess oil during this process is then recycled through a special filter.


Pellets Cooling section in complete fish feed processing line
When the temperature of the oil-sprayed fish food pellets increases, they become soft, and can easily break. To avoid loss in this regard, the fish food pellets must be cooled, and are consequently hardened. The cooling type adopted by most fish feed manufacturing plants is the counter flow cooler where the fish feed pellets are in opposite direction to the air cooling them.


Pellets Packaging section in complete fish feed processing line
There are several packaging machines perfect for weighing and bagging finished fish food pellets. Such fish feed mill machines can help you reduce labor intensity, increase your production, meet hygiene requirements and satisfy large scale needs of your fish feed pellet plant. This packaged fish food pellets would be in sealed bags and ready for storage or further transportation.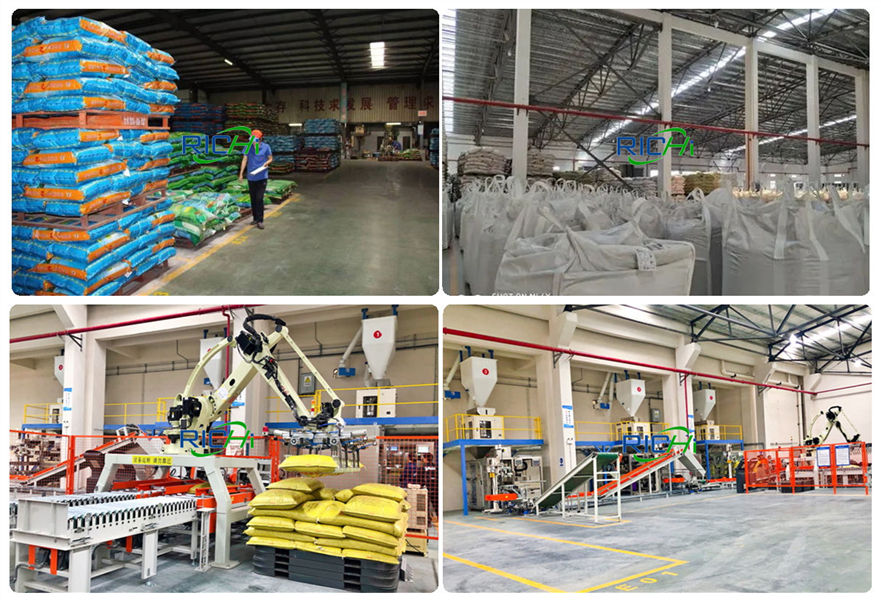 Below is a demonstration of our fish feed mill project: