Customer Guide For Starting Cattle Feed Mill
How to run a feed mill efficiently?
The production management of the feed mill factory is the management of the four core contents of feed factory safety, product quality, production efficiency, and manufacturing cost. Among them, the improvement of production efficiency is the most important item for production management personnel. A significant increase in water retention rate has been found in feed mills. Quality improvement and efficiency improvement can save costs, reduce carbon emissions and increase production efficiency. This article focuses on some enlightenments for feed processing and hygiene.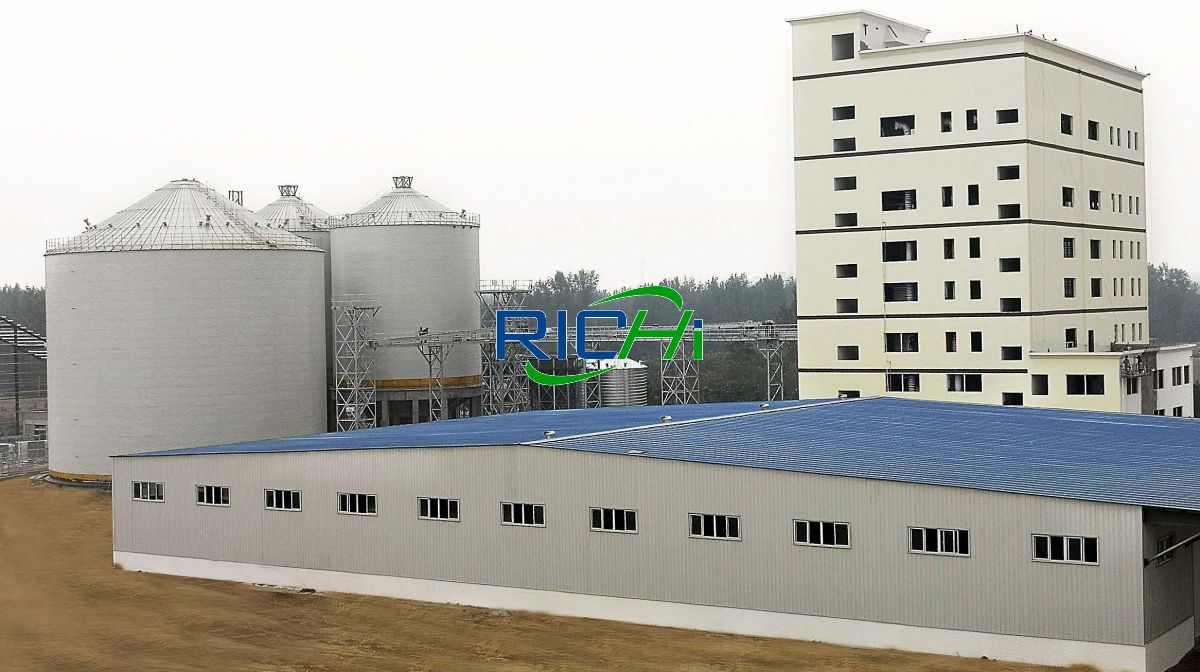 Animal feed producers, whether poultry, dairy, aqua or even swine operate in highly competitive environments. Efficiency savings across the supply chain can yield great results from a relatively low investment. One area often ripe for improvement is in feed mills, where adjusting operations, settings or processes can yield huge savings. By finding ways to get more from existing equipment, improving staff knowledge and minimising wastage, feed mills can often gain efficiencies and save cost.
Here, RICHI will give you 5 key areas feed manufacturers should look at to ensure their feed mills are working profitably, productively and sustainably.
(1)Optimizing the feed mill production processes
There are often gains to be made by improving batching processes–whether that's weighing out raw materials, or timings of wet and dry mix applications. First look at individual processes within a mill, measure performance and then try to build some efficiencies into that feed mill process. It's important to periodically look at your batching system, how you weigh out raw materials, and finding gain time between each batch, and timings of wet mix and dry mix applications - there are often ways you can save either time or cost by working more efficiently.

Pelleting, too, can benefit from outside scrutiny. Look at the process and current running parameters, monitoring the steam system and conditioning processes. Each feed formulation requires different tweaking–manipulating settings to get feed to gelatinise effectively before the pelleting process is key to improve efficiencies.
There are often gains to be made by improving feed mill batching processes–whether that's weighing out raw materials, or timings of wet and dry mix applications.
(2)Reducing feed mill energy consumption
Costs are rising, and there is increasing scrutiny on businesses' carbon footprint makes the need to use energy as efficiently as possible–reducing waste is an important part of this drive for efficiency.
Look at the moisture within conditioned feed, and based on the levels of conditioning and gelatinisation; we can then introduce methods to improve energy consumption. In terms of waste, we look at how much product has been returned to pre-processing bins and try to reduce the amounts returned for reprocessing. It's based on mechanical know-how and steam know-how.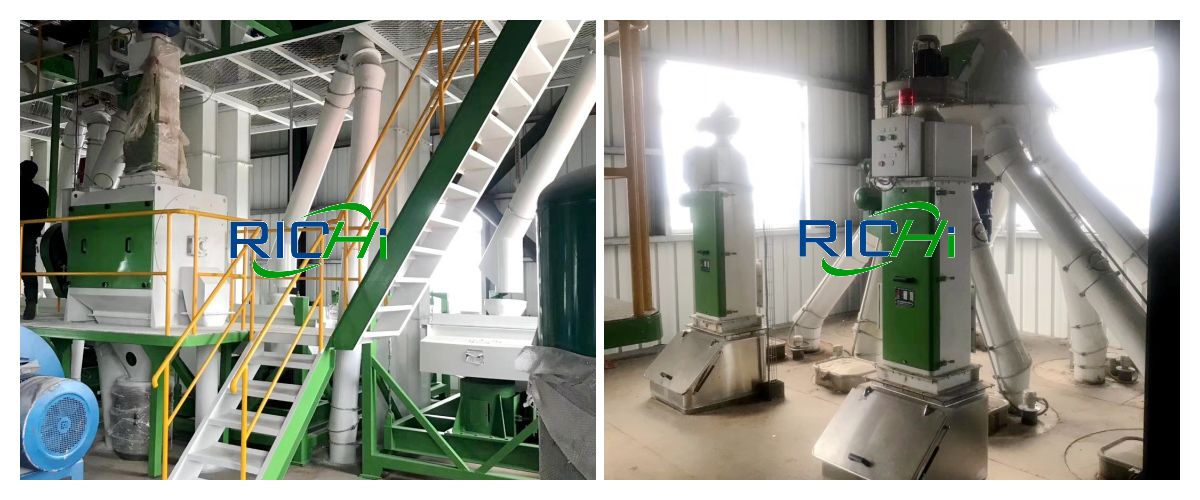 (3)Securing feed hygiene for cow feed mill
The livestock industry has had to deal with several recent epidemics and biosecurity continues to be a focus of processors and consumers alike, and with good reason. Anti-microbial resistance, African Swine Fever and Avian Influenza are yet to be overcome–despite best efforts.
In a feed mill setting, you would begin by looking at the CFU levels of stored raw materials and then measuring the finished product, and again three-to-seven days later. Look at measures of how to improve the sanitisation of the entire mill process and transport to ensure feed is free of any nasties. Another part of this work is validating products which are used by feed mills to improve hygiene, such as those designed to reduce CFU levels and to ensure salmonella free feed, proving their efficacy through these trials.
(4)Feed mill moisture management
A usual range for moisture loss in the feed process is between 1-1.5%, and animal feed mills should be challenging and reviewing their losses from season to season. This is a topic always under scrutiny. Find ways to reduce the amount of moisture loss within the feed processes by adjusting setting–each mill is unique, and we would have to survey it first to find ways of improving moisture management.
In addition to reducing moisture loss through adjusting machinery, it is also possible to add moisture management products, or use an in-line sensor to monitor levels. Ensuring those products are working efficiently is crucial for ongoing testing and refining.
The cooling process is another aspect where you can lose moisture–so it's essential to review this process, as well.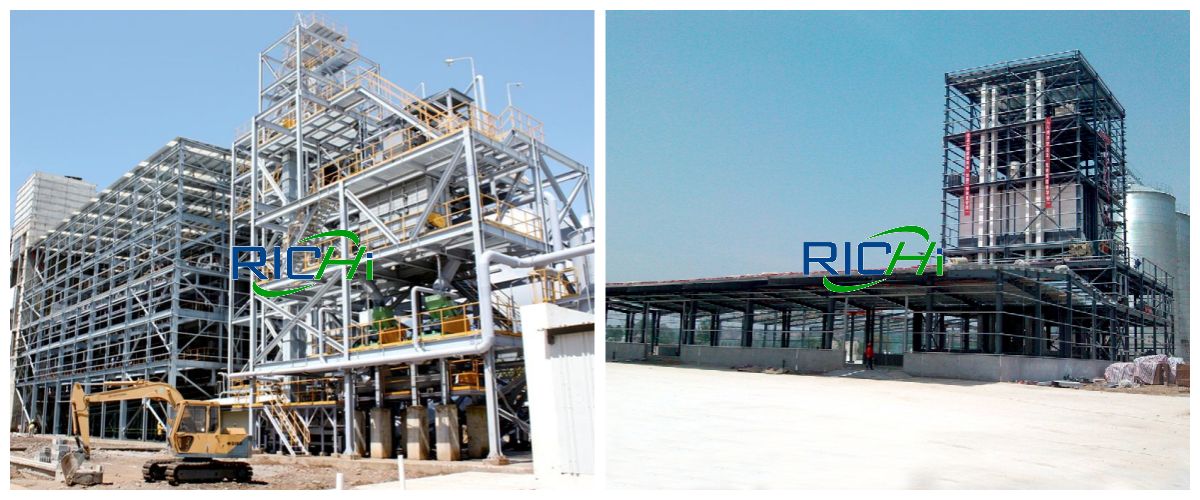 (5)Feed mill personnel training
An essential part of an efficient mill is having confident, well-trained staff. Quite often, A lot of people come into the industry and might not understand how systems work. We often find knowledge has been handed down and thinned in the process, and there's a lot of historical settings that might not match current best practice, machinery or formulations. Part of what we do is offer hands-on training on the mill floor to give people the confidence to make decisions with equipment.
Although training in a classroom environment does add value, I believe that mill personnel gain unsurpassed benefits from practising rather than reading. No matter what you do to your process, or what feed mill equipment you use, it is important to challenge your processes to extract optimum feed mill plant performance thus achieving tangible savings for the business and its supply chain.
What small cattle feed mill machinery are needed in 1t/h small feed mill?
Small 1t/h cattle feed pellet production line unit is the abbreviation of artificial batching type small feed unit, usually the output is not more than 5 tons. It adopts building block modular design, which is convenient for disassembly, transportation and installation; it has low investment, quick results, compact structure, small floor space, low plant requirements, and low capital investment. It can also be designed according to needs. Especially suitable for small-scale feed factories and breeding farms.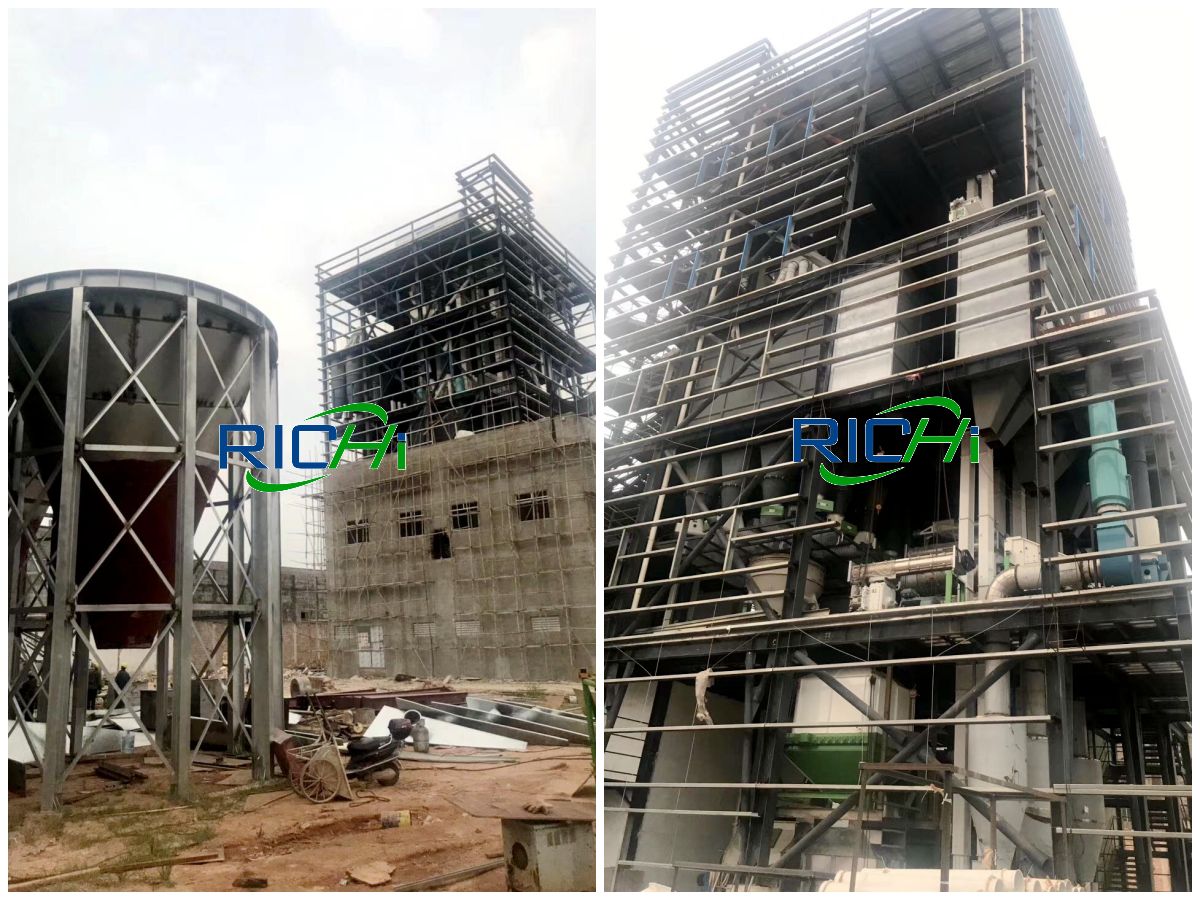 Main Equipment List Of 1TPH Cattle Feed Mill:
Feed mill machinery
Model
QTY
Cattle feed grinder
SFSP.56*40
1 Set
Cattle feed mixer
SLHY.1
1 Set
Cattle feed pellet machine
SZLH250
1 Set
MCC Control Center; Mimic Control Panel
/
1 Set
Auxiliary equipment: crew conveyor*TLSS20, Iron removing device*Z-Type, Bucket Elevator*TDTG36/18, Cyclone*SK600, Pulse dust collector*TBLMa.8B, etc.
Note: Different customers, different needs, different customized feed mill solutions, and different feed mill equipment configurations.
What's the meaning of organic feed mill?
An organic feed mill is a factory that produces organic feed. So what is organic feed? Organic feed is a feed product that is produced by an organic production system using organic feed materials in accordance with relevant organic feed standards.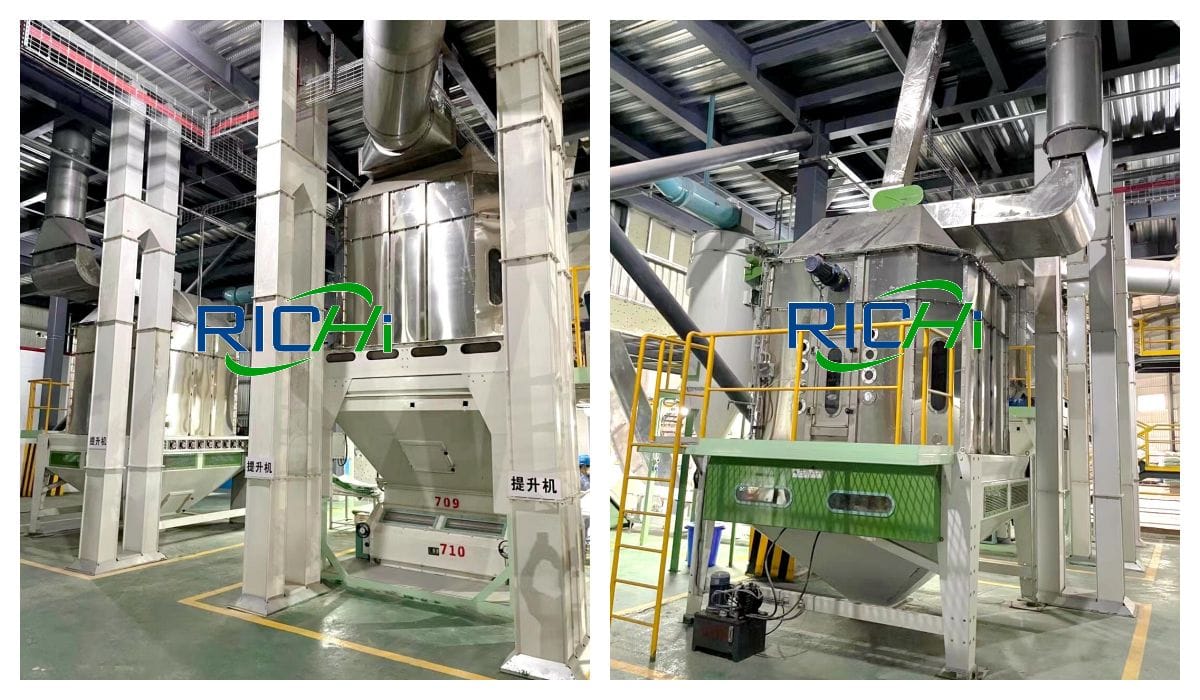 Chemically synthesized drugs, growth promoters and other chemically synthesized additives are not allowed in the product, and products obtained by genetic engineering technology, such as genetically modified soybean meal, cottonseed meal, etc., are not allowed to be used in the product. The product quality is tested to meet the requirements of the organic feed standard. It is also certified to allow the use of organic product marks on product packaging.
The requirements for this type of product are higher than that of green feed. Only the feed that meets the above conditions or meets the above requirements can be called organic feed, otherwise it is not organic feed.
How to build on farm feed mill?
With the continuous development of the breeding industry, many professional breeding households and professional villages have appeared in rural areas, which has increased the demand for feed. Many feed mills are farm-based, some just provide feed for their own farms, and some will produce part of it for sale. So here we will talk about how to set up an on farm feed mill.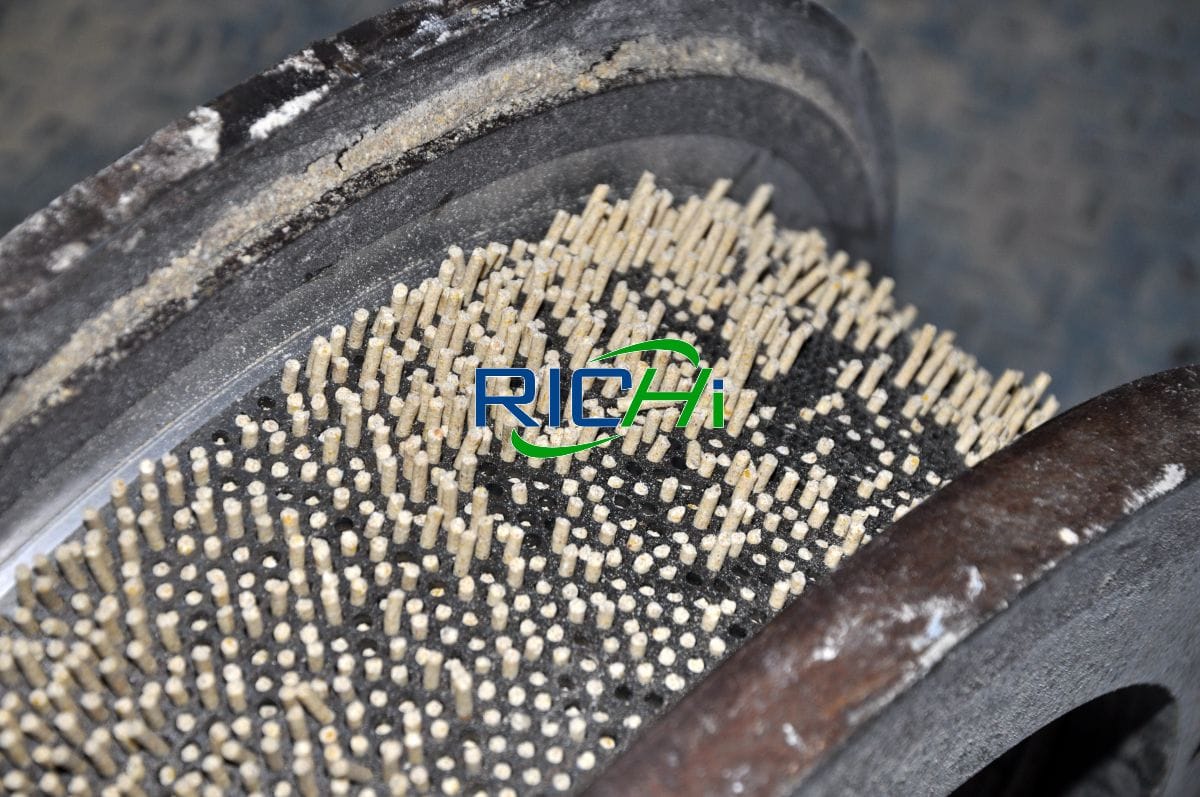 (1) Conduct feasibility analysis
Establishing small farm use feed mill plants in rural areas first requires thorough and detailed investigations, and on this basis, conduct economic analysis and technical demonstrations. Only when the breeding industry needs it, the economic benefits are good, the advanced feed processing and compounding technology is mastered, and the local spirit of "comprehensive planning, overall arrangement, local conditions, and reasonable layout" can be invested and built.
(2) Scientifically determine the scale of plant construction
The scale of production is the basis for the design of the feed processing plant. The scale of production should be determined according to the demand for feed in the supply area. The daily feed demand can generally be calculated based on 0.15 kg per day for laying hens and 1.75 kg per day for pigs. Then, the annual feed demand is calculated based on the total number of livestock and poultry raised in the supply area to determine the construction The production scale of the factory. For example, a single-shift equipment with an annual output of 1,000 tons can raise 20,000 laying hens or 1,500 pigs.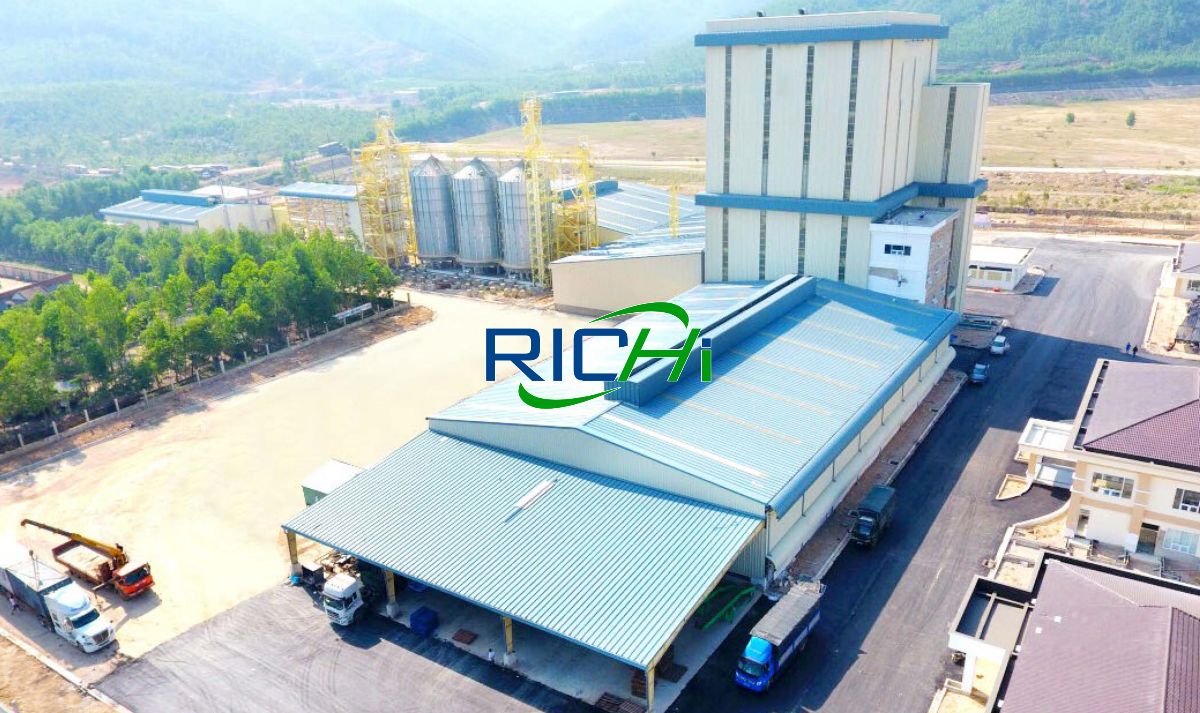 According to the local power supply situation, it should first be determined whether it is one-shift production or two-shift production. For example, for a compound feed factory with an annual output of 4,000 tons, if it is produced in one shift, only equipment with a productivity of 2 tons/hour is required, and if it is produced in two shifts, only equipment with a productivity of 1 ton/hour is selected. In order to give full play to the production capacity of the equipment. To improve economic efficiency, in the case of guaranteed power, it is generally appropriate to use two-shift production.
In addition, the annual time base of the equipment is currently prevailing: if the equipment productivity is 1 ton/hour, the annual production capacity is 2,000 tons. This is a one-shift production, and the equipment's annual time base is based on 2,000 hours. Therefore, according to the production capacity of the equipment and further considering the development plan of the local aquaculture industry or the current breeding scale, the tonnage of the equipment can be selected according to local conditions, thereby scientifically determining the scale of the on farm feed mill.
(3)Choose the site correctly
The feed mill factory site should follow the principle of "processing nearby" and prioritize construction in towns with sufficient feed resources, developed animal husbandry, convenient transportation, guaranteed electricity, and markets, or villages with a certain scale of professional breeding households. If the feed factory is built near the grain depot, or integrated with the grain depot, the housing facilities and corresponding costs for raw grain storage can be omitted.
Feed mill plants for farm should not be built in toxic, harmful, pathogenic gas or dust-contaminated places, and should not be built near or out of the limelight in livestock and poultry farms, pesticide plants, and sewage treatment plants.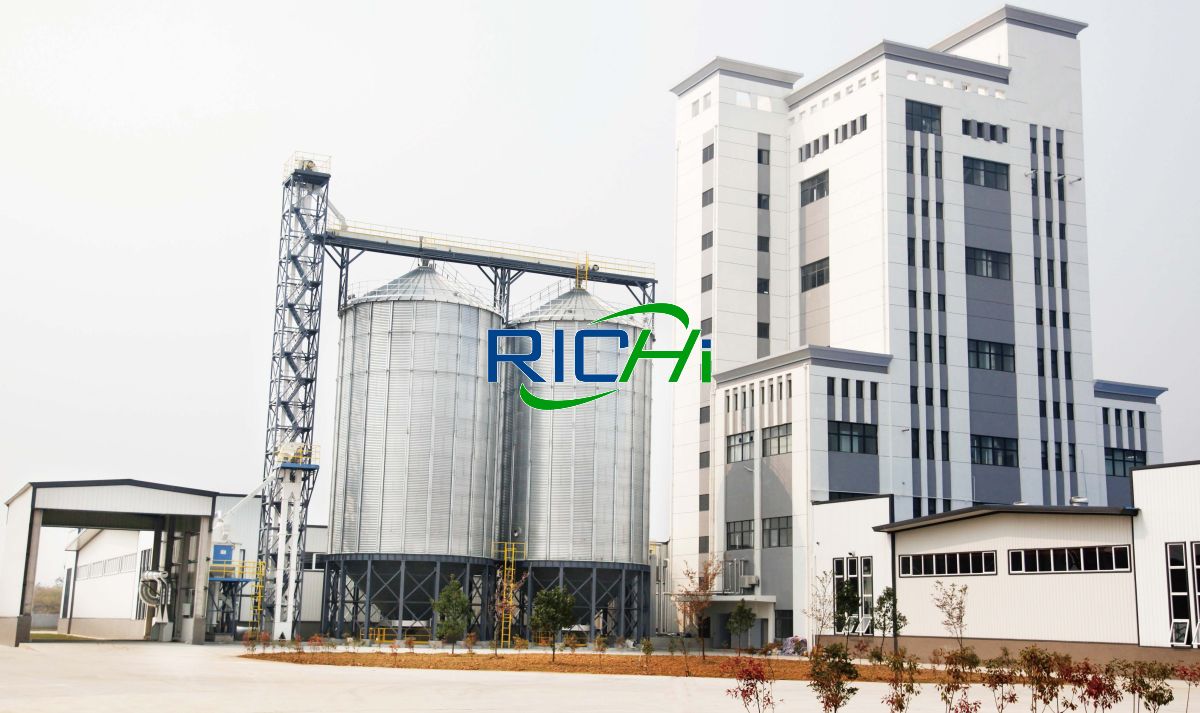 (4)Carefully select equipment
Before the establishment of the plant, the corresponding complete set of feed processing equipment should be selected according to the determined production scale. The following issues should be considered when choosing:
①Selection of unit process flow
Whether the process flow selection of the feed mill unit is reasonable or not is closely related to the investment, energy consumption, use and maintenance convenience of equipment and workshops. For small-scale feed processing plants in rural areas, the equipment strives to be simple, which requires reasonable, simple and applicable process selection.
In rural areas, the following three forms are generally appropriate.
Continuously measure in proportion-crush-mix.
Batch measurement-crushing-mixing.
Crushing—measurement in batches—mixing.
②Selection of unit measurement form
There are two types of measurement: volumetric measurement and gravimetric measurement. The advantage of volumetric metering is that it saves labor, but it is not easy to change the formula; the weight metering accuracy is higher, and it is more convenient to change the formula. Therefore, it is more accurate and convenient to measure by manual weighing in general small-scale feed mills for farm.



③Choice of feed mill unit
The unit suitable for rural feed mill plants should have the following characteristics:
The formula is easy to change, the proportioning is accurate, the mixing uniformity is good, and the feed particle size is adjustable.
The farm feed mill unit has reasonable process flow, simple structure, convenient operation, easy maintenance, compact overall layout and small floor space.
Low noise, less dust, and the unit must have a safety control device.
Low energy consumption, low price, and easy-to-buy accessories.
In summary, for farm use feed mill units with the same productivity, technical and economic indicators should be compared in terms of installed capacity, batching measurement method, power consumption, equipment selling price, required plant area, etc., and a comprehensive analysis should be carried out to select them. The required unit. Some feed factory providers will say that to build small feed processing plants in rural areas, a complete set of equipment with a productivity of 400 kg to 1,000 kg/hour should be selected. In fact, the production scale of many of our large farm customers has reached 10t/h. Very impressively speaking, we still recommend a specific analysis of specific situations, and everything is based on actual needs.
How to start a 3 tons per hour cattle feed mill plant?
The 3tph cattle feed pellet production line unit uses manual weighing ingredients. The raw materials need to be pre-weighed, and then fed into the production line from two different feeding ports. The raw materials that need to be crushed are fed from the pellet feeding port to the crusher in batches. The feed crusher uses the primary cleaning screen to feed the feed. The powder to be crushed is pre-weighed and enters the production line from the powder feeding port, and then is mixed by the mixer.
The mixed material can directly enter the finished product warehouse as a powder product, or enter the granulation section for granulation cooling processing , And finally use manual weighing and packing. The total equipment power of the unit is about 131KW; the size of the unit is about 12×6×11m; it needs to be equipped with a 0.3T boiler. The whole unit adopts a spliced frame, with compact design, reasonable structure, meeting environmental protection requirements, and directional design according to customer requirements.

3TPH Cattle Feed Mill Equipment:
Feed mill machinery
Model
QTY
Cattle feed grinding machine
SFSP56*60
1 Set
Cattle feed mixing machine
SLHY.1
1 Set
Cattle feed pellet machine
SZLH320
1 Set
MCC Control Center; Mimic Control Panel
/
1 Set
Auxiliary equipment: crew conveyor*TLSS20, Iron removing device*Z-Type, Bucket Elevator*TDTG36/18, Cyclone*SK600, Pulse dust collector*TBLMa.12A, etc.
Note: Different customers, different needs, different customized feed mill solutions, and different feed mill equipment configurations.
How to make complete 20t/h cattle feed mill business plan?
(Take one of our projects in China as an example)
(1)20T/H cattle feed plant feasibility study
About feed mill suitability, this project is in line with national industrial policies and local government industrial planning. It realizes a one-stop agricultural product processing, production, and sales. A large-scale cattle breeding base led by customers. The establishment of a feed mill plant for cattle can reduce feed prices according to their own breeding varieties.
The production of high-quality feed can ensure the quality of commercial pigs, make it convenient for poor households to raise cattles, and can digest corn, wheat, soybeans and other crops grown by local farmers, and increase farmers' income. Quality feed mills produce feeds at low prices to farmers, make the cattle feed company, farmers and breeders form a three-way profitable development.



The corn, soybeans, wheat and other crops grown by local farmers can completely solve the feed materials needed for production, and the products are mainly cattle feeds at different growth stages. The project is designed to produce 40,000 tons of feed per year, and there is no problem in sales. The feed processing project is equipped with dust collection equipment, which does not pollute the environment.
The implementation of this 20tph cattle feed mill company project, driven by the customer feed company, has driven a large number of poor households to develop cattle breeding, and at the same time, it is driven by seed supply, material supply, technical services and sales. It is a strong driving project and promotes the local cattle industry. It plays a certain leading role in providing farmers' income with the development of chemistry.
(2)20T/H cattle feed factory design construction
The 20t/h cattle feed making plant construction scale is an annual output of 40,000 tons of cattle feed, and the total investment is about 8 million yuan. The specific construction content:
Newly build 200 square meters of feed processing workshop, 1,300 square meters of raw material warehouse, 100 square meters of boiler room, 1,800 yuan per square meter of building, and 2.88 million yuan will be invested;
Newly build 400 square meters of office building, 50 square meters of power distribution room, 40 square meters of guard room, 1,700 yuan per square meter of building, and 833,000 yuan of investment;
It will be converted into a product and feed warehouse of 1,000 square meters, 800 yuan per square meter of building, and 800,000 yuan will be invested;
Purchasing a set of 20 tons/hour fully automatic compound feed mill unit at a cost of 1.6 million yuan;
The purchase of forklifts, packaging machines, transportation, ventilation and dust removal facilities requires an investment of 500,000 yuan;
300,000 yuan is required to purchase auxiliary facilities such as boiler pipes;
1000 square meters of cement road, need to invest 180,000 yuan;
Water supply, drainage and auxiliary projects need to invest 140,000 yuan;
Equipped with supporting facilities such as 400 kV transformer and power supply, it needs to invest 560,000 yuan.
The basic reserve cost of the project is 207,000 yuan.
(3)20T/H cattle feed production plant layout design



(4)20T/H cattle feed equipments configuration
| Serial number | Cattle feed equipment | Model | QTY |
| --- | --- | --- | --- |
| 1 | High-efficiency cattle feed mixer | Volume: 1000KG/time, uniformity ≤7% | 2 |
| 2 | Cattle feed grinder machine | TDSDFS110 | 2 |
| 3 | Bucket elevator | TDTG61/29 | 2 |
| 4 | Batching scale | Weighing range 0-1000KG±1KG | 1 |
| 5 | Pellet cooler | / | 1 |
| 6 | Cattle feed pelletizer machine | Production capacity 12/h | 2 |
| 7 | Dust collector | Handling air volume 4500-6450m3/h, filtering area 25m2 | 5 |
| 8 | Cylindrical cleaning screener | / | 1 |
| 9 | Gas steam boiler | 2t/h | 1 |
(5)Benefit Analysis
The 20t/h cattle feed plant adheres to the principle of preserving low profits and giving benefits to poor households. Each ton of feed will be used to benefit farmers 100 yuan, and the enterprise will have a low profit of 50 yuan per ton. The project construction scale will produce 40,000 tons of feed per year, which can benefit farmers 4 million yuan. The annual profit is 2 million yuan, and the total profit is 6 million yuan. At the same time, 30 farmers will be employed.
How to control commercial feed mill production?
About commercial feed mill quality assurance program or commercial feed mill quality control, this is a very broad question, because there are too many details to say. Today, RICHI is here to discuss several common quality control in the feed mill production process which links with you.

(1) Control of crushing particle size
The key to this technology is to pulverize various feed materials to the most suitable particle size for animal use, so that the compound feed product can obtain the best feeding efficiency and economic benefits. To achieve this goal, it is necessary to in-depth study and grasp the best utilization of different animal feed materials for different particle sizes. For aquatic feed, micro-pulverization and ultra-fine pulverization technology must be used.
(2) Control of the accuracy of ingredients
Using error-free computer batching control technology, the batching amount of each batching component can be accurately controlled in each batching. Micro additives can be pre-mixed and pre-mixed and use high-precision micro-dosing system.
(3) Feed mill mixing uniformity control
This includes the mixing uniformity control technology of compound feed, concentrated feed, additive pre-mixed feed, and liquid feed. Choosing the proper mixer and proper mixing time and method is the key to ensuring the mixing quality.
(4) Feed mill granulation quality control
In this respect, the first thing is to control the quality of the feed, that is, to control the temperature, time, water addition and starch gelatinization degree of the tempering, so that the tempered state is most suitable for pelleting; the second is to control the powdering of hard pellets. Rate, cooling temperature and moisture, uniformity, consistency, and water resistance of particles.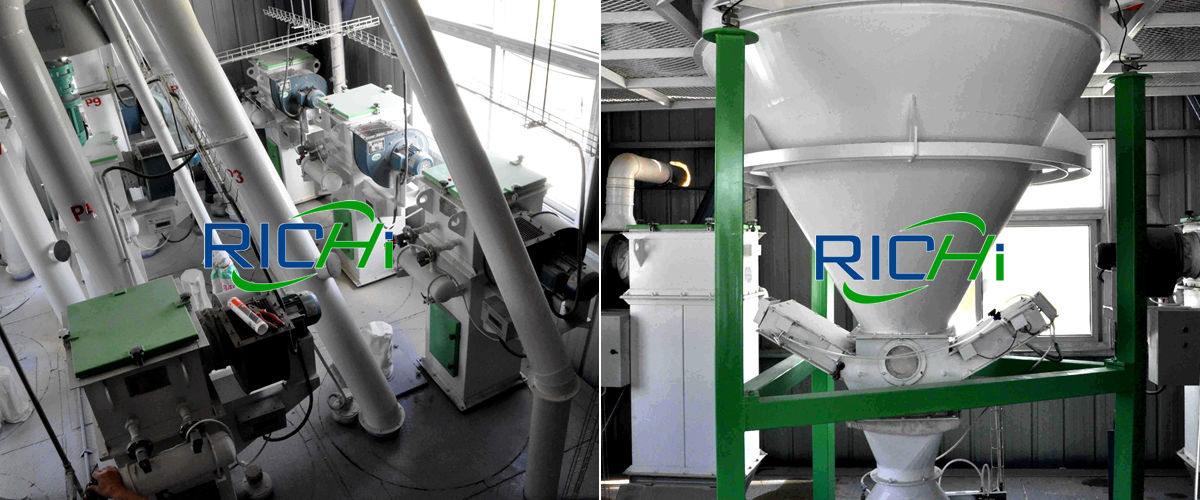 To achieve these requirements, a reasonable steam supply and control system and conditioning, granulation, cooling, and screening equipment must be equipped, and the control parameters must be scientifically adjusted according to the different requirements of the product.
(5)Feed mill conditioning quality control
The quality control of extruded pellet feed or expanded feed is first to control the quality of the feed, that is, control the tempering temperature, time, water addition and starch gelatinization degree, so that the tempered state is most suitable for extrusion Puffing or expansion; secondly, it is necessary to control the maturation, density, powdering rate, cooling temperature and moisture, uniformity, consistency and water resistance of the extruded pellet feed.
To achieve these requirements, a reasonable steam supply and control system, conditioning, extrusion, expansion, drying, cooling, and screening equipment must be equipped, and the control parameters must be scientifically adjusted according to the different requirements of the product to obtain the product that customers are satisfied with.



(6) Quality control of liquid addition
With the continuous development of cattle feed mill technology, many additives will be added to powder, granular and extruded feed in liquid form, and the activity of these additives will be retained to the greatest extent to reduce feed costs. One is to realize the precise control of the amount of liquid added, the other is to realize the uniform distribution or coating of the liquid in the feed, and the third is to ensure the stability and validity period of the liquid additive after spraying. This requires the use of high-performance atmospheric liquid spraying equipment, vacuum spraying equipment and control technology.
(7) Control of feed cross-contamination
The main places where feed cross-contamination occurs are: leakage and mixing during storage; cross-contamination between different products caused by residues in transportation equipment; cross-contamination caused by residues in silos and buffer hoppers ; Cross-contamination caused by residues in processing equipment; cross-contamination caused by harmful microorganisms, insects, etc.
Therefore, it is necessary to adopt residue-free transportation equipment, silos, commercial feed mill equipment, correct cleaning, sorting, washing and other technologies and independent production lines to meet the ever-increasing feed safety and sanitation requirements.
(8) Quality control of clean and sanitary feed
The control technology in this area includes cross-contamination control technology, as well as the necessary heat treatment and sterilization technology for feed. Heat treatment includes high-temperature cooking, extrusion, high-pressure treatment, ultraviolet radiation and other process technologies. These technologies can usually be used in combination with ordinary processing technologies, or they can be implemented separately.