Technical Features Of Ruminant Feed Pellet Machine
1. Ruminant feed pellet machine adopts gear driving system, with good transmission rate, stable and reliable performance and low noise.
2. The key components of ruminant feed pellet machine are imported to ensure longer service life and lower cost for maintenance.
3. Large capacity, this type feed pellet maker machine suitable for large farm use and commercial feed mill plants. Easy maintenance, safe and reliable, less investment and quick effect.
4. The ruminant feed pellet mill adopts all-stainless steel feeder, anti-arch structure, and frequency conversion speed control.
5. The main drive system bearing of this ruminant feed pellet equipment adopts SKF, the oil seal is imported, and the lubrication oil return system is specially set up to ensure reliable bearing lubrication.
Applications Of Ruminant Feed Pellet Machine
Ruminant feed pellet making machine is a pelletizer used to process ruminant animals such as cattle, sheep, camels, deer, giraffes, alpacas, antelopes, etc.
Ruminants are generally in a hurry when they eat, and they swallow it immediately after a little bit. When they rest, they realize that they are full but cannot digest it. So they vomit the food to the mouth and chew slowly, mix it with saliva, and then swallow it. , This kind of behavior is called ruminating behavior.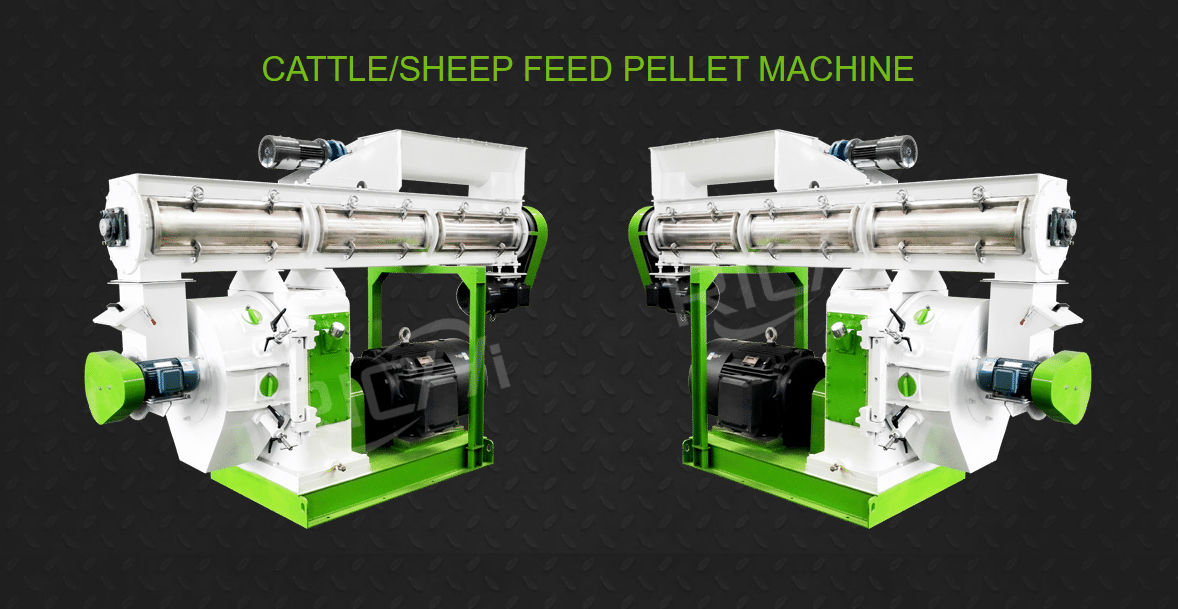 As there are many varieties of ruminant feed, there are concentrated feed, concentrated feed, premix, compound feed, etc. Here we are focusing on the different production stages, physiological requirements, nutritional needs of production purposes and the nutritional value of feed materials.
As a basis, a variety of feed materials from different sources are uniformly mixed according to a certain proportion, and ruminant feed is produced according to the prescribed technological process. Ruminant pellet feed has the effects of improving animal production performance, promoting gastrointestinal development and preventing diseases.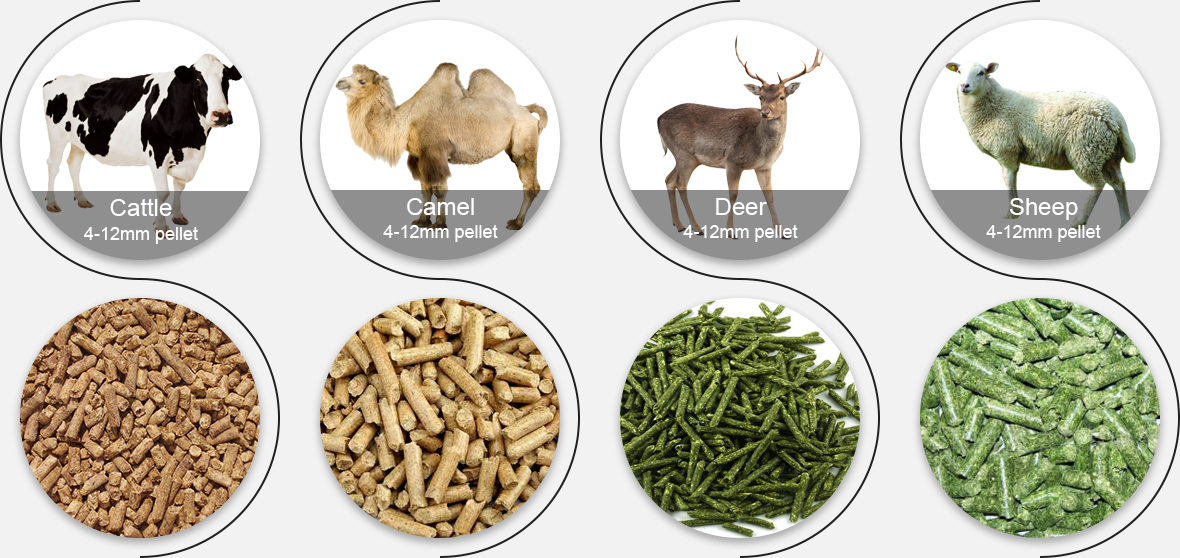 Different raw material types of pellet feed have different effects on ruminant production performance, milk quality, feed conversion rate and rumen fermentation. The formulations of ruminant feed pellets for customers in different countries and regions are different.
We will configure the most suitable ruminant feed pellet equipment for customers according to their raw materials and recipes. For example, when processing grass-containing ruminant pellets, we will configure forced feeders for customers; if customers want to process concentrated feed, they only need to choose standard livestock feed pelleting machines.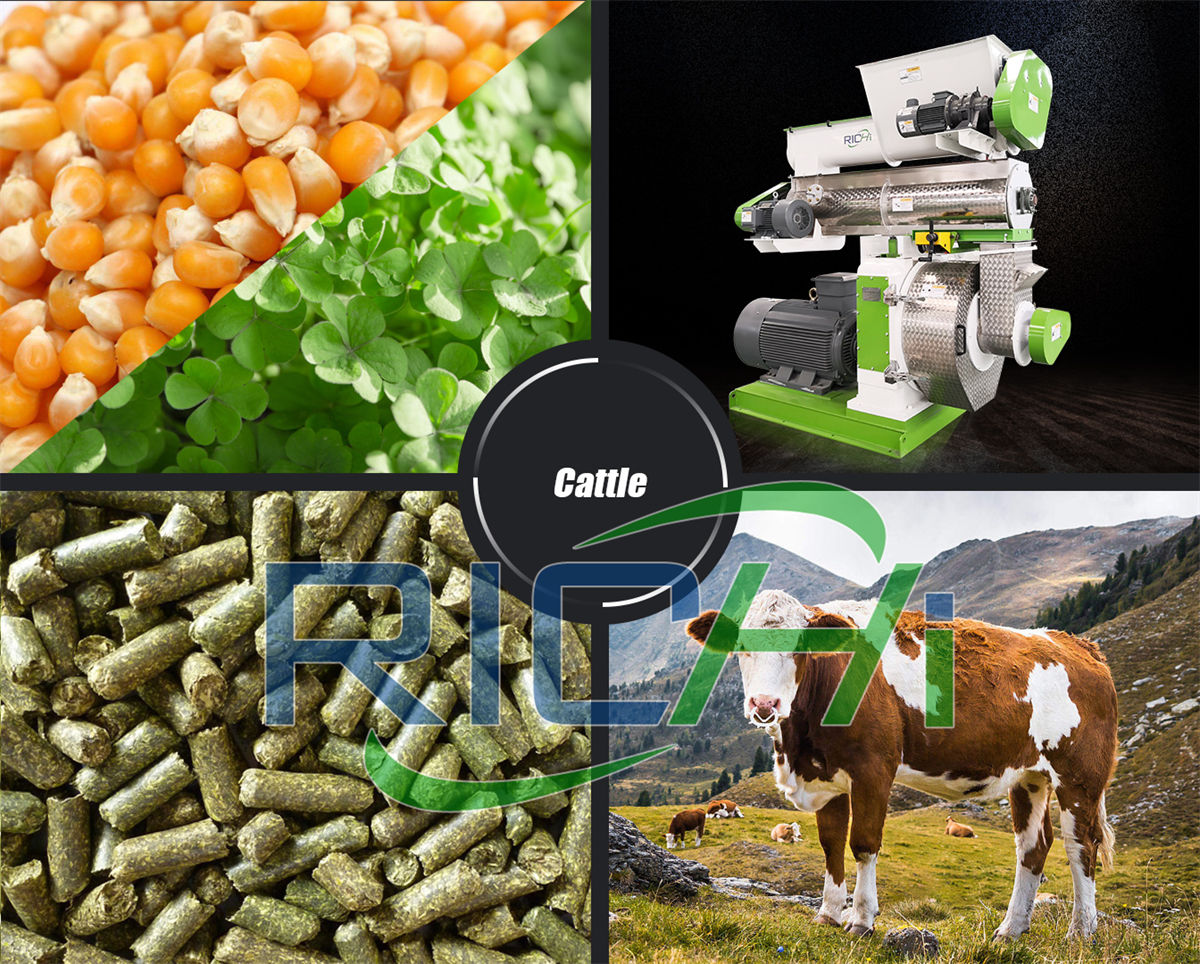 RICHI Ruminant Cattle Sheep Feed Machine / Ruminant Feed Mill Plant For Sale The World (Typical Case)
Cost to start ruminant feed production line for feed mills or ruminant farms?
The configuration of the ruminant feed production line is carefully designed according to the on-site survey or the actual requirements of the customer, which fully reflects the rationality, effectiveness, applicability, large output, low wear and low operating cost of the ruminant feed mill design. According to different technological requirements, various types of ruminant feed machinery are combined to meet customers' different ruminant feed manufacturing process requirements.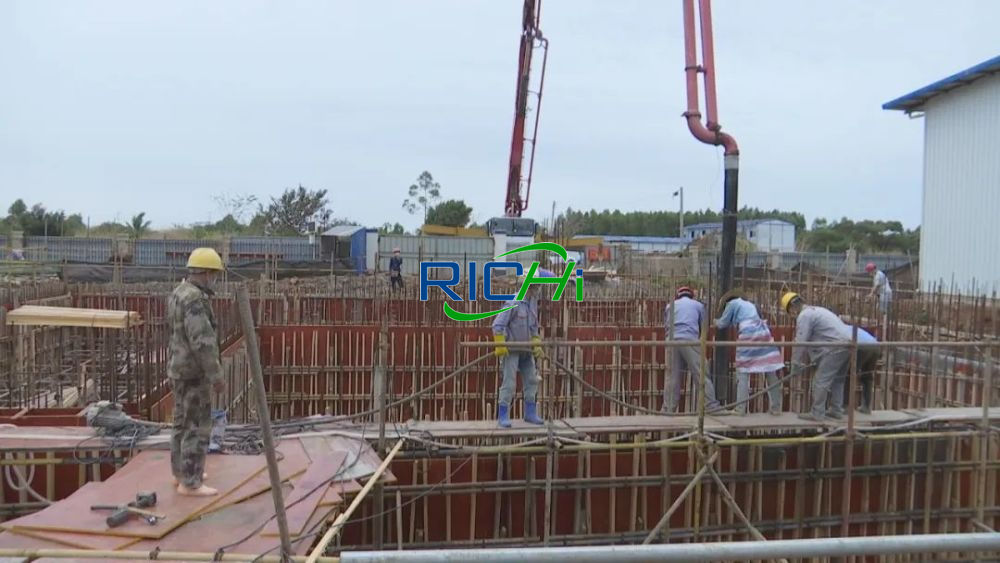 | Scale | Total Power | Site Requirements | Installation Cycle | ruminant Feed Mill Cost(USD) |
| --- | --- | --- | --- | --- |
| 1-2T/H | 47-75KW | 300-500m² | 7-15 Days | 10000-50000 |
| 3-4T/H | 53-165KW | 300-700m² | 15-20 Days | 5,0000-12,0000 |
| 5-7T/H | 68-259KW | 400-800m² | 20-40Days | 7,0000-25,0000 |
| 8-10T/H | 125-410KW | 800-2000m² | 45-60 Days | 150,000-300,000 |
| 12-20T/H | 358-620KW | 1500-3000m² | 60-90 Days | 250,000-580,000 |
| 25-40T/H | 545-870KW | 2000-4000m² | 90-120Days | 45,0000-850,000 |
| 50-60T/H | 710-1120KW | 3000-5000m² | 100-140 Days | 900,000-1,400,000 |
| 60-80T/H | 815-1370KW | 5000-8000m² | 130-160 Days | 1,450,000-1,800,000 |
| 80-100T/H | 1230-1700KW | 8000-20000m² | 160 -190Days | 2,000,000-2,800,000 |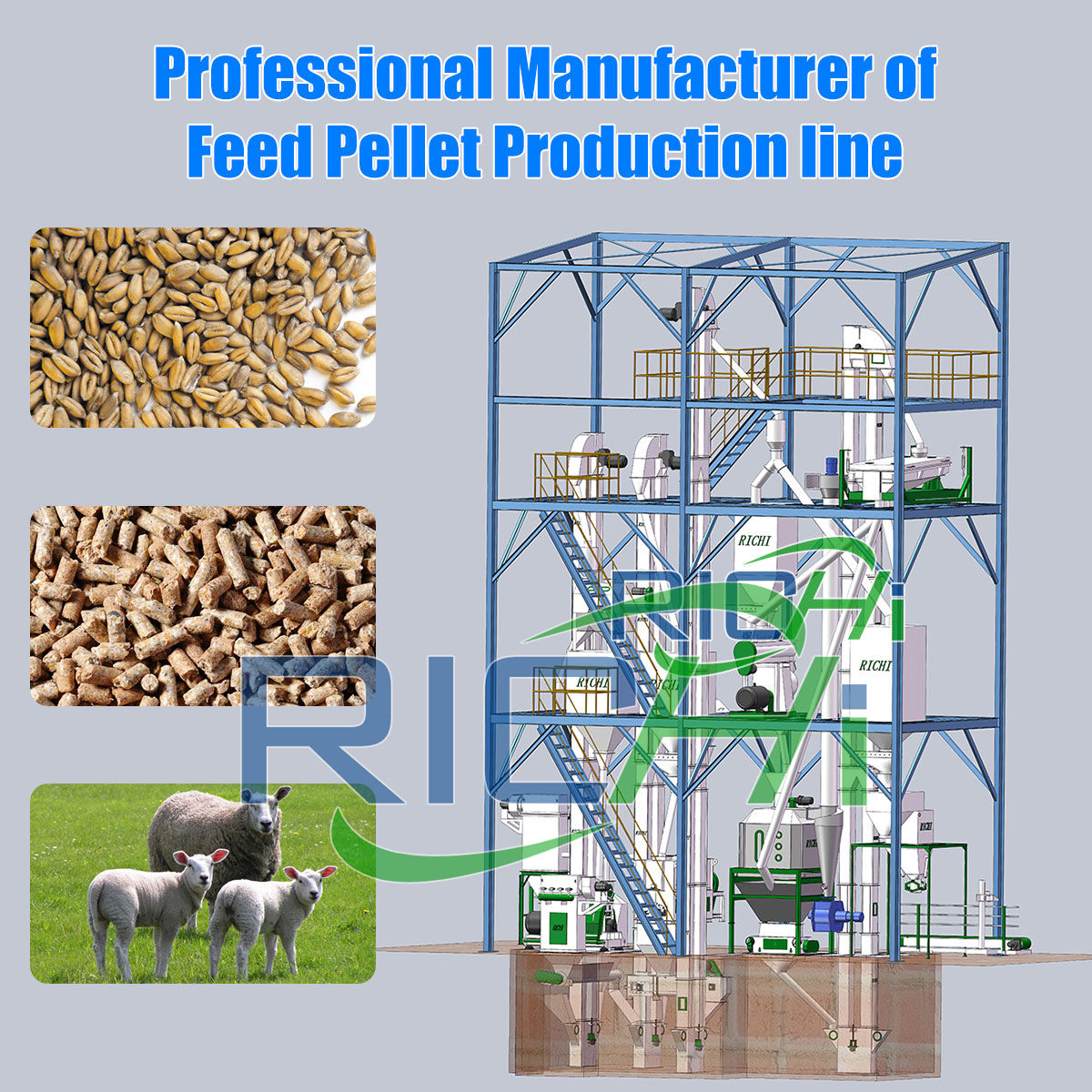 Definition of ruminant feed factory production scale
According to the regulations of the feed industry, ruminant feed factory construction projects can be divided according to the size of the production scale.
| Scale(t/h) | ≤2.5 | 5-10 | ≥20 |
| --- | --- | --- | --- |
| Factory type | small | medium | large |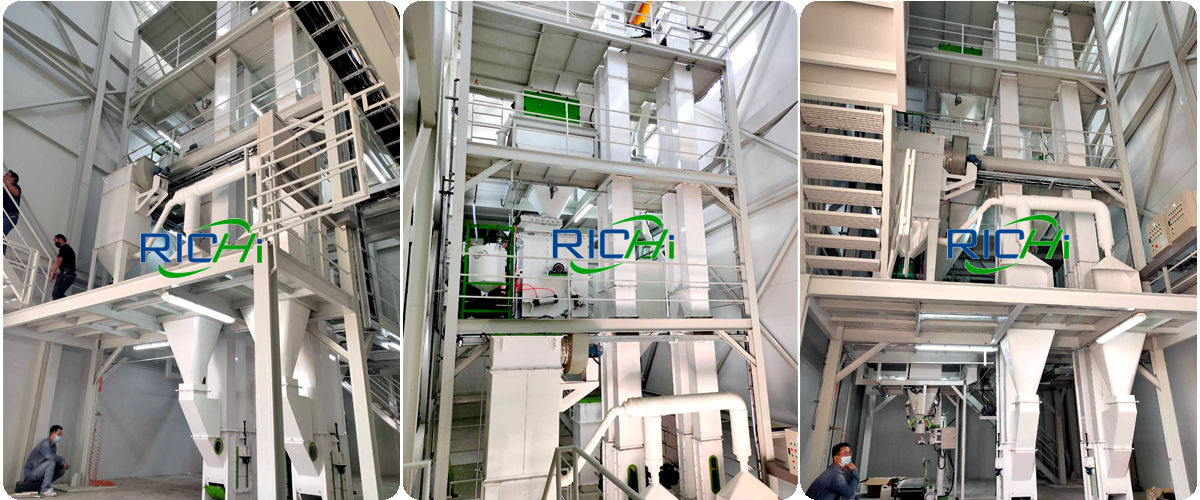 How to build a new ruminant feed production line for your feed factory or ruminant farms?
According to customer different ruminant feed production types, different output configuration can be customized. We devote ourselves to undertaking all ruminant feed production line with 1-100 tons per hour and to providing more value added service to all the customers.
Richi Machinery provides global customers with a one-stop, complete set of professional ruminant feed production line solutions (business plan for ruminant feed production) to solve the problems of customers, especially pure investment customers, such as technical difficulties and poor understanding of ruminant feed equipment, so that the needs and positioning of the project are more clear, and at the same time, the customer's equipment selection range is more concentrated, reducing the cost of energy and financial resources.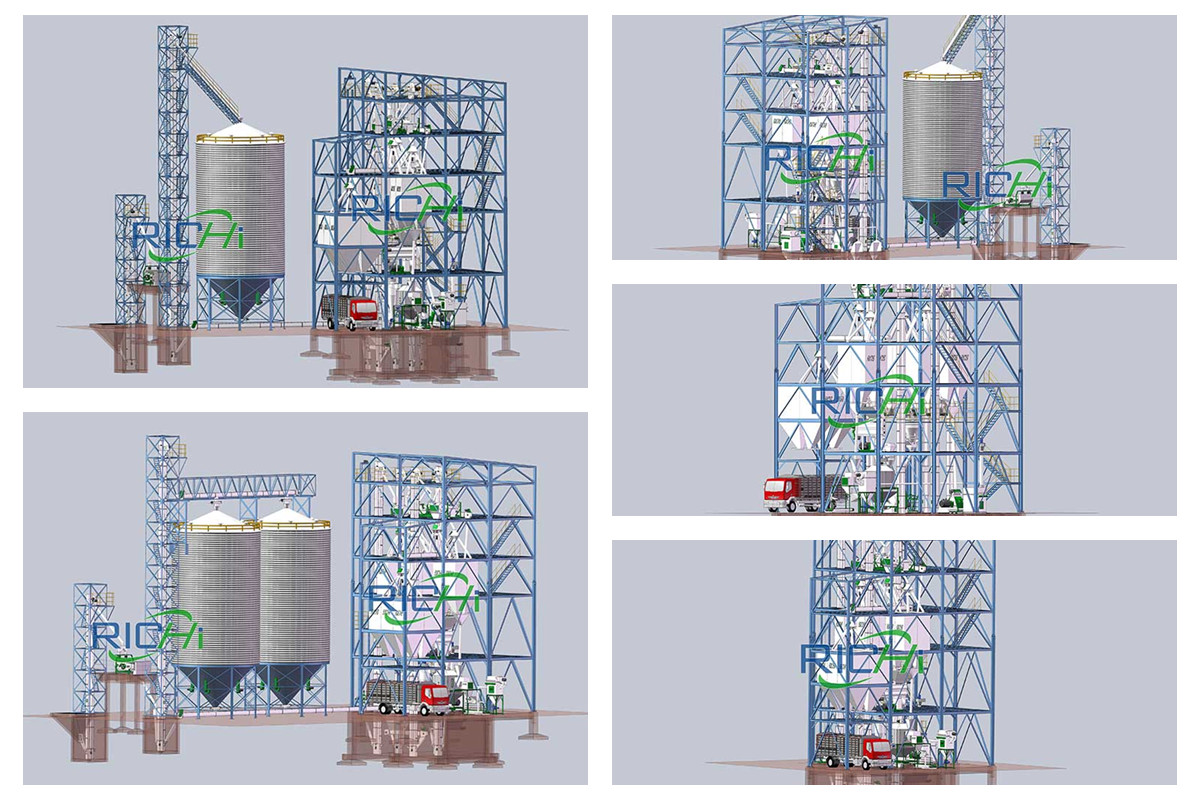 If you want to start a new ruminant feed pellet line for your ruminant feed mill or ruminant farm, you should pay attention to the following main processes:
Determine the scale of ruminant feed mill.
Determine the ruminant feed manufacturing process and recommend ruminant feed machine.
Control mode selection (the degree of automation of the ruminant food processing plant).
Complete feed mill plant structure selection.
Planning the general drawing of ruminant feed mill plant site.
Due to the influence of various objective factors such as ruminant feed raw materials, processes, formulas, project area, local regulations, etc., various technological ruminant feed production process and ruminant feed equipment configurations have appeared in the actual ruminant feed plant design.
Therefore, if you want to build a high-efficiency, high-quality, high-return ruminant feed production line, please do not hesitate to contact Richi Machinery and communicate directly with our engineer team, you will definitely get a satisfactory answer. The following is the ruminant feed mill machine configuration display of ruminant feed production business plan we have done in several customer project :
Working Principle Of Ruminant Feed Pellet Machine
The main structure of this ruminant feed pellet machine is composed of feeder, conditioner, ring die granulator host (mainly including main motor, rotor assembly, ring die, pressure roller, cutter assembly and lubrication system, etc.).
It is required that the mixed powder with a moisture content of not more than 18% enter the feeding screw conveyor from the bin to be granulated. By adjusting the speed of the frequency conversion motor, the appropriate feeding amount is obtained, and then it enters the feed pellet machine conditioner. The material is fully mixed with the saturated steam introduced into the conditioner under the stirring of the conditioner's stirring blade.
If you need to add molasses or fat, you can add it from the molasses inlet. After being fully tempered, the temperature of the mixed powder is generally controlled at 65~95℃, and the humidity is between 14~18% according to different formulas.
Finally, it enters the granulation room and is pressed into pellets under the action of the ruminant animal feed pellet machine pressure roller and the ring die. And adjust the distance between the cutter and the surface of the ring die to control the length of the ruminant feed pellets.
Parameter And Model Of Ruminant Feed Pellet Machine
| Model | Capacity(TPH) | Main Motor Power(kw) | Feeder Motor Power(kw) | Conditioner Power(kw) | Dia.of Ring Die(mm) | Final Pellet(mm) |
| --- | --- | --- | --- | --- | --- | --- |
| SZLH250 | 1-2 | 22 | 0.75 | 1.5 | 250 | 2~12 |
| SZLH320 | 3-4 | 37 | 1.5 | 2.2 | 320 | 2~12 |
| SZLH350 | 5-7 | 55 | 1.5 | 3 | 350 | 2~12 |
| SZLH420 | 8-12 | 110 | 1.5 | 7.5 | 420 | 2~12 |
| SZLH508 | 10-18 | 160 | 2.2 | 11 | 508 | 2~12 |
| SZLH558 | 15-25 | 180/200 | 2.2 | 11 | 558 | 2~12 |
| SZLH558D | 14-22 | 160/180/200 | 1.5 | 7.5 | 558 | 2~18 |
| SZLH678 | 20-30 | 220/250 | 2.2 | 11 | 678 | 2~12 |
| SZLH678D | 15-25 | 200/220/250 | 2.2 | 11 | 673 | 2~18 |
| SZLH768 | 25-40 | 280/315 | 2.2 | 11 | 768 | 2~12 |
| SLZH858 | 25-42 | 280/315 | 2.2 | 15 | 858 | 2~18 |
Cost To Set Up Standard/Customized Ruminant Feed Pellet Machine
Ruminant Feed Pellet Making Machine Price: FOB 7000-100000USD
What's ruminant animal feed pellet machine price? Because different customers have different requirements for pellets, there will be many differences in the details of our feed pellet machine design.
Therefore, the actual ruminant feed pellet maker machine price for different projects are different. Even if the customer wants to produce the same type of pellets, if the customer's feed formula, raw materials, and production technology are different, the ruminant feed pelletizer machine ring die, conditioner, etc. will be different.


Set up complete ruminant animal feed pellet production line or ruminant feed mill
Ruminant animal feed pellet manufacturing process:
Firstly, the raw materials will go through the crushing and grinding process, and they will be processed into powder and then mixed completely. Then, through the feed pellet mill machine, the mixed feed mash will be made into pellets. After the cooling process, the feed pellets can pack directly.



Machinery required in ruminant feed production line:
Feed Crusher—Feed Mixer–Ruminant Feed Pellet Mill–Pellet Cooler–Feed Package.



If you want to build a ruminant feed line or ruminant feed factory:
According to customer different feed types, different output configuration can be customized. We devote ourselves to undertaking all ruminant feed mills with 1-100T/H capacity and to providing more value added service to all the customers.
The prospect of ruminant animal feed production
In recent years, ruminant feed has shown the characteristics of low penetration rate and high growth rate. In ruminant breeding, the demand for and dependence on industrial feeds from low to high is followed by grazing, semi-house feeding, and house feeding.
With the increase in the per capita consumption of beef, mutton and dairy products, and the increase in the proportion of ruminant feeding in houses and large-scale breeding, it is expected that the industry capacity of ruminant feed will have greater room for development in the future.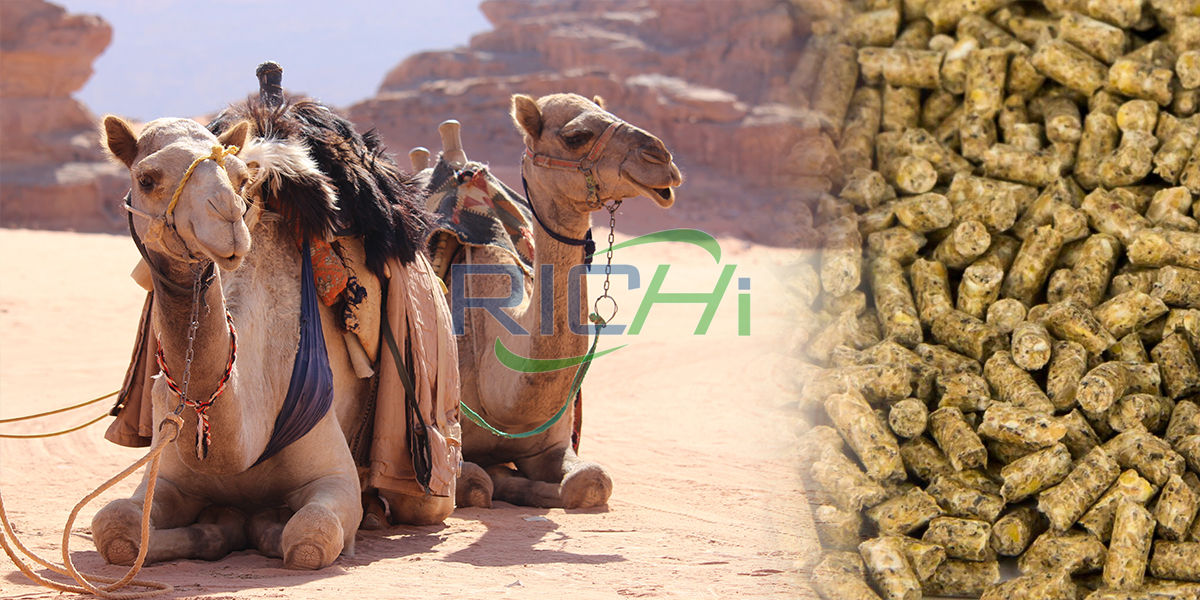 Globally, the scale of ruminant livestock breeding is significantly lower than that of live pigs and poultry, and there is relatively large room for commercial ruminant feed development. The scale of pig and poultry farming in the United States is much higher than that of ruminants, and ruminants are characterized by a higher degree of scale in dairy cattle than beef cattle.
The livestock industry in Japan also exhibits the above-mentioned characteristics similar to those in the United States. The development trend of China's animal husbandry has many similarities with its counterparts in the United States and Japan.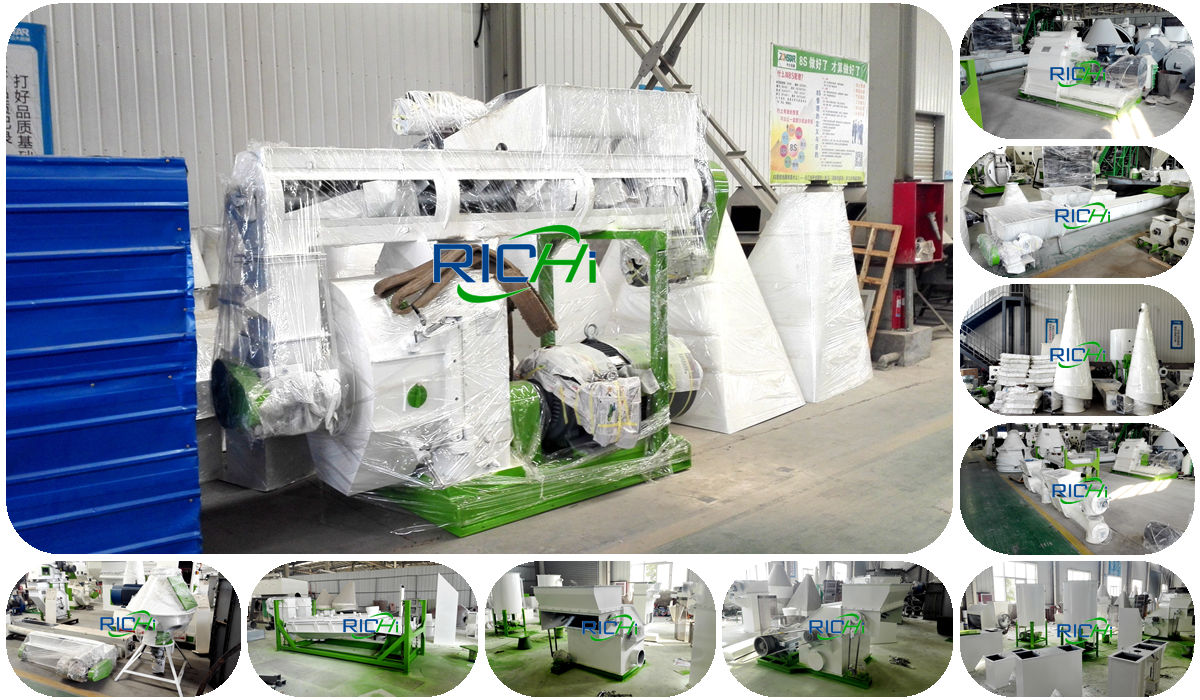 At the current stage, the scale and trend of pig farming and poultry farming in China are significantly stronger than that of ruminant farming, and the scale and trend of dairy cattle farming within ruminants is significantly stronger than that of beef cattle farming.
Combined with the development trend of international animal husbandry, we predict that the future scale of ruminant breeding will be significantly lower than that of live pigs and poultry, and there is relatively large room for the development of commercial ruminant feed.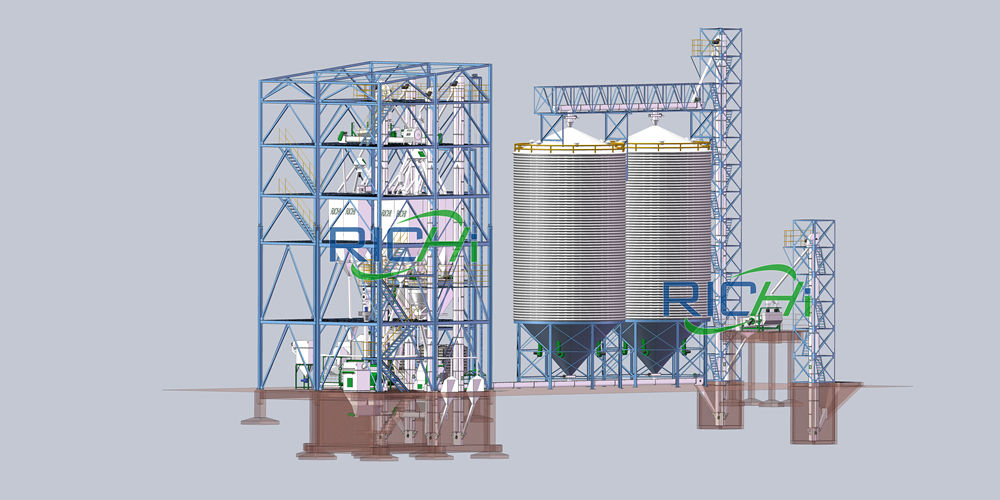 The production pattern of main ruminant products in the world(The latest data)
| Global beef production pattern | Global lamb production pattern | Global milk production pattern |
| --- | --- | --- |
| United States(17.01%) | China(29.84%) | United States(13.84%) |
| Brazil(14.05%) | India(5.13%) | India(12.57%) |
| China(9.09%) | Australia(4.65%) | Brazil(5.01%) |
| Argentina(4.32%) | Pakistan(4.53%) | Germany(4.62%) |
| India(3.47%) | Turkey(2.85%) | China(4.47%) |
| Australia(3.24%) | New Zealand(2.79%) | Russia(4.34%) |
| Pakistan(3.06%) | Nigeria(2.60%) | France(3.48%) |
| Mexico(2.79%) | Sudan(2.38%) | New Zealand(3.06%) |
| Russia(2.24%) | Algeria(2.17%) | Turkey(3.05%) |
| France(1.97%) | United Kingdom(1.9%) | Pakistan(2.90%) |
| Canada(1.91%) | Chad(1.87%) | United Kingdom(2.88%) |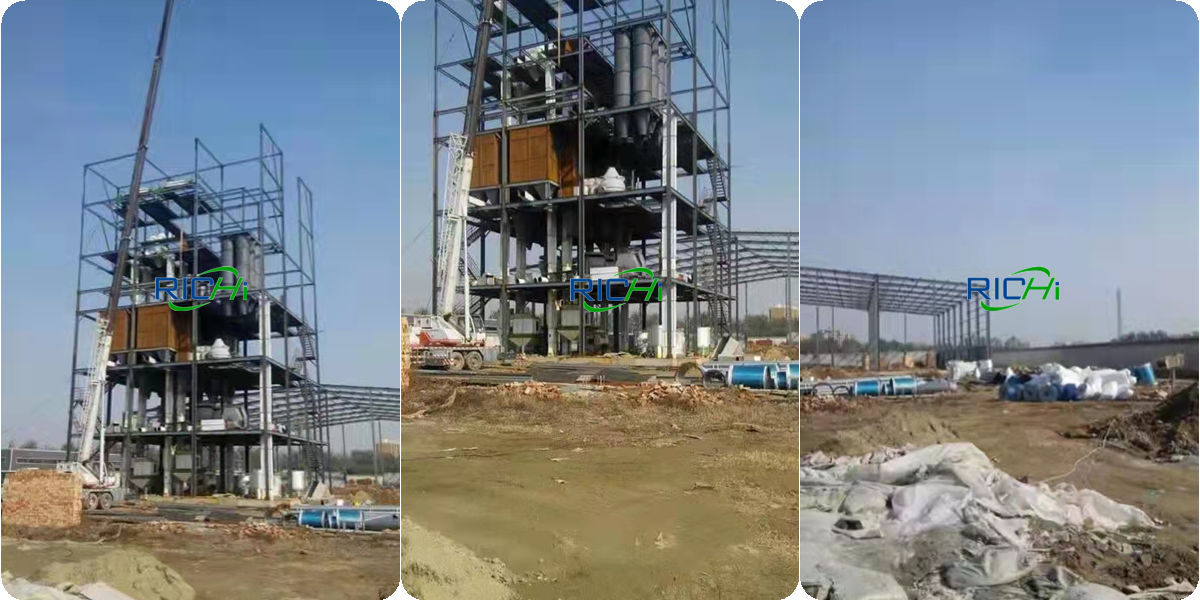 Types of ruminant animal feed production
In fact, many customers are not clear about the concept of various feeds, so they cannot use the feeds properly and exert their proper functions. Now RICHI will give you a brief introduction to several categories involved in ruminant feed:
Feed additives: refers to small or trace substances added in the ruminant animal feed production, production, and use, including nutritive feed additives and general feed additives. Feed additives cannot be used to feed ruminant animals directly, and must be mixed with other feed materials according to scientific formulas.
Additive premix feed (premix): including compound premix feed, trace element premix feed and vitamin premix feed. Compound pre-mixed feed refers to a nutritive feed additive of any two or more types of mineral trace elements, vitamins, and amino acids as the main ingredient, and it is uniformly formulated with other feed additives, carriers and (or) diluents in a certain proportion mixture. The addition amount in compound feed, concentrate supplement or ruminant animal drinking water is not less than 0.1% and not more than 10%.


Concentrated feed: also known as protein supplement feed, it is a semi-finished compound feed prepared from protein feed (soybean meal, cotton meal, etc.), mineral feed (bone meal, stone powder, etc.) and additive premix. Generally, the proportion in the complete compound feed is 20% to 40%. Energy feed (corn) needs to be added and must be fed with roughage, green fodder or silage.
Concentrate supplements: Concentrate supplements refer to feed formulated with various feed ingredients in a certain proportion in order to supplement the nutrition of herbivores based on roughage, green fodder, and silage, also known as mixed concentrate. Mainly composed of energy feed, protein feed, mineral feed and some feed additives, it is mainly suitable for feeding herbivorous animals such as cows, sheep and rabbits. When feeding, it must be matched with roughage, green fodder or silage.
TMR total mixed ration: it is the concentrated feed (corn, soybean meal, premix and other additives), coarse feed (straw, silage, hay, peanut seedlings, etc.) are fully mixed with a TMR machine to provide a sufficient and balanced nutritional diets that meet the needs of ruminant animals such as cattle and sheep.
Copyright © 2015-2022 by HENAN RICHI MACHINERY CO,LTD.All rights reserved.