Applications Of Sawdust Pellet Production Line
The depletion of fossil fuels and the need to reduce green house gas emissions has resulted in a strong growth of biomass utilization for heat and power production. Attempts to overcome the poor handling properties of biomass, i.e. its low bulk density and inhomogeneous structure, have resulted in an increasing interest in biomass densification technologies, such as pelletization in biomass sawdust pellet production line.
The global pellet market has developed quickly, and strong growth is to be expected for the coming years. Due to an increasing demand for biomass sawdust, the traditionally used wood residues from sawmills and pulp and paper industry are not sufficient to meet future needs. Therefore, new types and sources of biomass sawdust will be used more commonly in the future.
Wood and agricultural biomass sawdust pellets boost the potential as bio-fuels toward power production in tertiary and residential sectors. The production of sawdust pellets, however, is a multi-stage process where the supply-processing phases and the overall energy input strongly depend on the characteristics of the input biomass.


Why Make Sawdust Pellets?
Sufficient and cheap sawdust material source: Sawdust is the residue of wood processing factory. The amount of sawdust material is large and the price is cheap. Sawdust pellet mill can also be used to deal with life wastes such as leaves, straw and crops waste. It is a way to make waste profitable. And by making these biomass materials into fuel pellets, we no longer have worry how to dispose of these wastes.
Great demands for sawdust pellets: As the price of coal rise, finding coal fuel replacement is urgent. More and more people turn to biomass pellets. The market demand is large. Sawdust pellets not only be used at home in our daily life, but also can be applied to industrial production such as power plant.

Advantages of Sawdust Pellets
They are a sustainable resource.
They reduce energy imports and contribute to the national economy.
The amount of waste released to the environment after use is negligible.
They can be used to produce electrical energy.
They generate CO emissions below the threshold.
They are easy to transport and the need for storage is less compared to wood etc.
They are manufactured from residual sawdust and similar waste materials without harming nature.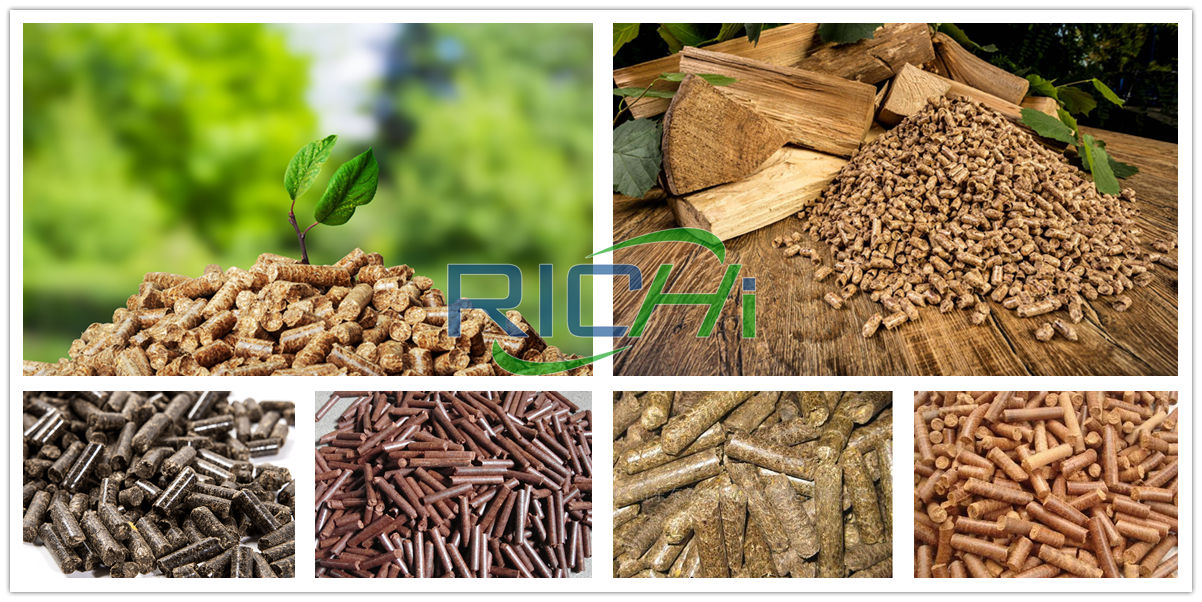 Working Principle Of Sawdust Pellet Production Line
The picture below outlines the phases of the complete sawdust pellet production line process. In this section, these phases are shortly discussed, in order to highlight the main technical barriers of the sawdust pellet chain.


This phase includes the collection, transport, and storage of biomass to the collection point; green wood is mechanically removed, and pruning residues are air-dried.
Biomass chipping & crushing & drying & conditioning for sawdust pellet line
This phase includes the mechanical processes such as converting wood into wood chips (except when starting from sawdust), the removal of ferrous material, drying, milling, and conditioning. The wood chips are typically dried in heaters fed with conventional fuel, although sometimes the heaters use wood chips as fuel.
Rotary drum drying machine is mainly used for drying the wood sawdust pellet with a certain degree of humidity and particle size. The most common driers use rotating drums with flow of air, in which the wet biomass does not stick to the drum surfaces and over-heating is minimized.


If the biomass can withstand contact with the combustion products, the simplest and cheapest system is a direct-heating drier, in which the wet biomass is in contact with hot combustion gases. Alternatively, the wet biomass can be dried using hot air.
The dried biomass is further milled to obtain wood chips with average length of 3 mm and to homogenize the end product. The most common mills use rotating hammers, and the material is shifted through the machine using compressed air.
Sometimes, the secondary milling is bypassed by a simple tilted-plane mechanical size selector. The pre-conditioning involves exposure of the biomass to an appropriate mix of environmental conditions (temperature, moisture, length of exposure time) to optimize its behavior in the subsequent sawdust pelletization.
Biomass sawdust hammer mill crushers may be used to reduce the size, or change the form, of waste materials so they can be more easily disposed of or recycled, or to reduce the size of a solid mix of raw materials.


A common pre-conditioning process exposes the biomass sawdust to rapid heating using hot water vapor, with the effect of softening the materials and obtaining a partial decomposition of starch and cellulose in simpler sugars, which allow easier compacting.
The short time of exposure to hot vapor minimizes significant increases in the moisture content of the biomass. Additives (such as molasses, starch, fats, oils, glues, etc.) aimed at improving biomass quality and extrusion behavior can be added to the raw feed during this phase.
Sawdust pelletizing for sawdust pelletizing plant
This phase involves the physical production of the sawdust pellet by applying mechanical pressure on the biomass sawdust through a suitable holed plate, to obtain sawdust pellets with diameters in the 2–12 mm range and heights in the 12–18 mm range.
RICHI sawdust pellet machine adopts dual motor driving system, low noise and no need for lubrication, screw feeder adopts frequency converter; Start current is half of single motor gear pellet mill,low working voltage; SKF bearing and Siemens motor; Automatic oil adding device for main shaft and roller.
The main technical parameters of the biomass wood sawdust pelletizer machine are as follows: canal geometry, number and speed of pressurizing drums, ratio between diameter and length of canals, and distance between drum and holed plate.


These phases include cooling, selection of sawdust pellet size, collection, and storage in silos or sacks for subsequent sale. The cooling phase is critical for the stabilization of the product, since, during the sawdust pellet machine process, the pellets reach comparatively high temperatures (90–95℃) and are typically obtained via forced exposure to air at room temperature.
Advanced theory of countercurrent cooling, widely applied in biomass sawdust pellet cooler, such as Granulation, Expansion, extruder, expanded and so on. Pellets with a non-standard size are mechanically removed to minimize development of dust in the storage areas.