Today, 160 animal feed manufacturers who are producing 98% of the national production (7 million tons), are affiliated. The Belgian feed sector is part of the food chain: feed for food. This results in representations on regional, national and international level.
The use of raw materials in the feed sector, is focused on by-products of the food and the biofuel industry. More than 2 million tons of oilcakes, milling by-products, sugarbeetpellets, citruspellets, etc are valorised each year.
Overview of Belgium customizable easy to use 1-2 t/h small poultry feed plant for a small poultry business
Here, what we are going to share with you is a case of our 1-2t/h small poultry feed production plant in Belgium. This complete feed mill plant for poultry feed pellets was purchased by a customer in Belgium who has a large scale poultry farm. The feed pellets produced by the 1-2 ton per hour poultry chicken feed pellet making plant is for his poultry farm and for sale.
Since the 1-2t/h small automatic chicken feed making machine plant project was completed after the epidemic, we adopted online guidance for installation, commissioning, and training to provide Belgian customers with comprehensive services. In just 20 days, the 1-2t/h fully automatic poultry feed mill plant project was completed and all the installation and commissioning work was completed.

Site of small feed production line for producing poultry feed in Belgium
As we all know, feeding poultry feed pellets can greatly improve the health and growth of animals. And, more and more farmers has noticed it and are seeking to buy high quality poultry feed pellets. It is also a great way to produce the poultry animal feed pellets by setting up your own poultry feed manufacturing plant, which not only can meet your own feed pellet demands, but also allow you to sell the feed pellets to other farmers for more profits. It is definitely a business that is worth of investing.
Poultry feed equipment needed to start a poultry feed production business with 1-2t/h capacity in Belgium
Poultry feed making equipments needed for producing poultry feed in this Belgium 1-2 t/h factory price poultry farm feed plant:
| Poultry feed making machine name | Model | QTY |
| --- | --- | --- |
| Screw conveyor | TLSS16 | 1 |
| Poultry feed pulverizer | 15-200 | 1 |
| Chicken feed mixer | SLHY0.5A | 1 |
| Storage bin for making pellet | 1m³ | 1 |
| Feeder | WLQ16 | 1 |
| Poultry pellet machine condtioner | TZQ22*180 | 1 |
| Pellet making machine for poultry feed | SZLH-250 | 1 |
| Winnowing elevate box | 0.5m³ | 1 |
| Conterflow cooling machine | SKLN1.0*1.0 | 1 |
| Poultry feed crumbling machine | SSLG15*100 | 1 |
| Cooling draught fan | 4-72-3.6A | 1 |
| Cooling cyclone | SK60 | 1 |
| Bucket elevator | TDTG36/18 | 1 |
| Vibrating sifter | ZDS60*1 | 1 |
| Storage bin for final product | 2m³ | 1 |
| Bird chicken bagging packing machine | DSC-50 | 1 |
| Sewing+belt conveyor | / | 1 |
| MCC Control Center ;Mimic Control Panel | / | 1 |
| Boiler system | 0.3T,0.7Mpa | 1 |

Site of 1-2t/h ce good quality animal feed manufacturing process machine of poultry feed plant in Belgium
Poultry feed pellet production process of the 1-2 t/h automatic chicken animal feed pellet making plant for sale Belgium
A 1-2 ton per hour easy to operate small scale poultry feed pellet processing plant has different feed mill machine for poultry that works towards their mutual goal of producing high-quality and durable poultry feed pellets. Small capacity 1-2 ton per hour poultry chicken feed pellet plant are resilient and ideal for poultry farms and commercial use.

Site of small automatic poultry pellet feed plant for sale Belgium
How to make chicken feed pellets for broilers in this Belgium 1-2t/h poultry farm animal feed pelletizing line plant? A common poultry feed making process in a Belgium complete 1-2tph poultry feed processing plant consists of the following general process of making poultry feeds.
01
Choosing the raw material for 1-2 tph poultry chicken broiler animal feed pellet making plant Belgium
A variety of materials can be used for making poultry feed. The most commonly used materials are oats, wheat, corn, barley, fish meal, crab meal, and oats, etc. The raw material for poultry feed processing is chosen based on the growth requirements of birds. During the harvest season, you can buy poultry feed making raw material at a cheaper price. Once the raw material is selected, it is cleaned and sieved to separate impurities from it.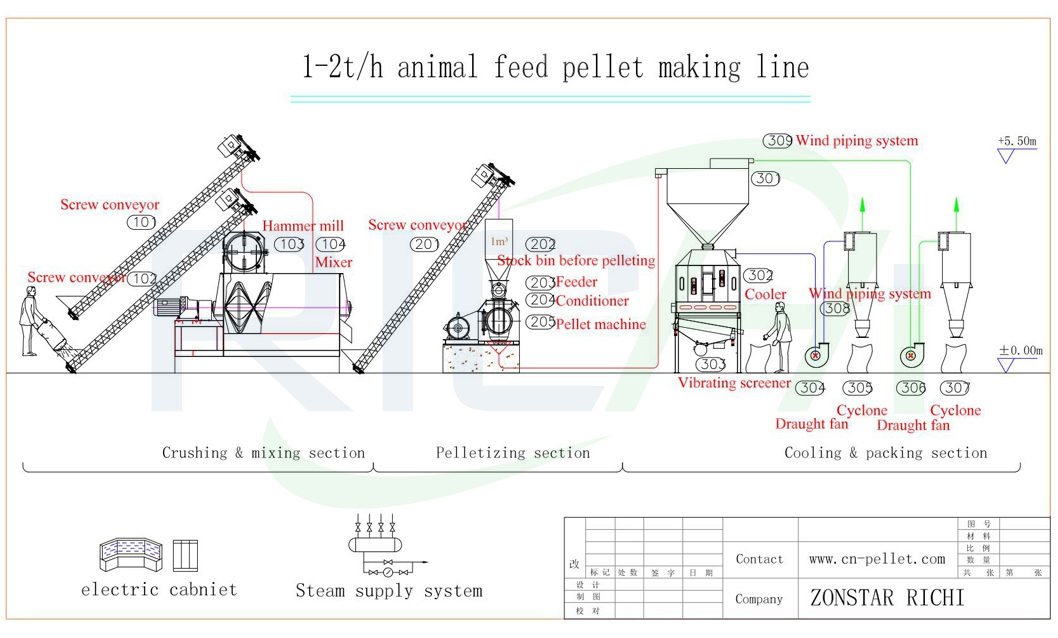 02
Grinding the raw material
Next, the raw material is fed into the hammer mill which crushes grains into small-sized particles. Grinding is important to make sure that pellets are dense and have good quality.
03
Addition of more components and mixing section
Through a conveyor, the poultry feed raw material is loaded on a poultry feed mill mixer. It is usually horizontal and is used to homogenize the raw material. During this step, additional components like adhesives, integrators, etc. are also added to it. The addition of components depends on your poultry feed pellet recipe.
04
Poultry feed pellet production section
After mixing, the material is either stored in a storage silo or passed through the pelleting machine conditioner before loading it in a poultry feed pellet mill. In a poultry feed pellet making machine, rollers and dies put a lot of pressure and compress the poultry feed making raw material. Poultry pellets come out of pellet machine holes and are cut with the help of knives into pellets of the desired size.
05
Sieving and cooling section
Pellets are hot when they come out of poultry feed pelleting machine, so they are cooled with the cool air. They are also passed through a sieving machine which separates dust and other materials from pellets.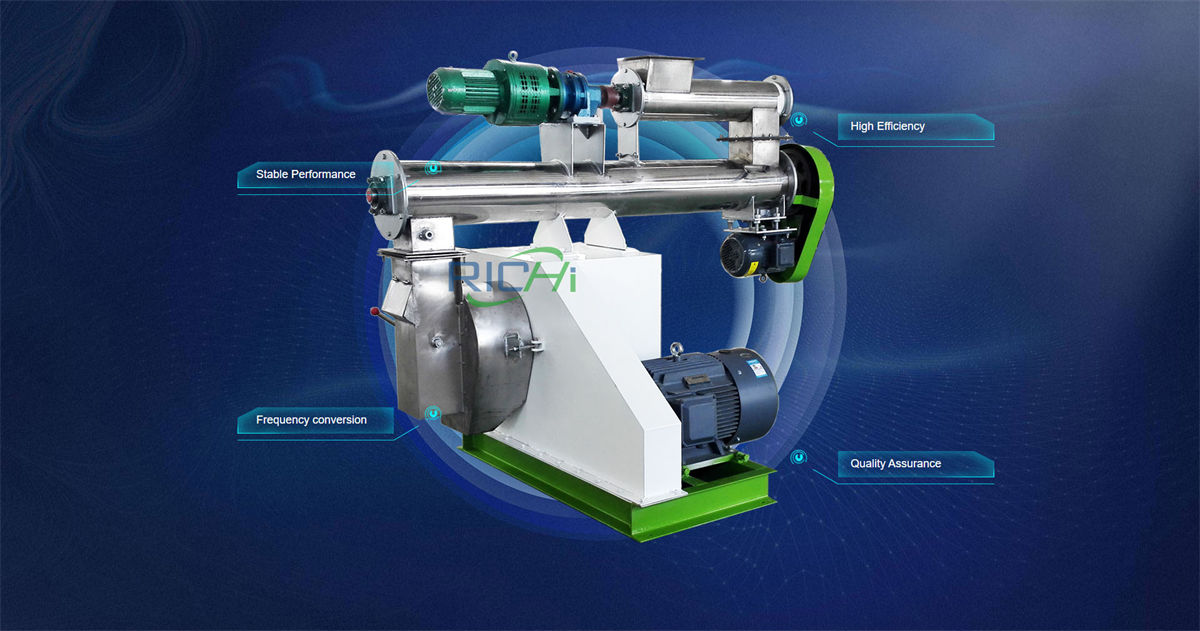 06
Storage and packing section
Pellets are conveyed to the storage silo for storage. It can be directly loaded on trucks or you can pack them with the help of a feed packing machine.
The process of poultry feed production in the 1-2t/h poultry feed pelletizing production line decides the selection of poultry feed manufacturing equipment, especially for poultry feed business. How to get a reasonable plan for the setup of the animal poultry feed processing plant is the key step.

Richi Machinery is a professional poultry feed mill machine and equipment supplier, we boast strong capacity to undertake turnkey project for 1-100t/h poultry feed plant project. The customized business plan on poultry feed production provided by us can both improve the quality of feed and lower the high quality poultry feed plant investment cost. Welcome to contact us get more details!
The Belgian poultry sector
In 2020, the total number of poultry in Belgium was of 37.368.002. There is a notable regional concentration of the sector: 85% of the animals (31.766.298 individuals) are hosted in Flanders and only 15% in Wallonia (5.601.704 individuals) .
The figure characterise the entirety of the Belgian poultry sector and hence include both broilers which are raised for meat production and laying hens, raised for the production of eggs. As a consequence, and as shown on Figure 24, the poultry sector is in fact made up of three distinct sectors.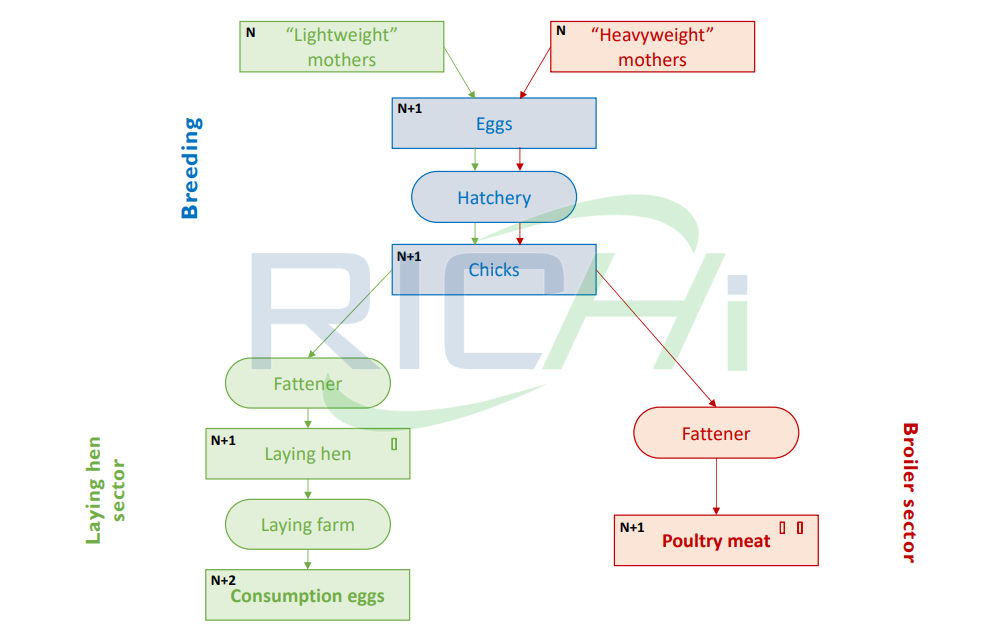 In the breeding sector, "lightweight" mothers produce eggs and chicks which are destined for the laying hen sector. On the other hand, "heavyweight" mothers produce eggs and chicks which are destined for the broiler sector and hence for the production of poultry meat. In the laying hen sector, the chicks are first "fattened" before going to an actual laying farm. In the broiler sector, the chicks go straight to broiler farms where they are fattened until they are slaughtered.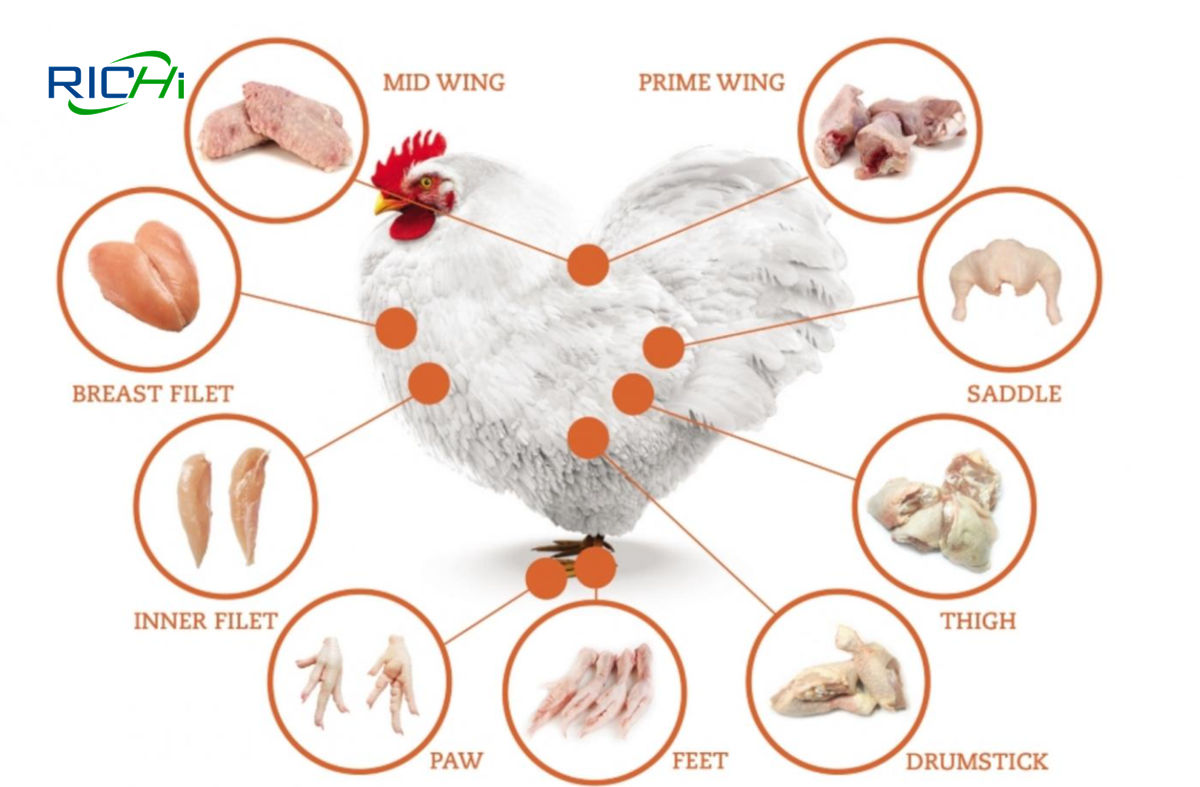 Characterisation of production systems in the Belgian broiler sector
Organic: The organic certification and production system has the highest number of criteria. It involves a series of practices and conditions such as an access to an outdoor area for the broilers, a maximum number of animals per building and per farm, an organic diet for the animals, etc.
Differentiated: A study carried out in 2015 by the Department of Agriculture and Fisheries of the Flemish government has identified eight differentiation initiatives in Flanders and Wallonia, apart from the organic certification. These initiatives put the emphasis on several aspects such as the use of specific breeds, specific animal diets or specific housing systems, or a combination of those elements.
Certified (Belplume): Today, the Belplume certification which was mentioned earlier represents the standard for poultry meat production in Belgium as it covers more than 90% of total national production (and more than 95% in Flanders). In addition to this standard, some retail companies have extra requirements such as 100% vegetal diets. This sometimes considered as "Belplume Plus", although formally there is no such standard.
Conventional: Although the Belplume certification covers nearly the entirety of the Belgian poultry meat production, some farms do not operate under the Belplume specifications yet. However, according to actor interviews, practices in conventional not-certified systems are rather similar to practices in Belplume-certified systems.
Broiler feed intake and consumption in the Belgian broiler sector
Belgium - Production of meat: poultry was 448.98 Thousand tonnes in December of 2020, according to the EUROSTAT. Historically, Belgium - Production of meat: poultry reached a record high of 469.59 Thousand tonnes in December of 2018 and a record low of 361.22 Thousand tonnes in December of 2009. It can be seen that the production of poultry meat in Belgium has been increasing.

Here, a clear distinction appears between the two first systems (conventional and certified) and two others (differentiated and organic) in terms of feed conversion. As a result of longer production cycles (around 80 days for differentiated and organic systems instead of 40 days for conventional and Belplume systems) as well as the use of different breeds, chickens in differentiated and organic systems need much more feed to grow.