Technical Features Of Wet Type Fish Feed Extruder Machine
1. The wet fish extruder machine has stronger applicability, low running cost, use differential diameter conditioner, the longest conditioning time is up to 180 seconds, meanwhile conditioning treatment can add into steam and water, increasing materials humidity degree to 25-30%, ensure materials full curing and gelatinization.
2. The screw thread insert with lamination structure, add cold water or steam into lamination, providing cooling or keep warm action, ensure the best cooking effect, let the wet type fish feed extruder machine achieve the best extruded effect.
3. Meet the market demand, let customers get the best benefits from our feed extruder machine. Compared with domestic same type wet extruder, higher output, more beautiful appearance.
4. The fish feed extruder machine meet the market's sinkable and float aquatic feed, pet feed and other special aquatic feed production. The extruded feed with high determination of starch gelatinization and good stability in water.
Applications Of Wet Type Fish Feed Extruder Machine
In the animal feed production industry, people collectively refer to the food used to feed animals as feed, which includes more than ten such as soybeans, soybean meal, corn, fish meal, amino acids, cotton meal, additives, whey powder, oil, meat and bone meal, grains, and sweet sorghum.
Raw materials are the basis of feed, and different animal feed processing methods will produce feeds with different functions. The extruded feed made by fish food extruder machine mentioned here is a feed specially suitable for the growth of aquatic animals, young animals, and ornamental animals. Generally, the feed production in feed mill or feed factory is a multi-step, multi-step production process, usually through the acceptance and cleaning of raw materials, and then pulverization, mixing, extruding/pelletizing and so on.
Extruded feed made by fish feed extruder machine is a new animal feed pelletizing technology. The extruded feed in the extrusion cavity is actually a high-temperature transient process: that is, the feed is at high temperature (110-200 ℃), high pressure (25-100kg/cm2) and high shear In the environment of shearing force and high moisture (10%-20% or even 30%), through continuous mixing, conditioning, heating, pressurization, maturation, extrusion die hole and sudden pressure drop, a bulky and porous feed is formed.

After the feed is extruded by electric fish feed extruder machine, it forms a "popcorn" state. Not only the physical state such as the appearance is changed, but the molecular structure of the internal organic matter is also changed, making the starch more digestible and the protein easier to use.
Working Principle Of Wet Type Fish Feed Extruder Machine
The material in the extruding chamber of the fish feed making machine is subject to high pressure and temperature, making starches gelatinize and denaturing the protein, so that to improve the water stability and digestibility of feed pellet. Meanwhile salmonella and other harmful bacterium are killed in the process. When the material goes out from the outlet of the fish feed extruder, the pressure is released suddenly and the steam blows off rapidly. Then the pellet is formed. A cutting device on the fish food extruder machine will cut the pellets into required length.

Electric control with high degree automatization, ensure pellet mill operate stably and long continuous operating time. The operating life of fish feed extruder machine screw and screw thread insert easily damaged parts is above 1000 hours.
The complete set of pipeline installed inner pellet granulator base, tidy and beautiful appearance, control the quantity of steam and water conveniently and quickly. Stainless steel outer pellet press discharging mechanism, when materials conditioning is not complete, the materials discharged out of pellet mill through the discharging mechanism, prevent traffic jam in time.
Parameter And Model Of Wet Type Fish Feed Extruder Machine
Model
Capacity(TPH)
Main Motor Power(kw)
Feeder Motor Power(kw)
Screw diameter(mm)
Cutter power(kw)
Conditioner power(kw)
DSP60-B
0.18-0.2
15
0.4
Φ60
0.4
0.75
DSP70-B
0.25-0.30
18.5
0.6
Φ70
0.6
0.75
DSP80-B
0.35-0.40
22
1.1
Φ80
0.8
1.1-1.5
DSP90-B
0.50-0.60
37
1.1
Φ90
1.1
2.2
DSP120-B
0.70-0.80
55
1.1
Φ120
1.5
2.2-3.0
DSP135-B
1.0-1.2
75
1.5
Φ135
2.2
3.0-4.0
DSP160-B
1.8-2.0
90
2.2
Φ155
2.2-3.0
4.0-5.5
DSP200-B
3.0-4.0
132
2.2
Φ195
3.0-4.0
5.5
DSP200-B
3.0-4.0
132
2.2
Φ195
3.0-4.0
5.5
Fish feed extruder machine prices
4500-38000USD
The difference between dry feed extruder and wet feed extruder
Feed extruder machine can be divided into dry type feed extruder and wet type feed extruder according to the moisture content of the processed material (that is, with or without steam conditioning). Dry extruder and wet extruder both increase the temperature of the material through the friction generated by extrusion and shear, and then force the material to be extruded from the steel die hole. As the pressure drops sharply, the water evaporates quickly, forming a puffed feed product with a porous interior and an increased volume.
The moisture content of the material in dry food extruder machine is generally 15% to 20%, while the moisture content of the material processed by the wet feed extruder machine is 20% to 30% by adding water and steam. The steam added in the wet fish feed extruder machine puffing process also adds heat to the material and accelerates its temperature rise. Wet fish feed extruder is mainly used for aquatic feed production and other feed processing that requires this technology.
Advantages of extruded feed processed by fish feed extruder machine
The latest fish feed extruder machine and fish feed plant project we have done
Pellet Richi is one of the fish feed processing plant manufacturers in China, we have rich experience of providing complete fish feed manufacturing plant solutuions and fish feed production machine for various fish feed, shrimp feed, etc.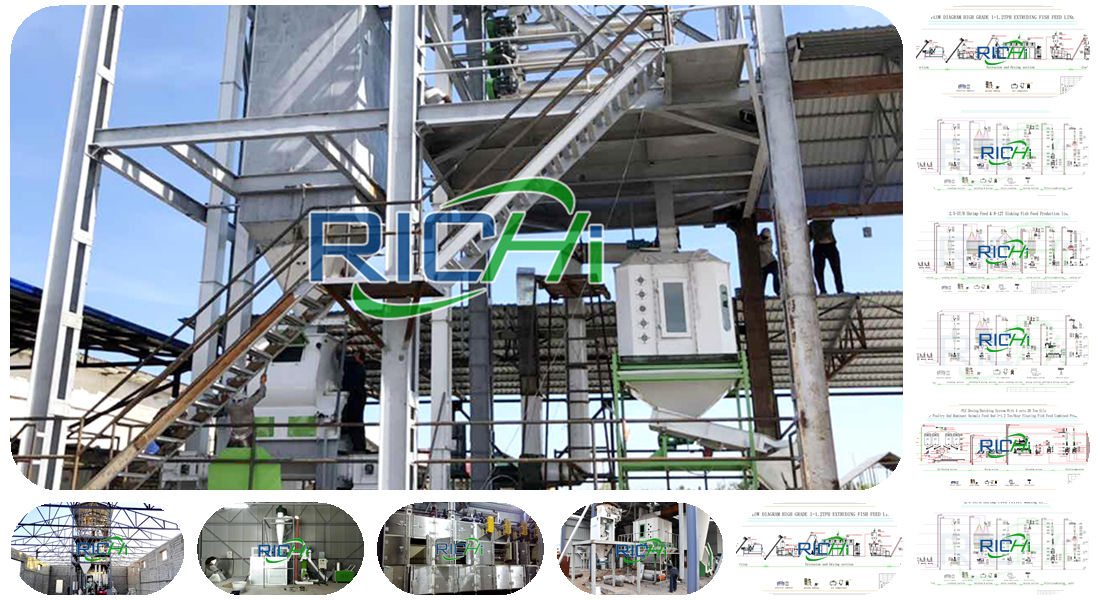 The above fish feed plant project and fish feed machine project are real transaction information. If you want to get project-related information, pictures, and videos, please contact us.
Copyright © 2015-2023 by HENAN RICHI MACHINERY CO,LTD.All rights reserved.