Applications Of Ring Die
Our tailor-made Ring Dies are available for pellet presses of all brands. At our ultra-modern facility we manufacture ring dies for compound feed, aqua feed, compost pellets, wood pellets ect.A spare part is an item of inventory used to replace failed parts. In order to shorten time during equipment maintenance, spare parts should be purchased and stored in advance. It is the vital material basis for equipment maintenance. Timely supply of spare parts can shorten time for reparation and reduce losses. Spare parts with excellent quality can also guarantee the quality and time for reparation, improve reliability.
1. Cooperate with international renowned enterprises, adopt international advanced technique, excellent quality

2. Using CNC laser cutting, CNC bending presses, CNC flaming cutting machine, CNC shearing machine and CNC machining center to refine products, focus on every detail during manufacturing.

3. Strict quality control system, more reliable.

4. Accept customize, wide applicability.

5. Quality control. All our Dies are extensively monitored on quality, hardness, dimensional stability and concentric accuracy. All Dies are runned in before delivery.

6. Short Lead Times. As the entire process takes place In-house, we ensure just in time delivery anywhere in the world.

7. Service. Our expert team is available to guide you by selecting the right Die. In addition to our products we assist with planning your spare and wear part inventory. Minimising costs and the risk of running out of wear and spare parts is our concern. Click here for more info.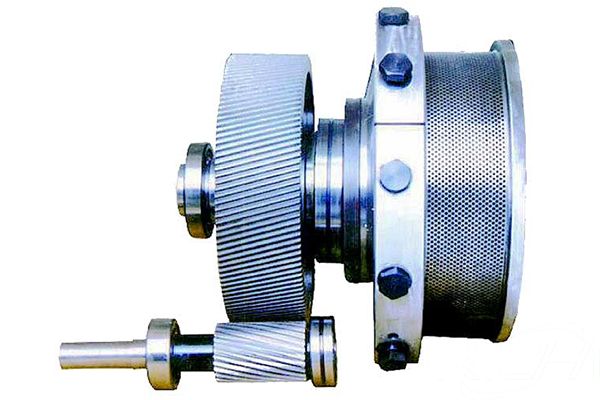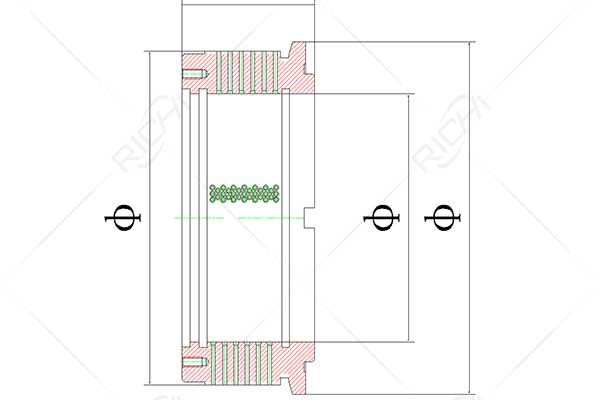 Working Principle Of Ring Die
The basic pelleting principle of the ring die pellet mill is a simple operation where feed mass is distributed over the inner surface of a rotating, perforated die ahead of each roll, which compress the feed mass and compress it into the die holes to form pellets.
| | | | | | | |
| --- | --- | --- | --- | --- | --- | --- |
| Model | Capacity(TPH) | Main Motor Power(kw) | Feeder Motor Power(kw) | Conditioner Power(kw) | Dia.of Ring Die(mm) | Final Pellet(mm) |
| SZLH250 | 1-2 | 22 | 0.75 | 1.5 | 250 | 2~12 |
| SZLH320 | 3-4 | 37 | 1.5 | 2.2 | 320 | 2~12 |
| SZLH350 | 5-7 | 55 | 1.5 | 3 | 350 | 2~12 |
| SZLH420 | 8-12 | 110 | 1.5 | 7.5 | 420 | 2~12 |
| SZLH508 | 10-18 | 160 | 2.2 | 11 | 508 | 2~12 |
| SZLH558 | 15-25 | 180/200 | 2.2 | 11 | 558 | 2~12 |
| SZLH558D | 14-22 | 160/180/200 | 1.5 | 7.5 | 558 | 2~18 |
| SZLH678 | 20-30 | 220/250 | 2.2 | 11 | 678 | 2~12 |
| SZLH678D | 15-25 | 200/220/250 | 2.2 | 11 | 673 | 2~18 |
| SZLH768 | 25-40 | 280/315 | 2.2 | 11 | 768 | 2~12 |
| SLZH858 | 25-42 | 280/315 | 2.2 | 15 | 858 | 2~18 |