The size and model can be customized according to the customer's end use and production capacity.

The use of heavy-duty self-centering bearings, even if the equipment is in continuous operation at full load, also has a long service life.

Materials after cutting will discharge through screen hole, those which don't meet the requirement will be cut again in machine until reaching standard.

It can be widely used in particle board factories, medium and high-density fiberboard factories, furniture factories, biomass power plants, wood chip factories, and biomass preparation industries in the biomass energy industry.

Upper feeding roller assembly can float up and down within the prescribed scope under effect of hydraulic, in order to achieve function of cutting raw materials with different thickness.

The chipping machine is equipped with a crushing screen to realize the secondary refinement of oversized wood blocks.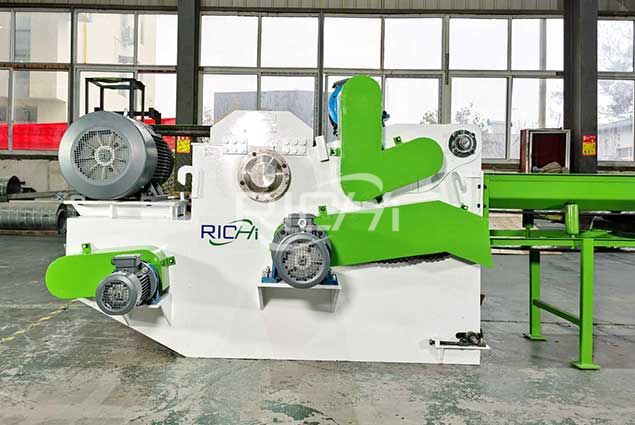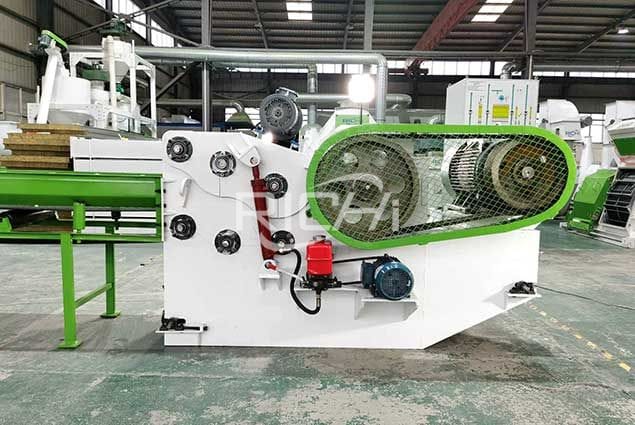 Overview
High efficiency drum wood chipper is a special equipment for the production of wood chips. It is widely used in particle board factory, medium and high density fiberboard factory, straw factory, bio power plant, wood chip factory and other industries and manufacturer in the production of the preferred equipment before the preparation section.
Working Principle
The high efficiency drum wood chipper chipping machine is composed of a body, a knife roller, an upper and lower feeding roller, a conveyor belt, and a hydraulic system. The body is welded with high-strength steel plates, which is the supporting foundation of the entire machine. Two or three or four flying knives are installed on the knife roller, and the flying knife is fixed on the knife roller by a professional flying knife bolt through a pressure block. Depending on the thickness of the material being cut, the upper feed roller assembly can float up and down within a certain range by means of a hydraulic system. The cut qualified pieces fall through the screen holes and are discharged from the bottom. Large pieces will be cut in the machine.

High efficiency drum wood chipper details
Parameters
| | | | |
| --- | --- | --- | --- |
| Model | W-Drum-215 | W-Drum-216 | W-Drum-218 |
| Feeding Size(mm) | 160*400 | 230*590 | 300*680 |
| Number of blade (pic) | 2 | 2 | 2 |
| Rotated Speed (r/min) | 590 | 590 | 650 |
| Capacity(t/h) | 3-5 | 8-10 | 14-18 |
| Main Motor Power(kw) | 4-45 | 4-55 | 4-110 |
| Feeder Power(kw) | (2.2-3)*2 | (3-4) *2 | (4-5.5) *2 |
| Oil Pump Power(kw) | 1.5 | 1.5 | 1.5 |
| Transportation Power(kw) | 3 | 3 | 4 |
| Weight(kg) | 2990 | 5030 | 7000 |
| Dimension(mm) | 1470*1550*970 | 1800*1900*1210 | 2200*2150*1500 |