Applications Of Livestock Feed Pellet Machine
Almost all livestock feeders agree that animals make better gains on pelleted feed than a meal ration. The most logical reasons are that (a) the heat generated in conditioning and pelleting make the feedstuffs more digestible by breaking down the starches, (b) the pellet simply puts the feed in a concentrated form, and (c) pelleting minimizes waste during the eating process. When pelleted feed is fed, each animal receives a well-balanced diet by preventing the animal from picking and choosing between ingredients. Tests have shown that most animals, if given the choice between the same feed in pellet or mash form will prefer the pellets.
1.The feed pellet mill is equipped with stainless steel feeder to guarantee accurate and reliable material feeding.

2.It adopts fully stainless steel conditioner and large open access door for convenient maintenance.

3.Stainless steel feeding pipe, door cover and scaleboard, which are beautiful and anti-corrosion.

4.Full stainless steel increased conditioning device ensure high quality of feed pellet.

5.Frequency conversion (Electromagnetic speed control) feeder, with overload protection device,equipped strong magnetic security device.

6.High output, low noise, convenient operation and maintenance.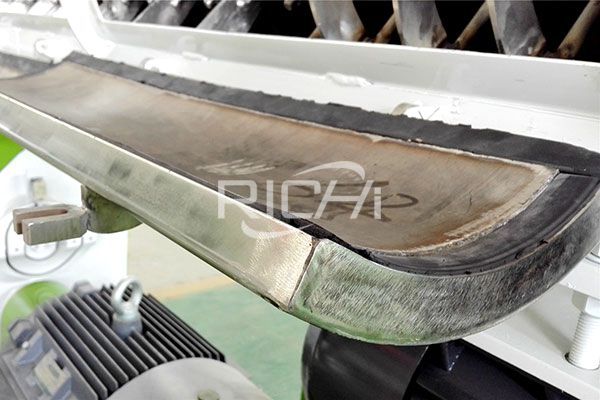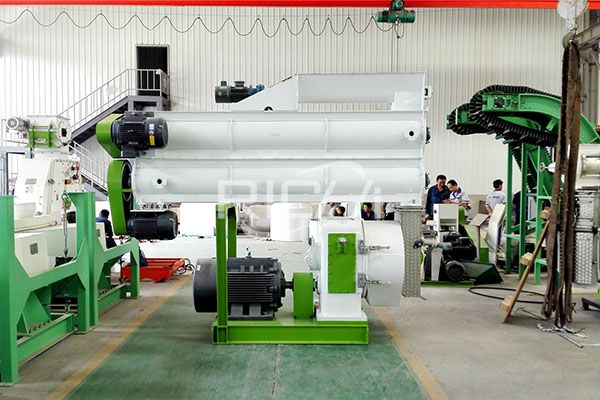 Working Principle Of Livestock Feed Pellet Machine
In modern feed mills, the ingredients are usually stored in bins above a weighing system composed of one or more scales. Those ingredients which are of coarse texture, such as whole grains and other fibrous materials, are ground into a fine meal to facilitate the pelleting and mixing process.
Weighted quantities of each ingredient (either as a batch or continuously) are thoroughly mixed (either in a batch mixer of a continuous flow mixing unit) and then conveyed to a bin above the pellet mill. Some manufacturers have installed systems to grind all of their premixed materials prior to entering the pellet mill. Data is not available which indicates this has been an advantage or disadvantage on a consistent basis as far as durability is concerned.
| | | | | | | |
| --- | --- | --- | --- | --- | --- | --- |
| Model | Capacity(TPH) | Main Motor Power(kw) | Feeder Motor Power(kw) | Conditioner Power(kw) | Dia.of Ring Die(mm) | Final Pellet(mm) |
| SZLH250 | 1-2 | 22 | 0.75 | 1.5 | 250 | 2~12 |
| SZLH320 | 3-4 | 37 | 1.5 | 2.2 | 320 | 2~12 |
| SZLH350 | 5-7 | 55 | 1.5 | 3 | 350 | 2~12 |
| SZLH420 | 8-12 | 110 | 1.5 | 7.5 | 420 | 2~12 |
| SZLH508 | 10-18 | 160 | 2.2 | 11 | 508 | 2~12 |
| SZLH558 | 15-25 | 180/200 | 2.2 | 11 | 558 | 2~12 |
| SZLH558D | 14-22 | 160/180/200 | 1.5 | 7.5 | 558 | 2~18 |
| SZLH678 | 20-30 | 220/250 | 2.2 | 11 | 678 | 2~12 |
| SZLH678D | 15-25 | 200/220/250 | 2.2 | 11 | 673 | 2~18 |
| SZLH768 | 25-40 | 280/315 | 2.2 | 11 | 768 | 2~12 |
| SLZH858 | 25-42 | 280/315 | 2.2 | 15 | 858 | 2~18 |