Applications Of Cotton Stalk Pellet Mill Machine & Pellet Plant
Cotton stalk is a by-product of cotton planting industry. It refers to cotton stalks from which branches and leaves and bolls are removed. It has a high degree of lignification, rich bast fiber, high bulk density and high calorific value. Cotton stalks are very good after being crushed and compressed.
The implementation of cotton straw mechanized harvesting and processing and recycling technology can increase labor productivity, reduce labor intensity of manual operations, and promote the process of agricultural modernization; at the same time, it will convert cotton production waste into high-quality raw material resources, turning costs into valuables, and reducing waste.

The destruction of the ecological environment will increase the added value and competitiveness of agricultural products, promote agricultural efficiency and rural economic development, and realize a virtuous cycle of agricultural production.
Approximately 80 countries worldwide produce cotton, the U.S., China, and India together provide over half the world's cotton. Other major producers are Uzbekistan, Pakistan, Brazil, Turkey, Australia, Turkmenistan, Greece, Syria and Egypt.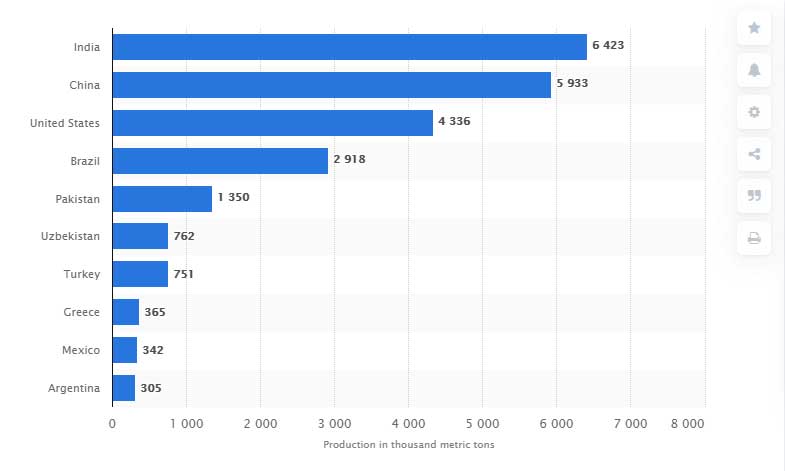 This statistic shows the world's leading cotton producing countries in crop year 2019/2020 (in 1,000 metric tons)
Cotton is grown mainly for its fibre or lint, which is the raw material in cotton textiles. But, there are other parts of the cotton plant like the stalks, husks, cottonseed and short-staple fibres, These can be used as raw materials for biomass pellets, which are made into pellets through a cotton stalk pellet machine. The finished stalk pellets after pelletizing can be used in feed processing, edible fungus cultivation, cotton stalk papermaking, cotton stalk board making, cotton stalk fuel, etc. It also can be applied to the low-temperature granulation of biological fertilizer, organic fertilizer, compound fertilizer and so on. At present, cotton straw pellets are mainly used as biomass fuel.

Advantages of processing cotton stalks into pellets by cotton stalk pellet maker
The solidification and utilization of cotton stalks means that cotton stalks are compressed under a certain pressure into a kind of pellet fuel that can be burned like coal. The combustion value of cotton stalk pellets is close to that of wood, which is better than other crop stalks.
Cotton stalk molding fuel can replace coal in many situations. Its volumetric calorific value is equivalent to median coal, and its combustion emissions are far less than coal. The net CO2 emissions are Zero, the fuel cost is close to that of coal. At present, as a fuel for industrial boilers and civilian boilers, it has a strong price advantage and environmental protection advantage in large and medium-sized cities that are gradually banning coal-fired boilers.