Applications Of Floating Fish Feed Machine
Extruded Floating & Sinking Fish Feed Pellets Production Process,On the basis of density variation and puffing degree,extruded fish feed can be segmented into floating fish feed and sinking fish feed.
Currently, the floating feed is the most widely used extruded feed in fish farming, and it has relatively mature technology. That is, floating extruded feed pellets are both produced through modulator for heating and modulation, via continuous mixing process to fish feed raw materials after entering extruder machine, heating up, pressurizing, ripening, extruding and then puffing and granulating.
1.With different moulds, the floating fish feed pellet mill for sale can meet different stage fish. The food can be floating 24hours.

2.the floating fish feed pellet machine for sale can produce different shapes feed for fish, dog, cat etc.Through the pretreatment of the feed, it can reduce loss of nutrition and advance the protein ratio. So the feed will be digested easily by animals.

3.the floating fish feed making machine has high efficiency, low power consumption.

4.Screw sleeve of this small fish feed making machine adopts enchase alloy steel strip structure, which guarantees long service life.

5.Different moulds can be chosen to make pellets with different diameters and shapes.

6.final feed pellets produced by the fish feed making machine dia. Is 2-12mm.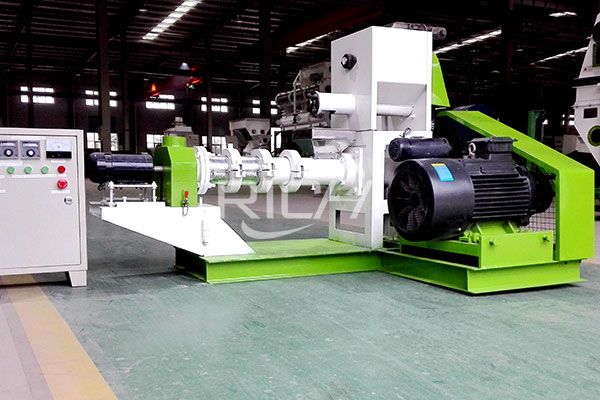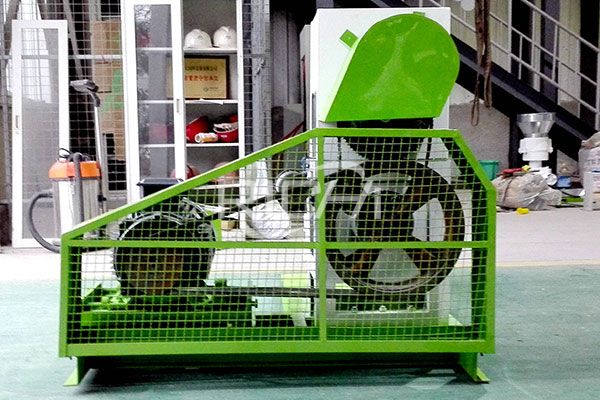 Working Principle Of Floating Fish Feed Machine
Heating the materials by the frictional force, this floating fish feed extruder machine squeezes raw materials out of the holes of the mold under the action of screw extruder. The pressure and temperature of the pellets sharply decreases when coming out of the machine, and the moisture evaporates. Then materials are puffed and become pellets with porous structure. During the process, the moisture ranges from 15 to 20 percent.
Parameter And Model Of Floating Fish Feed Machine
| Model | Capacity(TPH) | Main Motor Power(kw) | Feeder Motor Power(kw) | Screw diameter(mm) | Cutter power(kw) |
| --- | --- | --- | --- | --- | --- |
| DGP40-Cs | 0.03-0.04 | 3.0*2 | 0.4 | Φ40 | 0.4 |
| DGP40-C | 0.03-0.04 | 5.5 | 0.4 | Φ40 | 0.4 |
| DGP50-C | 0.06-0.08 | 11 | 0.4 | Φ50 | 0.4 |
| DGP60-C | 0.12-0.15 | 15 | 0.4 | φ60 | 0.4 |
| DGP70-B | 0.18-0.2 | 18.5 | 0.4 | φ70 | 0.4 |
| DGP80-B | 0.2-0.25 | 22 | 0.4 | φ80 | 0.6 |
| DGP90-B | 0.30-0.35 | 37 | 0.6 | φ90 | 0.8 |
| DGP120-B | 0.5-0.6 | 55 | 1.1 | φ120 | 2.2 |
| DGP135-B | 0.7-0.8 | 75 | 1.1 | φ133 | 2.2 |
| DGP160-B | 1-1.2 | 90 | 1.5 | φ155 | 3 |
| DGP200-B | 1.8-2.0 | 132 | 1.5 | φ195 | 3.0-4.0 |