Applications Of Fish Feed Pellet Mill
Commercial fish feed extrusion process refers to cook the mixture of feed ingredients under high temperature, moisture and high pressure by means of fish feed extruder within short time, whereby the high temperature is a direct result of friction(dry extrusion) or preconditioning and steam injection (wet extrusion). As a technological treatment, extrusion can make it possible to process a variety of fish feed ingredients, such as soybean, corn, rice, peas and raw materials with high water content. According to the moisture content of raw materials treatment, fish feed extrusion process can be divided into two types – dry type extrusion and wet type extrusion.
1.The floating pelletized feed produced can float on the surface of the water for at least 12 hours without blistering.

2.Fish and poultry prefer to digest, and the artificial frog can easily observe the food consumption of the frog fish without causing waste of feed.

3.Pollution of water quality. The material effectively kills harmful bacteria such as Escherichia coli and Salmonella by high temperature and high pressure, ensuring the hygiene of the feed, facilitating protein denaturation and starch gelatinization, and being easily absorbed by fish and livestock.

4.Generally, puffed floating fish feed is used to save 8%-15% of feed compared to powdered or granular feed.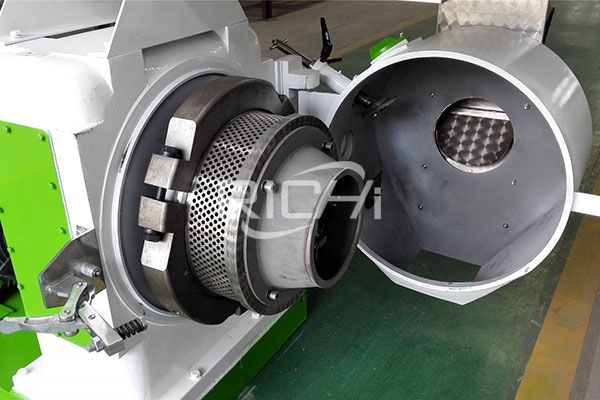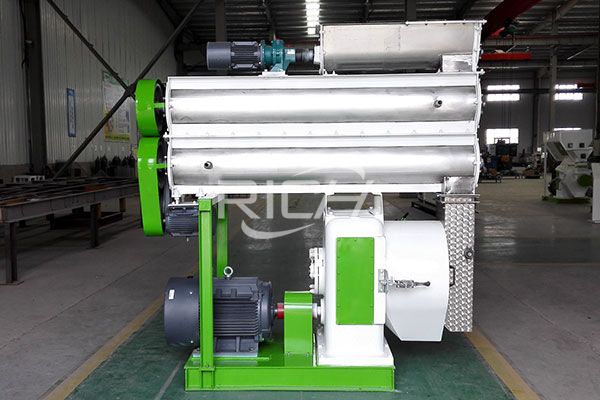 Working Principle Of Fish Feed Pellet Mill
First, we put the raw materials into the crushing chamber through a feed hopper, and there are flailing hammers spinning quickly and close to a perforated screen. Then the broken materials are moved along the rotor outer-edge and go through a continuous collision and friction against hammer, toothed plate and sieve. Then the broken material is totally crushed. If the particle size is smaller than the holes on the screen after processing, feed powder can pass through the screen. Finally, the feed particles discharge to the fan, and products are blown through the cyclone and delivered into storage bags under the suction force of working fan.
Parameter And Model Of Fish Feed Pellet Mill
| Model | Capacity(TPH) | Main Motor Power(kw) | Feeder Motor Power(kw) | Conditioner Power(kw) | Dia.of Ring Die(mm) | Final Pellet(mm) |
| --- | --- | --- | --- | --- | --- | --- |
| SZLH250 | 0.6-1.4 | 22 | 0.75 | 1.5 | 250 | 1.5~12 |
| SZLH320 | 1.8-2.8 | 37 | 1.5 | 2.2 | 320 | 1.5~12 |
| SZLH350 | 3-5 | 55 | 1.5 | 3 | 350 | 1.5~12 |
| SZLH420 | 4.8-8.5 | 90 | 1.5 | 7.5 | 420 | 1.5~12 |
| SZLH508 | 6-12.5 | 132 | 2.2 | 11 | 508 | 1.5~12 |
| SZLH558 | 9-17.5 | 180/200 | 2.2 | 11 | 558 | 1.5~12 |
| SZLH558D | 8.4-15.5 | 160/180/200 | 1.5 | 7.5 | 558 | 1.5~12 |
| SZLH678 | 12-21 | 220/250 | 2.2 | 11 | 678 | 1.5~12 |
| SZLH678D | 9-17.5 | 200/220/250 | 2.2 | 11 | 673 | 1.5~12 |
| SZLH768 | 15-28 | 280/315 | 2.2 | 11 | 768 | 1.5~12 |
| SLZH858 | 15-30 | 280/315 | 2.2 | 15 | 858 | 1.5~12 |