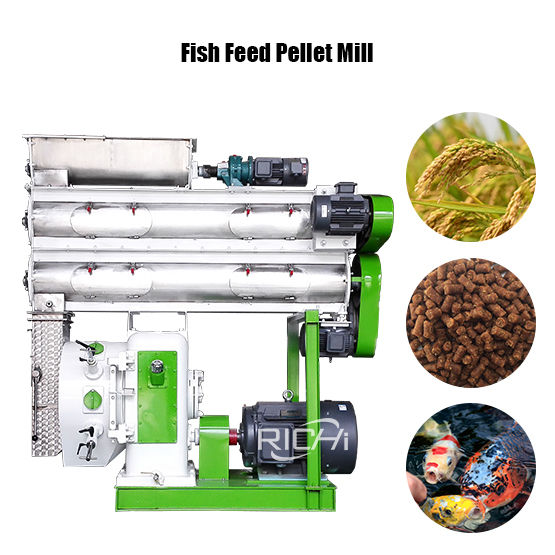 Fish Feed Pellet Mill
APPLICATION:
Fish Feed Industry
Fish feed pellet mill is the pelleting machine that directly pressed the crushing material like corn, soybean meal, straw, grass, rice husk into feed pellets. It is widely used in large, medium and small aquaculture, livestock farms, poultry farms, and large, medium and small feed processing plant.
WhatsApp:
0086-18574103366

Applications Of Fish Feed Pellet Mill
Commercial fish feed extrusion process refers to cook the mixture of feed ingredients under high temperature, moisture and high pressure by means of fish feed extruder within short time, whereby the high temperature is a direct result of friction(dry extrusion) or preconditioning and steam injection (wet extrusion). As a technological treatment, extrusion can make it possible to process a variety of fish feed ingredients, such as soybean, corn, rice, peas and raw materials with high water content. According to the moisture content of raw materials treatment, fish feed extrusion process can be divided into two types – dry type extrusion and wet type extrusion.
Technical Features Of Fish Feed Pellet Mill
1.The floating pelletized feed produced can float on the surface of the water for at least 12 hours without blistering.
2.Fish and poultry prefer to digest, and the artificial frog can easily observe the food consumption of the frog fish without causing waste of feed.
3.Pollution of water quality. The material effectively kills harmful bacteria such as Escherichia coli and Salmonella by high temperature and high pressure, ensuring the hygiene of the feed, facilitating protein denaturation and starch gelatinization, and being easily absorbed by fish and livestock.
4.Generally, puffed floating fish feed is used to save 8%-15% of feed compared to powdered or granular feed.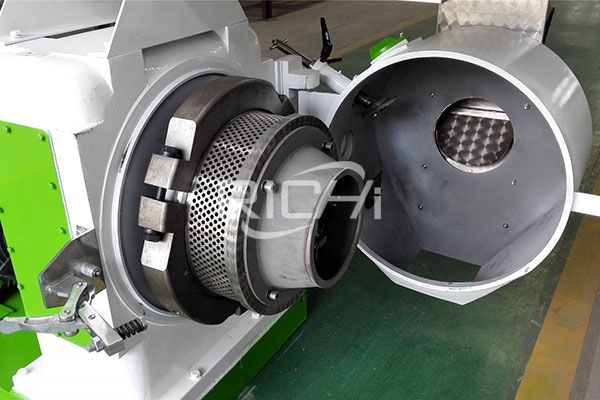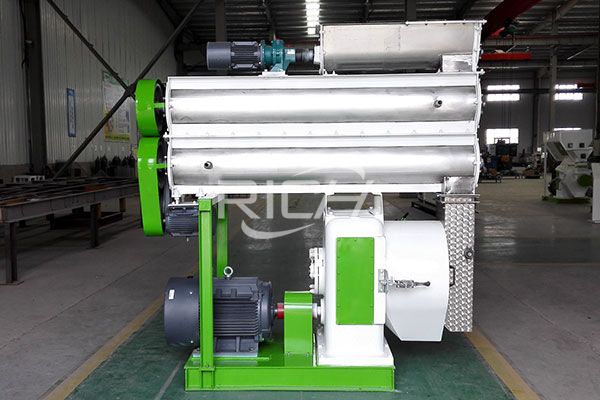 Working Principle Of Fish Feed Pellet Mill
First, we put the raw materials into the crushing chamber through a feed hopper, and there are flailing hammers spinning quickly and close to a perforated screen. Then the broken materials are moved along the rotor outer-edge and go through a continuous collision and friction against hammer, toothed plate and sieve. Then the broken material is totally crushed. If the particle size is smaller than the holes on the screen after processing, feed powder can pass through the screen. Finally, the feed particles discharge to the fan, and products are blown through the cyclone and delivered into storage bags under the suction force of working fan.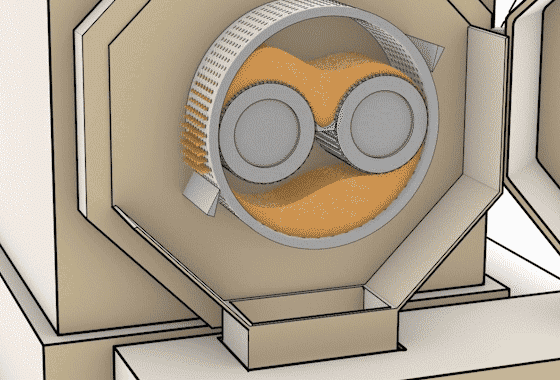 Parameter And Model Of Fish Feed Pellet Mill
| Model | Capacity(TPH) | Main Motor Power(kw) | Feeder Motor Power(kw) | Conditioner Power(kw) | Dia.of Ring Die(mm) | Final Pellet(mm) |
| --- | --- | --- | --- | --- | --- | --- |
| SZLH250 | 0.6-1.4 | 22 | 0.75 | 1.5 | 250 | 1.5~12 |
| SZLH320 | 1.8-2.8 | 37 | 1.5 | 2.2 | 320 | 1.5~12 |
| SZLH350 | 3-5 | 55 | 1.5 | 3 | 350 | 1.5~12 |
| SZLH420 | 4.8-8.5 | 90 | 1.5 | 7.5 | 420 | 1.5~12 |
| SZLH508 | 6-12.5 | 132 | 2.2 | 11 | 508 | 1.5~12 |
| SZLH558 | 9-17.5 | 180/200 | 2.2 | 11 | 558 | 1.5~12 |
| SZLH558D | 8.4-15.5 | 160/180/200 | 1.5 | 7.5 | 558 | 1.5~12 |
| SZLH678 | 12-21 | 220/250 | 2.2 | 11 | 678 | 1.5~12 |
| SZLH678D | 9-17.5 | 200/220/250 | 2.2 | 11 | 673 | 1.5~12 |
| SZLH768 | 15-28 | 280/315 | 2.2 | 11 | 768 | 1.5~12 |
| SLZH858 | 15-30 | 280/315 | 2.2 | 15 | 858 | 1.5~12 |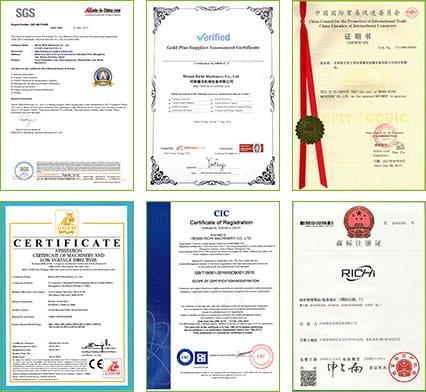 Introduction of RICHI


Strength certification

Richi Machinery is a professional manufacturing enterprise integrating scientific research and development, manufacturing, sales and service. We have developed and manufactured multifunctional pelletizers, grinders, mixers, dryers and more than ten categories and more than 30 models of complete machine products are widely used in feed, biomass, organic fertilizer, pet supplies, solid waste recycling, chemical industry, road construction and other fields. All RICHI products have passed ISO9001:2008 international quality system certification, EU CE certification and Customs Union CU-TR certification, successfully serving more than 2,000 customers in more than 100 countries and regions around the world.

Get Price & Service
Customized Design And Business Plan
In RICHI, every equipment and every pellet production line business plant can be customized. We will formulate multiple sets of pellet production process plans for comparative analysis according to the actual needs of customers, select a reasonable plan, and realize private customization. Our services run through all aspects of on-site terrain and environment survey, production line process design, raw material testing, cost requirement analysis, project investment budget, equipment installation and commissioning.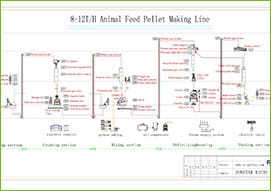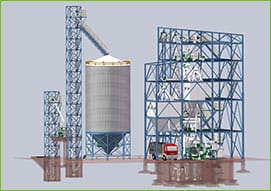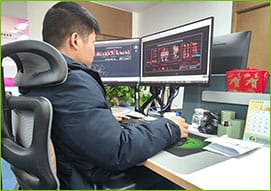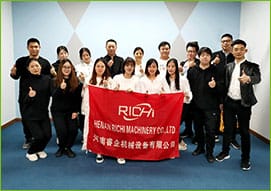 Quality Control


Richi Machinery

We adhere to the ISO9001 quality management system, and strictly implement international standards for product design and manufacturing processes. In terms of management systems, there are product quality accountability systems, product quality accountability systems, and safety production management systems; in terms of management tools, QC quality control management, SPC statistical process control, sampling inspection and measurement system analysis are used for quality control, to achieve effective control of the entire process of equipment production, and never let go of any quality hidden dangers that may affect customer operations.

Get Price & Service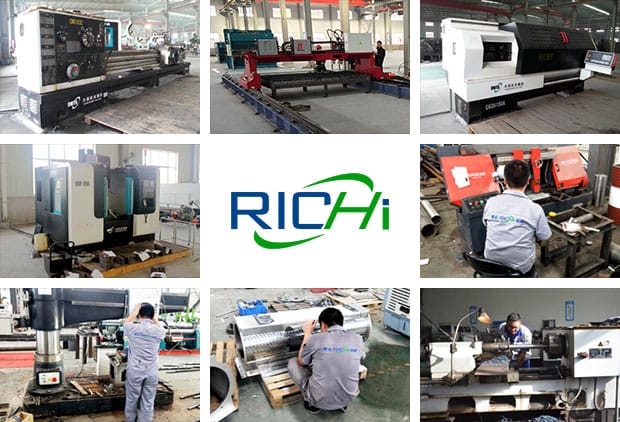 Delivery And Installation
RICHI has always been adhering to the spirit of craftsmanship to make every detail good, especially in the link of equipment preparation and delivery, we follow the standardized process: preparation order check-equipment factory quality inspection-packing list re-inspection-scientific packaging and transportation, ensure the safe and non-destructive delivery of equipment. According to customer needs, RICHI installation engineers will guide the construction of site infrastructure, equipment installation and commissioning and trial operation of the entire production line throughout the process. When the relevant project indicators reach the design standards, the client will carry out the project acceptance.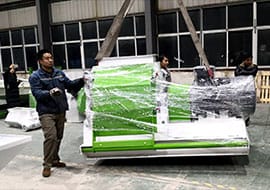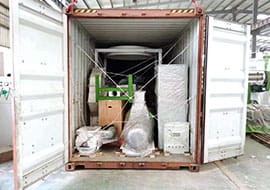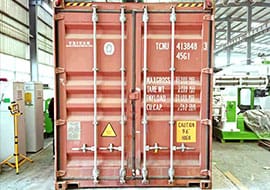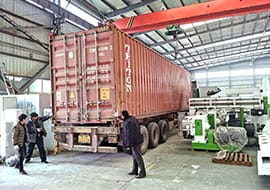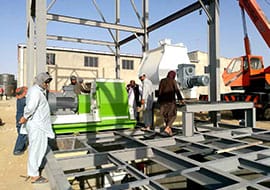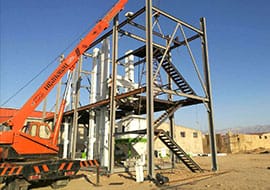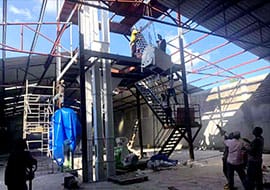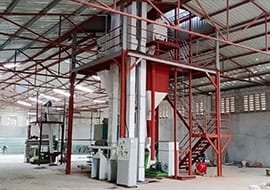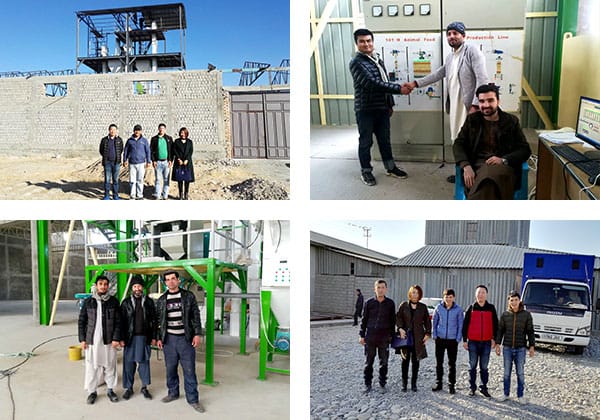 After-sales And Training


Richi Machinery

We have built a team of nearly 100 technical engineers to solve a series of problems in the project from consultation, site survey, sample analysis to plan design, installation and commissioning, and maintenance. We provide comprehensive and systematic training for the technical staff of each customer to better serve the customer's project needs. After the technicians have finished their studies, RICHI will provide follow-up technical support services, and the training engineers will follow up the project use effects in the later stage to ensure the stable operation of the customer's project.

Get Price & Service
Copyright © 2015-2021 by HENAN RICHI MACHINERY CO,LTD.All rights reserved.