Applications Of Palm Fiber Pellet Machine & Pellet Production Line
Fuel plays an important role in household, business, and industrial sectors. Especially, in business and industrial uses which about 60% of energy used are imported. Thus, sustainable fuel energy development in Thailand and similar countries must consider limited energy resources and there usage.
Selected fuel must be cheap, abundant, and environmental friendly. According to the policies of Thailand and other countries to promote biofuel as renewable energy, oil palm cultivated area has been increasing.
Crude palm oil production left large amount of palm fiber and shell as waste. To increase their value, palm fiber and shell were selected to be raw materials of pelletized fuel.
Despite most wastes from palm oil production are currently used, i.e. palm shell is sold to be fuel in other industries or used as raw material for pellets, empty palm fruit brunch is used for mushroom production, and palm fiber is used as fuel for electricity and steam production in factories; a lot of palm fiber is still left as waste because its bulky particles which are difficult for transportation.
Palm fiber is a possible raw material to be pelletized to be used in industrial furnace. There were a lot of researches reported that biowaste such as bean pod, cereal husk, cotton waste, wheat straw, etc.; can be pelletized to be utilized as good fuel.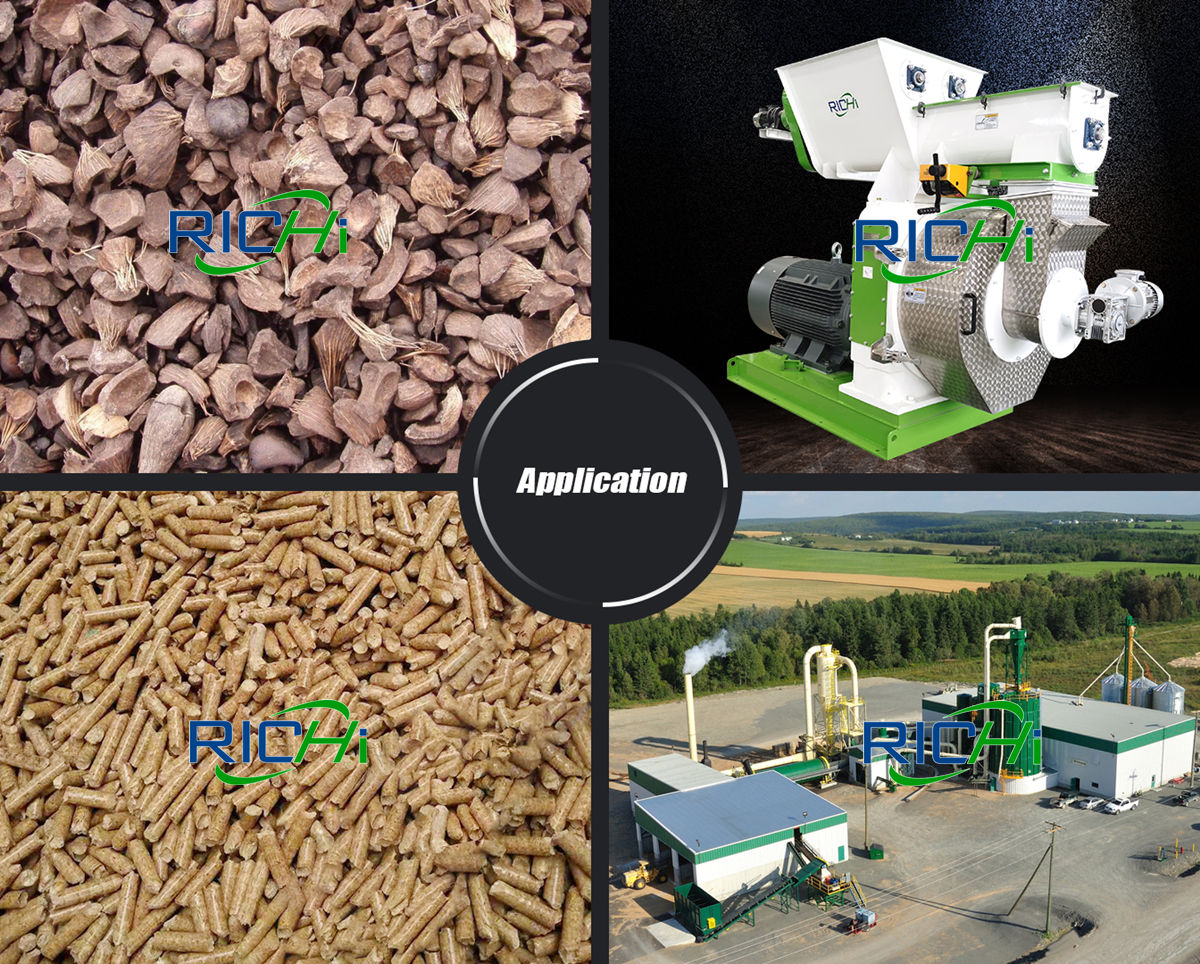 Why Choose Palm Fiber For Making Fuel Pellets By Palm Pellet Mahine?
Parameters of Palm EFB Pellets:
| Item | Value |
| --- | --- |
| Palm EFB Pellet Diameter | 6-10mm |
| Moisture Content | <12% |
| Ash Content | 5% |
| Volatile Content | 75% |
| Carbon Content | 13% |
| Thermal Value | 4000 kcal/kg |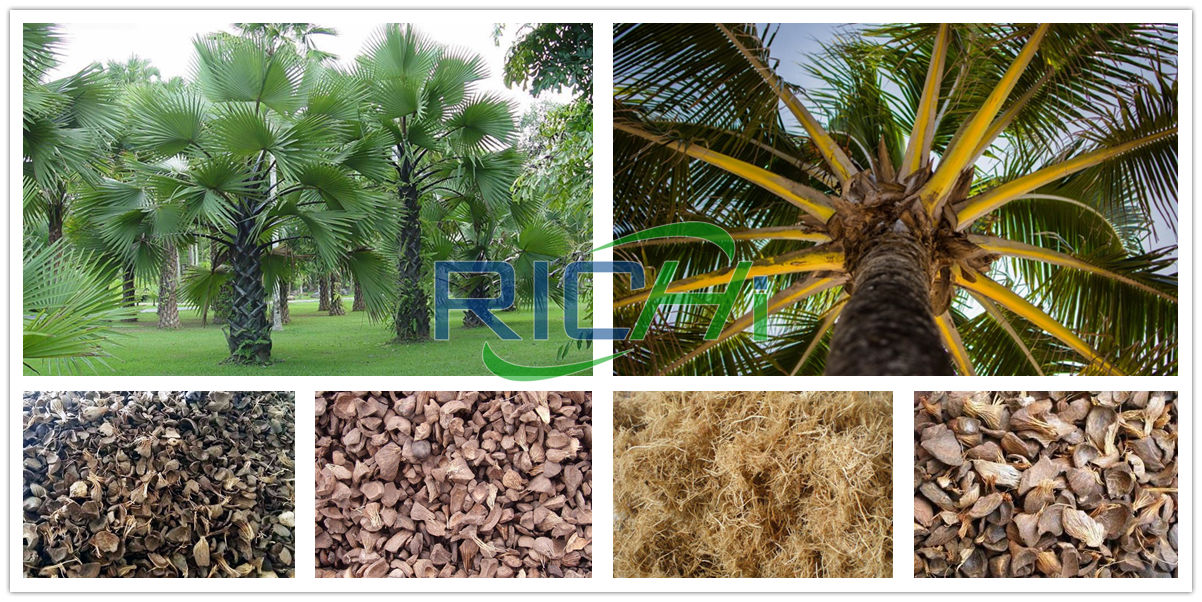 Need No Additives While Pelleting: Oil palm fiber is extracted from empty fruit bunches. It contains about 13-25% of lignin and 43-65% of cellulose. And the content of lignin is a key component for making pellets by efb pellet mill without adding additives.
Low Moisture: The moisture content of EFB pellets is around 8-12% while the moisture of shredded EFB fiber is generally around 60%. It means that you can save your costs on transportation.
High Heating Energy and Thoroughly Combustion: EFB pellets made by palm wood pellet mill have a high calorific value of 4300-4800kWhr/ton, which equals to sub-bituminous coal and high density wood pellets. Palm fiber is proved to be very effective when burning. EFB pellets can be burned thoroughly and there is only 5% of substance left over as ash content.
Generate Little smoke During Combustion: EFB pellets made by palm tree wood pellet mill generate little smoke while burning which means very minimum particulate being discharge to the air.
Abundant Material Resources: It is very popular and common in Southeast Asia, especially Malaysia, Thailand. You can easily get sufficient materials from palm oil plants with very low price.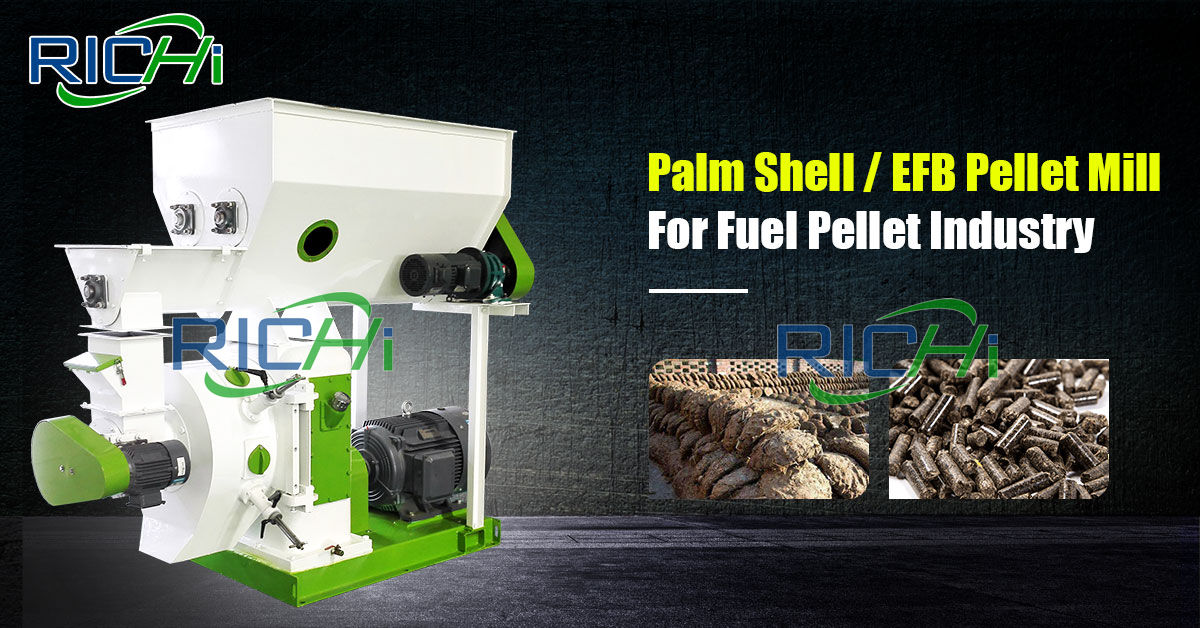 Advantages of Palm Fiber Pellet Made By EFB Pellet Mill
EFB pellets easy handling and storage
They can be packed in a bag with weight around 700-800kg per bag with bulk bag packing machine. In a standard 20ft container, palm EFB pellets can be packed into 40 jumbo bags, which mean a 20 feet container can ship around 28MT of EFB pellet.
Easy control and broad application
Pellet size is small in dimension and easy for repack if house-hold application is needed. Some of the palm EFB pellets made by efb fiber pellet mill are repacked into convenient bag size in order to be sold to end users for BBQ burning substance.
EFB pellet suitable for most boiler grating system
Pellets made by efb wood pellet machine normally come in 8mm diameter and length about 20-30mm. This is also a suitable dimension for most of the boiler input grate.
EFB pellets generate low to no smoke during the combustion
Air pollution is one of the hot topics that always draws many users' attention. One of the significant advantages for palm pellet made by RICHI super quality efb pellet mill machine is that it will not generate smoke or fume during the combustion process, which means very minimum particulate being emitted to the air.
Technical Features Of Palm Fiber Pellet Machine & Pellet Production Line
1. RICHI palm kernel pellet making machine adopts advanced gear-driving system with motors, stable and reliable.
2. RICHI efb pellets equipment adopts high-qualified components, with stable performance, long service life and low noise.
3. Whole transmission parts (including motor) of this palm pellet machine chooses high-quality SKF bearings to ensure the transmission efficient, stable, low noise. Main motor choose Siemens.
4. This palm fibre pellet mill machine is equipped with full single layer stainless steel feeder, forced feeder, ring die and cutter .
5. Adopting international advanced technology on this palm kernel pellets making machine: German gun drill and vacuum furnace heat manufacturing process in ring die making to ensure the pellets smooth and of high quality.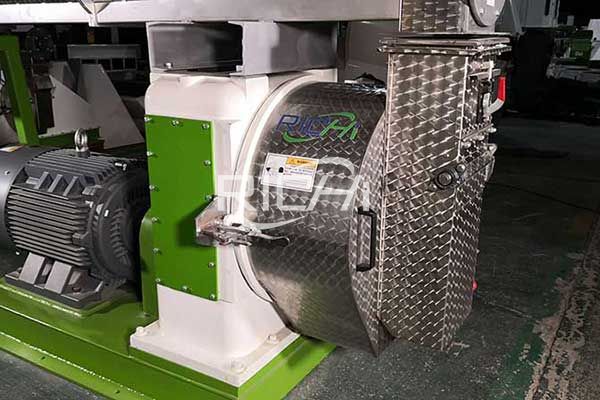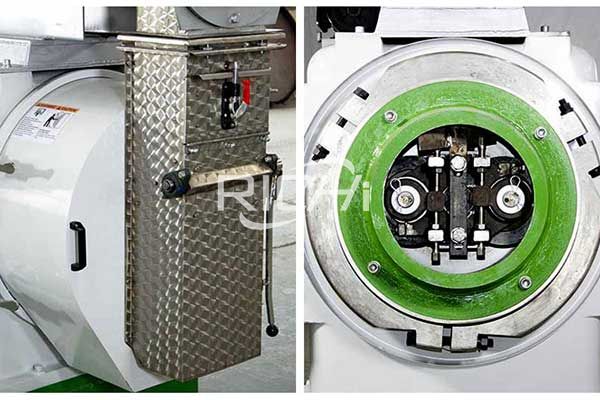 Working Principle Of Palm Fiber Pellet Machine & Pellet Production Line
Generally, the EFB pellets production is in large scale. Then our ring die EFB pellet machine is the most suitable machine for compressing the high density EFB fiber. Adopt high-precision gear driving, the output is improved by about 20% compared with the belt drive one. Imported high-quality bearings and oil seal are adopted to ensure efficient, stable and low-noise operation.
The mixed or tempered pulverized palm fiber/palm shell material passes through the chute through the compression mold cover, and is uniformly fed into the two pressing areas in the palm kernel cake(PKC) pellet machine ring die by gravity, centrifugal force generated by the rotation of the ring die, and the action of the feeding scraper.
Under the strong extrusion of the palm fiber pellet machine rollers, the material is gradually compacted and extruded into the die hole of the ring die to form. Since the extrusion of the material between the die rollers is continuous, the formed material continuously emerges from the die hole. The column is discharged, and then a cutter is cut into the required length of particles, and then enters the next palm pellet production line process.
Palm Pellets Machine Price & Specification
| Model | MZLH320 | MZLH350 | MZLH420 | MZLH520 | MZLH768 | MZLH858 |
| --- | --- | --- | --- | --- | --- | --- |
| Capacity | 300-400kg/h | 500-700kg/h | 1.0-1.2 t/h | 2.0-2.5 t/h | 2.5-4 t/h | 3-4.5 t/h |
| Power | 37kw | 55kw | 90kw | 110/132kw | 250/280kw | 280kw |
| Final Pellet | 6-12mm | 6-12mm | 6-12mm | 6-12mm | 6-12mm | 6-12mm |
| Weight | 2500kg | 3500kg | 4000kg | 4500kg | 5000kg | 5500kg |
| Dimension | 22200*900*1300mm | 2500*1100*1600mm | 2800*1150*1730mm | 3000*1260*1860mm | 3300*1500*2000mm | 3500*1600*2180mm |
Guidance of EFB pellet production by palm pellet making machine
The optimum ratio of palm pellet fuel made only by palm fiber was 50:10:40; palm fiber, water, and waste glycerol respectively. In the best practice condition; particle size was smaller than 2 mm, adhesive glycerol was heated.
From the explained optimum ratio and ingredient, pelletizing ratio was 62.6%, specific density was 982.2 kg/m3, heating value was 22.5 MJ/kg, moisture content was 5.9194%, volatile matter was 88.2573%, fix carbon content was 1.5894%, and ash content was 4.2339%, which was higher than the standard.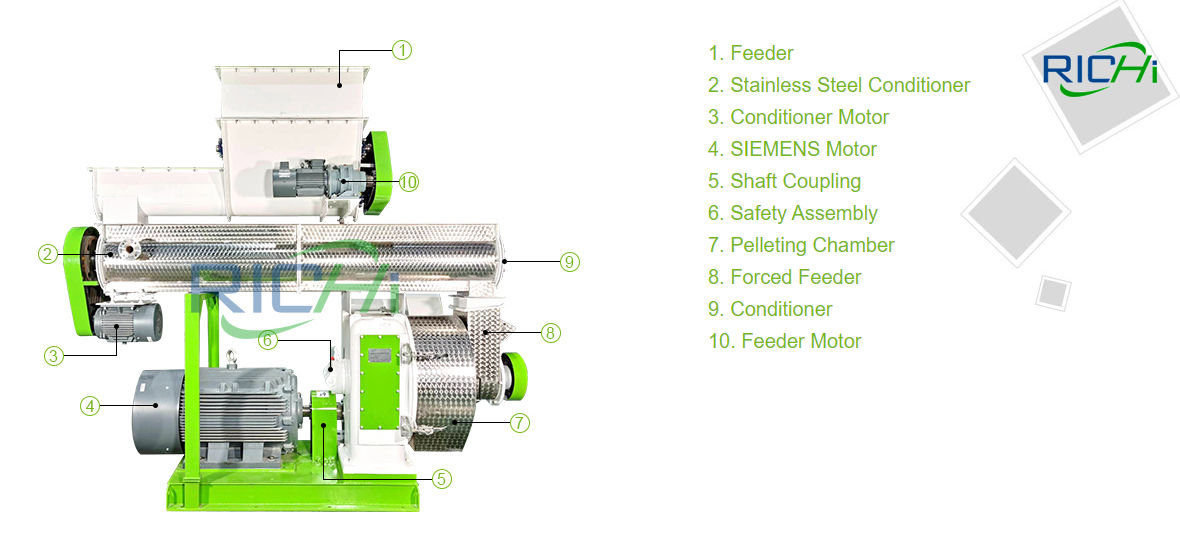 Mixing palm shell into palm fiber raw material reduced ash content of the pellets. The optimum raw material ratio, which minimizes ash content, was 80 to 20 palm fiber and palm shell respectively. Adding palm shell reduced ash content to be 2.5247%, which was higher than pelletized fuel standard but followed cubed fuel standard.
At this raw material ratio, pelletizing ratio was 70.5%, specific density was 774.8 kg/m3, heating value was 19.71 MJ/kg, moisture content was 9.8137%, volatile matter was 86.2259%, fix carbon content was 1.4356%, and compressive force was 4.83 N.
Raw material characteristics of palm pellets made by palm fiber pellet machine
Physical and chemical composites of palm fiber and palm shell
Palm fiber contains significantly high ash content (9.84%). It composes of 43.25% carbon, 28.65% oxygen, 5.93% hydrogen, and the rests 0.12 to 0.39% are sulfur and nitrogen. It can be calculated that heating value of palm fiber is 19.62 MJ/kg which is slightly higher than palm shell (17.776 MJ/kg).
Chemical composites of palm fiber and palm shell are similar (Table 2). The main chemical composition are SiO2, CaO, Al2O3 and K2O. It is also shown that palm fiber contains Al2O3, SiO2, CaO and Fe2O3 more than palm shell.
Composition of palm fiber and palm shell
Approximate analysis (wt%)&Ultimate analysis (wt%)
Palm fiber
Palm shell
Moisture content
11.82
19.48
Volatile matter
89.36
88.45
Fix carbon
1.26
1.01
Ash content
9.84
2.72
Hydrogen (H)
5.93
6.46
Carbon(C)
43.25
46.59
Sulfur(S)
0.12
0.03
Nitrogen(N)
0.38
0.11
Oxygen(O)
28.65
24.61
Heating value(MJ/kg) 8
19.06
17.7
Chemical composites of palm fiber and palm shell
Composite
Palm fiber
Palm shell
Al2O₃
0.57
0.24
SiO₂
3.54
2.96
P₂O5
0.19
0.59
SO₃
0.05
0.13
K₂O
0.24
0.60
CaO
1.15
0.48
TiO₂
0.01
-
Fe₂O₃
0.24
0.08
Glycerin
Waste glycerin generated from transesterification process contains alcohol, catalyst residue, carry-over fat/oil, and some esters. Heating value of glycerin is slightly less than palm fiber and palm shell. A kilogram of glycerin burned gives 19.71 MJ/kg of energy.
Factor affecting efb pellets characteristics by palm Kernel Shell pellet machine
Experiment had been done to study particle size, raw material: water: waste glycerol ratio, temperature of adhesive (waste glycerol), palm fiber and palm shell ratio; to find optimum condition of ingredient for pelletized efb pellet fuel. The best practice efb pellets made by oil palm fronds pellet machine was considered by pelletized percent, density, heating value, ash content, moisture content, volatile matter, and fix carbon content.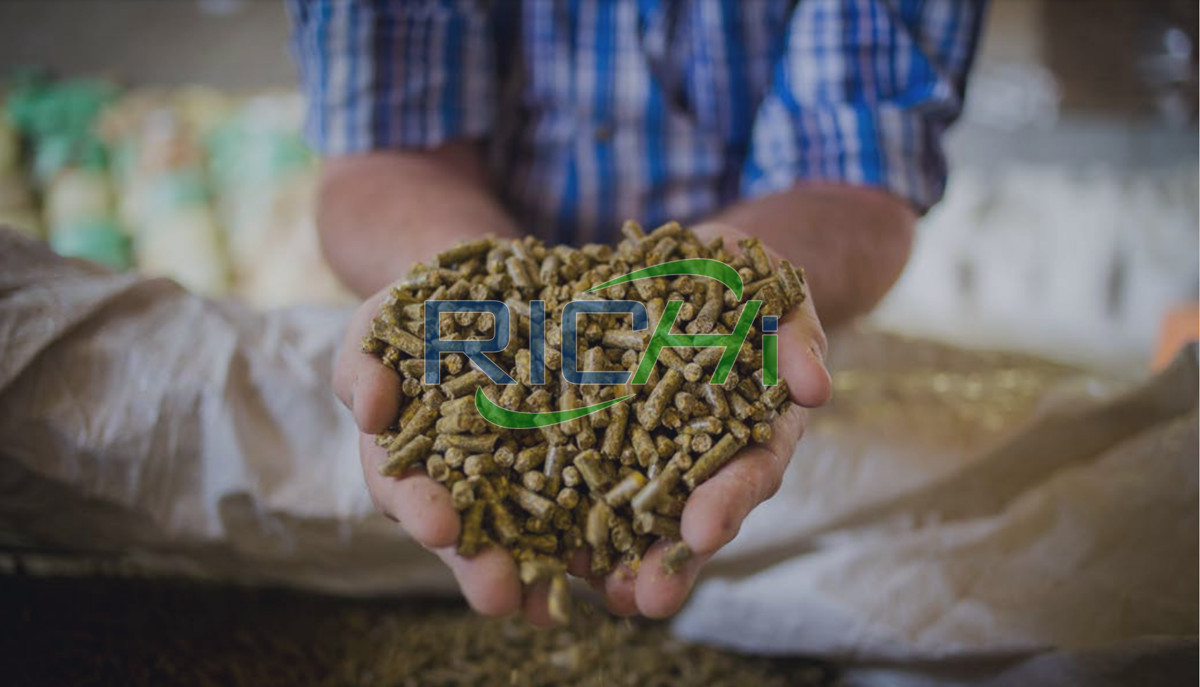 Effect of particle size distribution on pellets made by palm fiber pellet machine
Particle size of palm fiber affects pelletized percent, specific density; but do not affect moisture content of pellets and ash content which is different insignificant values. Using mixed particle size (<2 mm), the palm pellets made by palm wood pellet machine will have more than 50 pelletized percent.
Moreover, the efb pellets have high specific density and lowest ash content. For small particle (<0.5 mm), pelletized percent and density of the pellets are higher than 0.5 to 1.0 mm particles. It is also found that, the smaller particles, the higher ash content in pelletized palm fuel.
Effect of ratio of raw material, water, and waste glycerol on pelletized efb fuel characteristics
High water ratio lowers heating value of palm pellets because the higher water ratio, the more energy to dry the fuel. The higher waste glycerol ratio, the higher pellet density. Pelletized percent and heating value are also increase with glycerol ratio. Moreover, adding glycerol as adhesive increase fix carbon content of palm pelelts but decrease pelletized percent.


Optimum ratio of ingredients of palm pellets by efb pellet machine
In generally, ash, bulk density, heating value, pelletized percent, fix carbon content, and volatile matter; affect quality of efb pellets fuel in different way - i.e. low ash increase combustibility, high bulk density fuel is convenient to be transported, heating value must be high enough to supply the need of industries, high pelletized percent will make higher yield for EFB pelletizing process, etc.
Furthermore, high fix carbon content and volatile matter pellets made by palm pellet machine are easy to be combusted but have higher smoke. In the other hand, low volatile matter pellet have higher density. From experiment, optimum ratio of pelletized fuel ingredient - raw material (palm fiber): water: waste glycerol; was equal to 50: 10: 40 respectively. Pellets at this ratio which contain only palm fiber as raw material have acceptable quality in almost all parameters according to fuel standard except ash content that higher than the standard.
Compressive strength of pellets made by efb pellet mill equipment
The palm pellets must be reacted by horizontal force due to packaging, storage, and transportation. Therefore, horizontal compressive strength of efb pellets must be considered. It was found that pellet with raw material ratio 80:20 (wt%) of palm fiber and palm shell respectively with particle size of raw material <2 mm, and added heated glycerol at optimum ratio of 50:10:40 (wt%) raw material, water, glycerol respectively; had average horizontal compressive force 5.37 MPa.

CE high level complete efb pellet production line for palm fiber/shell pellet production
The creation of waste pellets by converting waste from crude palm oil industry and biodiesel production to create compressed pellets is suitable for combustion as an energy sources. The process is easy and does not require heat input or a chemical change.
Energy content of pellets composing glycerin and biomass is 19.7 MJ/kg of pellet which is more than some another wastes such as dry wood, household waste, waste wood, and animal waste.
The efb wood pellet plant pelletisation process consists of multiple steps, including pre-treatment of raw material, pelletisation, and post-treatment. The figure below presents the schematic of the palm pellet production process.


Whole set palm wood pellet plant machinery for sale
Generally speaking, just using a palm pellet press machine cannot support efficient efb pellet processing, and equipment for making efb pellet such as good quality efb sawdust hammer mill, high efficiency wood chips, high drying efficiency efb rotary dryer, efb pellet cooler machine, pellet screening machine, biomass pellet bagging machine, etc., sre also required. The complete efb pellet manufacturing process includes: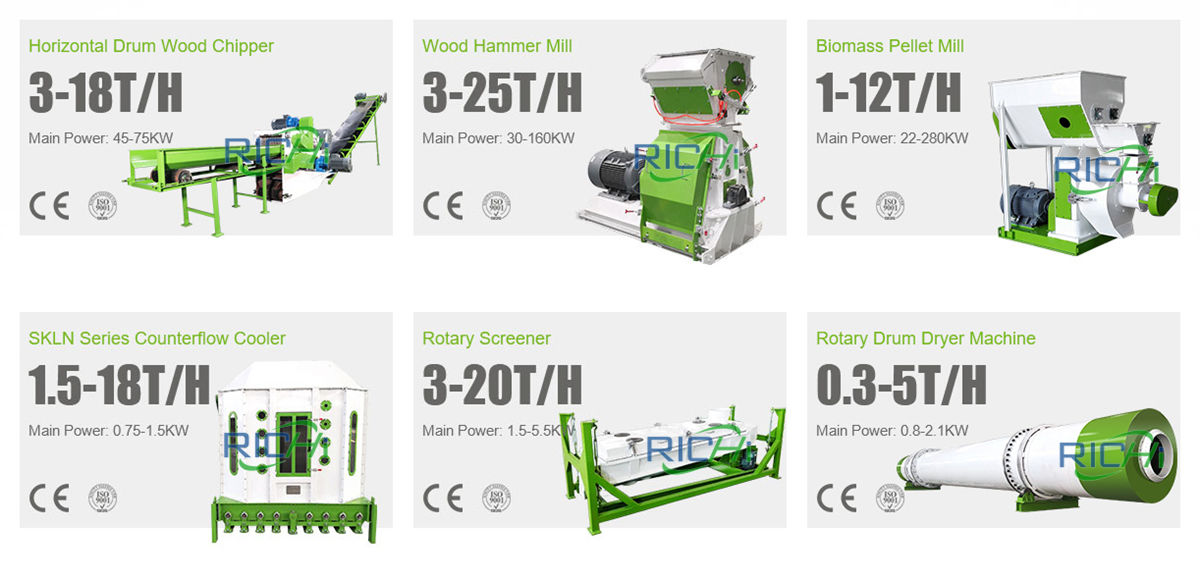 Cost of efb pellets plant production
Economic analysis of efb pellet fuel production must consider relationship of cost, revenue, and profit; according to pelletizing process. Those parameters are:
Cost of raw material that is varied by difference of raw material ratio;
Transportation cost which is varied by distance between raw material site and efb pelletizing factory;
Cost of efb pellet production line pelletizing process that is depended on size, initial cost and processing cost.
Moreover, feasibility study of efb pellets must consider cost and price per energy unit, market, and target consumer (i.e. household consumer, industrial consumer) needs. From cost of pelletized fuel analysis, cost of pelletized fuel is lower than normal coal cost used in industry.
Copyright © 2015-2021 by HENAN RICHI MACHINERY CO,LTD.All rights reserved.