Applications Of Palm Fiber Pellet Machine
Why Choose Palm Fiber For Making Fuel Pellets?

1. Need No Additives While Pelleting: Oil palm fiber is extracted from empty fruit bunches. It contains about 13-25% of lignin and 43-65% of cellulose. And the content of lignin is a key component for making pellets without adding additives.
2. Low Moisture: The moisture content of EFB pellets is around 8-12% while the moisture of shredded EFB fiber is generally around 60%. It means that you can save your costs on transportation.
3. High Heating Energy and Thoroughly Combustion: EFB pellets have a high calorific value of 4300-4800kWhr/ton, which equals to sub-bituminous coal and high density wood pellets. Palm fiber is proved to be very effective when burning. EFB pellets can be burned thoroughly and there is only 5% of substance left over as ash content.
4. Generate Little smoke During Combustion: EFB pellets generate little smoke while burning which means very minimum particulate being discharge to the air.
5. Abundant Material Resources: It is very popular and common in Southeast Asia, especially Malaysia. You can easily get sufficient materials from palm oil plants with very low price.

Production Process of Palm Fiber Pellet Machine

Advantages of Palm Fiber Pellet

1. EFB pellets Easy Handling and Storage
They can be packed in a jumbo bag with weight around 700-800kg per bag with Kingman bulk bag packing machine. In a standard 20ft container, palm EFB pellets can be packed into 40 jumbo bags, which mean a 20 feet container can ship around 28MT of EFB pellet.
2. Easy Control and Broad application
Pellet size is small in dimension and easy for repack if house-hold application is needed. Some of the palm EFB pellets are repacked into convenient bag size in order to be sold to end users for BBQ burning substance.
3. Pellet Suitable for most boiler grating system
Pellets normally come in 8mm diameter and length about 20-30mm. This is also a suitable dimension for most of the boiler input grate.
4. EFB pellets Generate Low to No smoke during the Combustion
Air pollution is one of the hot topics that always draws many users' attention. One of the significant advantages for pellet is that it will not generate smoke or fume during the combustion process, which means very minimum particulate being emitted to the air.

Parameters of Palm EFB Pellets:

| | |
| --- | --- |
| Item | Value |
| Palm EFB Pellet Diameter | 6-10mm |
| Moisture Content | <12% |
| Ash Content | 5% |
| Volatile Content | 75% |
| Carbon Content | 13% |
| Thermal Value | 4000 kcal/kg |
1.Advanced gear-driving system with motors on this wood pellet machine, stable and reliable.

2.Adopting high-qualified components on this wood pellet machine, with stable performance, long service life and low noise.

3.Whole transmission parts (including motor) of this wood pellet machine chooses high-quality NSK/SKF bearings to ensure the transmission efficient, stable, low noise. Main motor choose Siemens.

4.This wood pellet machine is equipped with full single layer stainless steel feeder, forced feeder, ring die and cutter .

5.Adopting international advanced technology on this wood pellet machine: German gun drill and vacuum furnace heat manufacturing process in ring die making to ensure the pellets smooth and of high quality.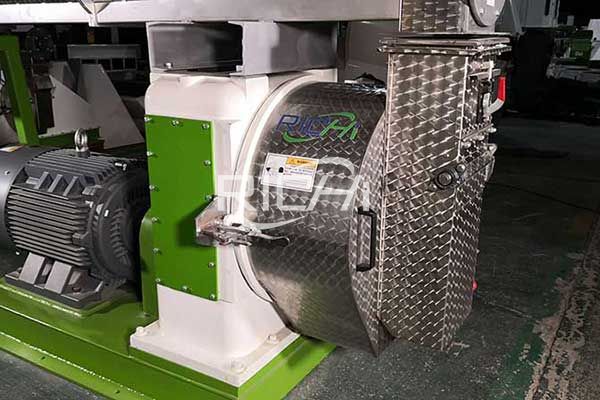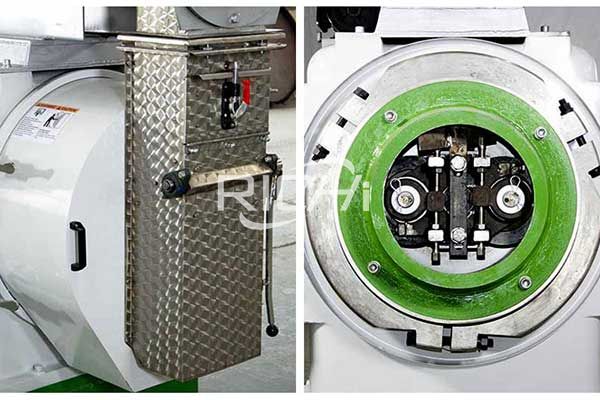 Working Principle Of Palm Fiber Pellet Machine
Generally, the EFB pellets production is in large scale. Then our ring die EFB pellet machine is the most suitable machine for compressing the high density EFB fiber. Adopt high-precision gear driving, the output is improved by about 20% compared with the belt drive one. Imported high-quality bearings and oil seal are adopted to ensure efficient, stable and low-noise operation.
| | | | | | | |
| --- | --- | --- | --- | --- | --- | --- |
| Model | MZLH320 | MZLH350 | MZLH420 | MZLH520 | MZLH768 | MZLH858 |
| Capacity | 300-400kg/h | 500-700kg/h | 1.0-1.2 t/h | 2.0-2.5 t/h | 2.5-4 t/h | 3-4.5 t/h |
| Power | 37kw | 55kw | 90kw | 110/132kw | 250/280kw | 280kw |
| Final Pellet | 6-12mm | 6-12mm | 6-12mm | 6-12mm | 6-12mm | 6-12mm |
| Weight | 2500kg | 3500kg | 4000kg | 4500kg | 5000kg | 5500kg |
| Dimension | 22200*900*1300mm | 2500*1100*1600mm | 2800*1150*1730mm | 3000*1260*1860mm | 3300*1500*2000mm | 3500*1600*2180mm |