1.Determine the scale of feed mill.

2.Determine the feed process and recommend feed machine.

3.Control mode selection.

4.feed manufacturing plant structure selection.

5.Planning the general drawing of feed mill plant site.

6.On-site installation and guidance. Free choice.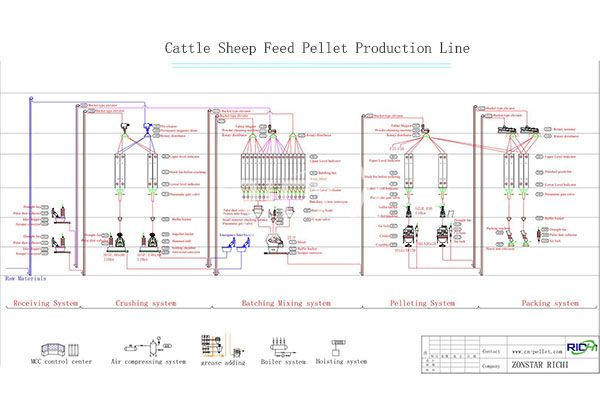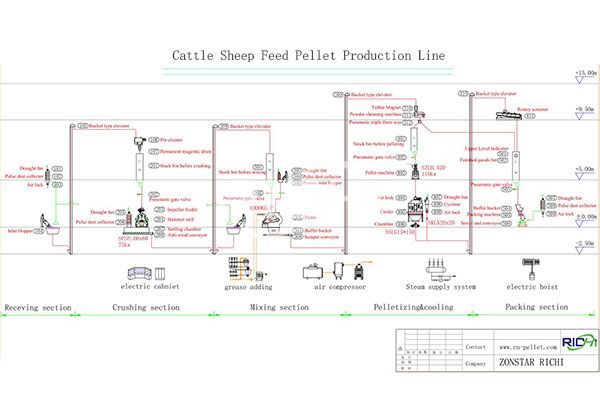 Working Principle Of Sheep Feed Pellet Production Line
The major operations involved in the production of feed pellets are: raw materials preparation, primary crushing, molasses mixing, fine crushing, pellet making and packaging(optional)
1.Raw and auxiliary materials are first charged into silos and tanks where they are made ready for further processing. They are then processed by primary crusher. Crushed materials are further separated by means of a sieve, and then stored in the assorting tanks according to the kind of raw materials.
2.The raw materials are then mixed by means of a feed mixer. In this process, fatty ingredients are added to the materials in order to raise the nutritional value of the feed. The feed obtained from the mixer is blended with molasses.
3.Assorted animal feed that is crushed into fine particles is further formed into pellets by a feed pellet mill.

| | | | | | | |
| --- | --- | --- | --- | --- | --- | --- |
| Model | Capacity(TPH) | Main Motor Power(kw) | Feeder Motor Power(kw) | Conditioner Power(kw) | Dia.of Ring Die(mm) | Final Pellet(mm) |
| SZLH250 | 1-2 | 22 | 0.75 | 1.5 | 250 | 2~12 |
| SZLH320 | 3-4 | 37 | 1.5 | 2.2 | 320 | 2~12 |
| SZLH350 | 5-7 | 55 | 1.5 | 3 | 350 | 2~12 |
| SZLH420 | 8-12 | 110 | 1.5 | 7.5 | 420 | 2~12 |
| SZLH508 | 10-18 | 160 | 2.2 | 11 | 508 | 2~12 |
| SZLH558 | 15-25 | 180/200 | 2.2 | 11 | 558 | 2~12 |
| SZLH558D | 14-22 | 160/180/200 | 1.5 | 7.5 | 558 | 2~18 |
| SZLH678 | 20-30 | 220/250 | 2.2 | 11 | 678 | 2~12 |
| SZLH678D | 15-25 | 200/220/250 | 2.2 | 11 | 673 | 2~18 |
| SZLH768 | 25-40 | 280/315 | 2.2 | 11 | 768 | 2~12 |
| SLZH858 | 25-42 | 280/315 | 2.2 | 15 | 858 | 2~18 |