Applications Of Single Roller Double Rotary Belt Mixer
The Single Roller Double Rotary Belt Mixer is basically composed of a mixing tank, agitator and driving device. The U-shaped tubular tank is equipped with a double-layer reversed spiral belt coiled agitator shaft. The outer spiral belt is driven by power and its coiled form cooperates with rotation. The direction pushes the material from the two ends of the U-shaped warehouse to the central zone, while the inner spiral belt pushes the material from the middle to the two ends to form a convective mixture.
The outlet of the horizontal bottom of the horizontal barrel of the mixer is provided with a discharge port, and the spiral structure of the outer spiral belt cooperates with the rotation direction of the main shaft to drive the material inside the barrel wall to the central discharge port to ensure that there is no dead angle in the material discharge in the barrel.
1.Single roller double paddle mixer, mixing time 45-60s. High evenness, mixed evenness is more than 97.7%.

2.Wide open discharge door, residual less than 0.1%.

3.Energy saving machine, tons of power consumption is only 0.3W.

4.large access door, reasonable design, convenient for cleaning and maintenance. The limit switch in the access door can ensure safety operation.

5.The main drive of the single roller double paddle mixer adopts double reducer to drive, which is more flat.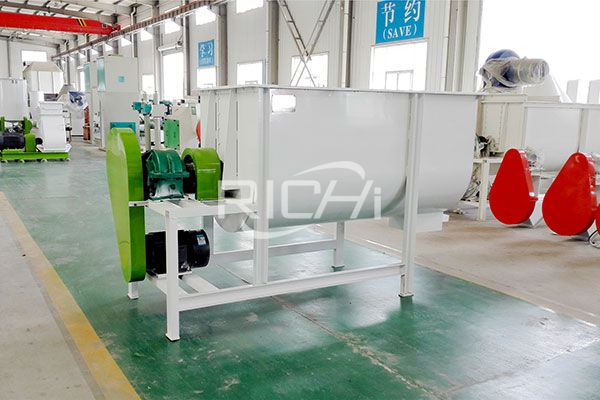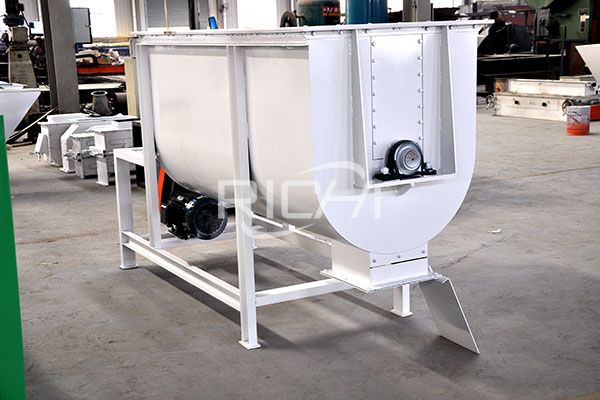 Working Principle Of Single Roller Double Rotary Belt Mixer
This machine consists of two parts: loading and mixing.
1. Feeding part: enter from the feed hopper, lift the material into the mixer through the spiral blade and enter the mixing drum for mixing.
2. Mixing part: When the material enters the mixing drum for back and forth staggered movement, the mixing effect is good.
| | | | | | |
| --- | --- | --- | --- | --- | --- |
| Model | SLHY0.5A | SLHY1.0A | SLHY1.0A | SLHY2.5L | SLHY5.0L |
| Power | 4kw | 7.5kw | 7.5kw | 15kw | 30kw |
| Mixed weight | 250kg/P | 500kg/P | 500kg/P | 1000kg/P | 2000kg/P |
| Volume | 0.5m³ | 1m³ | 1m³ | 2.5m³ | 5m³ |