Applications Of Bucket Elevator
Centrifugal bucket elevators are chosen when there is a need to move large amounts of material quickly. Instead of direct loading, buckets serve as the loading apparatus, scooping material up from the boot or inlet section. For this reason, durable buckets should be selected with this design. Centrifugal force at the head pulley "throws" material from the buckets into the discharge chute. The buckets are spaced in wider intervals to prevent discharge interference from the preceding bucket and to assure maximum fill of the buckets at the boot end while moving at a higher speed. The design of this style yields optimized material fill and reduced interference between buckets.
1.Removable top covers

2.Access doors for easy maintenance

3.Horizontally and vertically heavy-reinforced, jig welded head, boot, and intermediate sections

4.Adjustable throat plate at discharge

5.Inspection doors on both sides of discharge

6.Service platforms and access ladders available

7.Heavy-duty construction

8.Custom design

9.Various bucket designs available

10.Centrifugal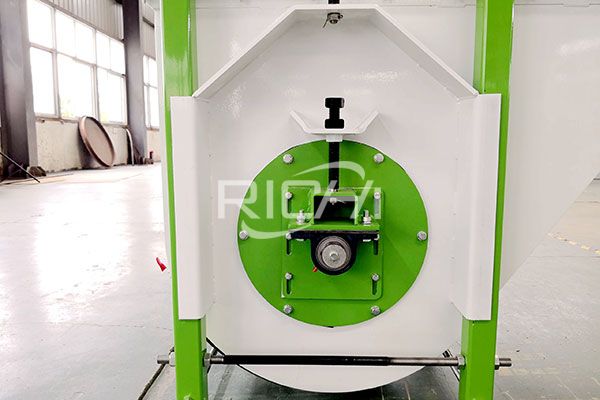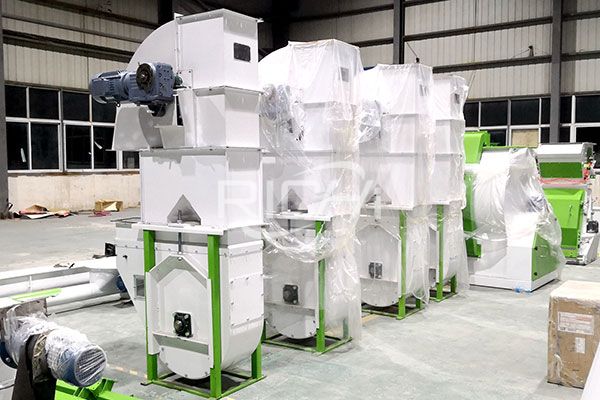 Working Principle Of Bucket Elevator
Material is fed into the buckets from an inlet chute. Buckets are designed for gentle discharge; the buckets are closely spaced on the belt or chain to allow the material to flow over the backside of the preceding bucket, whose extended sides form a chute to guide the material into the discharge spout. Direct loading of the material, combined with the slow speed of this elevator type, avoids the "throwing" action associated with centrifugal style elevators, making it ideal for use with fragile materials.
| | | | | | | |
| --- | --- | --- | --- | --- | --- | --- |
| Model | Linear velocity of the belt(m/s) | Bucket volume(L) | Power(kw) | Reducer | Maximum height(m) | Conveying volume(m³/h) |
| TDTG26/18 | 1.23 | 1.3 | 2.2 | XWD4-17-2.2 | 3-10 | 20 |
| TDTG26/18 | 1.23 | 1.3 | 3 | XWD4-17-3 | 10-20 | 20 |
| TDTG26/18 | 1.23 | 1.3 | 4 | XWD4-17-4 | 20-35 | 20 |
| TDTG26/18 | 1.23 | 1.3 | 5.5 | XWD5-17-5.5 | 35-56 | 20 |
| TDTG40/23 | 1.71 | 2.27 | 3 | XWD4-17-3 | 3-9 | 50 |
| TDTG40/23 | 1.71 | 2.27 | 4 | XWD4-17-4 | 9-15 | 50 |
| TDTG40/23 | 1.71 | 2.27 | 5.5 | XWD5-17-5.5 | 15-23 | 50 |
| TDTG40/23 | 1.71 | 2.27 | 7.5 | XWD5-17-7.5 | 23-35 | 50 |
| TDTG40/23 | 1.71 | 2.27 | 11 | XWD6-17-11 | 35-54 | 50 |
| TDTG40/28 | 1.71 | 2.7 | 3 | XWD4-17-3 | 3-8 | 60 |
| TDTG40/28 | 1.71 | 2.7 | 4 | XWD4-17-4 | 8-12 | 60 |
| TDTG40/28 | 1.71 | 2.7 | 5.5 | XWD5-17-5.5 | 12-19 | 60 |
| TDTG40/28 | 1.71 | 2.7 | 7.5 | XWD5-17-7.5 | 19-29 | 60 |
| TDTG40/28 | 1.71 | 2.7 | 11 | XWD6-17-11 | 29-45 | 60 |
| TDTG50/23 | 2.14 | 2.27 | 3 | XWD4-17-3 | 3-7 | 60 |
| TDTG50/23 | 2.14 | 2.27 | 4 | XWD4-17-4 | 7-12 | 60 |
| TDTG50/23 | 2.14 | 2.27 | 5.5 | XWD5-17-5.5 | 12-19 | 60 |
| TDTG50/23 | 2.14 | 2.27 | 7.5 | XWD5-17-7.5 | 19-28 | 60 |
| TDTG50/23 | 2.14 | 2.27 | 11 | XWD6-17-11 | 28-43 | 60 |
| TDTG50/28 | 2.14 | 2.7 | 3 | XWD4-17-3 | 3-6 | 70 |
| TDTG50/28 | 2.14 | 2.7 | 4 | XWD4-17-4 | 6-10 | 70 |
| TDTG50/28 | 2.14 | 2.7 | 5.5 | XWD5-17-5.5 | 10-16 | 70 |
| TDTG50/28 | 2.14 | 2.7 | 7.5 | XWD5-17-7.5 | 16-23 | 70 |
| TDTG50/28 | 2.14 | 2.7 | 11 | XWD6-17-11 | 23-36 | 70 |
| TDTGK63/28 | 2.87 | 3.9 | 5.5 | XWD5-17-5.5 | 3-8 | 140 |
| TDTGK63/28 | 2.87 | 3.9 | 7.5 | XWD5-17-7.5 | 8-12 | 140 |
| TDTGK63/28 | 2.87 | 3.9 | 11 | XWD6-17-11 | 12-19 | 140 |
| TDTGK63/28 | 2.87 | 3.9 | 15 | XWD7-17-15 | 19-27 | 140 |
| TDTGK63/28 | 2.87 | 3.9 | 18.5 | Helical Gear | 17-34 | 140 |
| TDTGK63/28 | 2.87 | 3.9 | 22 | Helical Gear | 34-41 | 140 |