Applications Of Pig Feed Pellet Machine
The pig feed pellet machine is a ring die pellet machine. Although the initial investment in a pig feed pellet factory is relatively expensive, in the long run, the benefits are far higher than the cost. Who are suitable for making pig feed pellets? One is a feed factory, and the other is a large pig farm. For them, pig feed pellet machines can be purchased from the perspective of income or cost.
Why Should Pig Feed Be Made Into Feed Pellets?
1. Because pellets are matured and made into pellets, they are easier to digest, have good palatability and large feed intake, while dry powder feeds have poor palatability.
2. The feed is compressed into small pellet, which makes it easier for pigs to eat more quickly. The dry powder is not easy to eat. The pigs will spend more time eating.
3. Since feed is pellet, there is no dust during feeding and pig feeding. The dry powder is very dusty and can easily cause respiratory diseases in pigs.
Raw Materials for Pig Feed Pellets
Cereals: corn, wheat bran, rice bran, sorghum, millet, vinasse, etc.
Proteins and fat: fishmeal, bone meal, soybean meal, peanut cake, cottonseed cake, rapeseed cake, etc.
Additive: spices, sweeteners, molasses, fat, mineral elements, vitamins, etc.
Pig Feed Pellets Diameter: 3.5mm
Compressing Ratio: 7-8
Necessary Equipment for Pig Feed
The processing cost of pellet feed is high, and the unit price of feed will be higher. Pigs of different sizes are suitable for different feed sizes. For suckling pig feed and teaching trough feed, pellet feed also needs to go through a crushing process, too large pellets will affect the intake and digestion of piglets. If economic conditions or processing conditions do not allow, dry powder can be used, and it is best to add water to mix into a wet mix to improve palatability, increase feed intake, and reduce dust and respiratory diseases. The soaking time of the feed should not be too long when feeding the wet mix, otherwise the vitamins are easily destroyed. In summer, attention should be paid to prevent the feed from becoming moldy.
1.The feed pellet mill is equipped with stainless steel feeder to guarantee accurate and reliable material feeding.

2.It adopts fully stainless steel conditioner and large open access door for convenient maintenance.

3.Stainless steel feeding pipe, door cover and scaleboard, which are beautiful and anti-corrosion.

4.Full stainless steel increased conditioning device ensure high quality of feed pellet.

5.Frequency conversion (Electromagnetic speed control) feeder, with overload protection device,equipped strong magnetic security device.

6.High output, low noise, convenient operation and maintenance.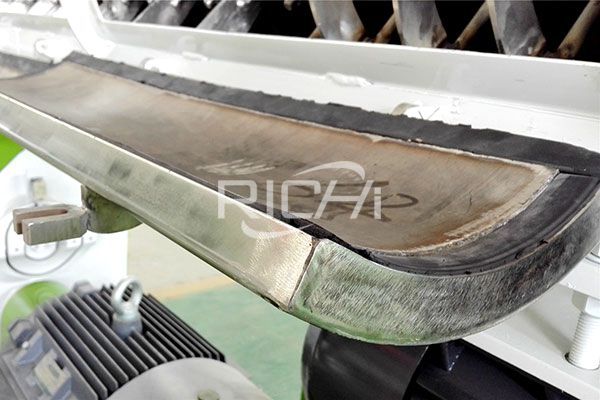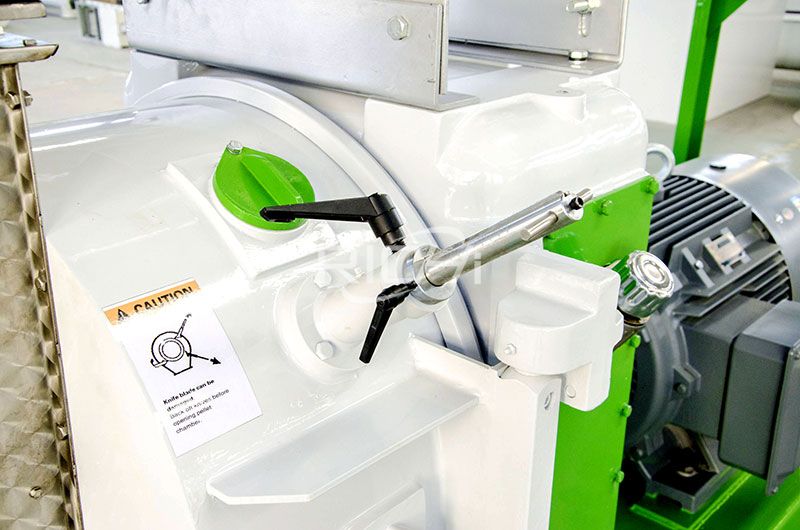 Working Principle Of Pig Feed Pellet Machine
Pelletizing is a core step for pig feed pellets producing. Because moisture conditioning and temperature control in the pelletizing process influence the pellets quality a lot. Commonly, the most suitable moisture content of the raw materials for feed pellets processing is 16% ~ 17% after conditioning. The lowest gelatinization temperature for the raw materials is 82℃. To producing quality pig feed pellet, quantity attention is needed during the pelletizing procedure. As to pig feed pellet size, pigs in different growth stage have different request. Generally, pellets with a size of 3/32 in. are suitable for suckling phase pigs; however, pellets with a size of 5/32 in. have the best gain efficiencies with growing pigs and finishing pigs.
| Model | Capacity(TPH) | Main Motor Power(kw) | Feeder Motor Power(kw) | Conditioner Power(kw) | Dia.of Ring Die(mm) | Final Pellet(mm) |
| --- | --- | --- | --- | --- | --- | --- |
| SZLH250 | 1-2 | 22 | 0.75 | 1.5 | 250 | 2~12 |
| SZLH320 | 3-4 | 37 | 1.5 | 2.2 | 320 | 2~12 |
| SZLH350 | 5-7 | 55 | 1.5 | 3 | 350 | 2~12 |
| SZLH420 | 8-12 | 110 | 1.5 | 7.5 | 420 | 2~12 |
| SZLH508 | 10-18 | 160 | 2.2 | 11 | 508 | 2~12 |
| SZLH558 | 15-25 | 180/200 | 2.2 | 11 | 558 | 2~12 |
| SZLH558D | 14-22 | 160/180/200 | 1.5 | 7.5 | 558 | 2~18 |
| SZLH678 | 20-30 | 220/250 | 2.2 | 11 | 678 | 2~12 |
| SZLH678D | 15-25 | 200/220/250 | 2.2 | 11 | 673 | 2~18 |
| SZLH768 | 25-40 | 280/315 | 2.2 | 11 | 768 | 2~12 |
| SLZH858 | 25-42 | 280/315 | 2.2 | 15 | 858 | 2~18 |