Applications Of Flow Feed Pellet Cooler
Richi counter flow cooler is a new type of cooler popular in the world. It uses the principle of counter current cooling to cool high temperature and high humidity pellets, that is, the ambient cold air passes vertically through the layer, first with the cold phase. The hot air heated in contact with the hot material and the direction of the wind flow is opposite to the direction of the flow.
So that the pellets gradually cooled in the forward direction, and the other coolers can prevent from directly contact with cold air and high-temperature pellets, thereby quenching the pellets. And then cracked surface of the particle. Since the cold air enters the cooling machine from the bottom in all directions, the air inlet area is large and the cold air utilization rate is high. Therefore, the cooling effect is remarkable, and the machine has low energy consumption and easy operation, so the counter flow cooler is excellent. Therefore, the counter flow cooler is an upgraded product that is superior to the previous vertical and horizontal coolers.
1.The mixing time is 90s, the mixing is uniform, and the cv is not more than 5%.

2.The distribution of various materials after mixing is uniform, and the material does not decompose.

3.The filling can change into a wide range, and the filling coefficient can vary from 0.1 to 0.8. Which can use for mixing various proportions and granular materials in many fields.

4.Select the full-length door structure, the discharge is rapid, and there is no residue.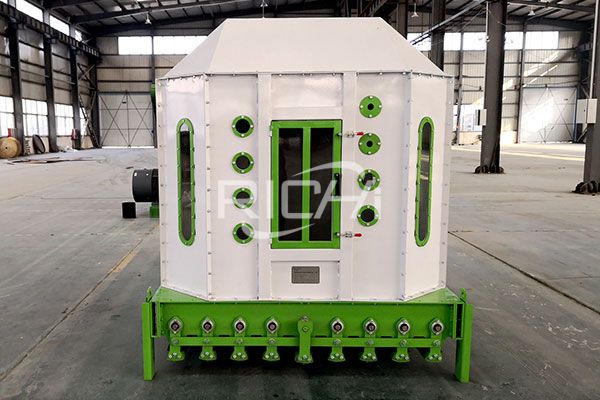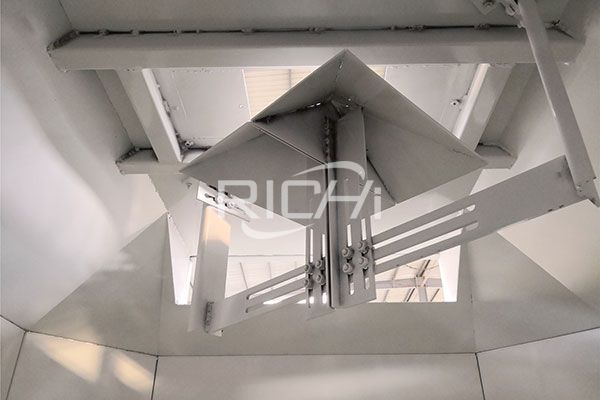 Working Principle Of Flow Feed Pellet Cooler
Which is discharged from the feed pellet machine and is uniformly stacked in a cooling box through a rotary conical bulker. And the cold air is slide-type from the lower side of the cooling box. The bottom of the discharge mechanism and the upper part of the collecting hopper enter the cooler in all directions. Pass through the material layer to exchange heat with the moist heat particles, and then suck out through the suction system. So that the pellets can cool.
| | | | | | |
| --- | --- | --- | --- | --- | --- |
| Model | SKLN11*11 | SKLN14*14 | SKLN17*17 | SKLN20*20 | SKLN24*24 |
| Capacity(t/h) | 1.5-2 | 3-5 | 5-8 | 9-12 | 13-18 |
| Power(kw) | 0.75 | 0.75 | 1.1 | 2.05 | 2.05 |