Feed pelletizer vs feed extruder, which is better for aquatic feed production?
In the aquafeed processing industry, extruder and pelletizer are two types of equipment that are often talked about. Feed extruder equipment relies on the shearing, compression and kneading of the screw to fully mature the material, and then the material is expanded by the compression ratio and length-to-diameter ratio of the screw and then granulated. It is a device that heats and matures feed ingredients. The maturation degree of the material expanded by the extruder is very high, which is conducive to digestion and absorption.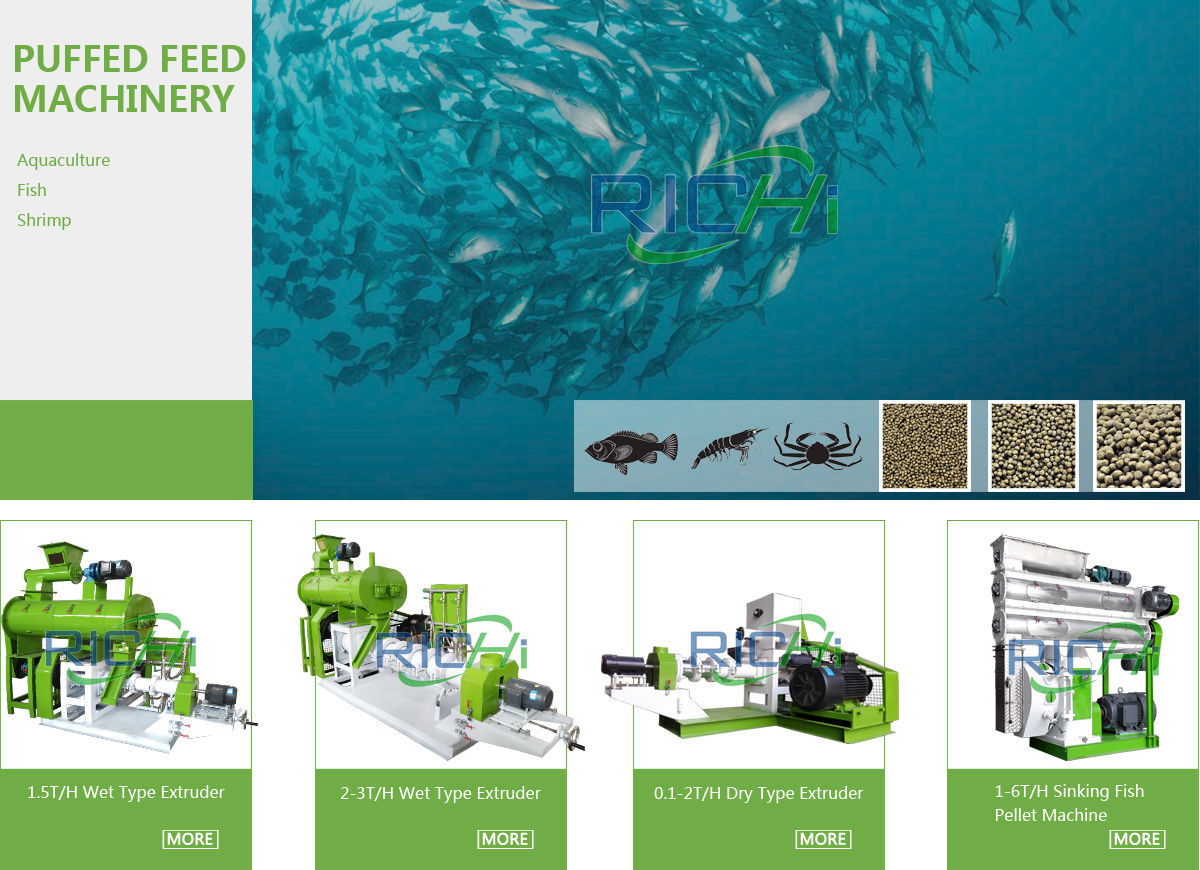 The feed pellet machine simply compresses the material into pellets by squeezing, which is also called a feed pellet mill. The maturation of the material is very low, and it is a device that presses the well-proportioned feed into pellets. In comparison, the current feed pellet machine is more extensive, because the cost of the pellet mill is lower. However, with the development of aquatic feed processing technology, we must also realize that the prospect of extruded equipment is also very good, especially when producing floating pellet feed, shrimp feed, and pet feed.
Because extruded feed has the advantages of general complete pellet feed, it can also improve the digestion and absorption rate of fed animals, and can effectively prevent animal digestive tract diseases; also because of the high temperature and high pressure maturation, the disinfection and sterilization effects are more obvious, and it is applicable It has strong sex, and the feed resources that can be extruded are more extensive.


In general, the current problem that restricts the application of feed extruders is the feed extruder price. For most small and medium aquatic feed factories and pet feed factories, the high cost of aquatic feed extruders is unacceptable to many feed processors. , Especially for feed mill plants that produce sinking fish feed or other sinking pellet feeds, they can choose triple-layer conditioner feed pellet mills instead. In addition, in addition to the three-layer conditioner feed pellet making machine, sinking pellets feeds can also be processed with double-layer conditioner animal feed pellet mill machines.