Applications Of Cattle Feed Grinder
If you are looking for "cattle feed hammer mill", "cow feed crushing machine", "grinding hay for cattle feed", "grinding corn for cattle feed", "feed grain grinder", "livestock "feed grinder", "feed mill corn grinder", "dairy feed grinder", "hammer mill feed grinder for sale", yes, this is the feed crushing machine you are looking for.
Using a feed mill to crush the feed has a significant impact on the digestibility of the feed and the production performance of the animal, as well as the feed processing and product quality.


Appropriate crushing particle size can significantly increase the conversion rate of feed, reduce animal excretion, and improve animal production performance, which is beneficial to the mixing, conditioning, pelleting, and extrusion of feed.
Purpose 1: Increase the surface area of ​​the feed, which is conducive to the digestion and absorption of animals. Animal nutrition experiments have proved that reducing the particle size improves the digestion and absorption of dry matter, protein and energy, and reduces the feed-to-meat ratio.

Purpose 2: Improve and improve the processing performance of materials. Through pulverization, the particle size of the materials can be basically the same, and the material classification after uniform mixing is reduced. For trace elements and some small component materials, only by crushing to a certain degree and ensuring that there are enough particles, can the mixing uniformity requirements be met;

For the animal feed pelleting machine's granulation process, the particle size of the crushed material must consider the interaction between the crushed particle size and the pellet feed, and the crushed particle size will affect the durability of the pellets. If aquatic feed is processed, the particle size of the crushed material will affect the stability of the aquatic feed in the water.

The crushing particle size of cattle feed
Generally speaking, the finer the mineral element premix additives are crushed and the more evenly mixed, the better the feeding effect. The fineness of various mineral and trace element additives must exceed 60 meshes at least.
After the energy and protein feed is crushed, it can increase the contact surface between the feed and the digestive juice of livestock and poultry, which can improve the digestibility of the feed.
But it should not be crushed too finely, resulting in insufficient chewing of livestock and poultry and uneven saliva mixing, which will hinder digestion. The fineness of feed should vary depending on the type of livestock and poultry.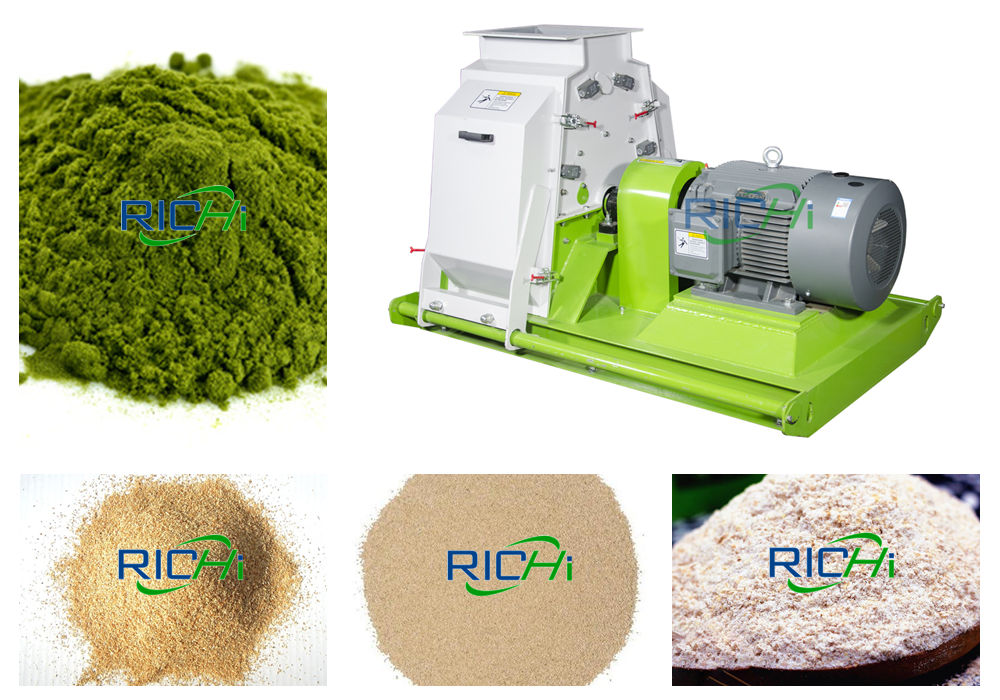 The fineness of crushing of concentrate feed for cattle and sheep can exceed 2 mm, because cattle can ruminate. A slightly coarser feed is good for ruminating and improves the digestibility of feed. The feed for old cattle and sheep can be crushed to within 1 mm to facilitate digestion.
When considering the types of livestock and poultry, the crushing fineness of feed must also consider not crushing fat-rich grain feeds such as corn and oats too finely and storing them for too long to avoid rancidity and deterioration.