Applications Of Stainless Steel Feed Mixer
RICHI Stainless Steel Feed Mixer widely used in feed mills, for mixing powder materials, guarantee uniformity and quality of complete feed.Due to the stainless steel body, the process of mixing the materials is not corroded, ensuring the quality of the feed production and reducing the maintenance cost of the equipment.
Mixing and mixing mild, high uniformity, no segregation; smooth transmission, low wear; can be equipped with multiple atomizing nozzles for liquid addition; easy maintenance.
1. Cross section of cylinder round, mixing without dead corner,mixing time: 30-90s,barrel wall plot-free.

2. Enlargement in length opened discharge door at the bottom to reduce residues; Mixed: CV ≤ 5.

3. Opening angle greater than 90 degrees, the door self-locking, discharge door does not open at cylinder pressure loss.

4. The mixing chamber is "W" horizontal shell shape, Double shaft and many paddles.

5. Specially designed discharger has big door-opening angle and quick discharging with little residue. Good tightness and no products leakage.

6. High mixing speed and homogeneity. It makes materials can be mixed and no influenced for bulk density, filling degree in state of loss weight.

7. It is widely used for mixing of powder, granular, flake, block, irregular and sticky materials in the industries of feed, cereal, food, chemicals, medicines, pesticides, etc.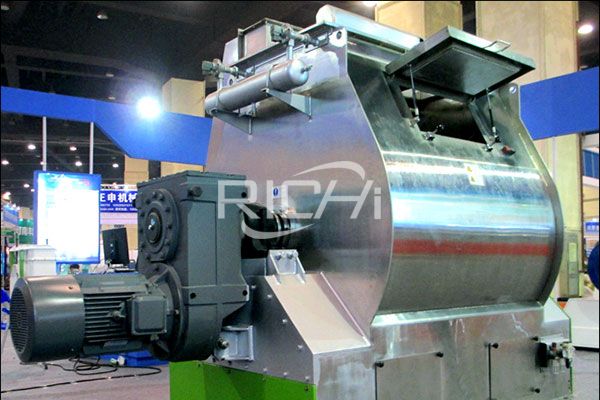 Working Principle Of Stainless Steel Feed Mixer
Stainless steel mixer is a mechanical equipment that uses mechanical force and gravity to uniformly mix two or more materials. During the mixing process, the contact surface area of the materials can also be increased to promote chemical reactions and accelerate physical changes.
| | | | | | | | | | |
| --- | --- | --- | --- | --- | --- | --- | --- | --- | --- |
| Model | SLHJ1A | SLHJ1B | SLHJ2A | SLHJ2B | SLHJ2L | SLHJ3A | SLHJ4L | SLHJ4A | SLHJ6A |
| Material quality | carbon steel | Stainless steel | carbon steel | Stainless steel | carbon steel | carbon steel | carbon steel | carbon steel | carbon steel |
| Power | 11kw | 11kw | 22kw | 22kw | 22kw | 30kw | 30kw | 37kw | 55kw |
| Mixed weight | 500kg/batch | 500kg/batch | 1000kg/batch | 1000kg/batch | 1000kg/batch | 1500kg/batch | 2000kg/batch | 2000kg/batch | 3000kg/batch |