Complete cattle manure pellet plant manufacturing process
Nowadays, cow dung pellets are mainly used as organic fertilizer and biomass energy, but the process and equipment of the two types of cow dung pellets are very different. Since cow dung is mainly used as organic fertilizer, the content of this page mainly expands the content of the cow dung organic fertilizer production line. When cow dung is used as biomass energy, you can directly refer to: Biomass pellet production line.


Cow dung pellet production line process design for cow dung fertilizer pellets
Many studies at home and abroad have shown that as fertilizer, livestock manure can not only solve the way out of waste, but also improve and fertilize the soil. Therefore, it is an ideal disposal method and is generally favored by countries all over the world.
However, if the livestock and poultry manure produced by large-scale breeding is directly sold as fertilizer, it is often difficult to form a market due to high transportation costs and inconvenient operations.
On the basis of the harmless and stabilizing treatment of livestock and poultry manure, processing it into commercial organic fertilizer or organic & inorganic compound fertilizer has a stable product market and is a resource-based approach that conforms to the national conditions of many countries.


Do you want to know how to use the cow dung fertilizer machine to make cow manure balls? Then we will tell you the main process about the cow manure fertilizer pellet production.
If you want to get the granulated cow manure, you should have the cow manure fertilizer powder before. And how can you get the powdery cow manure? You had better use a compost turner to help you get it. After that, you can get the fermented cow manure fertilizer powder by using the organic fertilizer compost turner.
The powdered cow manure fertilizer is uniformly fed into the cow dung pellet making machine-new type through the conveyor belt. Finally, the high speed rotary mechanical stirring force and the resulting aerodynamic force will turn the cow manure fertilizer powder into fertilizer pellets quickly.


Fermentation section
Collect cow dung and cow urine, mix with hay and decaying silage to make compost, and let it ferment. In the fermentation process, the dumper is used to fully ferment the cow dung, which can only be achieved by timely and even dumping. If some places are very dry and some places are very wet, this will affect the quality of fermentation.
Raw materials crushing and mixing section
Use the batching bin to crush, proportion and mix the composted materials, N, P, K and other inorganic fertilizers, and other additives and other raw materials in a certain proportion through a material pulverizer and a horizontal cow dung mixer.
Granulation section
Use a special organic cow manure fertilizer pellet machine to granulate the material.
Screening section
The granules output from the cow dung pellet making machine system have certain differences in particle size and need to be sieved and classified. The selected rotary screening machine requires low vibration, low noise, convenient screen change, and is equipped with a screen surface cleaning device. It is recommended to be equipped with an automatic return system to screen unqualified large and small particles, convey them through a belt elevator, and send them to the pelletizer to continue pelletizing after re-pulverization, which helps to improve the continuous operation capacity of the cow dung pellet production line.
Drying section
Use a cow dung dryer machine to further remove water from the sieved particles to meet the standard requirements of organic fertilizer moisture content.
Cool section
Cooling the cow manure pellets with a cooler helps the storage and quality of the granules.
Packaging section
The cooled cow dung manure pellets are transported into the finished product warehouse through the conveyors. Cow dung pellets can be quantitatively weighed and packaged through automatic packing scale.
Cow dung, from the point of view of cattle farms, is a kind of waste. Can cow dung be re-developed and fully utilized? It has become the focus of people's attention. However, this problem is no longer a difficult point. As many countries and regions attach importance to this aspect, in order to develop the organic fertilizer industry, various advocacy and encouragement policies have emerged, and the time for the large-scale and industrialized development of cattle manure commercial organic fertilizer has become more and more mature.
Cow dung can be made into high-quality organic fertilizer products after fermentation. Cow manure contains 14.5% organic matter, 0.30-0.45% nitrogen, 0.15-0.25% phosphorus, and 0.10-0.15% potassium. Cow manure organic fertilizer is a cold fertilizer. The organic matter and nutrient content is low in all kinds of livestock. It has a fine texture, slow decomposition, and low calorific value. It is a late-acting fertilizer and is suitable for base fertilizer.


Cow dung pellet plant for cow dung biofuel pellets
After the cow dung is processed and pelletized, it can generate more than 3,500 calories after burning as a biomass pellet, which is almost the same as the lignite produced in many countries and regions, but the cost can be reduced by 30%, and more Environmental protection, the small amount of manure ash produced after combustion can also be used as organic fertilizer, which can achieve zero waste discharge in the whole process.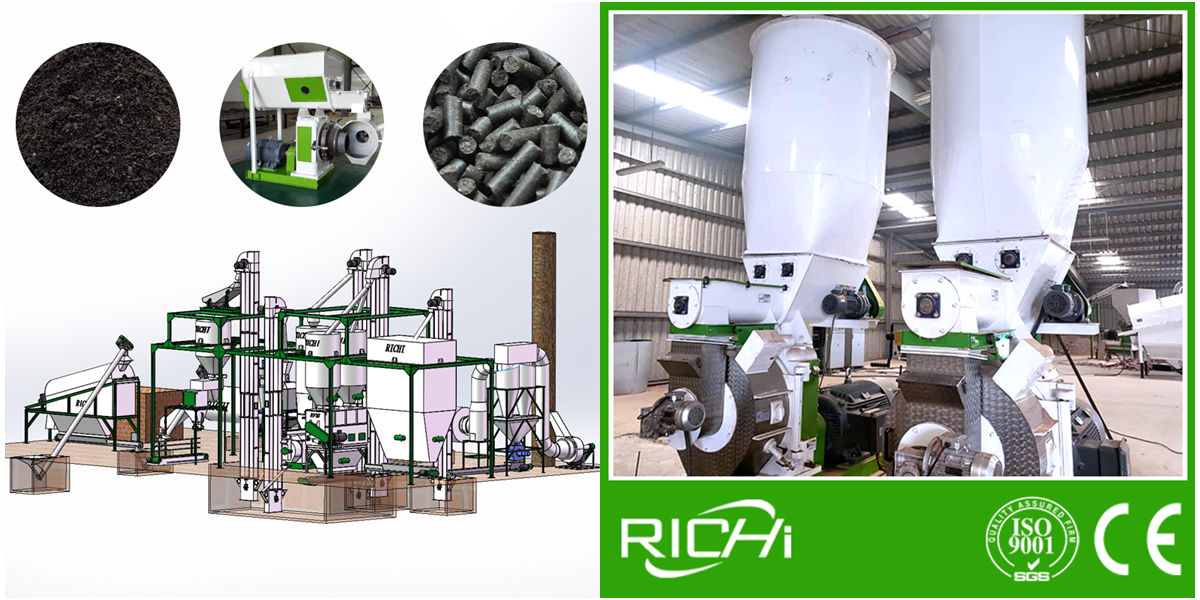 Cow dung drying
Different from making other biomass fuel pellets, the first step for making cow manure fuel pellets would be drying. Because there is too much water contained in the cow manure. If crush the cow manure first, the too wet manure may probably block the crushing machine. After drying, the moisture of mature is decreased to below 15%.
Manure crushing
After drying, the manure will become loose and can be processed by the crushing machine. The crushing machine will pulverize the cow dung into powder with the diameter of 2-5mm.
Manure pelletizing
When the manure powder is fed into the manure pellet machine, it will be pressed by the great pressure inside the pellet machine. Then cattle manure fuel pellets are made. Ring die series pellet mill for cow dung pellets production is available for your selection. Whether to choose the small one or large one depends on your own needs.
Pellets cooling
Cow dung fuel pellets discharged from the cow manure pellet mill are high in temperature and moisture content, then goes the cooling step. After that, the pellets can be burned in the boiler, or used as fertilizer in soil. The pellets can also be sieved when cooling, so that poor quality pellets and powder materials will be collected and reproduced.
Pellets packaging
Once the cow dung fuel pellets are formed and cooled, they can be packaged in bags by cow dung bagging machine or stored in bulk.

Compared with other fuels, cow dung is cheaper than propane, most natural gas and electricity. In addition, it is also very effective. Where wood is very scarce, cow dung can be used as a substitute and used to reduce wood consumption pressure. In addition, cow dung requires a short collection time and is easy to obtain. Cow dung contains a reasonable amount of energy and can be used as a sustainable and renewable fuel source. It can also reduce the disposal costs of odors and other nuisances associated with large-scale farms.
Because of the many disadvantages of directly using cow dung as fuel, cow dung fuel pellets seem to be a better choice. After pelletizing, the volume of cow dung fuel pellets is three times smaller than the original volume, but the burning time will be extended by three to four times. During the combustion process, no obvious dust or ash is discharged, and the density of the discharged ash is much lower, which can meet environmental protection standards.