Types of Granulator For Sale
The granulation machine can be used to process hundreds of raw materials, and produce dozens or hundreds of granules, and optimize the combination of various types of equipment to meet the needs of different pelletizing processes. There are many granulator types that RICHI can provide. Below we will classify the machines based on the granulator uses and introduce its application in detail.


Capacity:1-42T/H
Application: For making poultry feed, chicken feed, cattle feed, sheep feed, fish feed, pig feed, pet feed, etc.
Applicable raw materials: Grains, soybeans, soybean meal, corn, fish meal, amino acids, miscellaneous meal, additives, whey powder, oil, meat and bone meal, etc.
Animal feed granulator machine price: 7000-100000USD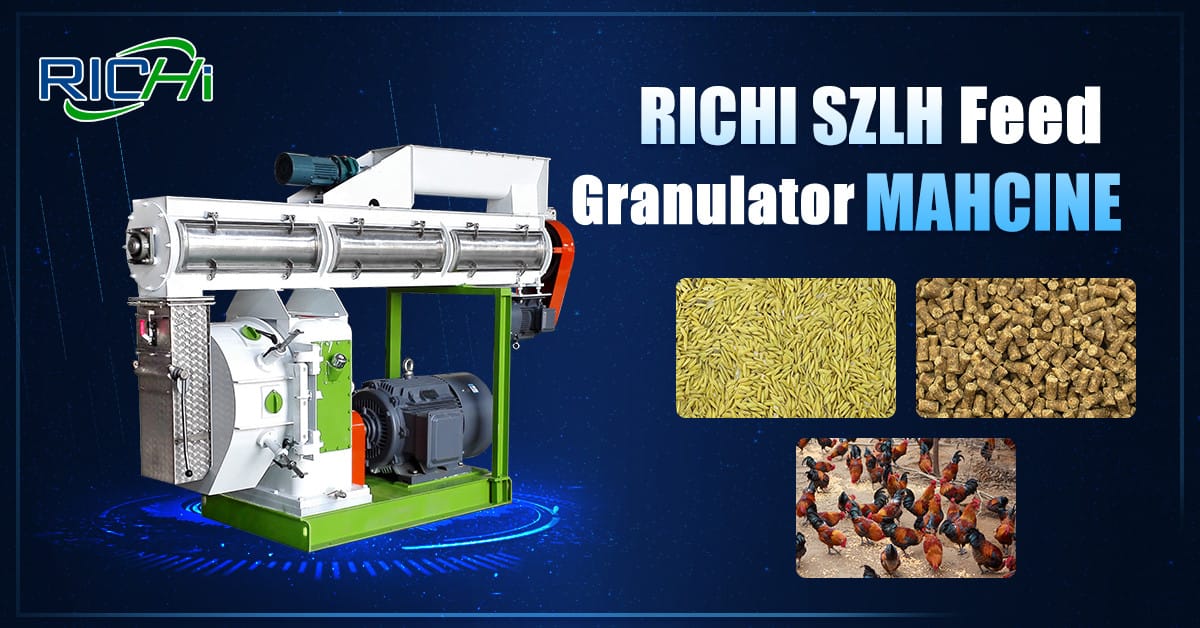 Today's demands for high-quality animal feed requires advanced pelleting equipment. Decades of granulation experience and detailed know-how of the pelleting process has resulted in a range of well-proven RICHI animal feed granulator machines. Our equipment focuses on high performance, reliability, feed hygiene, ease of maintenance and low energy consumption.
The ring die granulator is a pellet feed making machine with novel technology produced by RICHI. This granulation machine is equipped with high-quality ring die, pressure roller and advanced technology. The transmission system adopts gear transmission, which occupies less area, has uniform force, simple structure, and convenient operation and maintenance. The motor ring die can also be changed to meet the needs of different production capacities and specifications, and achieve ideal technical and economic benefits.
| Model | Capacity(TPH) | Main Motor Power(kw) | Feeder Motor Power(kw) | Conditioner Power(kw) | Dia.of Feed Pellet Mill Die(mm) | Final Pellet(mm) |
| --- | --- | --- | --- | --- | --- | --- |
| SZLH250 | 1-2 | 22 | 0.75 | 1.5 | 250 | 2~12 |
| SZLH320 | 3-4 | 37 | 1.5 | 2.2 | 320 | 2~12 |
| SZLH350 | 5-7 | 55 | 1.5 | 3 | 350 | 2~12 |
| SZLH420 | 8-12 | 110 | 1.5 | 7.5 | 420 | 2~12 |
| SZLH508 | 10-18 | 160 | 2.2 | 11 | 508 | 2~12 |
| SZLH558 | 15-25 | 180/200 | 2.2 | 11 | 558 | 2~12 |
| SZLH678 | 20-30 | 220/250 | 2.2 | 11 | 678 | 2~12 |
| SZLH768 | 25-40 | 280/315 | 2.2 | 11 | 768 | 2~12 |
| SLZH858 | 25-42 | 280/315 | 2.2 | 15 | 858 | 2~18 |
Capacity:300KG/H-10T/H
Application: For making various biomass wood pellets for fuel
Applicable raw materials: pine wood, oak wood, board, corn stalk, wooden pallets, bamboo, wood chip, wood shaving, leaves, cotton shell, bale, coconut shell, palm shell, bark, rice straw, straw, rice husks, peanut husks and other crop wastes, economic crop wastes and log materials as the main raw materials.
Wood granulator machine price: 15000-100000USD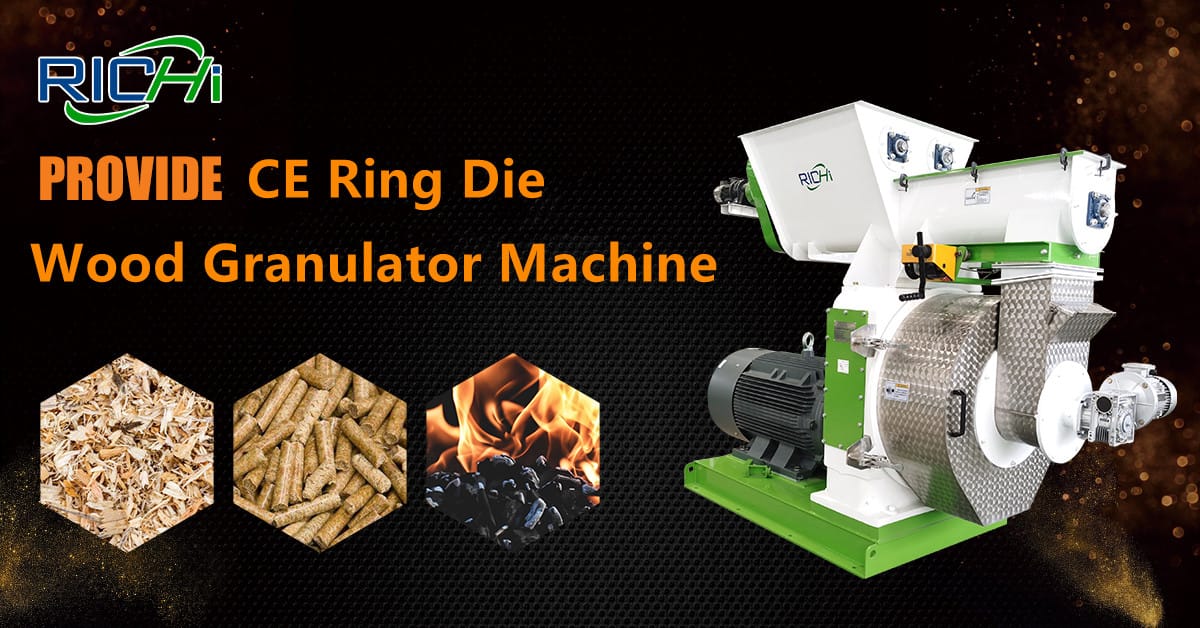 This new generation gear driven pellet granulator mill has fewer parts but even more capacity, so it runs smoother, quieter, and experiences less wear, even in the harshest conditions. This highly dependable mill produces pellets at the minimum cost per ton, increasing margins for our customers. The unique design of the RICHI biomass granulator makes it a robust, easy to maintain mill with high output.
Made specifically for the very demanding task of producing biomass, the biomass energy granulator machine is designed for pelleting materials that require very high force while also taking on a high-volume of materials that traditional pellet mills cannot handle.
RICHI designs and builds key process machines, as well as complete biofuel pellet plant solutions for the global renewable energy sector. Our business is based on meeting the requirements of forestry groups, energy companies, wood industries, and industrial as well as financial investors in biofuel pellet plants, has the ability to manufacture and supply each and every key processing machine in the pellet production line. We offer single machines for production of biomass pellets, solid biofuel, and agriculture and forestry waste pellets.
| Model | MZLH320 | MZLH350 | MZLH420 | MZLH520 | MZLH768 | MZLH858 |
| --- | --- | --- | --- | --- | --- | --- |
| Power | 37KW | 55KW | 90KW | 132KW | 250KW | 280KW |
| Capacity | 300-400KG/H | 500-700KG/H | 1.0-1.2 T/H | 2.0-2.5 T/H | 2.5-4 T/H | 3-4.5 T/H |
| Final Pellet | 6-12mm | 6-12mm | 6-12mm | 6-12mm | 6-12mm | 6-12mm |
| Weight(KG) | 2500 | 3500 | 4000 | 4500 | 5000 | 5500 |
Capacity:600KG/H-10T/H
Application: For making all kinds of grass pellets for feed, biomass and other industries
Applicable raw materials: alfalfa, lucerne, hay, hops, hemp, elephant grass, timothy grass, green grass, wet grass, dry grass, caragana, etc.
Grass granulator machine price: 10000-100000USD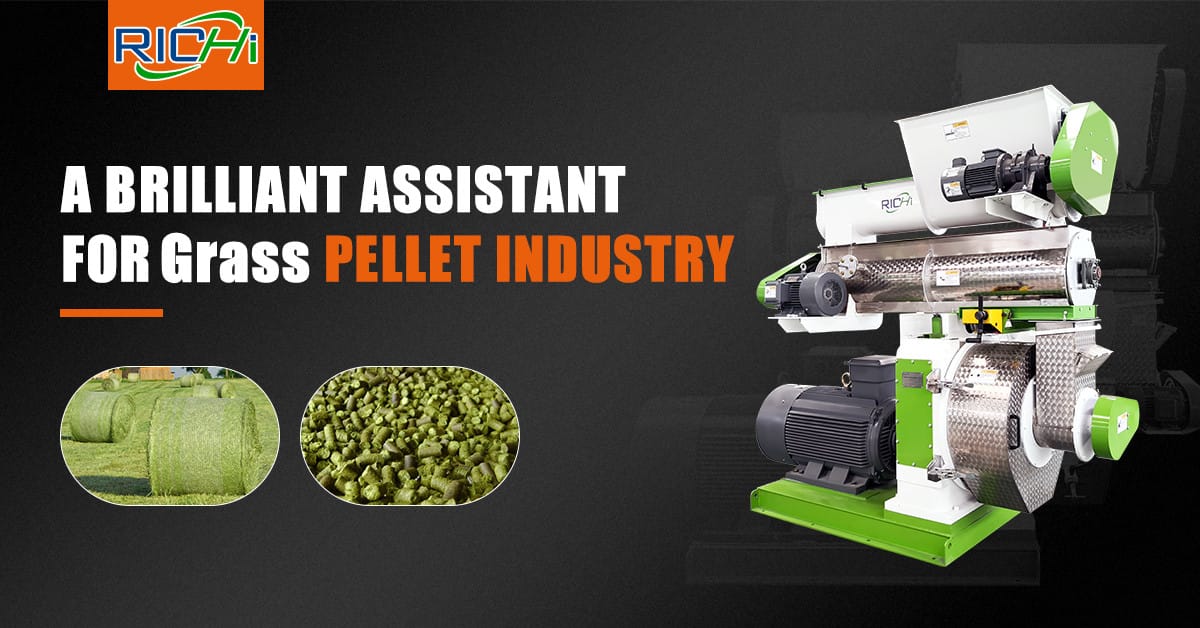 The reason why the grass granulation machine is separated from the wood granulation machine is because the pelleting of grass pellets is special. If it is used to feed animals, it needs to be equipped with a conditioner, so it is different from the general wood pellet granulation machine.
With more than 180 reference grass pellet plants worldwide, RICHI is a clear global leader in grass pelleting technology. RICHI biomass granulators for grass produce more than 10% of all grass pellets produced worldwide and have held a market share of over 10% since the pioneering of biomass pelleting in the 1995s. We have the experience and know-how to cover your grass pelleting needs.
RICHI provides proven, effective solutions for grass handling and processing. Richi Machinery offers complete solutions for grass handling and processing. The scope of supply can vary from complete grass granulating plants to individual equipment delivery. RICHI is very experienced in project management, ensuring deliveries that are on-time and on-budget, and produce excellent economic results for grass pellets producers.
| Model | MZLH320 | MZLH350 | MZLH420 | MZLH520 | MZLH768 | MZLH858 |
| --- | --- | --- | --- | --- | --- | --- |
| Power | 37KW | 55KW | 90KW | 132KW | 250KW | 280KW |
| Capacity | 600-800KG/H | 800-1000KG/H | 1.5-2 T/H | 3-4 T/H | 5-7 T/H | 8-10 T/H |
| Final Pellet | 6-12mm | 6-12mm | 6-12mm | 6-12mm | 6-12mm | 6-12mm |
| Weight(KG) | 2500 | 3500 | 4000 | 4500 | 5000 | 5500 |
Capacity:300KG/H-4.5T/H
Application: For making all kinds of organic plastic granules for bean bags, rock tumbling, corn toss bags, injection molding, weighted blankets, teeth, cornhole bags, etc.
Applicable raw materials: recycled pet, polyethylene terephthalate, pet plastic, pet resin, recycled resin, recycled plastic, recycled plastic granules, polymorph beads, biodegradable plastic, pillow, pedal, sleeping bag, felt, car parts, etc.
Plastic granulator machine price: 150000-110000USD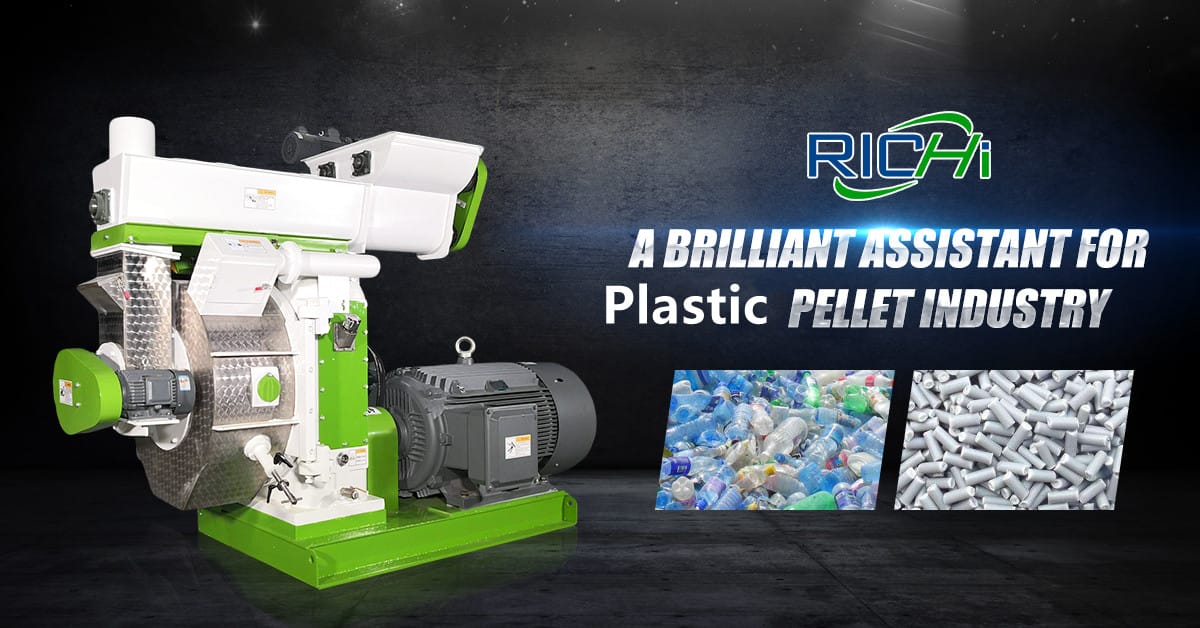 PET pellets are a kind of plastic pellets made by recycling used or discarded plastics through a plastic recycling granulator machine.
RICHI Machinery best plastic granulator is a kind of high-efficiency compounding and pelleting equipment. Its core section is composed of Feeder, Ring Die, Pelleting Chamber, SIEMENS Motor, Gearbox, Conditioner, SKF Bearing and Cutter Assembly. RICHI industrial plastic granulator have patented product, special designed forced side feeding with high output for crushed film; Adopting one stage extrusion line with stable and reliable output capacity and other features.
RICHI granulator for plastic recycling also has driving system and control system and control system, feeding system to form a kind of special extruding, granulation and shaping processing equipment.
Our machinery, processes, and technologies recover so-called "plastic waste" and convert it into valuable materials or energy sources. The fact that our technology works so dependably and with such high recovery rates sets us apart in the global market.
Our technology not only reduces the extraction of primary raw materials, but also frees up landfills and disposal sites to protect the environment. By treating many different waste flows, we make raw materials usable again, either as a source of additional revenue or by reusing the materials within the production cycle.
| Model | MZLH320 | MZLH350 | MZLH420 | MZLH520 | MZLH768 | MZLH858 |
| --- | --- | --- | --- | --- | --- | --- |
| Power | 37KW | 55KW | 90KW | 132KW | 250KW | 280KW |
| Capacity | 150-200KG/H | 250-400KG/H | 500-600 KG/H | 1.0-1.5 T/H | 1.5-2.5 T/H | 2-4 T/H |
| Final Pellet | 6-12mm | 6-12mm | 6-12mm | 6-12mm | 6-12mm | 6-12mm |
| Weight(KG) | 2500 | 3500 | 4000 | 4500 | 5000 | 5500 |
Capacity:300KG/H-4.5T/H
Application: For making all kinds of recycled rubber pellets for reclaimed rubber, various rubber products, construction, concrete, etc.
Applicable raw materials: waste tire, tire fiber, rubber powder, recycled rubber pellets, etc.
Recycled rubber pellets granulator price: 15000-110000USD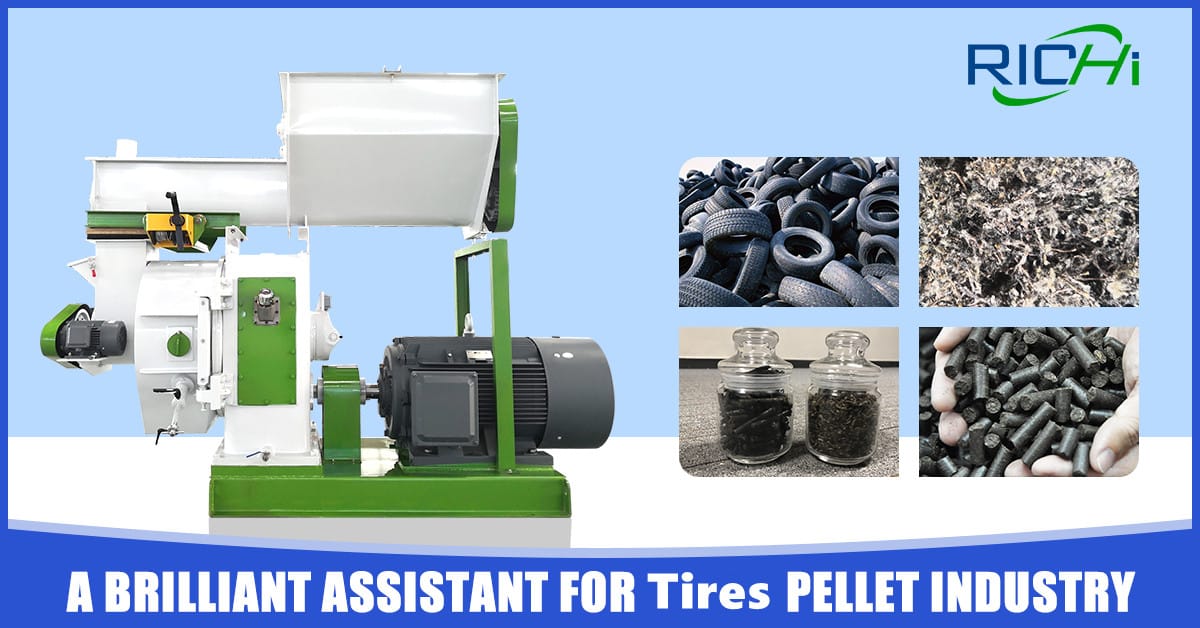 Even at the end of their useful life, many of the components in an automobile or other vehicle contain valuable raw materials. For the pure rubber in used tires –RICHI has the process technology and expertise to extract and reuse it.
As a kind of renewable resources, waste tire granular are widely used and more and more common. They are used to produce reclaimed rubber, and then produce various rubber products; used in construction, such as paving highways, paving sports fields, and It is suitable for floors and carpets in nursing homes, kindergartens, wards, courts, playgrounds, gyms and various playgrounds, etc., used in concrete, waterproof materials, waterproof coatings, rubber sheets, etc.
It is characterized by good elasticity, good aging resistance, non-slip, wear-resistant, shock-proof, impact-resistant, flame-retardant and insulating effects, easy to maintain and manage, durable, and reduce environmental pollution caused by waste rubber. The complete set of tyre granulator equipment produced by RICHI that uses physical methods to decompose and crush waste tires to produce granular rubber at room temperature is very popular among customers.
The rubber powder industry is the development direction of the recycling of waste tires in the future. Waste rubber products generally contain non-rubber components such as fibers and metals. In addition, some rubber products (such as tires) are relatively large. These non-rubber components are not only unfavorable to the crushing process, but also affect the rubber powder and reuse of rubber. quality. Therefore, the waste rubber is generally processed by the removal, separation, rubber cutting and washing of non-rubber components before being crushed.
It can not only use waste garbage, but also centralized disposal, reduce pollution, and promote the high value-added utilization of waste tire resources. Its production, processing and reuse has far-reaching social significance and economic benefits, and is in line with the market and the country's sustainable development strategy.
| Model | MZLH320 | MZLH350 | MZLH420 | MZLH520 | MZLH768 | MZLH858 |
| --- | --- | --- | --- | --- | --- | --- |
| Tie Pellet Granulator Power | 37KW | 55KW | 90KW | 132KW | 250KW | 280KW |
| Capacity | 100-200KG/H | 200-400KG/H | 400-600 KG/H | 900KG/H-1.1 T/H | 1.2-2 T/H | 1.3-2.2 T/H |
| Final Pellet | 6-12mm | 6-12mm | 6-12mm | 6-12mm | 6-12mm | 6-12mm |
| Weight(KG) | 2500 | 3500 | 4000 | 4500 | 5000 | 5500 |
Capacity:1-12T/H
Application: Mainly used in the cultivation of pollution-free agricultural products and the cultivation of green agricultural products, the production of ordinary crops, flowers, lawns, trees, pastures and other plants.
Applicable raw materials: chicken manure, livestock manure, cow manure, horse manure, pig manure, nutrients, lignite, grass charcoal, sludge, straw fermentation, agricultural and forestry waste, kitchen waste, etc.
Fertilizer granulator machine price: 15000-100000 USD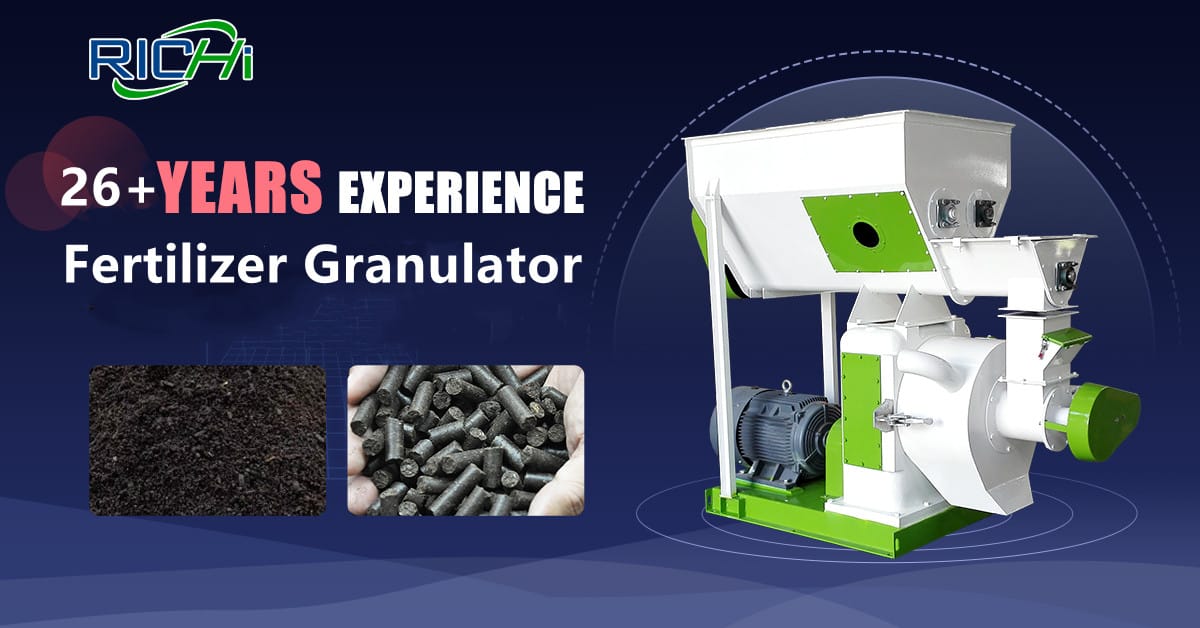 Organic fertilizers are the recycling and reuse part of nutrients in agriculture. Therefore, with the increase in the amount of chemical fertilizers and crop harvests, the amount of organic fertilizers has also increased. Although in recent years, due to the large increase in chemical fertilizer input, the proportion of nutrients input from organic fertilizers has decreased significantly, but it still accounts for 36.7% of the total nutrient input.
In addition to nitrogen, phosphorus, potassium and organic carbon nutrients, organic fertilizers can also Provide a considerable amount of organic nutrients such as medium and trace elements, amino acids, nucleic acids, sugars, and vitamins.
RICHI organic fertilizer granulator absorbs the advanced technology of domestic and foreign granulation equipment, and is suitable for the production of bio-organic fertilizer granulation with grass charcoal, lignite, organic fertilizer sludge, and straw as raw materials.
Organic fertilizer with chicken manure and other organic fertilizers as the main raw material Organic fertilizer granulation; cake fertilizer granulation with bean cake as the main raw material; imported bearings and oil seals are used in the key parts of the whole machine, with long working life and low noise. Feeding control adopts frequency conversion speed regulation to ensure uniform feeding of materials.
| Model | MZLH320 | MZLH350 | MZLH420 | MZLH520 | MZLH768 | MZLH858 |
| --- | --- | --- | --- | --- | --- | --- |
| Power | 37KW | 55KW | 90KW | 132KW | 250KW | 280KW |
| Capacity | 1-2 T/H | 3-4 T/H | 5-6 T/H | 7-8 T/H | 9-10 T/H | 10-12 T/H |
| Final Pellet | 6-12mm | 6-12mm | 6-12mm | 6-12mm | 6-12mm | 6-12mm |
| Weight(KG) | 2500 | 3500 | 4000 | 4500 | 5000 | 5500 |