Applications Of Olive Pomace Pellet Machine & Pellet Plant
Olive pomace is a valuable by-product extracted from olive oil, it is a thick sludge, the main residue of the olive oil extraction process. It is the remaining pulpy material after removing most of the oil from the olive paste and it consists of pieces of skin, pulp, stone, and olive kernel. It still contains a certain amount of oil and water, and is used in the production of solid fuel, animal feed, composite fertilizer and olive pomace oil.

The olive pomace pelleting process is economic and efficient with robust RICHI olive pomace pellet making machines. Olive pomace pellet, which is generally produced in the form of small cylinders with a length of 1-3 cm and a diameter of 6-10 mm, contains less moisture than dried olive pomace and adapts better to existing solid fuel systems.
Although not common in many countries, in Italy and Spain, olive pomace is mixed with various biomasses and used as fireplace fuel. A 1-kilogram olive pomace briquet can burn efficiently for approximately 1 hour.
Olive pomace is used as solid fuel in pellet form especially in the Aegean region. It is preferred because it is ecological, contains 5000 kcal/kg, is affordable, and is low in ash compared to other fuels such as coal. There are exclusive boilers for olive pomace pellets.


How to make olive pomace pellets
Distribution Of Olive Pomace
Olive pomace is sourced basically from the areas with large olive tree plantation and a well-established olive oil industry. Olive is the most widely cultivated fruit crops in the world with a cultivation area of more than 10 million ha worldwide, and 95% of world's olives are produced in the Mediterranean region. Most countries along the Mediterranean Sea produce olive oil in varying quantities. Spain, Italy, and Greece represent more than three-fourths of the total olive oil output in the world.
Since 2014, Spain Olives Production rose 15% year on year. In 2019, the country was ranked number 1 among other countries in Olives Production with 9,176,929 Metric Tons. Italy, Turkey and Greece respectively ranked number 2, 3 and 4 in this ranking. Slovenia witnessed the best average annual growth at +33.6% per year, while Iraq was the worst growing country at -18.2% per year.
Top 10 Countries for Olive Production in 2019
| | Top 10 Countries | Metric Tons | Last | YoY | 5 years CAGR |
| --- | --- | --- | --- | --- | --- |
| 01 | Spain | 9,176,929.00 | 2019 | -6.5 % | +15.0 % |
| 02 | Italy | 1,945,324.00 | 2019 | +3.6 % | -0.2 % |
| 03 | Turkey | 1,674,377.00 | 2019 | +11.6 % | -1.1 % |
| 04 | Greece | 1,525,543.00 | 2019 | +41.4 % | -10.1 % |
| 05 | Morocco | 1,479,853.00 | 2019 | -5.2 % | -1.2 % |
| 06 | Egypt | 892,753.00 | 2019 | +16.2 % | +9.6 % |
| 07 | Algeria | 854,377.00 | 2019 | -0.7 % | +12.1 % |
| 08 | Portugal | 791,410.00 | 2019 | +6.9 % | +11.7 % |
| 09 | Tunisia | 744,757.00 | 2019 | -9.8 % | +14.7 % |
| 10 | Syria | 358,666.00 | 2019 | -10.3 % | -1.8 % |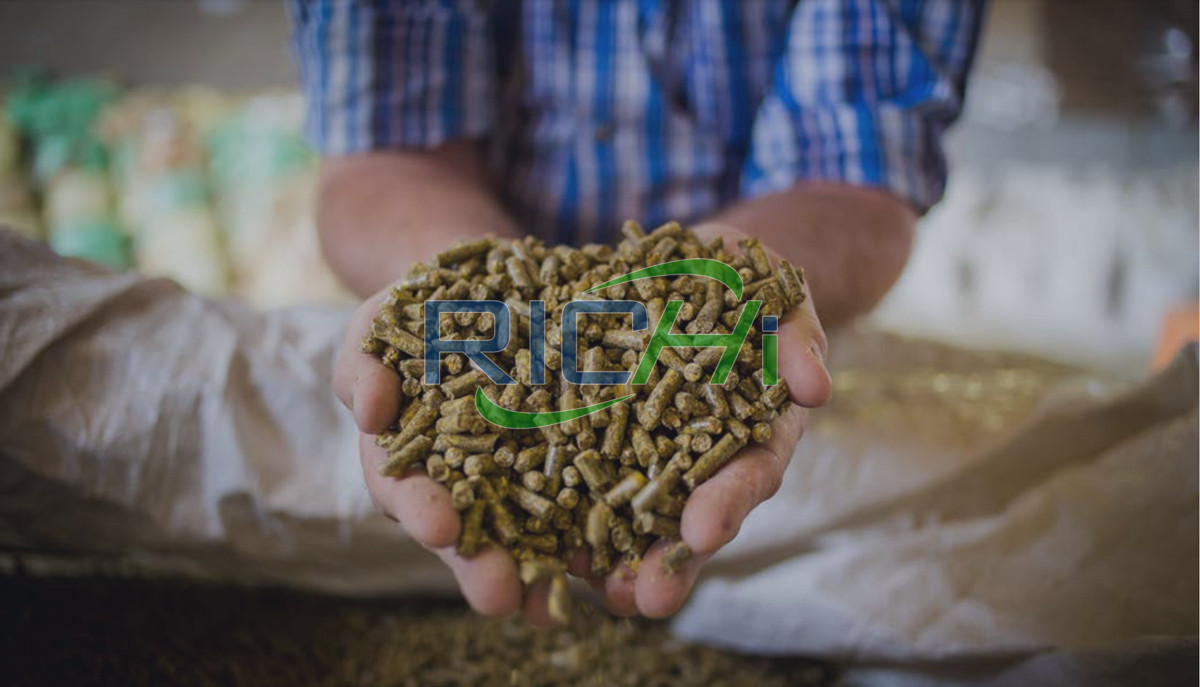 Benefits Of Olive Pomace Pellet Made By Olive Pomace Pellet Machine
The product is oil-bearing and is therefore water repellent on storage and contains less dust;
A much better combustion value compared to wood pellets;
The ash of olive burning has no disposal rights and is therefore suitable for spreading over the crops or the land as fertilizer because of its purity;
Olive pellets and olive cake are available throughout the year with residue from production;
No burden on the environment by cutting down trees;
A higher and better CO2 compensation.
Uses of olive pomace pellets
Apartments and sites
Pellet stoves
Nutshell pellet stoves
Boilers with stoker
Chicken farms
Bread ovens
All areas where coal is used.
Technical Features Of Olive Pomace Pellet Machine & Pellet Plant
1.Advanced gear-driving system with motors on this olive pomace pellet machine, stable and reliable.
2.Adopting high-qualified components on this olive pomace pelletizer machine, with stable performance, long service life and low noise.
3.Whole transmission parts (including motor) of this olive pomace pelletizing machine chooses high-quality NSK/SKF bearings to ensure the transmission efficient, stable, low noise. Main motor choose Siemens.
4.This olive pomace pellet making machine is equipped with full single layer stainless steel feeder, forced feeder, ring die and cutter .
5.Adopting international advanced technology on this olive pomace pellet processing machine: German gun drill and vacuum furnace heat manufacturing process in ring die making to ensure the pellets smooth and of high quality.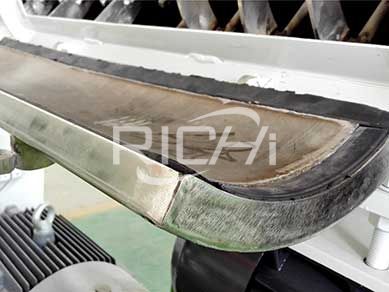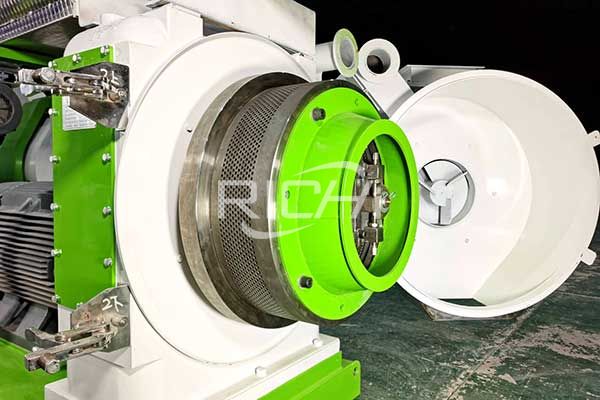 Working Principle Of Olive Pomace Pellet Machine & Pellet Plant
The olive pomace pellet press machine process: crushed olive pomace material is fed evenly by the forced feeding device, the centrifugal force generated by the rotation of the ring die, and the action of the feeding scraper. The two pressing areas in the ring die are in the wedge-shaped space formed by the two press rollers and the ring die.
Under the strong squeezing action of the ring die and the press roller, the olive pomace material is gradually compacted, squeezed into the die hole of the ring die and shaped in the die hole. Because the extrusion of the material between the die and the roller is continuous, the formed olive pomace material is continuously discharged from the die hole in a columnar shape, and then cut into olive pomace pellets of the required length by the cutter, and then enters the next process.
Olive Pomace Pellet Making Machine Price & Specification
Model
MZLH320
MZLH350
MZLH420
MZLH520
MZLH768
MZLH858
Power
37KW
55KW
90KW
132KW
250KW
280KW
Capacity
300-400KG/H
500-700KG/H
1.0-1.2 T/H
2.0-2.5 T/H
2.5-4 T/H
3-4.5 T/H
Final Pellet
2-12mm
2-12mm
2-12mm
2-12mm
2-12mm
2-12mm
Weight(KG)
2500
3500
4000
4500
5000
5500
Olive Pomace Pellet Machine Price
7000-100000USD
How to Make Olive Pomace Pellets In Complete Olive Pomace Pellet Production Line?


Step 1: Grinding section for pellet plant
Olive cake is crushed with the help of olive pomace hammer mills or a olive pomace grinder to reduce the size of the olive cake and finally produce a fine powder.
Step 2: Drying section for pellet plant
Olive pomace has a high moisture content of 40-70%, depending on the olive oil extraction process. Then a rotary drum dryer is essential. The rotary dryer has a slight inclination, acting as a conveying device and stirrer. The goal of the drying process is to reduce the moisture of olive pomace to approximately 12%, which is suitable for pelletizing.


Step 3: Pelleting section for pellet line
After drying, the olive pomace can be pelletized directly without any further treatment. The ring die olive pomace pelleting machine is more proper for olive pomace pellet production. And the ring die compression ratio should be higher than 1:6.5. No adhesive added in this procedure.
Step 4: Cooling section for pellet production line
Pomace pellets discharged from olive pomace pellet milling machine are high in temperature and moisture content. Our counter current pellet cooler is used to remove pellet heat as well as the moisture content to ensure pellets quality and shelf-life.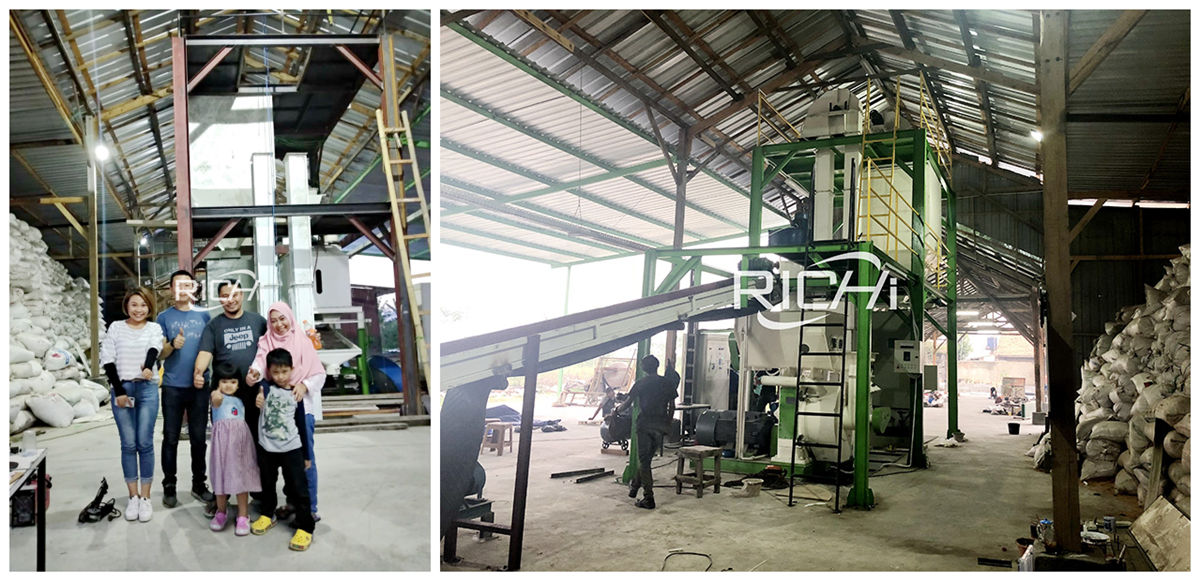 Step 5: Sieving section for pellet making plant
The powder materials or unshaped pomace pellets are sieved and send to the olive pomace pellet mill equipment again.
Step 6: Packaging section for pellet production plant
These pellets are then packed into different capacity bags for distribution.
Copyright © 2015-2022 by HENAN RICHI MACHINERY CO,LTD.All rights reserved.