1.Advanced gear-driving system with motors on this olive pomace pellet machine, stable and reliable.

2.Adopting high-qualified components on this olive pomace pellet machine, with stable performance, long service life and low noise.

3.Whole transmission parts (including motor) of this olive pomace pellet machine chooses high-quality NSK/SKF bearings to ensure the transmission efficient, stable, low noise. Main motor choose Siemens.

4.This olive pomace pellet machine is equipped with full single layer stainless steel feeder, forced feeder, ring die and cutter .

5.Adopting international advanced technology on this olive pomace pellet machine: German gun drill and vacuum furnace heat manufacturing process in ring die making to ensure the pellets smooth and of high quality.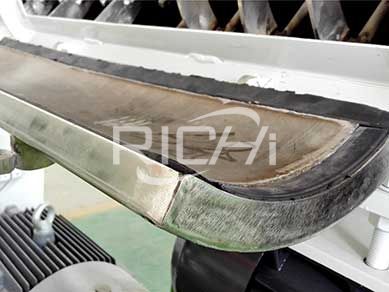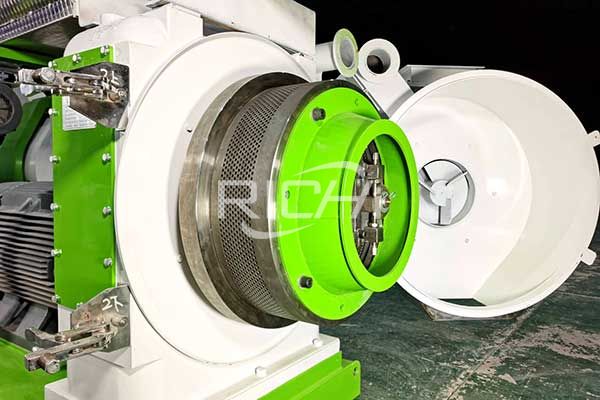 Overview

Olive pomace is a valuable by-product extracted from olive oil, it is a thick sludge, the main residue of the olive oil extraction process. It is the remaining pulpy material after removing most of the oil from the olive paste and it consists of pieces of skin, pulp, stone, and olive kernel. On the basis of total olive weight, the pulp makes up about 70–90%, the stone about 9–27%, and the seed about 2–3%.
Depending on the production line (two-phase or three-phase decanter) the pomace may contain more or less water. Two-phase pomace has a moisture percentage close to 70% and contains a certain amount of sugars as a result of the presence of vegetation water, whereas the moisture in pomace from a three-phase system is about 45%. Besides water, olive pomace contains carbohydrates, lipids (remaining oil), phenols, and a number of inorganic compounds, and it has an average pH of 4.8–5.2.
Working Principle
It is caused by squeezing raw materials such as rice husk and straw under pressure at normal temperature by using rollers and ring die granulators. Convenient transportation and storage, meanwhile, its fuel performance is greatly improved. The particle size of raw materials can be divided into coarse particles, medium particles and fine particles. Above 3.0 is coarse grain. Medium and fine granules have better granulation properties, low energy consumption and less wear on the die roll. When medium and fine granules are quenched and tempered, they have more surface area than coarse grains in contact with steam, and steam easily penetrates the particles. The core makes it fully mature, produces physical and chemical changes, and improves granulation quality. Coarse particles cannot be completely penetrated by steam; in addition, when coarse material is granulated, the surface area of ​​contact with each other is less than that of medium and fine particles, and the adhesion is poor. After granulation, the particle swelling rate is large and cracks easily; High density, good ability to pass through die holes, less wear on die holes, and high productivity.
Olive Pomace Distribution
Olive pomace is sourced basically from the areas with large olive tree plantation and a well-established olive oil industry. Olive is the most widely cultivated fruit crops in the world with a cultivation area of more than 10 million ha worldwide, and 95% of world's olives are produced in the Mediterranean region. Most countries along the Mediterranean Sea produce olive oil in varying quantities. Spain, Italy, and Greece represent more than three-fourths of the total olive oil output in the world.
Since 2014, Spain Olives Production rose 15% year on year. In 2019, the country was ranked number 1 among other countries in Olives Production with 9,176,929 Metric Tons. Italy, Turkey and Greece respectively ranked number 2, 3 and 4 in this ranking. Slovenia witnessed the best average annual growth at +33.6% per year, while Iraq was the worst growing country at -18.2% per year.
Top 10 Countries for Olive Production in 2019
| | | | | | |
| --- | --- | --- | --- | --- | --- |
| | Top 10 Countries | Metric Tons | Last | YoY | 5 years CAGR |
| 01 | Spain | 9,176,929.00 | 2019 | -6.5 % | +15.0 % |
| 02 | Italy | 1,945,324.00 | 2019 | +3.6 % | -0.2 % |
| 03 | Turkey | 1,674,377.00 | 2019 | +11.6 % | -1.1 % |
| 04 | Greece | 1,525,543.00 | 2019 | +41.4 % | -10.1 % |
| 05 | Morocco | 1,479,853.00 | 2019 | -5.2 % | -1.2 % |
| 06 | Egypt | 892,753.00 | 2019 | +16.2 % | +9.6 % |
| 07 | Algeria | 854,377.00 | 2019 | -0.7 % | +12.1 % |
| 08 | Portugal | 791,410.00 | 2019 | +6.9 % | +11.7 % |
| 09 | Tunisia | 744,757.00 | 2019 | -9.8 % | +14.7 % |
| 10 | Syria | 358,666.00 | 2019 | -10.3 % | -1.8 % |
How to Make Olive Pomace Into Pellets
Step 1: Grinding
Olive cake is crushed with the help of hammer mills or a grinder to reduce the size of the olive cake and finally produce a fine powder.
Step 2: Drying
Olive pomace has a high moisture content of 40-70%, depending on the olive oil extraction process. Then a rotary drum dryer is essential. The rotary dryer has a slight inclination, acting as a conveying device and stirrer. The goal of the drying process is to reduce the moisture of olive pomace to approximately 12%, which is suitable for pelletizing.
Step 3: Pelleting
After drying, the olive pomace can be pelletized directly without any further treatment. The ring die olive pomace pellet machine is more proper for olive pomace pellet production. And the ring die compression ratio should be higher than 1:6.5. No adhesive added in this procedure.


How to make olive pomace pellets
Step 4: Cooling
Pomace pellets discharged from pellet mill are high in temperature and moisture content. Our counter current pellet cooler is used to remove pellet heat as well as the moisture content to ensure pellets quality and shelf-life.
Step 5: Sieving
The powder materials or unshaped pomace pellets are sieved and send to the pellet mill again.
Step 6: Packaging
These pellets and briquettes are then packed into different capacity bags for distribution.
Benefits Of Olive Pomace Pellet
1. The product is oil-bearing and is therefore water repellent on storage and contains less dust.
2. A much better combustion value compared to wood pellets.
3. The ash of olive burning has no disposal rights and is therefore suitable for spreading over the crops or the land as fertilizer because of its purity.
4. Olive pellets and olive cake are available throughout the year with residue from production.
5. No burden on the environment by cutting down trees
6. A higher and better CO2 compensation
Parameters
| | | | | | | |
| --- | --- | --- | --- | --- | --- | --- |
| Model | MZLH320 | MZLH350 | MZLH420 | MZLH520 | MZLH768 | MZLH858 |
| Anti-caking Feeder Power | 1.5KW | 1.5KW | 1.5KW | 2.2KW | 3KW | 3KW |
| Forced Feeder Power | 0.55KW | 0.55KW | 0.55KW | 0.75KW | 1KW | 1KW |
| Capacity | 300-400kg/h | 500-700kg/h | 1.0-1.2 t/h | 2.0-2.5 t/h | 2.5-4 t/h | 3-4.5 t/h |
| Pellet Machine Power | 37kw | 55kw | 90kw | 110/132kw | 250/280kw | 280kw |
| Final Pellet | 6-12mm | 6-12mm | 6-12mm | 6-12mm | 6-12mm | 6-12mm |