1.The components of a complete feed pellet line can be TURN-KEY MADE, since RICHI Machinery is professional in making animal feed processing plans.

2.All the machines are strictly developed and manufactured to guarantee PREMIUM QUALITY.

3.You can choose it for making many kinds of animal feeds, such as cattle, dairy cow, goat, sheep, horse, pig, chicken, broiler, duck, rabbit, fish, goose, etc.

4.We have experienced engineers for overseas installation and comissioning. We will also train your workers on how to operate the feed processing machines.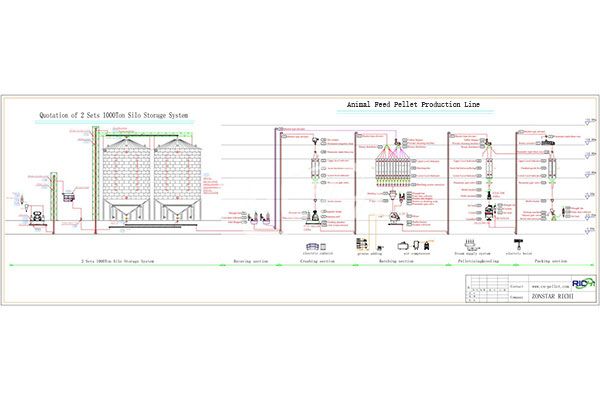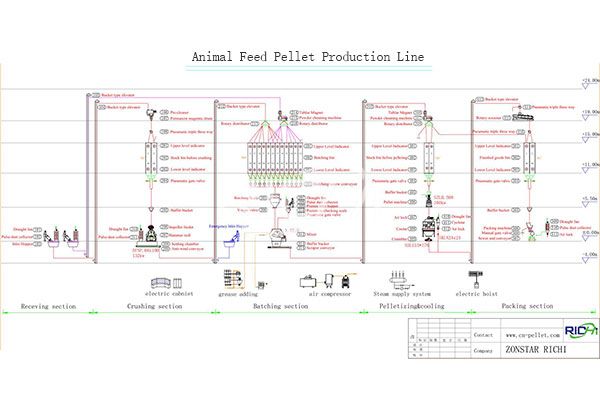 Overview
Animal feed pellet machines are also known as ring die pellet feed machines and ring die pellet feed forming machines, which are feed pelleting equipment. It is a feed processing machine that directly crushes granules with crushed materials such as corn, soybean meal, straw, grass, and rice husks.
Working Principle
The process of producing feed pellets can roughly be described as a plastic molding operation of the extrusion type. Feed ingredients are made up of various compounds such as proteins, acids, sugars, fibers, and minerals. These products can be softened (conditioned) by the addition of heat and water. When sufficiently controlled compression is applied to the "conditioned" feed ingredients, they will form a dense mass, shaped to conform to the die against which they are pressed. When the heat and moisture is again withdrawn (dried and cooled) as to withstand moderately rough handling without excessive breakage and has retained or enhanced its nutritive value.
Parameters
| | | | | | | |
| --- | --- | --- | --- | --- | --- | --- |
| Model | Capacity(TPH) | Main Motor Power(kw) | Feeder Motor Power(kw) | Conditioner Power(kw) | Dia.of Ring Die(mm) | Final Pellet(mm) |
| SZLH250 | 1-2 | 22 | 0.75 | 1.5 | 250 | 2~12 |
| SZLH320 | 3-4 | 37 | 1.5 | 2.2 | 320 | 2~12 |
| SZLH350 | 5-7 | 55 | 1.5 | 3 | 350 | 2~12 |
| SZLH420 | 8-12 | 110 | 1.5 | 7.5 | 420 | 2~12 |
| SZLH508 | 10-18 | 160 | 2.2 | 11 | 508 | 2~12 |
| SZLH558 | 15-25 | 180/200 | 2.2 | 11 | 558 | 2~12 |
| SZLH558D | 14-22 | 160/180/200 | 1.5 | 7.5 | 558 | 2~18 |
| SZLH678 | 20-30 | 220/250 | 2.2 | 11 | 678 | 2~12 |
| SZLH678D | 15-25 | 200/220/250 | 2.2 | 11 | 673 | 2~18 |
| SZLH768 | 25-40 | 280/315 | 2.2 | 11 | 768 | 2~12 |
| SLZH858 | 25-42 | 280/315 | 2.2 | 15 | 858 | 2~18 |