Applications Of Scraper Conveyor
It is suitable for transporting powder, pellet and small block raw materials, can be widely used in raw materials'level transporting in feed mill, flourmill, rice mill, oil plant, starch factory with different capacities and grin storage, port etc.
1.Shaft end uses the latest packing seal to ensure no leakage.

2.New patented antiblocking device, flexible and safe with good sealing performance.Adjustable feed plateat inlet can adjust feeding volume, to ensure the best working condition, to coordinate front and rear equipment.

3.Movable body at the tail can minimize the residue; flexible scraper plate and feed-back cup on the chain,minimizing the residue at machine head.

4.Full assembly type mechanical design, easy maintenance.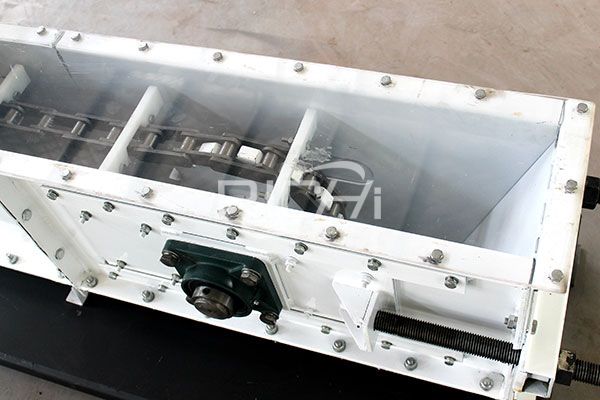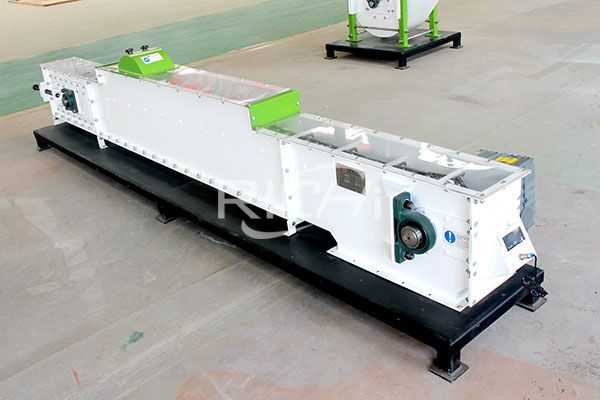 Working Principle Of Scraper Conveyor
The scraper chain bypasses the sprocket for a stepless closed cycle operation to complete the material transport.When the motor is energized, the driving wheel is driven by the reducer and the sprocket chain, and the driving wheel drives the scraper chain; the material is pushed by the scraper chain in the direction of movement, and the internal friction between the materials is sufficient to overcome the frictional resistance between the material and the groove wall. The material can be conveyed in a continuous flow as a whole, which achieves the purpose of scraping the material entering from the feeding port along the conveying groove to the discharging port for discharging.
| | | | | | |
| --- | --- | --- | --- | --- | --- |
| Model | Chain speed(m/s) | Power | Reducer | Conveying distance(m) | Conveying volume(m³/h) |
| TGSS20 | 0.32 | 2.2 | XWD5-35-2.2 | 3-8 | 40 |
| TGSS20 | 0.32 | 3 | XWD5-35-3 | 8-18 | 40 |
| TGSS20 | 0.32 | 4 | XWD5-35-4 | 18-29 | 40 |
| TGSS20 | 0.32 | 5.5 | XWD6-35-5.5 | 29-47 | 40 |
| TGSS20 | 0.32 | 7.5 | XWD7-35-7.5 | 47-71 | 40 |
| TGSS25 | 0.32 | 3 | XWD5-35-3 | 3-11 | 65 |
| TGSS25 | 0.32 | 4 | XWD5-35-4 | 11-18 | 65 |
| TGSS25 | 0.32 | 5.5 | XWD6-35-5.5 | 18-29 | 65 |
| TGSS25 | 0.32 | 7.5 | XWD6-35-7.5 | 29-44 | 65 |
| TGSS25 | 0.32 | 11 | XWD7-35-11 | 44-70 | 65 |
| TGSSK32 | 0.45 | 4 | XWD4-23-4 | 3-12 | 97 |
| TGSSK32 | 0.45 | 5.5 | XWD5-23-5.5 | 12-19 | 97 |
| TGSSK32 | 0.45 | 7.5 | XWD6-23-7.5 | 19-29 | 97 |
| TGSSK32 | 0.45 | 11 | XWD7-23-11 | 29-46 | 97 |
| TGSSK32 | 0.45 | 15 | XWD8-23-15 | 46-66 | 97 |