Applications Of Small Scale Feed Pellet Line
Small feed pellet line is also called mini feed production line or mobile feed pellet line which is used to process animal feeding pellets. Our small feed pellet line is can produce 2-8mm of feed pellets, the yield is 0.6-3t/h. This feed complete machine set is widely used in small and medium size of feed pellet production line, livestock farms and individuals who raise animals, etc. The feeds are suitable for pigs, cattle, sheep, rabbits, chickens, ducks, geese and other aquatic organisms.
1.It has compact structure, low requirement on workshop conditions, low investment and occupies small area.

2.Small pellet feed plant is easy to install. It does not need civil engineering or welding at project site. All machines can be used.

3.directly after finish the connection, so you DO NOT NEED EXTRA COST on installation.

4.Continuous production, easy operation, fewer operators required: this small feed pellet plant only needs 1-2 operators, with less labor works.

5.Wide application, it can produce various feed pellets for poultry, livestock, fish, etc, it's suitable for small and medium feed production.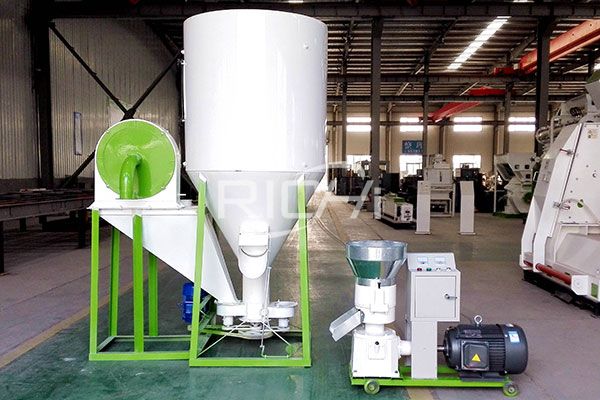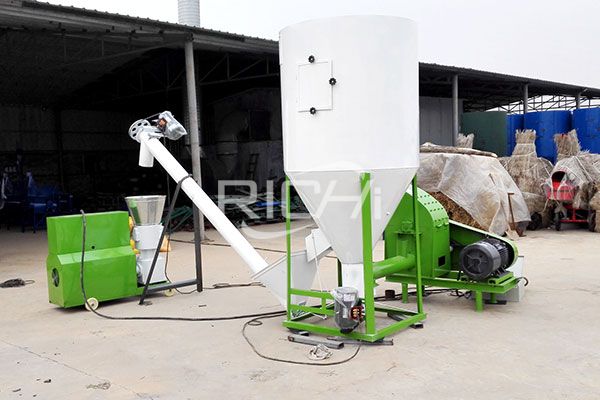 Working Principle Of Small Scale Feed Pellet Line
the corn and bean cake are ground by the self-suction grinding machine. The materials that don't need to be ground like wheat bran, bone meal, microelement, vitamin directly go into the mixing machine from the feeding port. All the materials are mixed uniformly and sent to the hopper then sent into feed bin by screw conveyor. After that, the materials go into feed pellet mill equipment evenly from the feeding port and are produced into pellets. Those pellets then go into the cooling machine. Under the function of ID fan, the pellets are cooled to the temperature that is not over 5℃ than the room temperature. The cool pellets are screened by the vibrating screen, then they can be packaged.
| | | |
| --- | --- | --- |
| Model | Capacity | Power (KW) |
| RI500+FDF150B | 100-150KG/H | 7.5+3+4KW |
| RI500+FDF210 | 200-300KG/H | 7.5+3+11KW |
| RI500+FDF230 | 350-450KG/H | 7.5+3+11KW |
| RI500+FDF260 | 400-500KG/G | 7.5+3+15KW |
| RI500+FDF300 | 500-600KG/H | 7.5+3+18.5KW |
| RI500+FDF360 | 700-800KG/H | 7.5+3+22KW |