Applications Of Fuel Pellet Making Machine
The fuel pellet making pellet machine uses a frequency-conversion speed-regulating motor for feeding, is equipped with a strong magnetic security device and an overload protection device, is equipped with an external discharge mechanism and a pressurized oil pump lubrication system.
1.Triangle with double motor drive system, smooth rotation, low noise and without lubrication.

2.Compared with gear machine, the spindle bearing is more durable, no oil leakage phenomenon.

3.The starting current is half gear machine as double motors, and little influence on power grid.

4.The support bar and main shaft forging together, good rigidity, whatever old or new machine, roller always stay parallel to the ring die, so the production efficiency is like new.

5.Installation form of ring die have two kinds. One is normal cone type ,the other is hoop type.

6.Can be used for pellet from wood, tree branches, wood chips, wood sawdust and any other biomass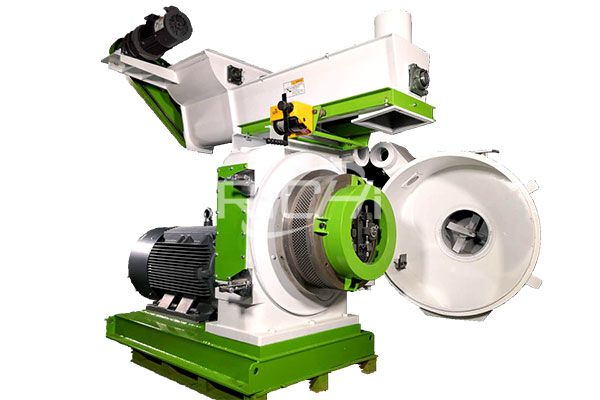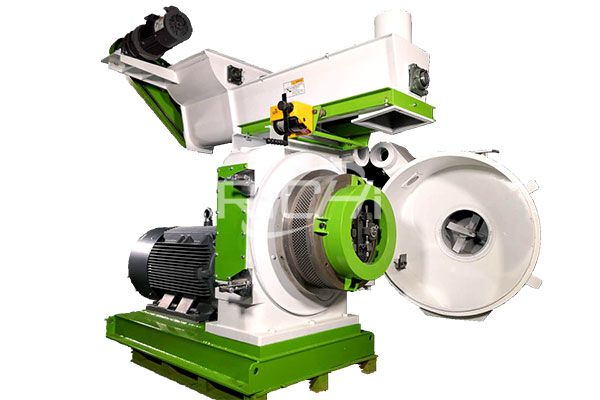 Working Principle Of Fuel Pellet Making Machine
The mixed powder with water content of not more than 15% enters the feeding auger from the hopper, and the speed is adjusted by a frequency conversion motor to obtain a suitable material flow rate. The magnetic impurities mixed in the material are removed by the security magnet, and then it enters the mixer and passes the stirring rod Mixing with steam for quenching and tempering. After quenching and tempering, the temperature of the mixed powder can reach 64-85 ° C, and the humidity can reach 14-16%. Then it passes through the chute and finally enters the compression chamber for granulation.
| | | | | | | |
| --- | --- | --- | --- | --- | --- | --- |
| Model | MZLH320 | MZLH350 | MZLH420 | MZLH520 | MZLH768 | MZLH858 |
| Capacity | 300-400kg/h | 500-700kg/h | 1.0-1.2 t/h | 2.0-2.5 t/h | 2.5-4 t/h | 3-4.5 t/h |
| Power | 37kw | 55kw | 90kw | 110/132kw | 250/280kw | 280kw |
| Final Pellet | 6-12mm | 6-12mm | 6-12mm | 6-12mm | 6-12mm | 6-12mm |