Applications Of Biomass Pellet Production Line
1. What is Biomass?
Biomass, at the heart of the living world, and therefore the essential substrate of the biosphere, is produced by plants, animals, insects and micro-organisms, mainly during their growth. Its fundamental characteristic is that it consists of organic, vegetable or animal matter, or at least of vegetable or animal origin; examples are fossil sediments that are now inert (hydrocarbons), or that are no longer alive but nevertheless inhabited by active micro-organisms, which characterizes residues, waste and other fermentable materials that, under the action of certain bacteria, are then called biodegradable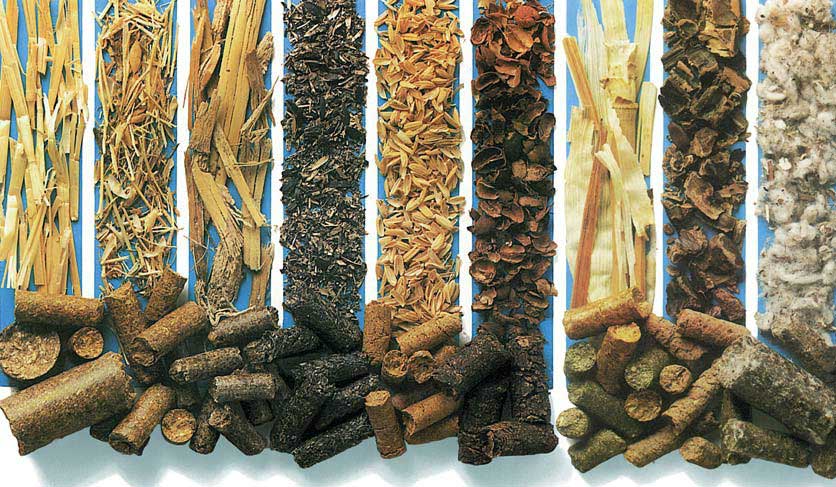 Biomass raw materials
Pelletization Process of Biomass Pellet Production Line

1. Crushing Section: Raw materials before processing are relatively long or relatively large. If the raw material crushed, the length of straw should be controlled at about 5cm, so as to avoid excessive raw materials entering the biomass pellet machine and causing the block machine.

2. Drying Section: Since the raw material is relatively large in water recovery. If the user of the large biomass pellet machine can dry the raw material, the small processing needs to be air-dried, and the moisture of the raw material is generally controlled between 15% and 25%. Excessive moisture can easily block the ring die of the biomass pellet machine.

3. pelletization Section: The raw material has a moderate moisture content after being dried and can be molded without pressing any additives when the particulate fuel is pressed by the wood pellet machine. It can produce a smooth and lustrous granular fuel.

4. Cooling Section: The produced Biomass pellet fuel has a relatively high temperature and needs to be cooled through the cooling machine before being packaged. If the temperature is too high, the packaging is easy to produce water droplets to loosen the particles. Which is not conducive to sales.

5. Packing Section: Biomass pellet fuel can be packaged in a quantitative packaging machine. It can be packaged into 5kg, 10kg, 25kg, and so on, which is convenient for small users to use. It can also be made into tons of bags, which is convenient for large users to use and unload.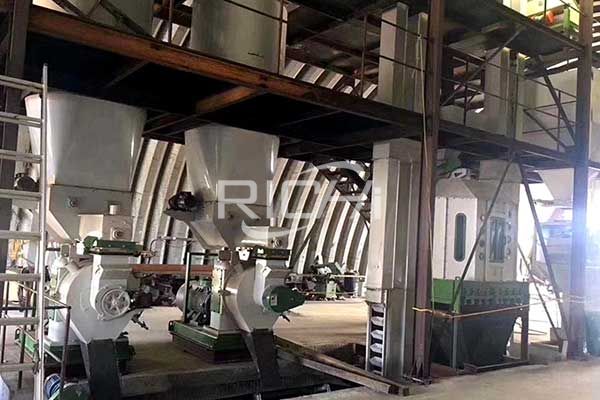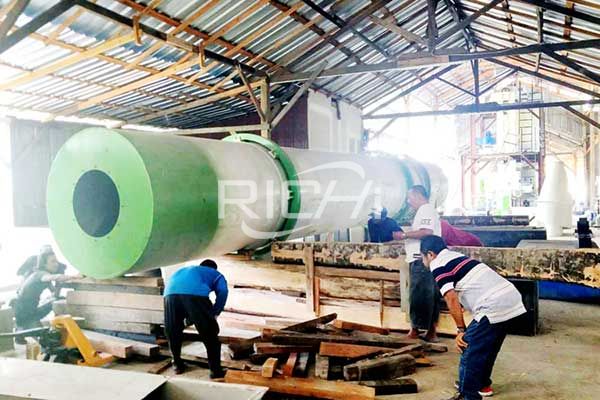 Working Principle Of Biomass Pellet Production Line
2. Biomass Constituent Resources
In general, the biomass resources available on our planet, derived from large production areas, can be classified as follows:
products from agriculture (wheat, maize, potatoes, beetroot, sugar cane, rapeseed, sunflower, soya, palm and others) and livestock (fats in particular), all initially dedicated at least to food or feed, to which are added plants dedicated to energy crops, such as giant miscanthus for bioethanol, switchgrass or rapeseed for biodiesel
agricultural and livestock co-products and residues: straw, pulp, grains, oilcake, cattle manure, pig manure, poultry droppings, etc.
fisheries resources: animal products from the sea and wetlands and their waste, algae and microalgae (the latter promising a great future because they are very rich in energy)
forest wood, which provides most of the wood energy resources used for cooking food, heating homes and communities, as well as energy tree plantations such as poplar, pine, eucalyptus or short-rotation coppice (SRT, i.e. a few years), including willows
natural waste from wood and forestry (chips, sawdust) as well as from construction wood (chips, sawdust) and packaging wood industries (crates, pallets, cooperage), except those treated with toxic chemicals
waste from the food industry, housing and urban communities, often wet or even liquid, including sewage sludge, household waste and organic waste from waste collection centers, waste from distribution and coffee shops or from green spaces
These biomass resources can all be made into fuel pellets through the biomass pellet production line.
| | | | | | | |
| --- | --- | --- | --- | --- | --- | --- |
| Model | MZLH320 | MZLH350 | MZLH420 | MZLH520 | MZLH768 | MZLH858 |
| Capacity | 300-400kg/h | 500-700kg/h | 1.0-1.2 t/h | 2.0-2.5 t/h | 2.5-4 t/h | 3-4.5 t/h |
| Power | 37kw | 55kw | 90kw | 110/132kw | 250/280kw | 280kw |
| Final Pellet | 6-12mm | 6-12mm | 6-12mm | 6-12mm | 6-12mm | 6-12mm |