Applications Of Biomass Pellet Production Line
What is Biomass?
Biomass, at the heart of the living world, and therefore the essential substrate of the biosphere, is produced by plants, animals, insects and micro-organisms, mainly during their growth. Its fundamental characteristic is that it consists of organic, vegetable or animal matter, or at least of vegetable or animal origin; examples are fossil sediments that are now inert (hydrocarbons), or that are no longer alive but nevertheless inhabited by active micro-organisms, which characterizes residues, waste and other fermentable materials that, under the action of certain bacteria, are then called biodegradable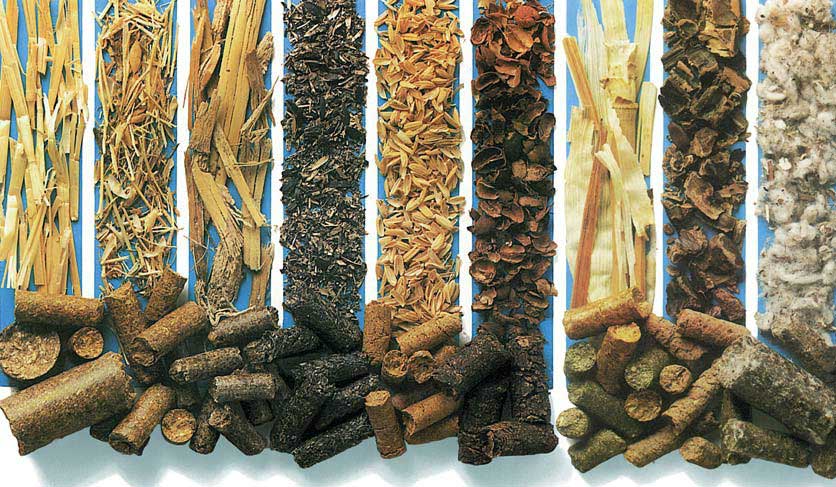 Biomass raw materials
Biomass Constituent Resources
In general, the biomass resources available on our planet, derived from large production areas, can be classified as follows:
Products from agriculture (wheat, maize, potatoes, beetroot, sugar cane, rapeseed, sunflower, soya, palm and others) and livestock (fats in particular), all initially dedicated at least to food or feed, to which are added plants dedicated to energy crops, such as giant miscanthus for bioethanol, switchgrass or rapeseed for biodiesel.
Agricultural and livestock co-products and residues: straw, pulp, grains, oilcake, cattle manure, pig manure, poultry droppings, etc..
Fisheries resources: animal products from the sea and wetlands and their waste, algae and microalgae (the latter promising a great future because they are very rich in energy).
Forest wood, which provides most of the wood energy resources used for cooking food, heating homes and communities, as well as energy tree plantations such as poplar, pine, eucalyptus or short-rotation coppice, including willows.
Natural waste from wood and forestry (chips, sawdust) as well as from construction wood (chips, sawdust) and packaging wood industries (crates, pallets, cooperage), except those treated with toxic chemicals.
Waste from the food industry, housing and urban communities, often wet or even liquid, including sewage sludge, household waste and organic waste from waste collection centers, waste from distribution and coffee shops or from green spaces.
These biomass resources can all be made into fuel pellets through the biomass pellet production line.
Working Principle Of Biomass Pellet Production Line
The biomass pellet production line process consists of multiple steps including raw material pre-treatment, pelletization and post-treatment.


Biomass Raw Materials Storage
An effective feedstock storage system is necessary so as to keep biomass away from impurities and offer adequate protection from rain and moisture in general. Rain may actually damage the feedstock by increasing its moisture content to such a high level that the drying process becomes unviable.
Removal Of Undesirable Impurities
Raw material should be filtered before grinding to remove materials such as stones or metal fragments. Many biomass pellet plants are equipped with systems separating virgin biomass from inert materials such as stones and soil, or magnetic separators for metal impurity removal. The presence of even the slightest amount of such materials in the final product is unacceptable. At the same time, they can cause serious damage to the biomass pellet line mechanical equipment, i.e. in the biomass sawdust hammer mill or in the biomass pellet machine.
Crushing Section
Raw materials before processing are relatively long or relatively large. The raw material must be reduced to a uniform size that is adequate for the biomass pellet mill. The milled material going into the biomass pellet making machine has to be smaller than the die holes to prevent blocking of the holes. Therefore, materials should be ground to a size no bigger than the diameter of the pellet (∼6 mm), producing a substance with a consistency similar to bread crumbs.
Generally, chippers/shredders are used as a first step. Then, once the size of the chipped material has been reduced, the hammer mill is used as a finishing mill.
Material Conveying Section
Once reduction has taken place, the material must be moved on to the next process. Screw conveyors are the most commonly used systems for transporting the material through the pelletization process because of the low cost involved.
Alternative options would include the use of a fan followed by a cyclone separator that separates air from the milled material. The air leaves the top of the cyclone, and the milled material is thrown to the outside edge of the cone and then falls out below.
Drying Section
Since the raw material is relatively large in water recovery. If the user of the large biomass pellet machine can dry the raw material, the small processing needs to be air-dried, and the moisture of the raw material is generally controlled between 15% and 25%. Excessive moisture can easily block the ring die of the biomass pellet press machine.
Drying solid biofuels is a key factor, since wet raw materials result in low combustion temperatures, low energy efficiency and high emissions of hydrocarbons and particles. In addition, it is very important to choose the right dryer, which may constitute the largest capital expenditure in a biomass pellet production plant and can dramatically increase the production cost per tonne.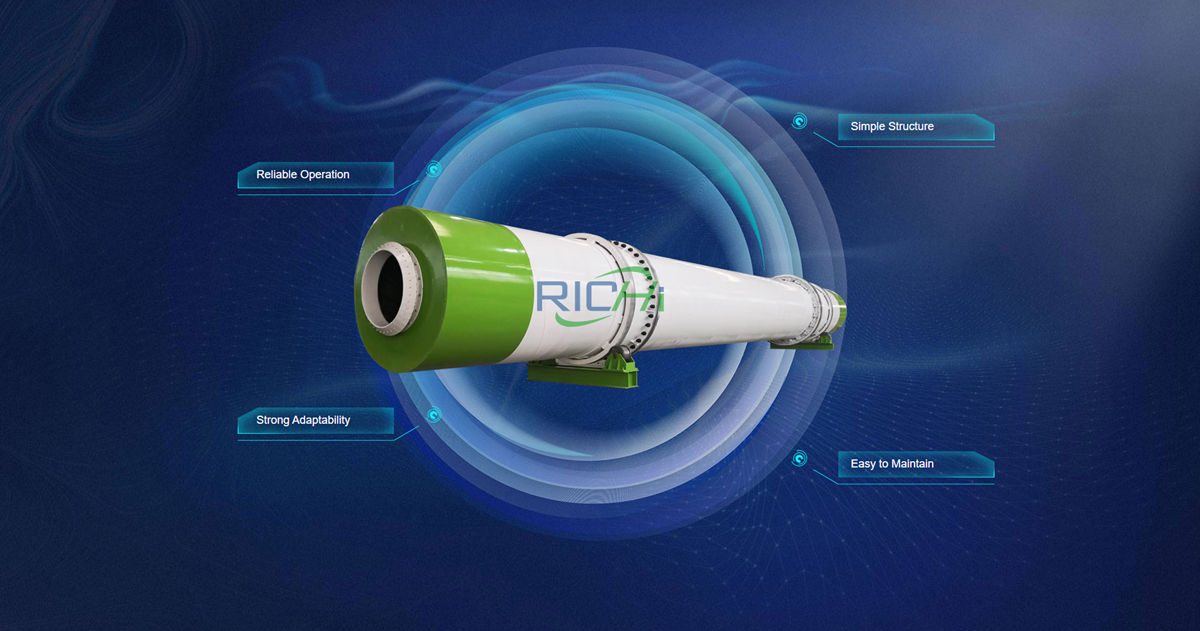 Mixing And Conditioning Section
Not all raw materials require mixing and conditioning. Nevertheless, if necessary, mixers are used after the raw material has been milled and dried to:
get a more consistent material blend to be fed into the pellet mill when the raw material presents significant changes in moisture percentage, binding properties or material density;
produce a homogeneous mixture of raw materials in the case of pellets made up of different raw materials.
Once the raw material has been mixed and its consistency is high enough, it may require the addition of other constituents able to increase the productivity of the pellet mill and enhance the final properties of the pellets produced.
Pelletization Section
The raw material has a moderate moisture content after being dried and can be molded without pressing any additives when the particulate fuel is pressed by the biomass pellet maker machine. It can produce a smooth and lustrous pellet fuel. Biomass pellets are finally made by biomass pellet mills, also known as pellet presses or extruders, which are available in a range of sizes. Generally, every 100 horsepower provides a capacity of approximately 1 ton of pellets per hour.


Cooling And Screening Section
Moisture resistance is an important pellet property. The biomass pellet line pelletizing process implies high temperatures, and attention must be paid to proper cooling and heat removal before the pellets leave a biomass pellet production plant, especially with regard to the storage stage. The produced biomass pellet fuel has a relatively high temperature and needs to be cooled through the cooling machine before being packaged. If the temperature is too high, the packaging is easy to produce water droplets to loosen the particles. Which is not conducive to sales.
Once biomass pellets have cooled, they pass over a vibrating screen to remove any fine material. These 'fines' are augured back into the biomass pelletizing process to ensure that no raw material is wasted. Screening ensures that the fuel source is clean and as near to dust free as possible. Once screened, pellets are ready to be packaged for the desired end use.
Packing Section
Biomass pellet fuel can be packaged in a quantitative packaging machine. It can be packaged into 5kg, 10kg, 25kg, and so on, which is convenient for small users to use. It can also be made into tons of bags, which is convenient for large users to use and unload.
How to set up a 1-40t/h complete biomass pellet plant?
The production of energy by means of biomass has shown a clear trend towards the use of pellets due to their homogeneous size, which facilitates handling and feeding while also reducing costs associated with storage and transportation. The biomass pellet quality depends on the properties of the feedstock and on the operative variables of the densification biomass pellet production plant process. Quality parameters can be modified by adapting the process to the raw material to be pelletized.
The management of these residues is hampered by the costs associated with treatments needed for their proper removal. Pelleting residual biomass by biomass fuel pellet plant would mean the conversion of a residue difficult to manage into an energy resource most adequate for use in the areas where each grove exists.
The final quality of biomass pellets varies depending on the raw material properties and the manufacturing process. Although the inorganic and organic components of the different raw materials cannot be modified, certain variables dependent on the biomass pellet production line pelletization process can be controlled to optimize the production efficiency and enhance the quality of the finished product.
We always have a solution for just about every biomass materials pellet processing challenge.