1.Determine the scale of ruminant feed mill.

2.Determine the feed process and recommend ruminant feed machine.

3.Control mode selection.

4.Ruminant feed manufacturing plant structure selection.

5.Planning the general drawing of ruminant feed mill plant site.

6.On-site installation and guidance. Free choice.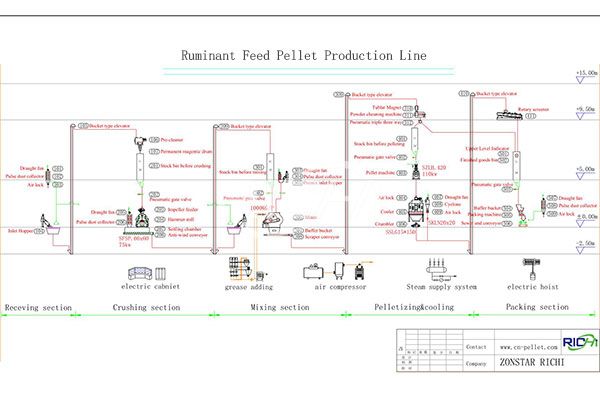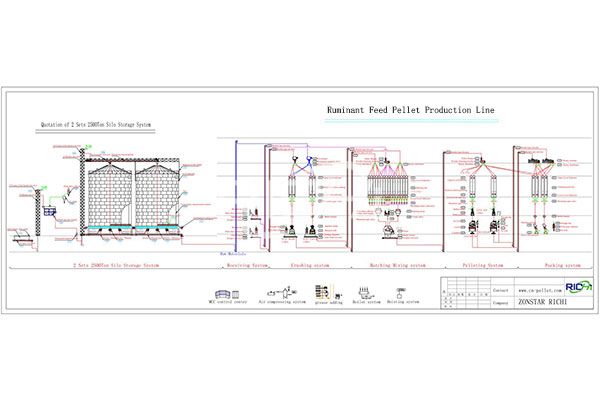 Overview
Ruminants, such as camel, deer, giraffe, alpaca, antelope, cattle, sheep, etc. Because these animals have complex ruminant stomachs, they are called ruminants. Ruminant feed is characterized by the addition of specific ingredients to the rumen rumen microbial environment, which can change and improve the ruminant rumen microbial environment and achieve the purpose of efficient use of feed and promotion of animal growth.
Working Principle
Animal Feed pellet production line process: Feed Crusher—Feed Mixer–Feed Pellet Mill–Pellet Cooler–Feed Package.
Firstly, the raw materials will go through the crushing and grinding process, and they will be processed into powder and then mixed completely. Then, through the feed pellet mill machine, the mixed feed mash will be made into pellets. After the cooling process, the feed pellets can pack directly.
Parameters
| | | | | | | |
| --- | --- | --- | --- | --- | --- | --- |
| Model | Capacity(TPH) | Main Motor Power(kw) | Feeder Motor Power(kw) | Conditioner Power(kw) | Dia.of Ring Die(mm) | Final Pellet(mm) |
| SZLH250 | 1-2 | 22 | 0.75 | 1.5 | 250 | 2~12 |
| SZLH320 | 3-4 | 37 | 1.5 | 2.2 | 320 | 2~12 |
| SZLH350 | 5-7 | 55 | 1.5 | 3 | 350 | 2~12 |
| SZLH420 | 8-12 | 110 | 1.5 | 7.5 | 420 | 2~12 |
| SZLH508 | 10-18 | 160 | 2.2 | 11 | 508 | 2~12 |
| SZLH558 | 15-25 | 180/200 | 2.2 | 11 | 558 | 2~12 |
| SZLH558D | 14-22 | 160/180/200 | 1.5 | 7.5 | 558 | 2~18 |
| SZLH678 | 20-30 | 220/250 | 2.2 | 11 | 678 | 2~12 |
| SZLH678D | 15-25 | 200/220/250 | 2.2 | 11 | 673 | 2~18 |
| SZLH768 | 25-40 | 280/315 | 2.2 | 11 | 768 | 2~12 |
| SLZH858 | 25-42 | 280/315 | 2.2 | 15 | 858 | 2~18 |