Working Principle Of Ruminant Feed Pellet Production Line
Firstly, the ruminant feed raw materials will go through the crushing and grinding process, and they will be processed into powder and then mixed completely. Then, through the ruminant feed pellet machine, the mixed feed mash will be made into ruminant pellets. After the cooling process, the feed pellets can pack directly.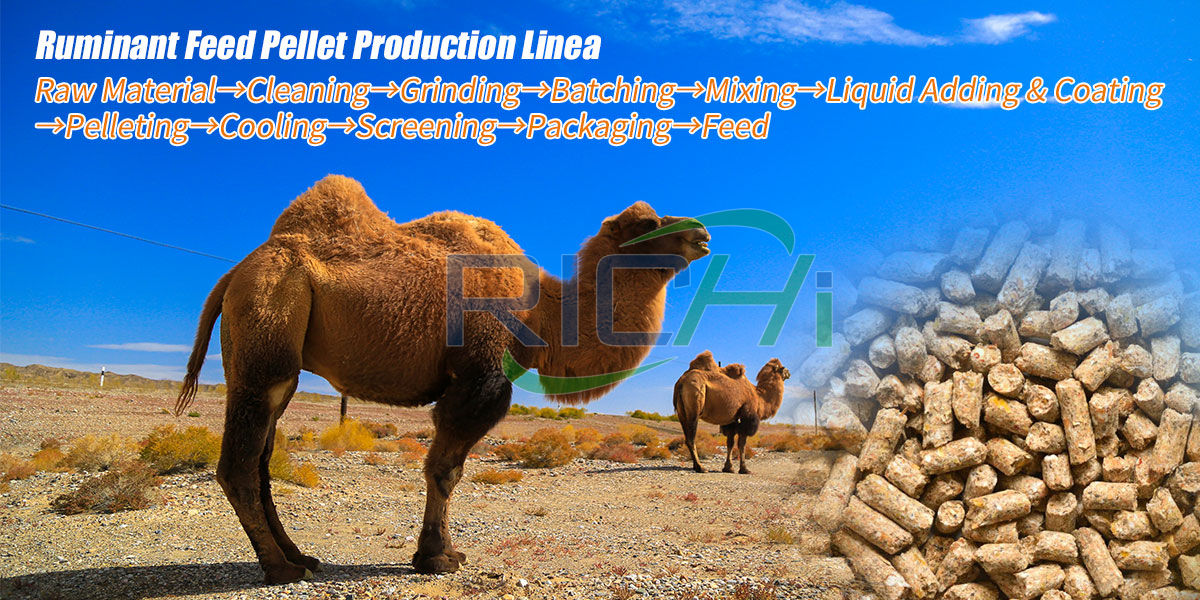 Raw materials receiving system
In this initial phase the supply of substances for the desired recipe is determined. Normally a reception pit is foreseen where the raw materials are delivered. Through extraction screws and elevators the substances are loaded in the storage silo.
Dosing system
The ruminant feed raw materials are conveyed by a screw to the scale where they are weighed and dosed for the creation of the requested recipe.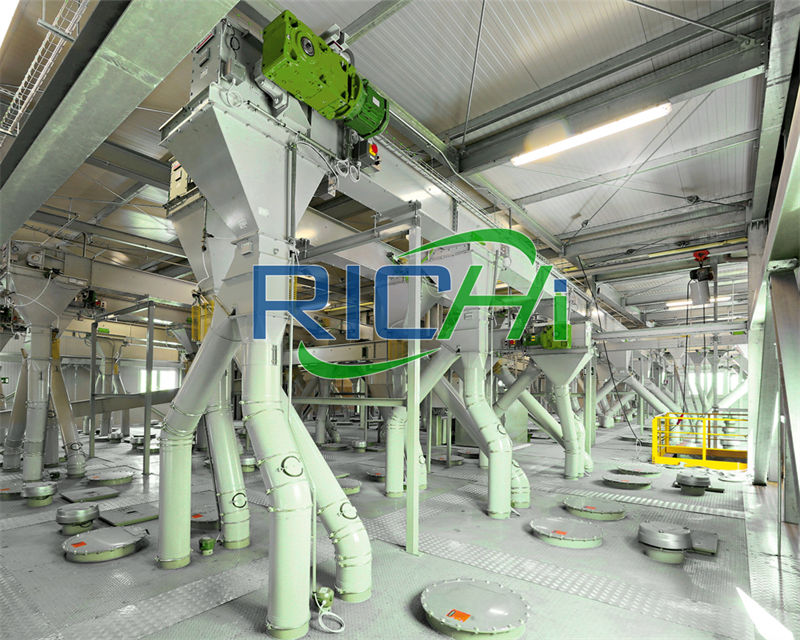 Grinding system
The material that needs to be smaller, passes through a ruminant feed hammer mill machine, in order to reach the desiderable dimension.
Mixing & oil adding system
The product is loaded in a horizontal feed mixer where it will be mixed and homogenized for a certain period; in this phase other micro-components can be added, like integrators or additives, necessary to the ruminant feed recipe.
Pelletizing system
The product is now ready and could be stored for delivery or sent to the ruminant feed pelletizing machine system.
The material is entering in the ruminant feed pellet mill passing through the pellet making machine conditioner. Here other ingredients like steam, molasses and grease could be added, before the material goes into the pellet pressure chamber to be transformed into pellets by the ring die. On the outside of the holes some knives cut the ruminant feed pellets at the desired length.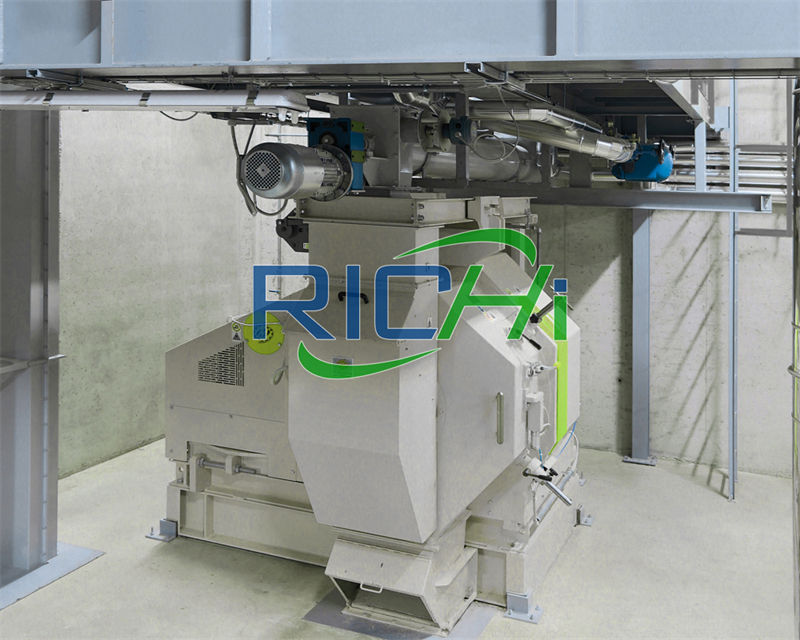 Cooling & screening & dust recovery system
After pelleting, the product is very hot, therefore it's necessary to cool the product at approximately +5°C in respect to the room temperature, in order to give it the right hardness and the best consistence to store and handle it.
In the screening section the product is cleaned from the dust, which is brought back into the production cycle.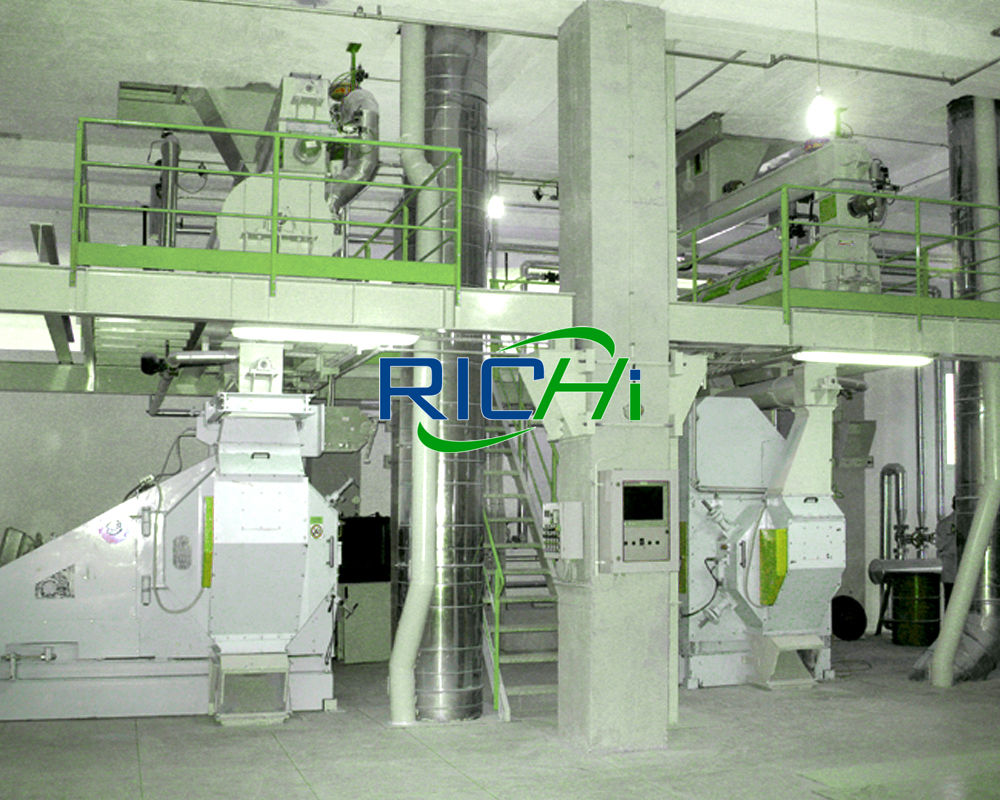 Packing system
The pelleted product is conveyed to the silo for storage before delivery. It can be delivered in bulk, loaded on trucks or packed in sacks or big-bag. The automatic feed bagging machines for packaging could be manual, semi-automatic or automatic, based on the requested ruminant feed production.