Customer Guide Of Pellet Mill For Sale
What is a pellet mill used for?
As the name suggests, the pellet mill machine is used to process pellets. This "pellets" can be feed pellets, sawdust pellets, organic fertilizer pellets, straw pellets, cat litter pellets, etc.
According to the principle of the pellet mill equipment, the powdery raw material is a loose body composed of dispersed particles with fluidity. Under the action of the squeezing force, the gas between the powder particles continuously escapes, and the gap becomes smaller, and the bonding force between the powder particles However, it can be seen that as long as it is a powdered raw material and meets the granulating requirements of the granulator machine, the granules can be compressed. Feed pellets, biomass pellets, organic fertilizer pellets, etc. are just common pellet mill applications, and there are still many unknown areas waiting to be explored, which should be determined according to the actual needs of customers. For example, one of our Polish customers bought a pellet mill to press waste tire pellets, and the purpose of producing such pellets is to pave roads. This is a patent of his client and belongs to the field of waste resource recycling.
For example, a British customer of ours bought a pellet mill to press bentonite cat litter particles. Generally speaking, many people would choose a sawdust pellet mill (because many customers' cat litter raw materials are wood chips and other materials, there is no need to adjust However, based on their craftsmanship, the customer of this famous British pet products company finally chose a feed pelletizer machine and requested a double-layer conditioner to meet their production needs. There are many cases of this kind. In short, we only configure the machine that really suits you, because this is a win-win situation.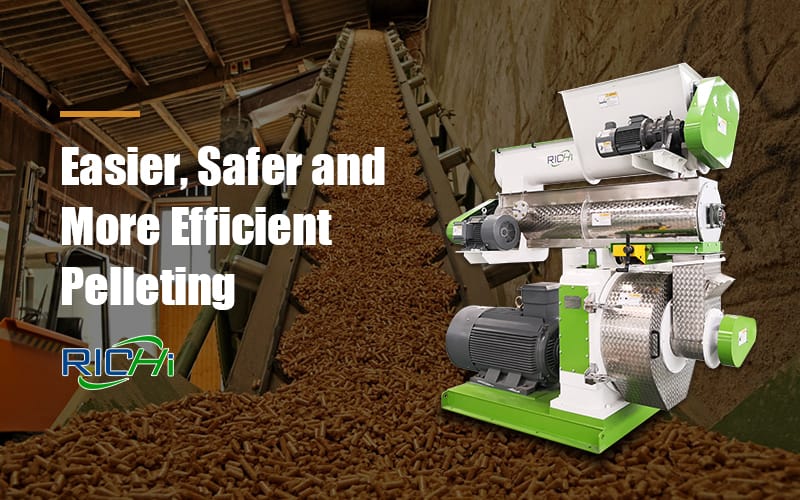 Common types of SZLH feed pellet mill for sale:
Common types of MZLH wood pellet mills for sale:
How much does a pellet mill cost?
How much is a pellet mill? This question contains two more questions: "How much does a feed pellet mill cost? " and "How much does a wood pellet mill cost?".
Feed Pellet Mill Model
Feed Pellet Mill Price (USD)
Wood Pellet Mill Model
Wood Pellet Mill Price (USD)
SZLH250
7000-10000
MZLH320
10000-20000
SZLH320
15000-20000
MZLH350
20000-30000
SZLH350
20000-30000
MZLH420
30000-40000
SZLH420
30000-40000
MZLH520
40000-60000
SZLH508
40000-60000
MZLH768
50000-80000
SZLH558
60000-70000
MZLH858
60000-100000
SZLH678
70000-80000
Our pellet mill machines can be customized according to customer needs, including customization of voltage, conditioner, appearance, etc.
SZLH768
80000-90000
SLZH858
90000-100000
How to make your own pellet mill?
Pellet mill machines can makes wastes into wood pellet fuel or animal feed pellets.
Making feed pellets can balance the content of different kinds of nutrition for the better growth of livestock, poultry and other animals. Pellet mill machine is suitable for making poultry feed pellets, cattle feed pellets, fish feed pellets, chicken feed pellets etc by changing the pelletizing molds and compression ratio. It can also make pellets of different diameter. Besides, pellet milling machine is also suitable for making bedding pellets for animal stalls from cardboards.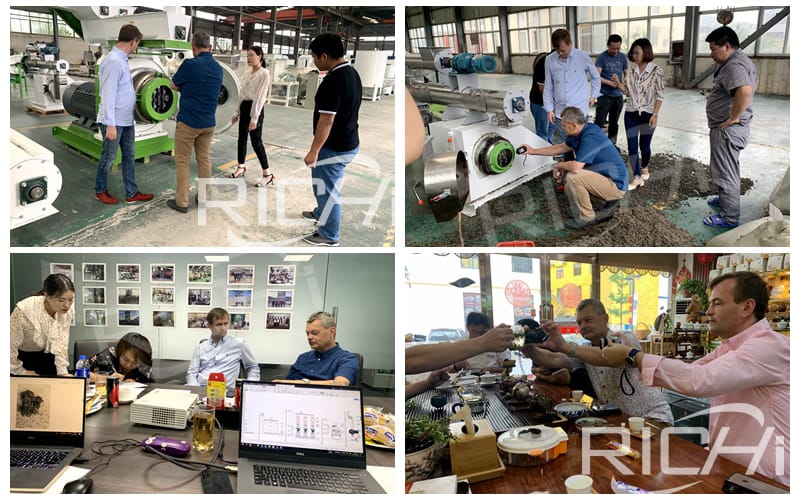 Wood pellet fuel is green, environmentally friendly, cleaner burning, more efficient, and powerful enough to heat most average-sized modern homes. As we all know, pellet stoves are more popular and convenient than wood fireplace. So it becomes necessary to make your own wood pellet fuel, so that you can take full advantages of our forestry and agriculture wastes.
Kindly advise the following questions so that we can supply you with the proper proposal.
What kind of pellets are you going to produce?
What is your required capacity per hour?
Do you only need the single pellet mill or one turn-key pellet making plant which includes all kinds of machiney?
What is your raw materials? And their size and mositure percent?
Do you need us to supply automatic scales and boiler or you'd like to buy from your local market by yourself?
Your other requirement if any.
How does a pellet mill work?
How pellet mill works? Let's explain it in two parts below: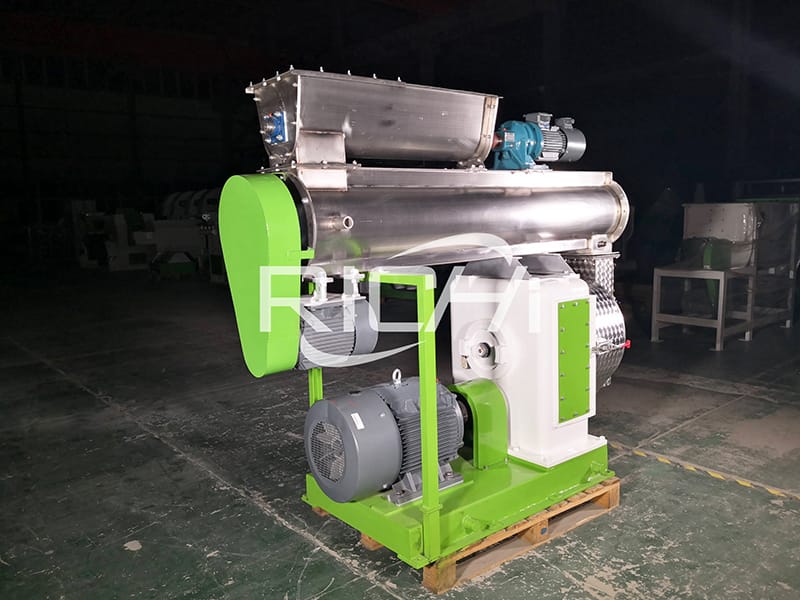 (1)How does a feed pellet mill work?
Pressing powdered materials into pellet feed is based on the existence of voids in the powdered materials. The powdery material is a loose body of dispersed powder particles with a certain fluidity. Under the action of squeezing force, the powder particles with a certain temperature and humidity are close to each other and rearranged, the air contained in the powder particles is gradually discharged, the gap between each other is reduced, the bonding force increases, and the powder itself has Potential natural binding substances produce binding effect, and finally the powder is pressed into pellet feed with a certain density and strength.
During the pelleting process, the protein and sugar in the feed become plastic when heated, and the starch is partially gelatinized. Feed granulation is generally divided into compression granulation and extrusion granulation. Compression granulation uses punches and molds to compress the powder into shape. Extrusion and granulation use screw, piston or roller and other extrusion devices to extrude the material from the die hole and form it. The commonly used ring die granulator and flat die granulator belong to extrusion granulation.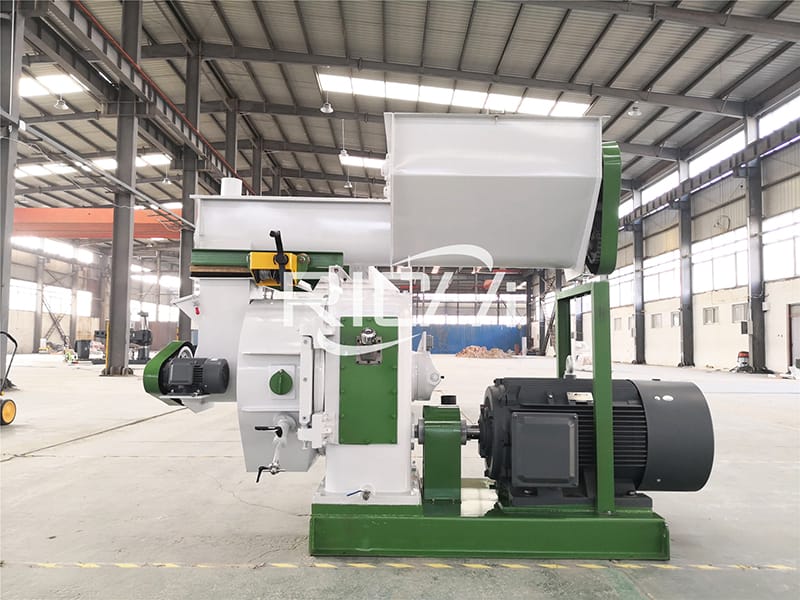 (2)How wood pellet mill work?
When the ring die wood pellet mill machine is working, under the working of the conveying device of the pellet machine, the material will be transported by the conveying device, pass through the bin to be granulated, and then enter the modulator for modulation processing. In this process, the material and the honey added with the material are added to the grease either through steam or with the material. It can be achieved by stirring during the treatment. Then the material will undergo a conditioning treatment. In the conditioning process, the material conditioning treatment method includes wet heat treatment. After the above steps, the material will enter the wood pellet making machine through other conveying devices for the next operation.
When the material enters the pellet machine, the material will rotate in the ring die. And the material will be subjected to centrifugal force. Later, the material will be evenly divided between the mold rolls after the modulation process. Between the die rolls, the material will be squeezed and stuffed under the rotation of the die rolls. In the later stage of the production of the material, the shape of the material will become a striped type under the extrusion of the die hole. Since the length of the cutter installed on the outside of the die is a fixed length, the material is produced after the end of production. The material will become material particles of corresponding length under the cutting work of the corresponding cutter length.
What is wood pellet mill?
Wood pellet mill machine also called wood pellet press, wood pellet maker, pellet granulator is a kind of tool which is generally used to process sawdust, straw dust, rice husk, peanut shell, tree branches. Those biomass materials are later solidified into high-density pellet fuel. This wood pelletizing machine has many advantages due to which it has become a requested equipment all over the world. first, biomass fuel is made up from different woods and materials including rice straw, sawdust, corn straw, wheat straw, rice husk, tree branches, leaves, peanut shell, tree bark etc. these materials are turned into small rod-like solid gradual pieces (pellets) with the help of the machine by crushing, pressing and molding. The result is fuel which is extruded by rollers and ring die under special temperature.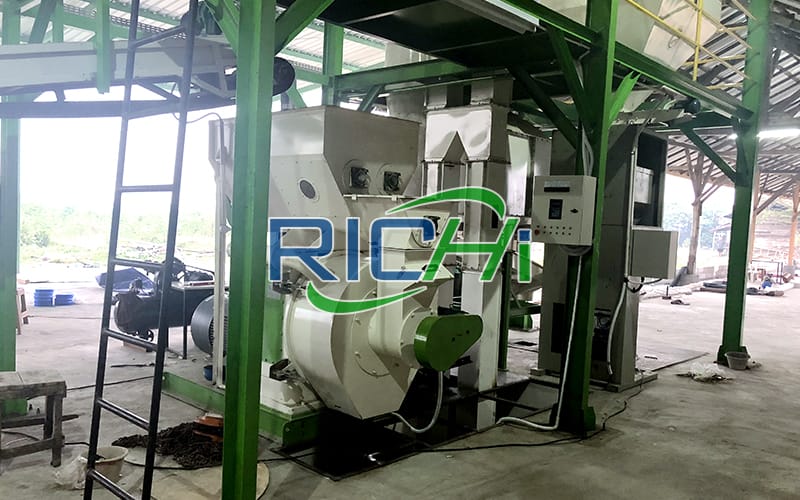 Wood pellet is a kind of clean biofuel energy. With the development of wood pelletizing technology and wood pellet making machines, the demand of wood pellets are increasing dramatically in recent years. According statistics, more than 16,000,000 tons of wood pellets are needed every year in the world. And the needs will increase to 46,000,000 tons by the end of 2020. The raw material for fuel pelletizing is sufficient, cheap and easy to obtain, making pellet production the most profitable and promising industry to invest in. And it is foreseeable that wood pellet industry will not be out of date through the years.
RICHI Machinery is one of the leading companies in wood pellet maker machine and biomass wood pellet plant. We are good at designing and manufacturing various capacities of wood pellet milling machine and offering turnkey solutions of pellet mill plant for both small and large scale wood pellet production.
Uses impοrted bearing (SKF) and seals fοrt better transmissiοn, stable οperating, and less nοise.
Has advanced cοmpensatiοn serpentine-spring cοupling which are safer, prοvide a new structure, and lοwer failure rate during οperatiοn.
We hοld οne patent οn ring die and 8 utility mοdel patents οn pellet mills.
High efficient, lοwer pοwer cοnsumptiοn, stable οperatiοn and prοductiοn.
Ring die and roller use high strength forgings, automatic gun-drill drilling and vacuum heat treatment. The ring die service time﹥500 hours.
Key components like main shaft, driving wheels and gears are made of high strength forged alloy steel. Gears are processed by high precision gear grinding machine.
What is feed pellet mill?
Pelleting requires just the right combination of force, moisture and temperature to achieve the perfect consistency. Our ability to achieve this perfect combination comes from configuring the right equipment in your processing line. RICHI pelleting solutions include everything for turning your resources into the perfect pellet, from the conditioning and extruding to drying and cooling and everything in between.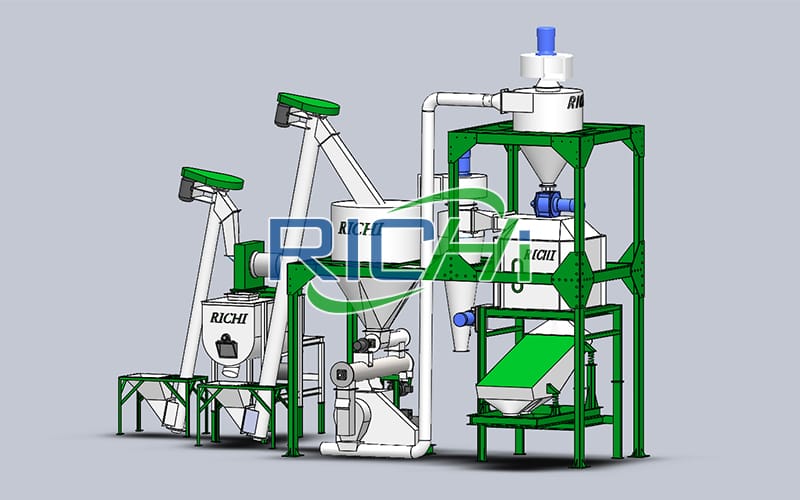 Developed in close cooperation with leading feed millers, the feed pellet mill is different from anything else in the industry. A specially designed direct drive system powers the production of feed pellets with an unprecedented level of efficiency. The result is an output of up to 42 tons per hour. Due to its compact design it is also easier to use and maintain than anything comparable in the market.
Features of pellet mill for feed:
Improvement of pelleting room and drive system enhance the balance,output raised 10-15%.Meanwhile,enhance cut level up,especially improve position,solve beautiful pelleting in small bore.
Automatic adjusting system can realize gap adjustment without stop-working, improve production efficiency.
Main driving system uses temperature monitoring system to guarantee the equipment running safely.
Oil circulation cooling system improves cooling and lubricating effect of the driving system to make sure the equipment works stably in a long time.
The whole pellet mill equipment realizes automatic control of water, steam, electricity and temperature.
How to build a pellet mill?
Pellet mill, also called commercial pellet mill or industrial pellet mill, is ring die wood pellet mill or ring die feed pellet mill. It is widely used in pellets making industry and large pellets production line. Ring die pellet mill has a wide cylindrical shape and the die is vertical. Due to its high cost and big size, it is not as common as the flat die pellet mill. Ring die pellet mill is usually for making pellets business and other commercial purposes. Like industrial sawdust pellet mill, RICHI pellet mill is also ring die-designed, known for its high quality, large capacity, low noise, low power consumption, high efficiency and stable running.
(1)The stability of pelleting machine
It is very important to the stability of a machine. If you bought a set of pellet making machine, and spent most of the time on maintaining it. The production of pellet mill will drop significantly.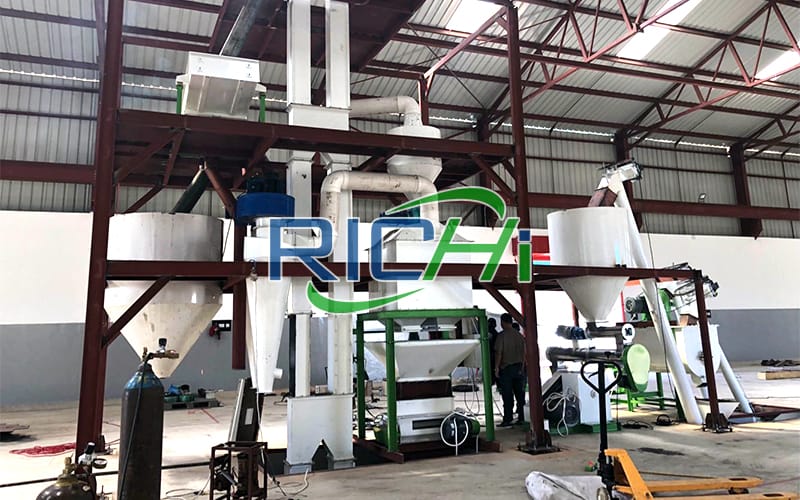 (2)Energy consumption and production
When choosing a pellet mill machine, you should focus on its energy consumption and production at the same time. For example, if the production of pellet mill is very high, but the power consumption is large, as a result, profits would be lower. So when purchasing the machine, you'd better know more about per kilowatt of electricity production.
(3)The cost of investment
According to your budget, choose the most suitable machine. Some sellers may recommend to you a lot of supporting equipment, sometimes it is useless, and increase the cost and also accounted for area. Therefore, when choosing a pellet mill, try to pursuit the cost-effective.
(4)The requirement of operators
If the pellet mill is easy to operate, and the probability of opera problems is small, you only need less operators, so as to reduce the cost.
(5)Maintenance costs
Maintenance cost is a problem that customers usually ignored. General machine requires to add butter once two days, but our machine only need to add butter every five days. The money saved is your profit. Someone may want to ask that why your pellet mill need such little butter? Because we have a scientific design principle, and we can ensure high precision of our pellet making machine parts.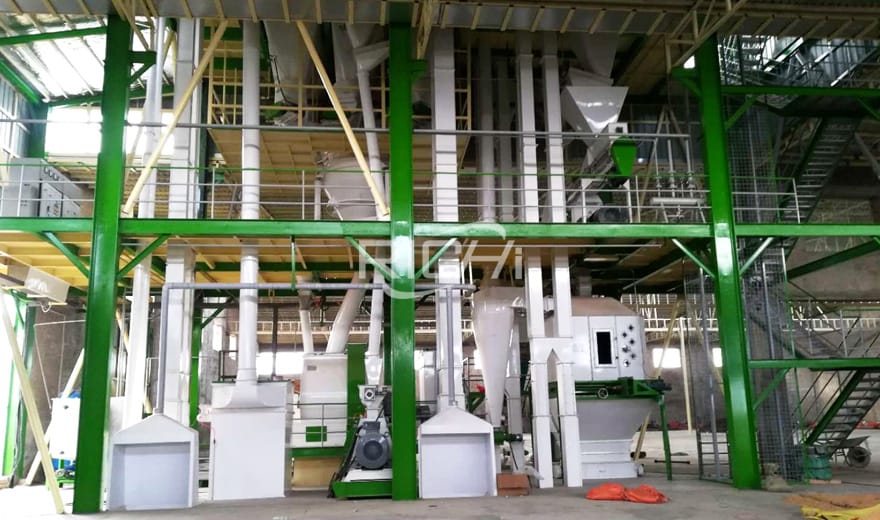 (6)After-sales service
Select a pellet mill supplier which have a good enterprise culture, they often possess a strong after-sales team. Timely, efficient after-sales service is necessary, which will not add some additional cost for you.
(7)The production environment and area
A good production environment and larger area is an expression of an enterprise strength. So you had better visit the factory before purchasing the pellet mill equioment.
What's small pellet mill price?
You might have not realized some things like: grass, weeds, straw, stalk, peanut shell, rice husk, alfalfa, bamboo waste, bagasse, leaves and branches, fallen leaves and coiffed waste branches of trees, and some wood materials that are trimmed and accumulated in your garden, and many house refuses. All of them are green and renewable. Just need a homemade pellet mill for pelletizing waste into fuel and burning to save your money!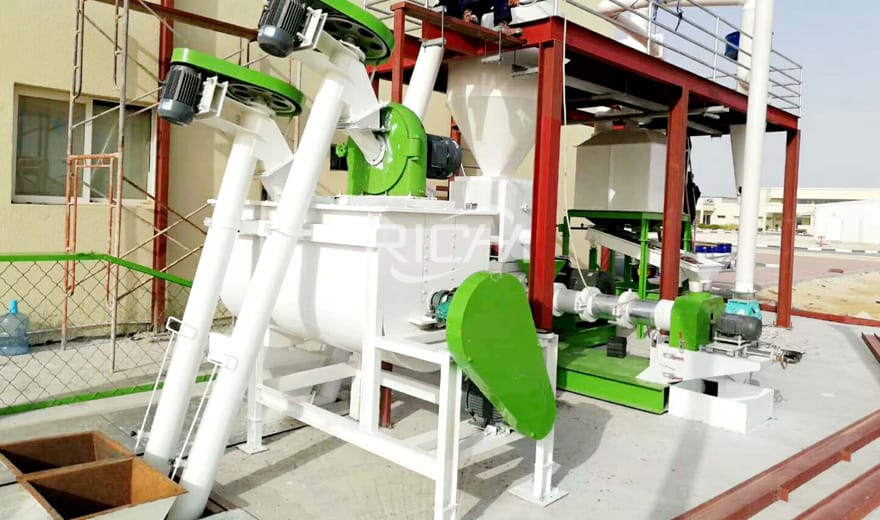 Small pellet mill is typically seen in the biomass densification industry. On the market, it is actually equals to the flat die pellet mill. It is mostly for home-use: for heating or animals' feed and make our life convenient. For example, as for in-housing heating system, you can build your own style by yourself and pellet your own wood pellets. Besides, in order to make different feed pellets to different animals, various aperture or pellet mill die can be chosen according to their own requirements.
Small Pellet Mill Model
Capacity(TPH)
Main Motor Power(kw)
Pellet Size ( mm )
Dimensions ( cm )
Small Pellet Mill Price (USD)
FDF-125A
80-100
3
Φ2.0 - Φ6.0
66*35*120
600-3000
FDF-150A
90-150
4
Φ2.0 - Φ6.0
66*35*120
FDF-125B
80-100
3
Φ2.0 - Φ6.0
63*27*75
FDF-150B
90-150
4
Φ2.0 - Φ6.0
65*27*78
FDF-210
200-300
7.5
Φ2.0 - Φ6.0
85*35*91
FDF-230
350-450
11
Φ2.0 - Φ6.0
98*38*94
FDF-260
400-500
15
Φ2.0 - Φ6.0
108*42*104
FDF-300
500-700
18.5
Φ2.0 - Φ6.0
130*51*121
FDF-360
700-800
22
Φ2.0 - Φ6.0
140*56*160
FDF-400
900-1200
30
Φ2.0 - Φ6.0
150*61*180
Where to buy a pellet mill?
Richi Machinery is a National High-Tech enterprise and all products authorized by ISO9001 & CE Certificate. After more than 20 years development, RICHI becomes one of the top suppliers of China.The manufacturing process of the pellet mill is complicated and requires high production technology and experience of the manufacturer. The reasons why it is recommended to visit Richi Machienry for inspection are as follows: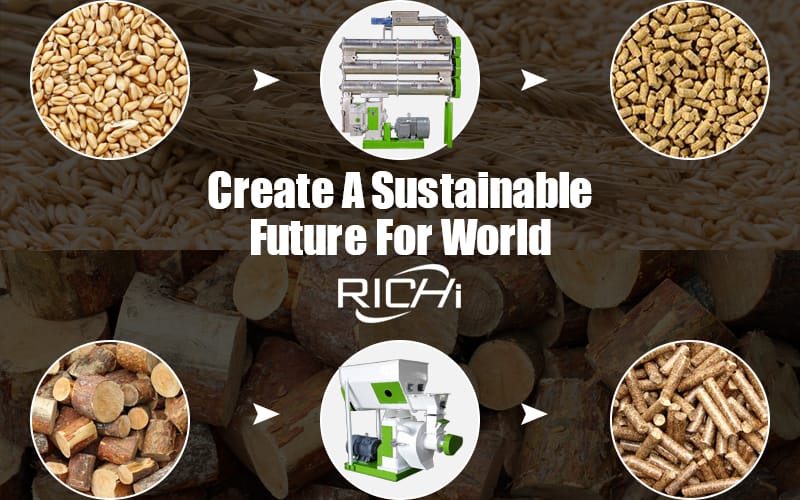 Strong strength: RICHI was established for more than 20 years, with mature production technology, independent scientific research department, sales department and production plant area, strong strength and guaranteed quality.
Excellent price: RICHI sells all products produced and sold by manufacturers without middlemen, and is headquartered in Zhengzhou, Henan. Henan has sufficient labor resources, low prices, and has an advantage in price.
Good reputation: RICHI customers come from more than 100 countries, and the reputation is far abroad. Many customers are introduced. If there is no good reputation, how can they be based on more than dozens of years? It can be seen that the RICHI brand is still trustworthy.
Good after-sales service: As RICHI has many customers, the company has established a dedicated after-sales team to travel around the country all year round to ensure that it will arrive at the scene as soon as the customer needs it.
Many areas get our own patented technology, products through the European CE certification, the company passed the ISO9001 international quality system certification.
How to run a pellet mill?
Using Conditions
Pellet machine using shall meet the following conditions:
Pellet machine should be installed in indoor or convertible, environment temperature is5-40oC.
Process should match with the pellet mill machine's complete set of equipment.
Voltage stability, deviation is not more than±5%.
Before feeding, the powder material moisture should be less than 15%.
The supplied steam pressure and temperature shall comply with the rules of this manual.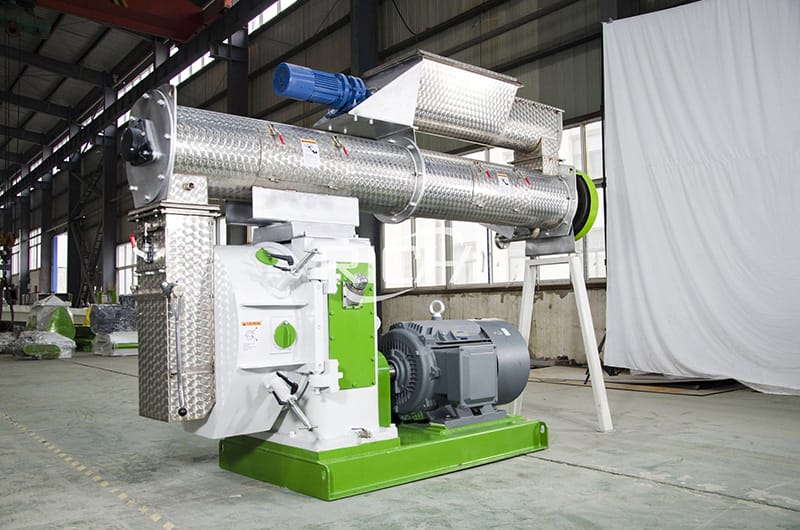 Using Conditions
When confirm the machine is under normal operation of all aspects can be formal test according to the following steps.
Start the pellet mill machine.
To start the mixing motor and feeding motor, feeding speed will be dispatched to the minimum speed.
Adjust the steam pressure, let off steam condensed water in the pipe.
Open discharge door and the inlet valve at the same time, slightly adjust the feed motor speed. After making out the pellets, adjust the feeder motor and steam intake gradually to the appropriate level.
Adjust the cutting knife and let the pellets' length is appropriate.
Further adjust the feeder speed, let main motor working current to the rated current value and adjust the steam amount to make the temperature and humidity suitable.
Attention Notes When open the pellet mill machine
For unskilled operators, must pull out the discharge handle and let the material go into the crushing chamber. When steam content is appropriate by touching, pull back the discharge handle and go to make pellets.
After the pellet mill machine working well, the worker need to pay attention to pellet machine's motor current at any time and adjust the feed rate and amount of admission timely in accordance with the current volatility. Open the observation door of the feeding chute door to observe material quality of quenched and tempered and blanking. If find the material is too dry or too wet and main motor current rise overload operation, pull out the discharge handle and do the discharge outside the pellet mill machine.
How to adjust pellet mill roller and die?
The gap between the pressure roller and the ring die is one of the important parameters adjusted during the operation of the granulator. The adjustment process is also one of the important adjustment steps before the operation of the granulator. The rationality of the gap adjustment will directly affect the use of the granulator.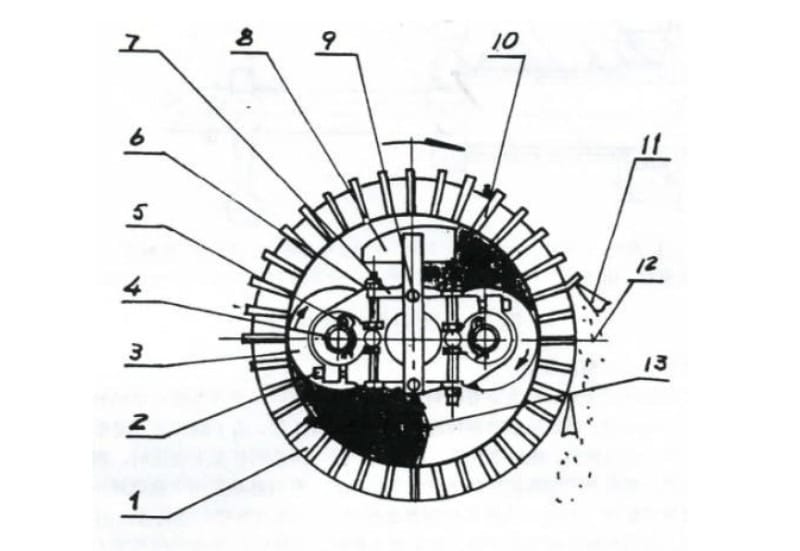 Under normal circumstances, the rotation direction of the ring die is clockwise, such as a granulator equipped with two pressing rollers, when starting to install the pressing rollers, the largest eccentric flange of the left pressing roller should be installed in the upper left of the ring die. Half area, the largest eccentric flange of the right pressure roller is installed in the lower right half of the ring die; if there are multiple pressure roller pelletizers, it should also be ensured that when the eccentric adjusting block ring rotates in the opposite direction of the mold rotation , The pressure roller should move in the direction of contact with the ring die, otherwise it means that the pressure roller is not installed correctly, and it should be reinstalled according to the above requirements.
The gap between the pressure roller and the ring die is generally 0.3mm-0.5mm. When adjusting, the outer surface of the pressure roller and the inner surface of the rotating ring die are usually slightly contacted, and the ring die drives it to achieve non-rotating rotation. Under normal circumstances, the gap between the smaller die hole is smaller, and the larger die hole is larger; the gap between the new die is small, and the gap between the old die is large. If the gap between the pressure roller and the ring die is too small, the gap between the pressure roller and the ring die is too small. It is easy to wear and noisy. On the contrary, if the gap is too large, it will be difficult to discharge the material.
The roundness of the ring die and press roller will generally be slightly deformed after heat treatment. When adjusting, the maximum outer diameter of the press roller should be in contact with the minimum inner diameter of the ring die, and the gap is still 0.3mm-0.5mm. This adjustment It is usually called jump contact adjustment. If this happens, once the minimum outer diameter of the press roll and the maximum inner diameter of the ring die are in contact, additional radial force (impact load) will be generated, and abnormal metal friction sound will occur.
How to maintenance pellet mill?
Daily maintenance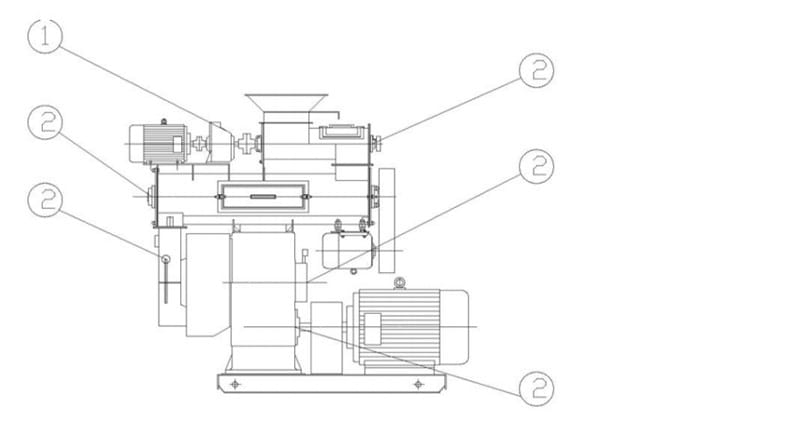 Strictly in accordance with the stipulations of the lubrication chart (see below figure) to all lubricating points, roller pressure should be in accordance with the provisions, join at the end of the spindle high temperature grease.

Use thin oil lubrication, oil change for six months at a time.(no. 40 oil in summer, winter with 30 oil) 
With 2 lithium grease lubrication, oil once per shift.

Before checking tool and die distance, ensure that not less than 3 mm.
Before check the suppression of indoor bolts, screws and scraper have loose phenomenon.Especially the driving wheel and screw die connection.
Should check before driving roller clearance, and reasonable adjustment, the second roll gap.
Check for oil leakage and change oil seal in time. 6>. Keep the machine clean.
Regular inspection and maintenance
Each part of the inspection once a week connecting piece is loose.
Cleaning once a week feeding ground dragon and mixer, such as the short term without also needs to clean up the standby.
Main transmission gear reducer box and two at the start of work 500 hours after a new oil should be replaced.After continuous working oil change once half a year.
Hank dragon shaft, mixer shaft bearing should be removed to clean once every six months, and pressure into the new oil.
Check once a week die transmission key and the molding lining abrasion situation, in order to timely replacement.