Need to add auxiliary materials in chicken manure production process?
We know that in the production of high-quality organic fertilizer, mature fermentation is the first key link. When chicken manure is fermented, do we need to add auxiliary materials in the chicken manure pellet plant? Are you sure? Many companies in the market claim that their products do not need to add auxiliary materials. Of course, everyone can "blind" customers like this: without adding auxiliary materials, the manure can be fully harmless and recycled, and zero pollution can be easily achieved.


However, the professional ethics of Richi Machinery does not allow us to do that. As one of the leading companies in the professional environmental protection industry, RICHI must take responsibility and assume the responsibility of cultivating and guiding the market, and must not rush for quick success!
RICHI has been studying the harmlessness and resource utilization of manure for many years. From the very beginning, it has positioned its products as organic fertilizer plants for research and development. After more than 10 years of exploration, it has accumulated a large amount of knowledge and principles of organic fertilizer fermentation and chicken manure pellet plant production:


If The Conditions Of Organic Fertilizer Fermentation Are Not Up To Standard, The Consequences Will Be Serious:
The water content is preferably 50%~60%;
Peculiar smell of the fermentation bed, no steam emission;
It is not thoroughly decomposed, causing secondary fermentation and burning seedlings;
Huge energy consumption (all rely on electricity to dry).
Ideal Fermentation Conditions
The water content is preferably 50%~60%;
Fluffy degree (grab it with your hand, squeeze it lightly, shake it in your hand, it is better to spread it out);
It is better to adjust the carbon-nitrogen ratio to 25~30 (adjust with auxiliary materials), not more than 30%;
Add high-temperature fermentation bacteria (strains are very important). If you don't add them, there will be more and more miscellaneous bacteria, fermentation will become slower and slower, and finally become dead-bed anaerobic fermentation.

The necessity of adding excipients for organic fertilizer chicken manure pellets production
Adjust moisture
The moisture of chicken manure fermentation is strictly required, and it is best to control it at about 55%, but the moisture of chicken manure is mostly above 70%. It is very necessary for us to adjust the moisture of chicken manure to about 60%. Meet the requirements of fermentation.  
Adjust the carbon to nitrogen ratio
Adjust the ratio of carbon to nitrogen in the raw materials and increase the content of organic matter. The original carbon-nitrogen ratio of chicken manure is far from enough, because the carbon-nitrogen ratio of chicken manure is only about 9-10%, and the best carbon-nitrogen ratio for aerobic fermentation is 25%-30%.
According to the organic fertilizer standard, the total content of NPK (NPK refers to nitrogen, phosphorus, and potassium) must be greater than or equal to 5%, but the original nitrogen, phosphorus and potassium content in chicken manure does not meet this target, we need It is supplemented by adding auxiliary materials, so that the organic content is greater than or equal to 45%, in line with national standards.
Realize aerobic fermentation
Add auxiliary materials to enhance the permeability of materials and increase the oxygen content of chicken manure during fermentation. Without auxiliary materials, the fermentation is slow, the air permeability is not good, the microorganisms are greatly reduced, the processing is slow, and it is easy to produce odor.
Resistance to stone powder
In addition, there is 8% stone powder in the feed for laying hens. If no auxiliary materials are added, the soil will be severely compacted when it reaches the ground. This is contrary to the purpose of organic fertilizer to improve the soil.
What's chicken manure fertilizer pellets?
Organic chicken fertilizer pellets made by chicken manure pellet machine refers to the use of chicken manure as the main raw material, mixed with some other organic matter, fermentation, throwing, pretreatment, and final granulation processing to become organic fertilizer. Chicken manure is a relatively high-quality organic fertilizer after fermentation.
The nutrient content of chicken manure is very rich. It contains both a large amount of organic matter and a high content of three elements. The organic matter content is 25.5%, nitrogen is 1.63%, and phosphorus Vegetable manure is 1.54%, potassium is 0.85%, carbohydrate is 11%, so chicken manure is an important organic fertilizer.
Applications Of Chicken Manure
As Fertilizer Pellet
As we all know, the chicken manure can apply to the farmland and help crops grow. Because there are many good nutritional ingredients exist in the manure. These ingredients will make crops grow better. In addition, the dung belongs to the organic fertilizer, so it won't hurt the soil as the chemical fertilizer.
As Fuel Pellet
The dried chicken manure took a little longer than wood to ignite and once it lit it burnt well if not intensly. The manure gave off a good heat and lasted for longer than I expected - a little longer than cedar, but not as long as oak.
As building Material
The chicken manure has also been used in brick making. It's one of the components of adobe. What would a house made of manure bricks smell like in damp weather? While most people may not find the smell of manure offensive, most of us would draw the line here.

The main functions of chicken manure fertilizer pellets made by chicken manure pellet machine are:
Produce a variety of enzymes to inhibit a variety of soil-borne diseases such as stubble disease, root knot nematode disease, fusarium wilt, bacterial wilt and blight.
The high-efficiency and beneficial microbial flora contained in the continuous activity can activate the nitrogen in the air, decompose and release the insoluble phosphorus and potassium nutrients. Replenish soil organic matter and slowly release nutrients needed for crop growth.
Improve soil physical properties, keep the soil soft, easy to cultivate, promote soil aggregate structure, increase soil pores, and promote root mass growth. Increase soil water and fertilizer retention capacity and reduce leaching losses.
Green and environmental protection, improve fertilizer efficiency. The fermented organic fertilizer of this product has no toxic and side effects, and is safe for crops and soil environment. Mixing with inorganic fertilizers also improves the use efficiency of chemical fertilizers and saves costs.
Strong roots and seedlings, disease prevention and disease resistance. The proliferation of beneficial microorganisms secretes hormones, polysaccharides and other metabolites to the outside world, inhibits the growth of soil pathogenic bacteria, can promote the development of crop roots, grow vigorously, and reduce the spread of various diseases.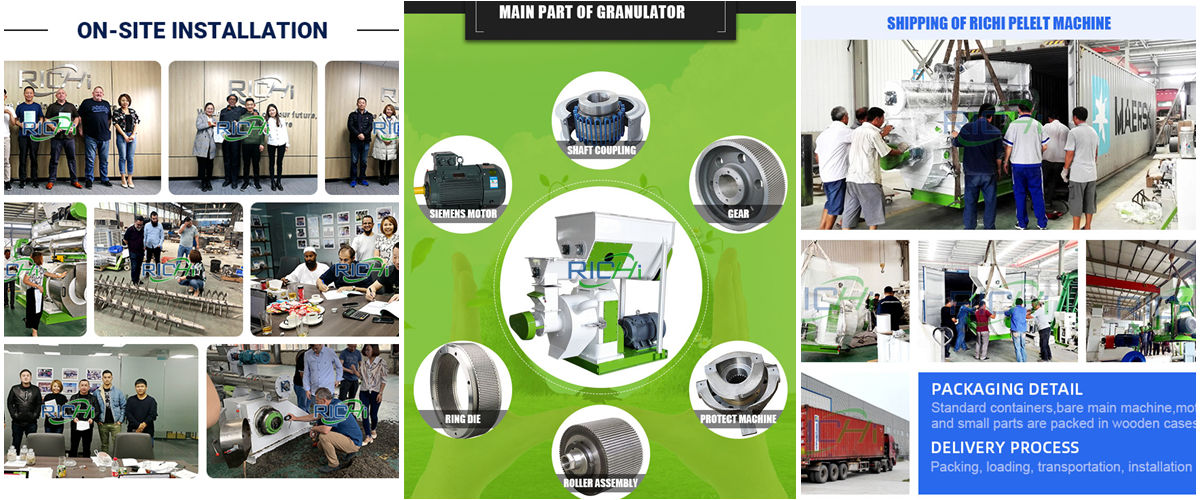 How To Make Fertilizer Pellets From Chicken Manure?
Richi Machinery offer chicken manure pellet machine, chicken litter pellets processing machine, complete chicken manure pellet plants and chicken manure pellet lines for the treatment and production of compost pellets.
According to the requests of the customers and of the constructive characteristics, our chicken manure pellet machines and chicken manure pellet plants have different construction characteristics and production capacity.