Applications Of Dry Type Fish Feed Extruder Machine
The early-stage extrusion processing was mainly used in feed production industry. Since the nineteen fifties, America had started to use this extrusion technology for feed processing field, especially for processing pet food and pretreatment of feed ingredients.
With the unceasing development of technology and the continuous rising of people living standard, the growth of aquaculture must follow the principle of producing green food without pollution, bringing significant attention and lots of intensive study on aqua feed production technology.


Extruded feed is a fluffy and porous feed made by feeding powdered raw materials into a fish food extruder machine, after mixing, shearing, conditioning, heating, pressurizing, sudden depressurization, cutting, and drying. According to the different living and feeding habits of aquaculture animals, floating, slow sinking, and sinking extruded aquatic feeds can be made.
Which is better, fish feed extrusion technology or fish feed pelletizing technology?
However, because the feed technology of aquatic extruded feed is relatively more complicated than the hard pellet feed production technology, there will be situations in the actual production process: the same feed formula can be applied to the hard pellet production line, but the product cannot be processed in the extruded production line; the same feed formula is extruded Feed performance is not as good as hard pellet feed.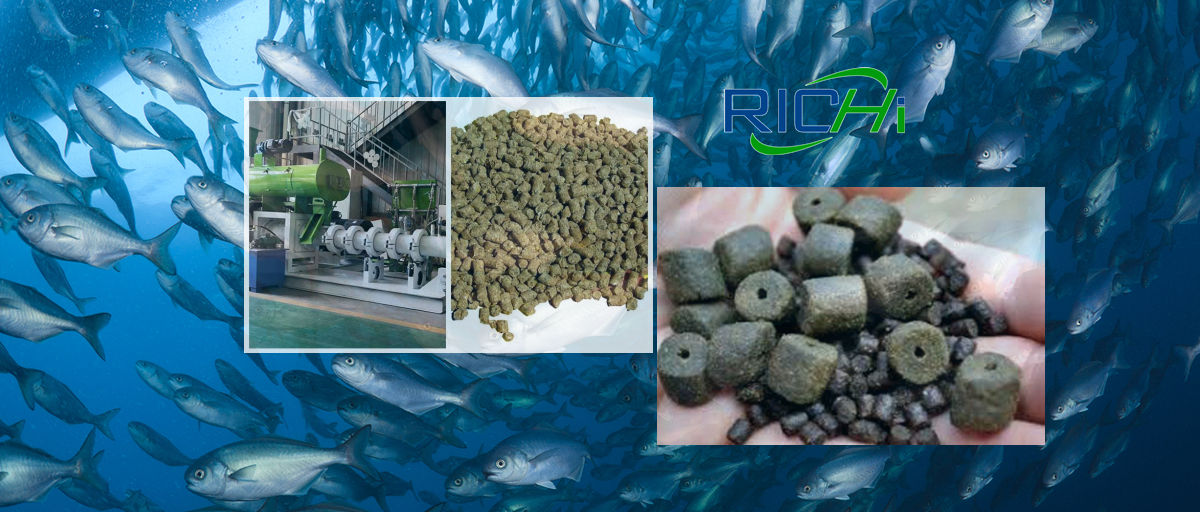 The reason is that the temperature during the granulation process of extruder line for fish feed making is as high as 120-150℃, and the functions of most heat-sensitive vitamins, enzyme preparations and microbial preparations are destroyed during the whole process of high temperature, high pressure and humidity; in addition, some reducing sugars and free lysine in the raw materials will be beautiful. The rader reaction reduces the utilization rate of part of the protein.
From the perspective of formula technology, the extruded feed can adjust the density and shape of the feed, and can adapt to the rich aquaculture species. At the same time, the extruded process of feed mills improves the digestion and absorption rate of some raw materials, which makes the fish feed formula selection space and width wider, but on the other hand, the extruded feed is complicated. The feed production technology also puts forward higher requirements on the raw materials.