Applications Of Dry Type Fish Feed Extruder
The early-stage extrusion processing was mainly used in food processing industry. Since the nineteen fifties, America had started to use this technology for feed processing field, especially for processing pet food and pretreatment of feed ingredients.
With the unceasing development of technology and the continuous rising of people living standard, the growth of aquaculture must follow the principle of producing green food without pollution, bringing significant attention and lots of intensive study on aqua feed production technology.
1.Simple structure, widely used, small flooring space, low noise.

2.We can use dry powder materials to make feed pellets without adding extra water into the dry type fish feed extruder. The dry pellet feed is convenient to store.

3.The dry pellet feed is well processed which is easy for the animals to digest. During the process, the pathogenic microorganism and parasites are eliminated.

4.This fish feed pellet extruder also applies to make pellet feed for rabbits, ducks and the like. What's more, the pellet feed is more economical than the compound mash feed.

5.There are many different press molds you can choose in according to the size of the pellet that you.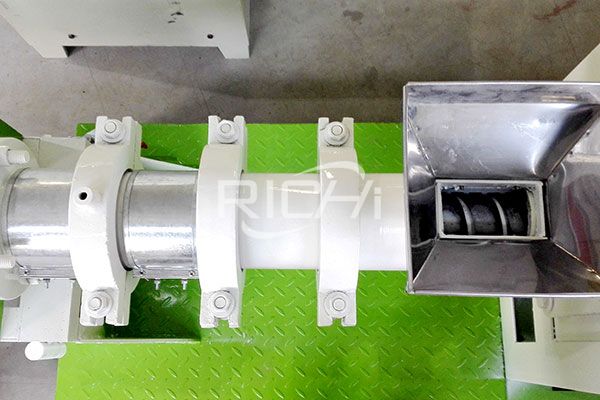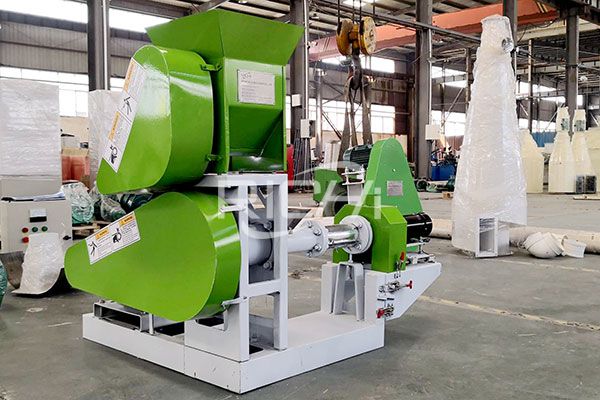 Working Principle Of Dry Type Fish Feed Extruder
There is no need to heat outside the dry type machine, through the screw extruding of the raw material, heat is produced and gathered during the rotary working process in the airtight environment, and during the high temperature ripening process, the starch and fiber of the raw material become swell. Then under the pressure-tight condition, material will be formed into pellets by shaping mould. At the end, through the high pressure produced by the regular rotating of the screw, after being cut by the forepart cutter which rotates regularly and high-speedily, the finished products will be shrunk and become small average puffed balls in room temperature and pressure.
| | | | | | |
| --- | --- | --- | --- | --- | --- |
| Model | Capacity(t/h) | Main motor power(kw) | Feeder power(kw) | Screw diameter(mm) | Cutter power(kw) |
| DGP40-Cs | 0.03-0.04 | 3.0*2 | 0.4 | Φ40 | 0.4 |
| DGP40-C | 0.03-0.04 | 5.5 | 0.4 | Φ40 | 0.4 |
| DGP50-C | 0.06-0.08 | 11 | 0.4 | Φ50 | 0.4 |
| DGP60-C | 0.12-0.15 | 15 | 0.4 | φ60 | 0.4 |
| DGP70-B | 0.18-0.2 | 18.5 | 0.4 | φ70 | 0.4 |
| DGP80-B | 0.2-0.25 | 22 | 0.4 | φ80 | 0.6 |
| DGP90-B | 0.30-0.35 | 37 | 0.6 | φ90 | 0.8 |
| DGP120-B | 0.5-0.6 | 55 | 1.1 | φ120 | 2.2 |
| DGP135-B | 0.7-0.8 | 75 | 1.1 | φ133 | 2.2 |
| DGP160-B | 1-1.2 | 90 | 1.5 | φ155 | 3 |
| DGP200-B | 1.8-2.0 | 132 | 1.5 | φ195 | 3.0-4.0 |