Technical Features Of Dry Type Fish Feed Extruder Machine
1. The dry type extruded fish feed machine has wide application scope, strong applicability, adjustable temperature and pressure,extrude all kinds of single materials, rags and crushed materials.
2. The fish pellet feed extruder can be widely used in feed raw materials extruded treatment, such as soybean, corn, bean pulp and sheeted suckling pig feed production, aslo used for special materials treatment, like rice husk and blood meal.
3. The fish feed extruder can kill bacteria and toxins, improving quality and digestibility.
4. The fish food extruder special design drive box, no external cooling system, ensure balanced and reliable drive.
5. Horizontal strong feeding system of the fish feed extruder machine can improve fish feed production capacity effectively.
6. Above 20% easily damaged fish feed extruder machine parts made of special alloy steel materials, lengthening the useful life and reducing the cost, the real multi-use of one extruder machine for fish feed.
Applications Of Dry Type Fish Feed Extruder Machine
The early-stage extrusion processing was mainly used in feed production industry. Since the nineteen fifties, America had started to use this extrusion technology for feed processing field, especially for processing pet food and pretreatment of feed ingredients.
With the unceasing development of technology and the continuous rising of people living standard, the growth of aquaculture must follow the principle of producing green food without pollution, bringing significant attention and lots of intensive study on aqua feed production technology.


Extruded feed is a fluffy and porous feed made by feeding powdered raw materials into a fish food extruder machine, after mixing, shearing, conditioning, heating, pressurizing, sudden depressurization, cutting, and drying. According to the different living and feeding habits of aquaculture animals, floating, slow sinking, and sinking extruded aquatic feeds can be made.
Which is better, fish feed extrusion technology or fish feed pelletizing technology?
However, because the feed technology of aquatic extruded feed is relatively more complicated than the hard pellet feed production technology, there will be situations in the actual production process: the same feed formula can be applied to the hard pellet production line, but the product cannot be processed in the extruded production line; the same feed formula is extruded Feed performance is not as good as hard pellet feed.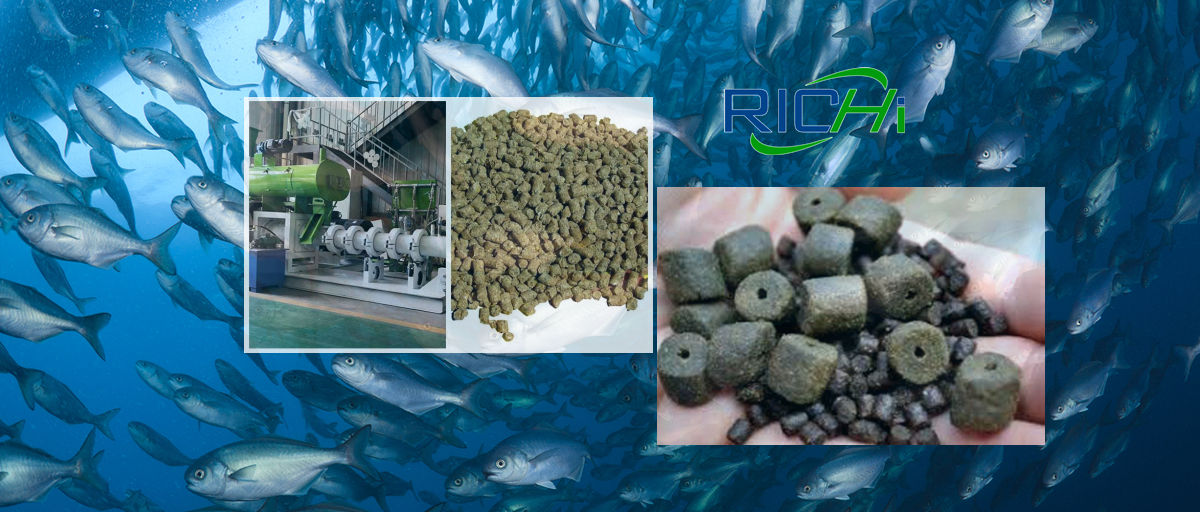 The reason is that the temperature during the granulation process of extruder line for fish feed making is as high as 120-150℃, and the functions of most heat-sensitive vitamins, enzyme preparations and microbial preparations are destroyed during the whole process of high temperature, high pressure and humidity; in addition, some reducing sugars and free lysine in the raw materials will be beautiful. The rader reaction reduces the utilization rate of part of the protein.
From the perspective of formula technology, the extruded feed can adjust the density and shape of the feed, and can adapt to the rich aquaculture species. At the same time, the extruded process of feed mills improves the digestion and absorption rate of some raw materials, which makes the fish feed formula selection space and width wider, but on the other hand, the extruded feed is complicated. The feed production technology also puts forward higher requirements on the raw materials.
Working Principle Of Dry Type Fish Feed Extruder Machine
There is no need to heat outside the dry type fish feed machine, through the screw extruding of the raw material, heat is produced and gathered during the rotary working process in the airtight environment, and during the high temperature ripening process, the starch and fiber of the raw material become swell. Then under the pressure-tight condition, material will be formed into pellets by shaping mould. At the end, through the high pressure produced by the regular rotating of the screw, after being cut by the forepart cutter which rotates regularly and high-speedily, the finished products will be shrunk and become small average puffed balls in room temperature and pressure.
Parameter And Model Of Dry Type Fish Feed Extruder Machine
Model
Capacity(TPH)
Main Motor Power(kw)
Feeder Motor Power(kw)
Screw diameter(mm)
Cutter power(kw)
DGP40-Cs
0.03-0.04
3.0*2
0.4
Φ40
0.4
DGP40-C
0.03-0.04
5.5
0.4
Φ40
0.4
DGP50-C
0.06-0.08
11
0.4
Φ50
0.4
DGP60-C
0.12-0.15
15
0.4
φ60
0.4
DGP70-B
0.18-0.2
18.5
0.4
φ70
0.4
DGP80-B
0.2-0.25
22
0.4
φ80
0.6
DGP90-B
0.30-0.35
37
0.6
φ90
0.8
DGP120-B
0.5-0.6
55
1.1
φ120
2.2
DGP135-B
0.7-0.8
75
1.1
φ133
2.2
DGP160-B
1-1.2
90
1.5
φ155
3
DGP200-B
1.8-2.0
132
1.5
φ195
3.0-4.0
Fish feed extruder machine prices
2900-38000USD

Difference between floating and sinking fish feed
What's the difference between floating fish feed and sinking fish feed?
The first thing you need to know is that floating fish pellets must use a fish feed extruder for floating feed, while sinking fish feed can use a sinking fish feed extruder machine or a fish pellet machine.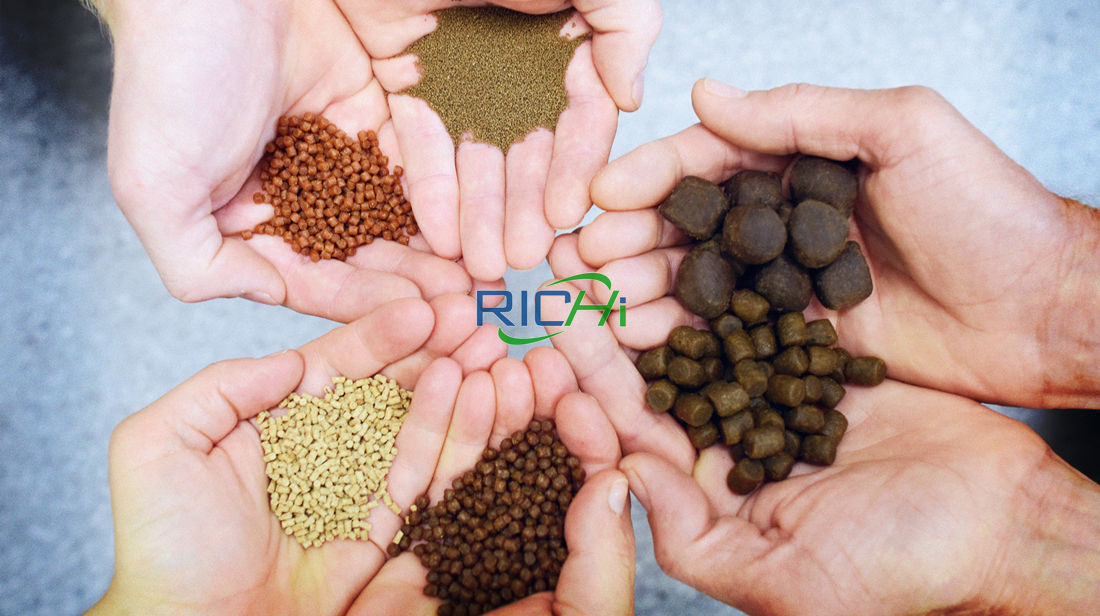 About floating fish feed pellets:
Floating feed for fish are more expensive to buy and more expensive for fish feed manufacturing units to manufacture. Floating pellet fish food (also known as expanded or extruded pellets) require to go through an floating fish feed extruder machine extrusion process during fish feed mill processing. This section of a floating fish feed plant is most of the time costly to set-up and run than a standard pelleting section.
They are usually used in larger underlings, food fish and broodfish. Floating on the surface of the water (usually maintaining integrity in the water for several hours), the fish must come up to the surface to eat. This enables you to observe your fish each day, which helps in monitoring their health and vigor. Also you can adjust the amount of feed per day and avoid wasted feed and pond pollution problems.
While there is still some debate, extruded floating fish feed made by electric fish feed extruder machine is still prefered in some cases. And although it is more expensive you can reduce feed costs and still have the advantage of observing your fish by mixing 15 percent floating feed for fish with 85 percent sinking fish food.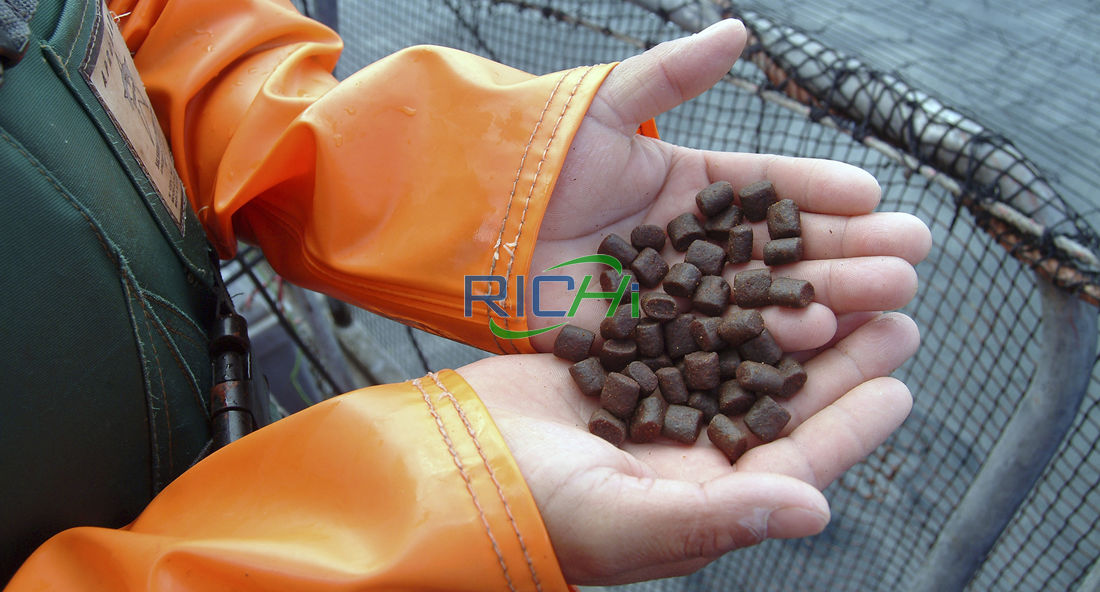 About fish sinking pellets
Sinking fish food pellets made by fish feed pellets extruder or fish feed pellet machine also know as a hard pellet, are more economical. Sinking fish feed will have water stability of up to an hour, and will gradually sink and settle on the bottom if uneaten.
Since ingredients are pressed togetherm it makes it impossible for the fish to selectively eat the ingedients they want. Sinking fish food for ponds are adapted to mechanical feeding and can be handled considerably without deterioration.
Sinking feed for fish are sometimes used in winter when the fish do not regularly surface. Also by pelleting some feeds with fish feed pelleting machine, it can be avoided to harm some ingredients which do not like the extrusion process of pellet extruder machine for fish feed .
The latest fish feed extruder machine and fish feed plant project we have done
Pellet Richi is one of the fish feed plant manufacturers in China, we have rich experience of providing complete fish feed plant solutuions and fish feed making machine for various fish feed, shrimp feed, etc.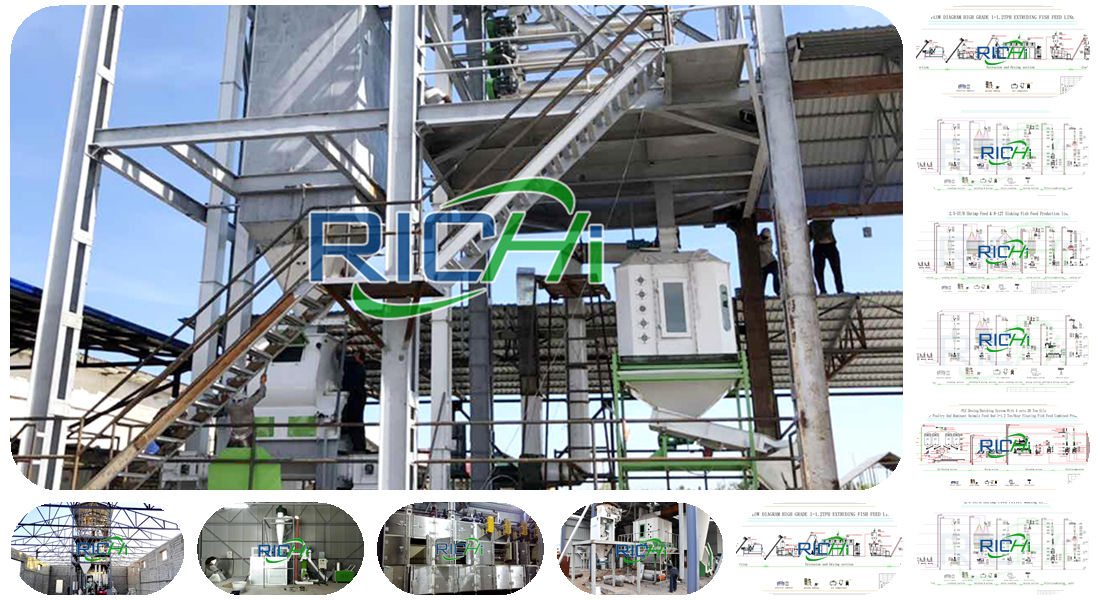 The above fish feed plant project and fish feed machine project are real transaction information. If you want to get project-related information, pictures, and videos, please contact us.
Copyright © 2015-2022 by HENAN RICHI MACHINERY CO,LTD.All rights reserved.