Technical Features Of Cat Litter Pellet Making Machine
1. RICHI cat litter pellet machine equipped with one-layer or double-layer conditioner, better for making cat litter. Manufacturing according to internationally advanced technology standard; The quality matching with the European standard.
2. Cat litter pellet making machine adopts gear driving system, with good transmission rate, stable and reliable performance and low noise.
3.The key components of this series cat litter pelletizer are imported to ensure longer service life and lower cost for maintenance.
4.Raw material contacting parts are made by stainless steel.
5.Hydraulic system for ring die change and roller adjustment(optional), quick ad precise operation; auto-lubrication system(optional)and die & roller lifting device, save labor; on-site touch screen control.
Applications Of Cat Litter Pellet Making Machine
RICHI cat litter pellet making machine is a special equipment for processing cat litter pellets with pellet size: 0.5-8mm. It has a wide range of applicability. It can be used to process cat litter pellets using bentonite, attapulgite, wood, wood fiber, bark, sawdust, wheat, corn, grass, alfalfa, peanut shells, citrus, biodegradable recycled paper, newspapers, recycled paper mill by-products, and biodegradable silica gel.

Working Principle Of Cat Litter Pellet Making Machine
The working principle of the cat litter pellet granulator: When the ring die is driven to rotate, the raw material of the cat litter is brought between the die rollers, and is gradually squeezed and forced to pass through the ring die hole. The cylindrical pellet after the hole is cut the resulting cat litter pellets with a knife.
Before entering the cat litter pellet production machine, the raw materials of cat litter should have been pulverized into a loose body composed of dispersed particles with fluidity. Under the action of squeezing force, the gas between the powder particles continuously escapes, and the gap becomes smaller. However, the bonding force between the particles increases, the plasticity is produced by heating, and the water vapor acts as a binder.
Finally, the powdery material is pressed into cat litter particles with a certain density and strength. It is this extrusion thermoplastic process that makes the ring die cat litter pellet equipment has many advantages.
Parameter And Model Of Cat Litter Pellet Making Machine
| | | | | | | |
| --- | --- | --- | --- | --- | --- | --- |
| Model | Capacity(TPH) | Main Motor Power(kw) | Feeder Motor Power(kw) | Conditioner Power(kw) | Dia.of Ring Die(mm) | Final Pellet(mm) |
| SZLH250 | 1-2 | 22 | 0.75 | 1.5 | 250 | 2~12 |
| SZLH320 | 3-4 | 37 | 1.5 | 2.2 | 320 | 2~12 |
| SZLH350 | 5-7 | 55 | 1.5 | 3 | 350 | 2~12 |
| SZLH420 | 8-12 | 110 | 1.5 | 7.5 | 420 | 2~12 |
| SZLH508 | 10-18 | 160 | 2.2 | 11 | 508 | 2~12 |
| SZLH558 | 15-25 | 180/200 | 2.2 | 11 | 558 | 2~12 |
| SZLH558D | 14-22 | 160/180/200 | 1.5 | 7.5 | 558 | 2~18 |
| SZLH678 | 20-30 | 220/250 | 2.2 | 11 | 678 | 2~12 |
| SZLH678D | 15-25 | 200/220/250 | 2.2 | 11 | 673 | 2~18 |
| SZLH768 | 25-40 | 280/315 | 2.2 | 11 | 768 | 2~12 |
| SLZH858 | 25-42 | 280/315 | 2.2 | 15 | 858 | 2~18 |
Cost To Set Up Standard/Customized Cat Litter Pellet Machine
Cat Litter Pellet Making Machine Price: FOB 7000-100000USD
What's cat litter pellet machine price? Because different customers have different requirements for pellets, there will be many differences in the details of our pellet machine design. Therefore, the actual cat litter pellet maker machine price for different projects are different. Even if the customer wants to produce the same type of pellets, if the customer's raw materials, and production technology are different, the cat litter pelletizer machine ring die, conditioner, etc. will be different.


Build complete cat litter pellet production line - pellet manufacturing process
Cat litter is mainly used to remove domestic pet feces and its peculiar smell. Cat litter has a strong air purification and adsorption function, so as to keep indoor air fresh and environmental sanitation. It is proved by application that cat litter enjoys a high market share. With the continuous development of social economy, the scale of cities will also continue to expand. It has become a fashionable trend for modern people to keep pets, and cat litter is an indispensable pet product.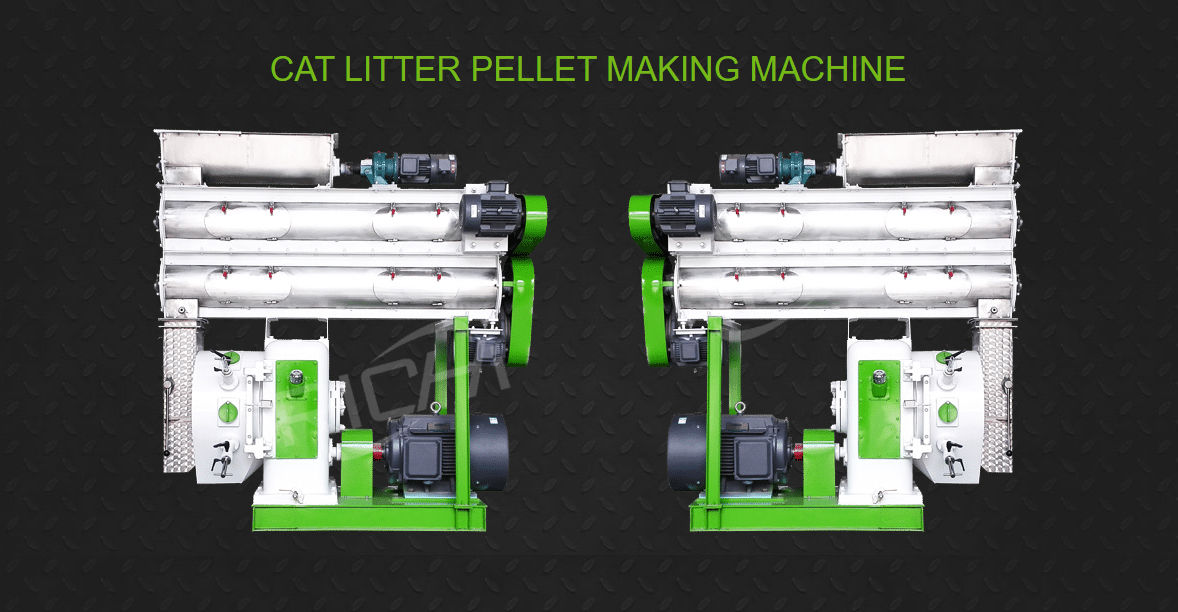 The following is the complete cat litter pellet production line technology. (Because there are many types of cat litter pellets, and the raw materials are also quite different, the processing technology of different types of cat litter pellets is very different. No matter which type of cat litter pellets you want to process, you are welcome to contact RICHI directly. We will customize the exclusive cat litter pellet line business plan for you according to your raw materials and pellet manufacturing processes)
Raw material configuration: According to customer requirements, a certain proportion of the raw materials of cat litter particles are pre-mixed and prepared, and the raw materials after the preparation are entered into a double-shaft paddle mixer for full mixing.
Mixing and stirring: The pre-mixed raw materials are manually fed into the double-shaft paddle mixer for further mixing and stirring. During the mixing process, guar gum, calcium carbonate, flavor and a certain proportion of fresh water are added according to the needs. , The ratio of water and powdered raw materials is about 1:10. The raw material preparation and mixing process is fully enclosed, and there is no dust emission.
Granulation: After the cat litter materials are fully mixed and stirred, they are sent to the cat litter pellet making machine through a closed belt conveyor for granulation. After granulation, the water content of the cat litter is about 20%.

Cat litter pellets drying: The granulated cat litter is sent to the drying tunnel through a closed conveyor belt with a plexiglass observation hole. Then use a natural gas hot blast stove for drying, and the finished cat litter after drying has moisture content, control it at about 9.2%. The unqualified products are screened in the drying tunnel, and the unqualified products enter the mixing and mixer for reprocessing.
The entire pelletizing and drying process is operated in a closed device. The drying machine has a cyclone system, and the hot air circulates inside. The humidity inside When a certain value is reached, moisture will be discharged and no dust will be discharged. Only the combustion exhaust gas of the natural gas hot blast stove is discharged at the top through a 15m exhaust pipe.
Fan cooling: The qualified cat litter after drying enters the fan cooling system for cooling.
Automatic packaging: the cooled cat litter enters the silo to be packaged, and the bag is sealed by an automatic vacuum baler and then enters the finished product warehouse for temporary storage.
Several common cat litter processed by cat litter pellet making machine
1. Bentonite cat litter
Bentonite is the main component, which is the most commonly used cat litter. Some cat litter manufacturers also add attapulgite and other materials, which are very hygroscopic and can quickly absorb the moisture in the feces, forming a big hard mass. Condensed cat litter solves the problem of urine. It can condense the urine into blocks and remove them together, which is hygienic and convenient.
If you encounter diarrhea, it will be successfully sucked into a ball, and there will be no more troubles that ordinary cat litter can't hold. When the condensed cat litter is gradually consumed, new cat litter can be added to the cat litter at any time, and there is no need to give up the whole basin.


Specifications of bentonite cat litter by cat litter pellet machine:
| Appearance | Water absorption | Bulk density | Pellet size | Moisture |
| --- | --- | --- | --- | --- |
| White, yellow, gray ball or block | ≥260% | 850-950g/L | 0.5-3.5mm、1-4mm | 5% |
2. Wood sawdust cat litter
This cat litter product is an environmentally friendly cat litter product based on recycled pine wood, paper pulp or wheat by-products as raw materials. The basic effect of sawdust cat litter is similar to that of crystal cat litter. This kind of cat litter is made from sawdust as the main raw material, supplemented by a small amount of natural binder granulation.
There is no dust or dust is very small, it will not cause air pollution, and it is anti-seepage The ability is very strong, with better clumping and flavor absorption functions. It can directly absorb urine and can be directly discarded into the toilet to flush away.
Usually, it does not need to be cleaned too much. However, the wood sawdust cat litter will become powdery after absorbing urine. When the whole pot is almost powdered, it can be discarded completely and has a long service life. Basically, sawdust cat litter is relatively non-smelly, but the smell of wood is bound to be there. If you don't like the smell of pine or other sawdust, the owner should consider whether to buy it. The price is slightly higher than condensed cat litter and crystal cat litter.


Specifications of wood cat litter by cat litter pellet machine:
| Compressive strength | Pellet size | Pellet length | Moisture | Bulk density |
| --- | --- | --- | --- | --- |
| ≥900g | ¢5mm-6mm | 6-15mm | 8% | 1.1g/cm3 |
3. Crystal cat litter
Crystal cat litter is semi-transparent granular beads or some irregular particles. Some brands will incorporate beads of different colors for anti-mildew, antibacterial, deodorant and more. The advantage of crystal cat litter is that it has strong absorption. The beads will change color after absorbing urine, and they can be replaced with new ones when the whole pot is about 80% discolored. Of course, the stool will not disappear, and it must be cleaned every day.


Specifications of crystal cat litter by cat litter pellet machine:
| Cat litter pellet size | Bulk density | Water content |
| --- | --- | --- |
| 1-8mm or customer requirements | 450g/L—500g/L | 5% |
4. Tofu cat litter
As the name suggests, tofu cat litter is made from the residue of tofu. Environmental protection, waste utilization, you can flush the toilet directly. No dust, no poison, harmless to cats to people. Condensable, easy to clean. Natural ingredients, bean flavor, various derived varieties (including tofu traditional Chinese medicine sand, tofu discoloration sand, tofu pine core sand, tofu corn core sand), flavored, dyed, charcoal-free, and dust-free. (Related post: Tofu Cat Litter Pellet Machine And Pellet Production Line)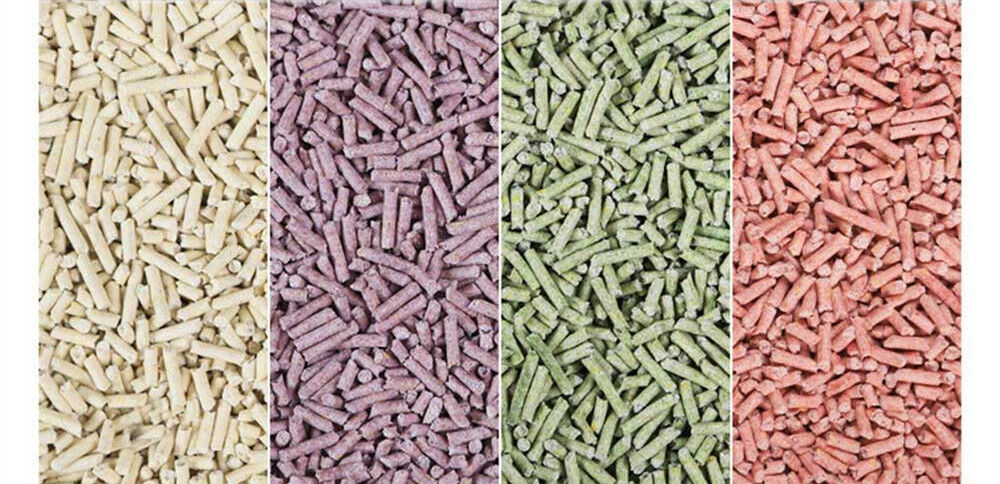 The growing market demand for cat litter pellets
Pet cat litter made by cat litter pellet making mahcine is a product used to treat pet excrement and is usually used together with a cat litter box. Pet cat litter is a very large consumption pet product, which has the characteristics of good water absorption, low dust, and deodorization.
After years of development, the types of pet cat litter products have gradually increased. According to different manufacturing materials, pet cat litter can be divided into bentonite cat litter, plant cat litter, silicone cat litter and other cat litters. Among them, plant cat litter can be divided into sawdust cat litter, confetti cat litter, tofu cat litter, etc.
In recent years, with the increasing number of domestic pets, the market demand for pet cat litter has gradually released, and the scale of the industry has been expanding year by year.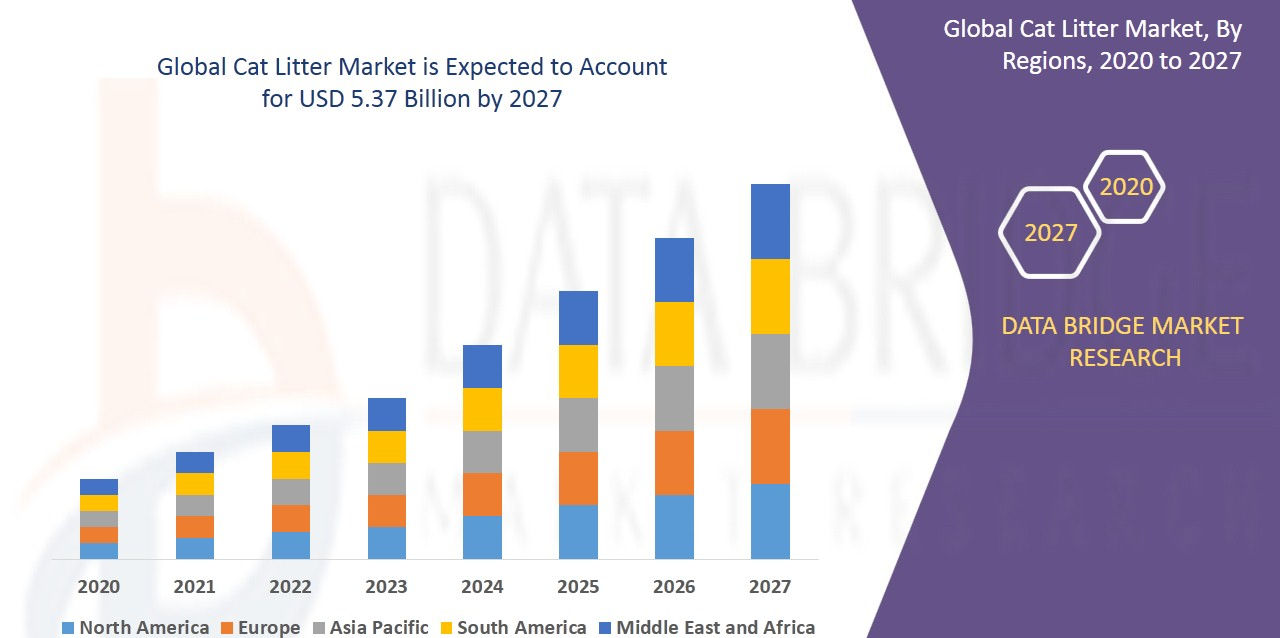 Globally, the main consumer markets for pet cat litter are concentrated in North America, Europe, Japan, China and other countries and regions. The well-known pet cat litter brands include Nestlé, PMC, Clorox, Dewey, Mars, etc.
In recent years, the pet industry has developed rapidly. As a pet product with very large consumption, the market scale of pet cat litter is expanding with the expansion of the pet market. With the increase in the number of pet owners, there is still a large room for development in the pet cat litter market. With the upgrading of residents' consumption, the development prospects of the environmentally friendly and high value-added pet cat litter market are better.
Copyright © 2015-2022 by HENAN RICHI MACHINERY CO,LTD.All rights reserved.