Applications Of Pellet Feed Crumbler
The pellet crumbler is essential equipment in feed pellet production, which is dedicated to crumble large feed pellets into irregular small ones to meed different demands of different animal in different growth periods. It is suitable for crushing the feed pellets of various sizes to 0.6-1.5mm (fine tooth type) or 1-2.5mm (common tooth type). Small space occupation and optimal design of main drive ensure the high efficiency and perfect crushing effect, largely saving operating costs and highly flexible to meet the different demands of clients. We have both double-roller and three-roller type feed pellet roll crushers for your selection.
1.Compact structure, uniform crushing performance, and convenient adjustment of final particle size.

2.Unique feeding hopper ensures even feeding, and the feeding volume can be adjusted.

3.Rollers running in differential speed, the pellets are squeezed, cut and torn between the rollers, so as to achieve the ideal crushing effect.

4.Bypass device design, the materials that do not need to be crushed flow to bypass, and it can automatically shut down when the bypass flow through the travel switch.

5.Adopt narrow V-belt drive, smooth transmission, low noise, reliable and convenient operation.

6.Equipped with flange observation hole, convenient to operate and maintain.

7.Adopt packing seal, prolong the service life of bearing, and prevent ash leaking.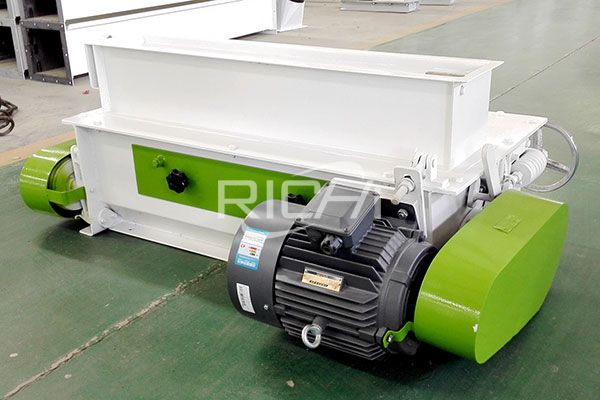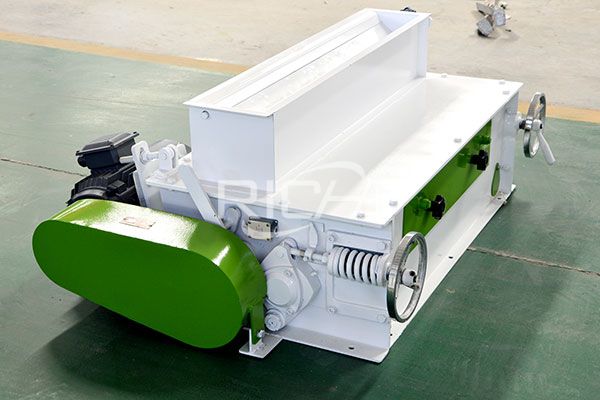 Working Principle Of Pellet Feed Crumbler
Roller feed pellet crumbler consists of quick and slow roller, transmission mechanism, roll gap adjusting mechanism and tightening devices. After being cooled by the feed pellets cooler, the supressed feed pellets come to the entrance of the granulator, then via the feeding roller to the open valve and next into rollers. Being equipped with rollers running in differential speed can make the pellet materials are squeezed, cut and tore between the two rollers, which produces perfect crushing effect. If the pellets need to be broken,start the cylinder and the valve will open.The materials between the rollers are broken into tiny particles. If not, retract the cylinder and the valve will close. The particles go from the bypass, while the trip switch on the cylinder makes the main motor stop running.
| | | | | | | | |
| --- | --- | --- | --- | --- | --- | --- | --- |
| Model | SSLG15X80 | SSLG15X100 | SSLG15X120 | SSLG15X150 | SSLG20X170 | SSLG20X140 | SSLG20X170b |
| Roller | 2 | 2 | 2 | 2 | 2 | 3 | 3 |
| Capacity | 2-4t/h | 2-5t/h | 3-8t/h | 5-10t/h | 8-18t/h | 8-17t/h | 10-20t/h |