1.RICHI animal feed pellet mill adopts international advanced gundrill and alloy steel ring die processed by heat treatment vacuum furnace, lengthen useful life and pellet is smooth with high quality.

2.RICHI animal feed pellet mill adopts international advanced level compensated serpentine spring coupling,novel and compact structure, safe, low noise and low machinery failure.

3.RICHI animal feed pellet mill adopts require less storage area.

4.High-performance magnetic attracts iron device.

5.RICHI animal feed pellet mill adopts international advanced piping system and import pressure regulating valve.

6.Advanced matching products, if feed pellet mill equipment used with RICHI improved design counter-flow cooler, rotary grading screen and advanced feed grinder, animal feed pellet would achieve the highest quality.

7.Customize feed pellet mill machine with one layer, double layers or three layers conditioner ,produce high quality feed of livestock, poultry and aquatic.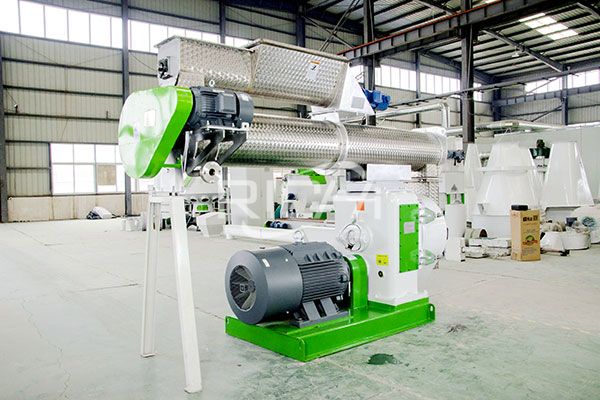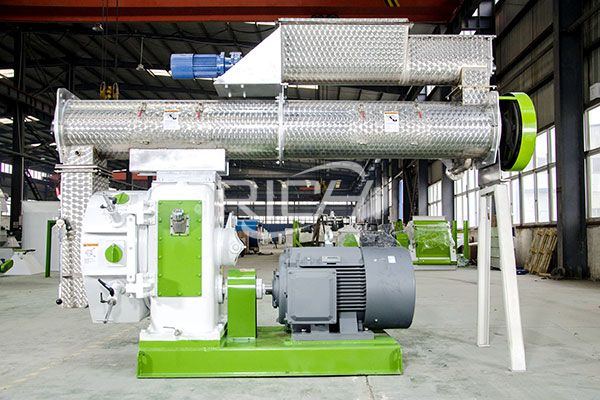 Working Principle Of Feed Pellet Mill
The process flow of animal pellet feed processing is carried out in accordance with certain design specifications according to the production scale, raw material varieties, and product types. Compared with the powder production process, the pellet feed processing technology is based on the raw material receiving and pretreatment, crushing, batching, mixing and other processes, adding a feed pellet mill system.
Pressing powdered materials into pellet feed is based on the existence of voids in the powdered materials. The powdery material is a loose body of dispersed powder particles with a certain fluidity. Under the action of feed pellet mill's squeezing force, the powder particles with a certain temperature and humidity are close to each other and rearranged, the air contained in the powder particles is gradually discharged, the gap between each other is reduced, the bonding force increases, and the powder itself has Potential natural binding substances produce binding effect, and finally the powder is pressed into pellet feed with a certain density and strength.
During the feed pellet mill pelleting process, the protein and sugar in the feed become plastic when heated, and the starch is partially gelatinized. Feed granulation is generally divided into compression granulation and extrusion granulation. Compression granulation uses punches and molds to compress the powder into pellet shape.
Richi Machinery, as a global feed pellet mill manufacturer, provides high-quality feed pellet mill equipment and provides detailed technical support. According to different animal feed attributes such as chicken feed, cattle feed, pig feed, sheep feed, fish feed, shrimp feed, etc., tailor-made feed pellet mill and feed production line configuration and construction plan for customers. By optimizing the combination of various types of feed making equipment, it can meet the needs of customers for high yield and low consumption of different feed production lines.
The animal feed pellet production process of a feed mill factory generally includes the following procedures: raw material receiving and storage, cleaning (removal of impurities), crushing, batching, mixing, pelleting, cooling, crumbling, screening, packaging, storage and distribution of finished products. Some pellet feed products with special requirements also need to be equipped with liquid addition, pre-curing, post-curing, post-spraying, expansion, puffing, drying and other processes in the production.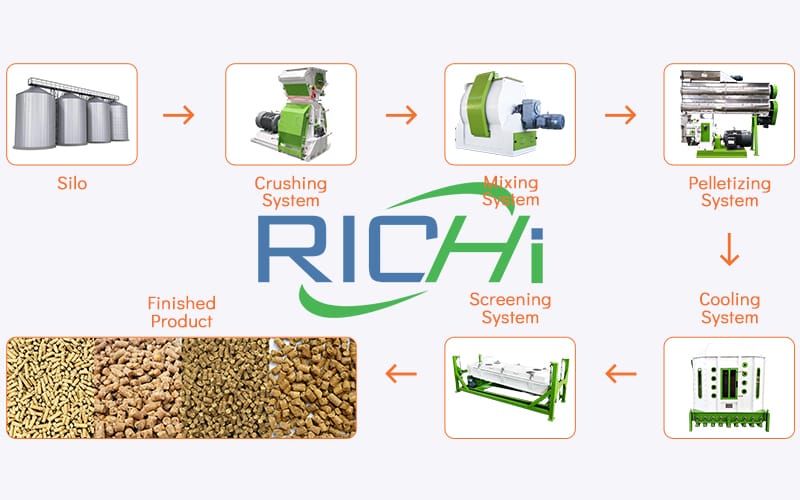 Conveying and distribution equipment: mainly used for conveying raw materials, semi-finished products and finished products and assigning them to designated stations or silos.
Cleaning (removal of impurities) equipment: mainly to remove impurities in feed materials, especially large and medium impurities and iron impurities, to protect the safety of equipment and personnel.
Crushing equipment: mainly used to crush feed materials with unqualified particle size to make them meet the requirements of feed particle size.
Batching equipment: according to the requirements of the formula, various feed ingredients are matched together in a certain proportion (weight). The batching equipment is divided into two types: automatic batching and artificial batching.
Mixing equipment: It is the equipment that fully mixes the prepared feed ingredients to make it into a powdered feed product with a qualified uniformity of chaos.
Pelletizing equipment: It is the animal feed pellet mill machine that makes powdered compound feed into pellet compound feed. At present, the animal feed mills mainly adopt ring die commercial feed pellet mill.
Cooling equipment: the pelletized feed generally has a temperature of about 80°C to 90°C and a moisture content of about 16%. It must be cooled and rained down.
Screening equipment: used to separate a small part of the powder that was not made into pellets during granulation and part of the powder caused by the crushed particles with the classification equipment to ensure the quality of the finished pellet. The separated powder material needs to be sent back to the animal feed pellet mill machine for pelleting.
Cooling equipment: used to reduce the temperature of the pellet feed made by feed pellet mill machine to a temperature close to room temperature through suction, and partly reduces the moisture of the feed while reducing the temperature.
Crumbling equipment: It is a machine that crushes compound feed pellets into small particles (called crumbs), generally using roller crushers. (Various animals have different requirements for the size of pellet feed, especially for chickens, fish and shrimp, which require smaller pellets. According to the principle of pelleting, when pressing small granules, the output is small and the power consumption is large, which is not economical. Therefore, in the production of small pellets, the powder is generally first compressed into larger particles, then crushed by a pellet crumbler, and then screened through a grading screen to obtain finished feed products that meet the specifications. This can increase output and reduce power consumption.)
Finished product packaging equipment: packaging can be divided into automatic packaging and manual packaging. Automatic packaging generally uses a computer-controlled automatic quantitative scale with a conveyor and a sewing machine. Manual packaging generally uses scales and hand-held sewing machines.
Dust removal equipment: It is equipment that absorbs dust and protects the environment. The principle and equipment used for dust removal and air transportation are basically the same. The difference is that one is for conveying dust and the other is for conveying materials. The air volume required for conveying dust is smaller than that of conveying materials.
From the rugged and practical lines to the sleek and streamlined aesthetic design, from customized non-standard models to multi-combination standard configuration models. Richi Machienry SZLH series feed pellet mill machine always strives for changes in accordance with market trends and customer needs, and introduces the old to the new in time. Relying on the standard body, reasonable configuration, stable performance and mature design of the feed pellet mill machine, RICHI has won the trust of customers all over the world.
Richi Machinery's feed pellet mill machine products cover all types of feed processing. All feed pellet mill products have passed ISO9001:2008 international quality system certification, EU CE certification and Customs Union CU-TR certification.
After more than 20 years of development, the production base of Richi Machinery has been gradually established. As a professional feed pellet mill equipment manufacturer, we have industrial parks such as R&D headquarters, casting and assembly bases, and parts processing bases. The technology is closely linked and the control is advanced at all levels, so that each equipment undergoes strict machining processes and Precise inspections provide users with products that strive for excellence.
For more than 20 years, we have accumulated a wealth of practical experience, product applications covering poultry feed, livestock and poultry feed, ruminant feed, aquatic feed, pet feed and other fields, and can provide a complete set of solutions for feed processing projects and EPC general contracting services.