THE FRESHEST GROUP DYNAMICS,THE MOST CUTTING-EDGE INFORMATION, ALL IN HERE

Based on the major needs of the industrial Internet era, Richi Machinery will provide higher intelligent technology and high-quality services in the feed, biomass energy, and organic fertilizer industries. It will focus on supporting the development of the manufacturing industry with industry chain partners to help customers achieve higher and faster value growth.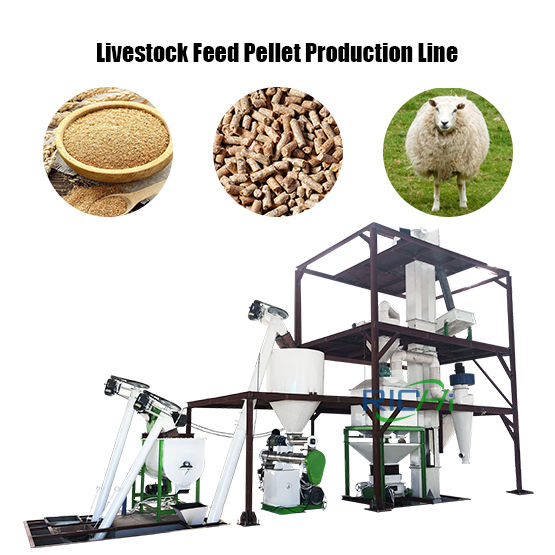 Livestock Feed Pellet Production Line
Control Mode:
Automatic/Manual
APPLICATION:
Livestock Feed Industry
WhatsApp:
+86 138 3838 9622
RICHI has many years of experience with sales and designing of feed mills with capacities ranging from 1t/h to 100t/h all over the world - from small farm use licestock feed plants to large industrial livestock feed mill plants producing feed for pig, rabbit, cattle, sheep, etc. No matter where in the world and no matter which requirements the client may have to the new livestock feed production line, RICHI has a matching solution.
24 hours to reply to technical inquiries
Technical Features Of Livestock Feed Pellet Production Line
1. From customized non-standard models to multi-combination standard configuration models, RICHI is always in accordance with market trends and customer needs, constantly introducing new ones. In Richi Machinery, each livestock feed plants design and livestock feed making machine can be customized.
2. Although the livestock feed production technology of different customers is different, we always follow when designing for customers: reasonable configuration, stable performance, convenient operation process, and high economic benefits.
3. This livestock feed pellet production line is suitable for livestock feed production of various sizes, various hardness, various lengths and various types (concentrated feed/grass-containing feed/pellet feed/powder feed/mash feed/premix feed).
4. The replacement of wearing parts can be completed quickly, reducing downtime and maintenance time.
5. Reasonable initial livestock feed mill investment cost and low maintenance cost in the later stage.
Applications Of Livestock Feed Pellet Production Line
Based on the long experience as a starting point, careful looking at the future, combined with the study and design of new technologies to improve livestock feed production processes: this is the mix that makes Richi Machinery a pioneer in the field of feed production plants for livestock feed mills.
RICHI livestock feed mill equipment provides the opportunity of grinding and proportioning feed for various livestock, such as pigs, cattle, goat, rabbit, etc. We offer the complete package of equipment and accessories for your livestock feed mill plant.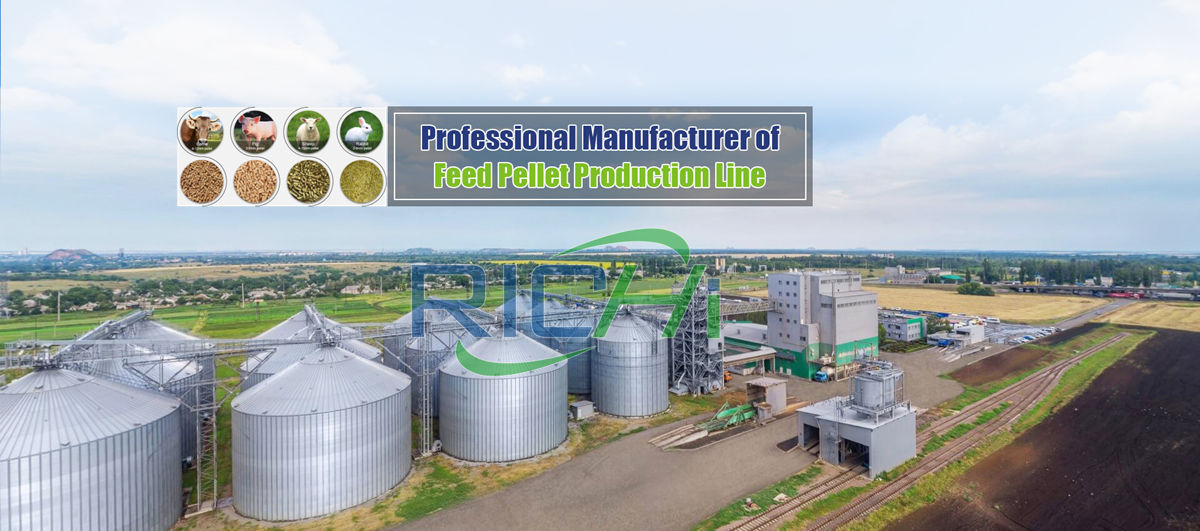 User-friendly livestock feed factory design saves time
We ensure that the entire livestock feed production process is easy and provides you an unproblematic operation. What is the great advantage? Saving your valuable time - every day. The best possible livestock feed equipment provides for the very best feed quality, and minimizes the risk of costly human errors.
Improved healthiness of the livestock
We are very pleased when our customers tell us that the livestock shows better health due to increased feed quality. Superior feed quality ensures you the most profitable operation, health, growth and feed ingestion for your livestock.
Customization with different degrees of livestock feed mill automation
Automated livestock feed production plants with electronic controls and a high level of essential automation. Depending on your requirements RICHI will deliver and implement the degree of automation you need. Needless to say that the fully automated plant performs efficiently and offers you optimal cost-effectiveness along with increased feed quality, high food safety and complete overview.
Long-term consideration for your livestock feed plant
Changes in your livestock feed company situation, or changes in the market situation (e.g. requirements regarding animal nutrition) may cause you to revise your needs and demands. The design of a RICHI livestock feed mill is prepared for an easy and smooth extension. In case your requirements change over time, the modular design of your livestock feed making plant allows for easy upgrading of e.g. capacity or degree of automation to actual requirements.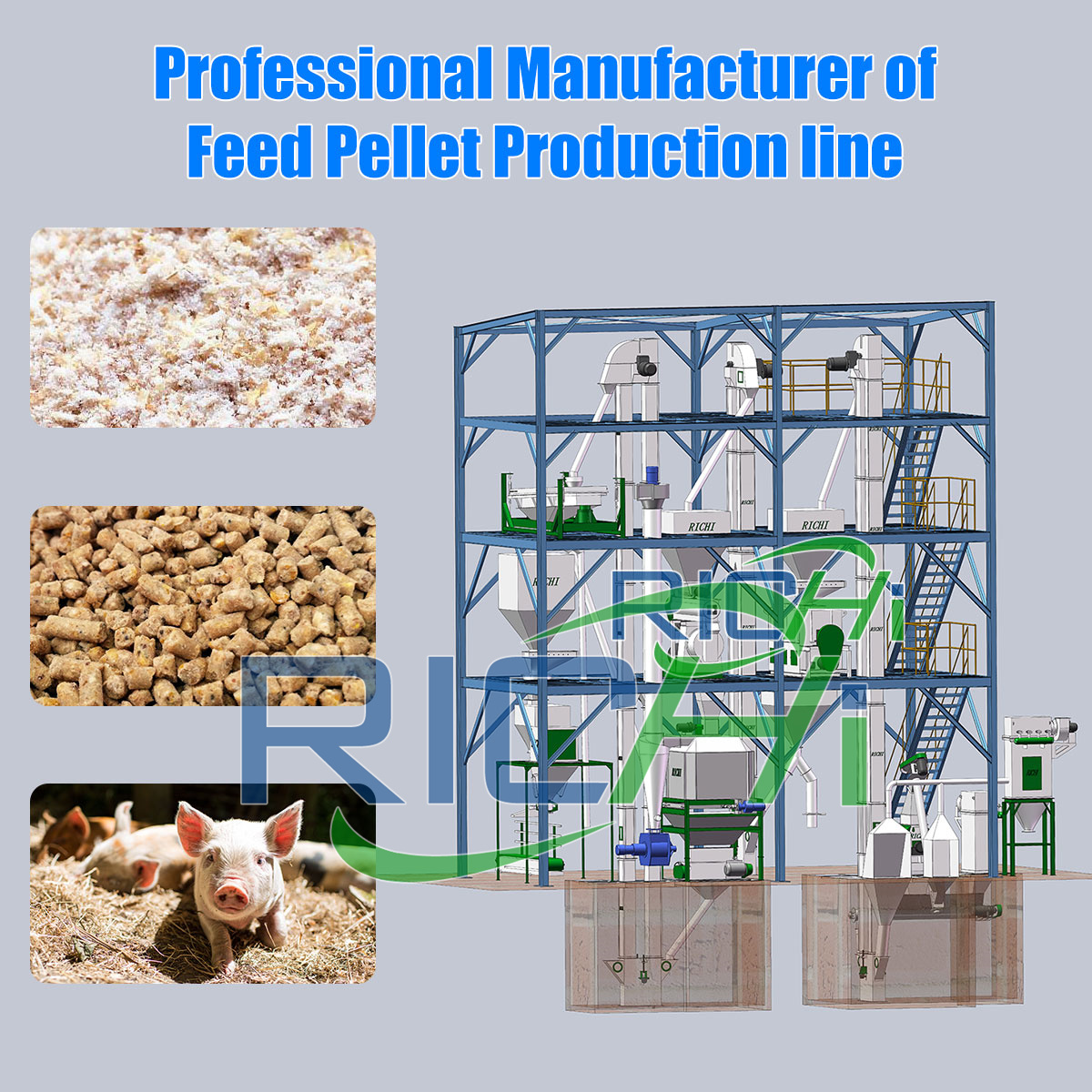 Cost to start livestock feed production line for feed mills or livestock farms?
The configuration of the livestock feed production line is carefully designed according to the on-site survey or the actual requirements of the customer, which fully reflects the rationality, effectiveness, applicability, large output, low wear and low operating cost of the livestock feed mill design. According to different technological requirements, various types of livestock feed machinery are combined to meet customers' different livestock feed manufacturing process requirements.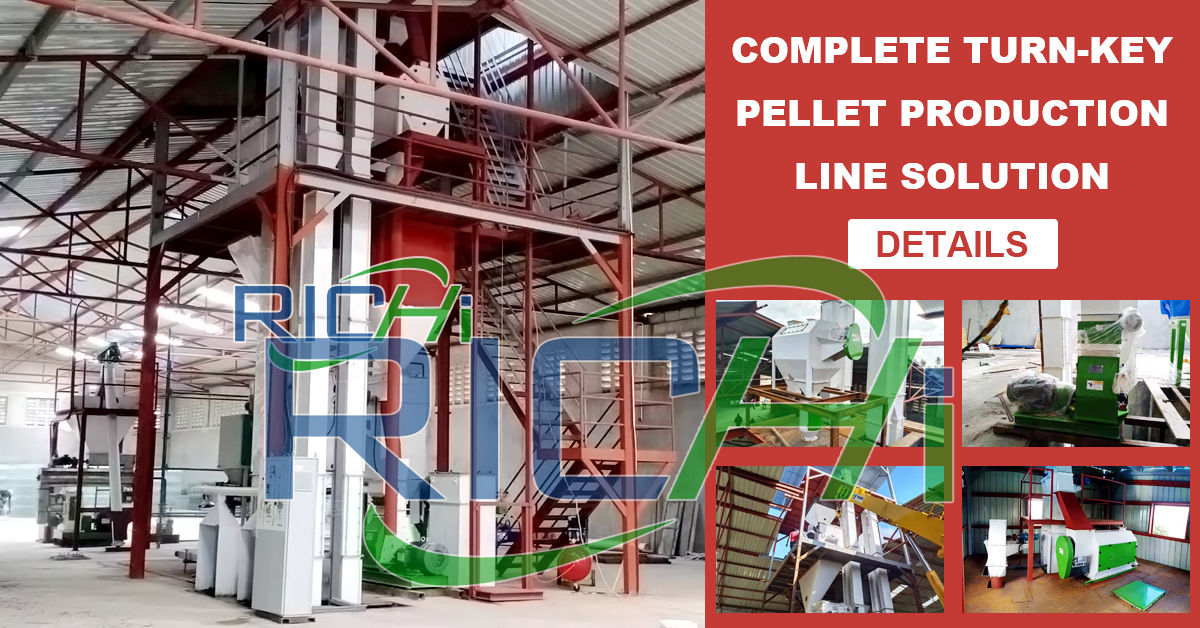 | Scale | Total Power | Site Requirements | Installation Cycle | livestock Feed Mill Cost(USD) |
| --- | --- | --- | --- | --- |
| 1-2T/H | 47-75KW | 300-500m² | 7-15 Days | 10000-50000 |
| 3-4T/H | 53-165KW | 300-700m² | 15-20 Days | 5,0000-12,0000 |
| 5-7T/H | 68-259KW | 400-800m² | 20-40Days | 7,0000-25,0000 |
| 8-10T/H | 125-410KW | 800-2000m² | 45-60 Days | 150,000-300,000 |
| 12-20T/H | 358-620KW | 1500-3000m² | 60-90 Days | 250,000-580,000 |
| 25-40T/H | 545-870KW | 2000-4000m² | 90-120Days | 45,0000-850,000 |
| 50-60T/H | 710-1120KW | 3000-5000m² | 100-140 Days | 900,000-1,400,000 |
| 60-80T/H | 815-1370KW | 5000-8000m² | 130-160 Days | 1,450,000-1,800,000 |
| 80-100T/H | 1230-1700KW | 8000-20000m² | 160 -190Days | 2,000,000-2,800,000 |
Definition of livestock feed factory production scale
According to the regulations of the feed industry, livestock feed factory construction projects can be divided according to the size of the production scale.
| Scale(t/h) | ≤2.5 | 5-10 | ≥20 |
| --- | --- | --- | --- |
| Factory type | small | medium | large |

How to build a new livestock feed production line for your feed factory or livestock farms?
According to customer different livestock feed production types, different output configuration can be customized. We devote ourselves to undertaking all livestock feed production line with 1-100 tons per hour and to providing more value added service to all the customers.
Richi Machinery provides global customers with a one-stop, complete set of professional livestock animal feed production line solutions (business plan for livestock feed production) to solve the problems of customers, especially pure investment customers, such as technical difficulties and poor understanding of livestock feed equipment, so that the needs and positioning of the project are more clear, and at the same time, the customer's equipment selection range is more concentrated, reducing the cost of energy and financial resources.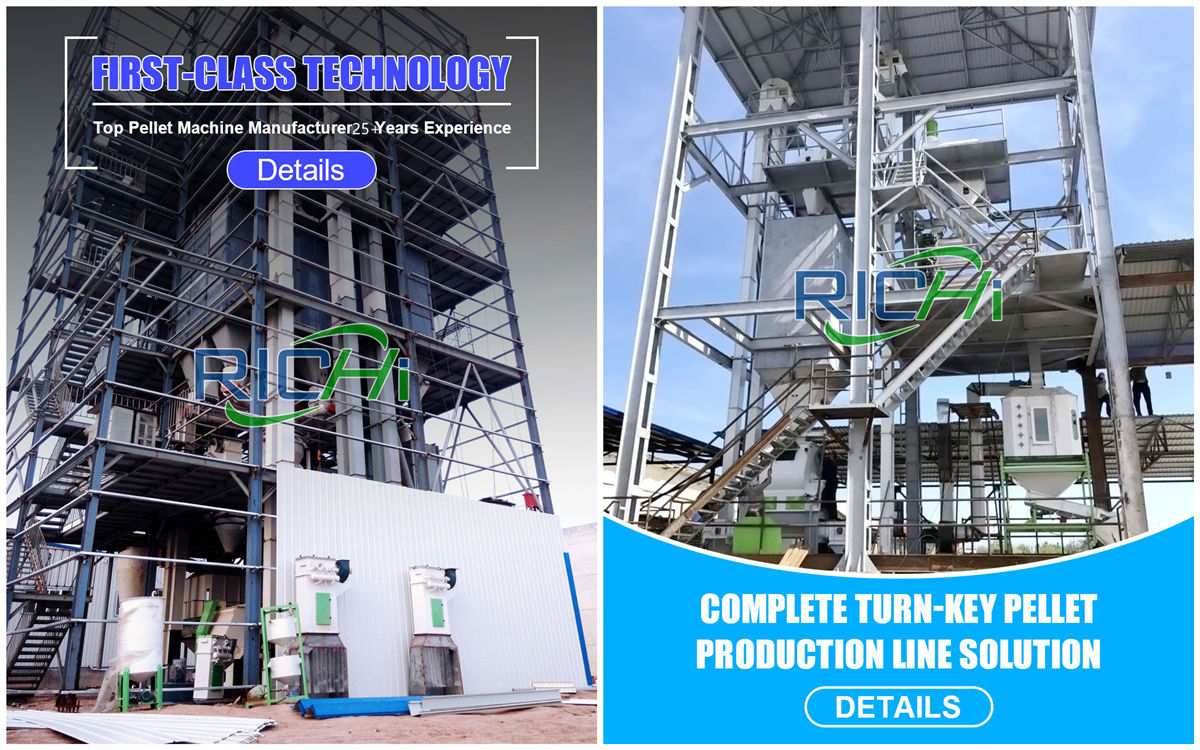 If you want to start a new livestock feed pellet line for your livestock feed mill or livestock farm, you should pay attention to the following main processes:
Determine the scale of livestock feed mill.
Determine the livestock feed manufacturing process and recommend livestock feed machine.
Control mode selection (the degree of automation of the livestock food processing plant).
Complete feed mill plant structure selection.
Planning the general drawing of livestock feed plant site.
Due to the influence of various objective factors such as livestock feed raw materials, processes, formulas, project area, local regulations, etc., various technological livestock feed production process and livestock feed equipment configurations have appeared in the actual livestock feed plant design.
Therefore, if you want to build a high-efficiency, high-quality, high-return livestock feed production line, please do not hesitate to contact Richi Machinery and communicate directly with our engineer team, you will definitely get a satisfactory answer. The following is the livestock feed mill machine configuration display of livestock feed production business plan we have done in several customer project :
RICHI Livestock Feed Machine / Livestock Feed Plant For Sale The World (Typical Case)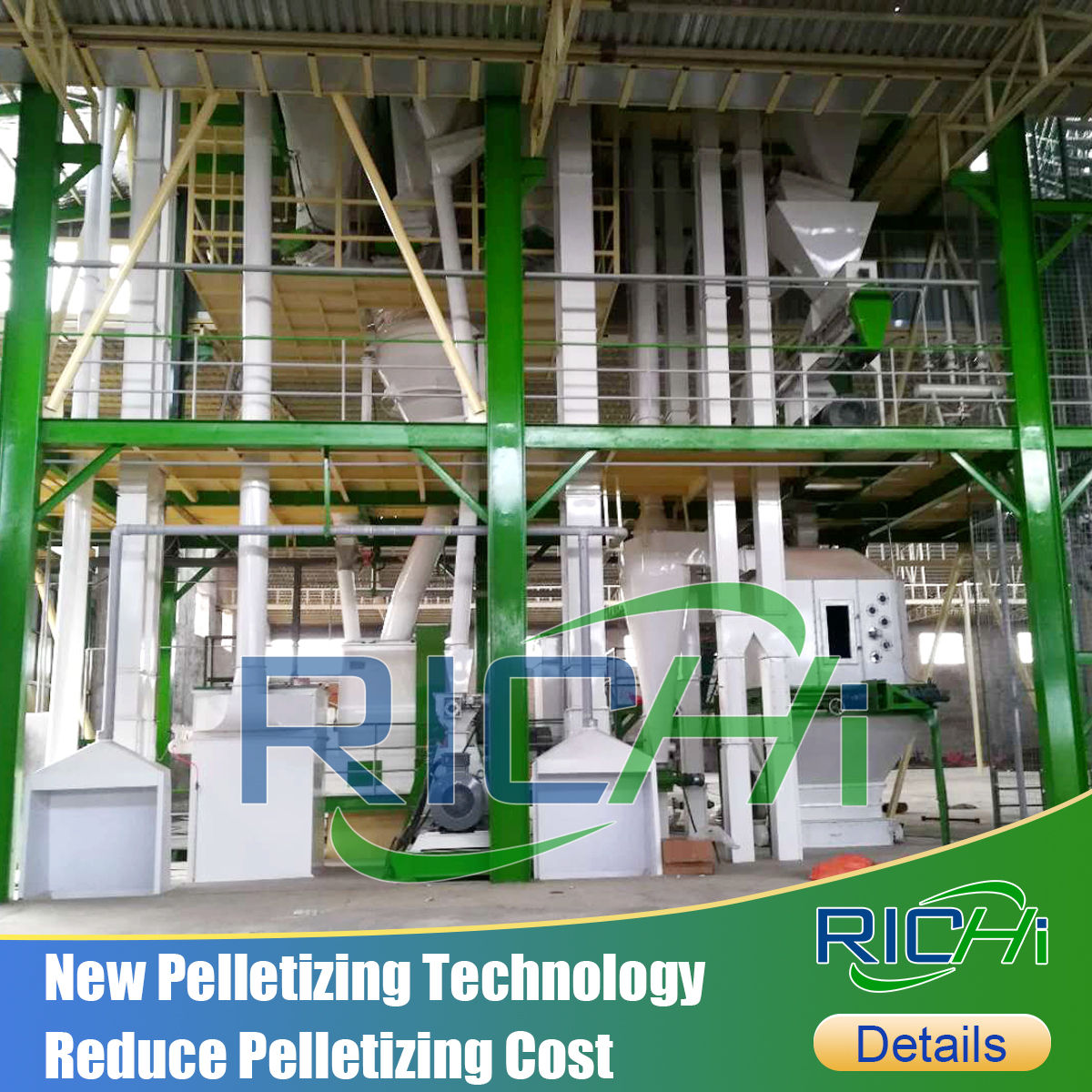 Working Principle Of Livestock Feed Pellet Production Line
How to produce livestock feed? Corn, sorghum, triticale, wheat, polished rice, rice bran, rice, inferior flour, bran, barley and its products, oats and its products, tapioca flour, vegetable meal, cotton meal, peanut meal, whey powder, meat and bone meal, fish meal, blood meal, feather meal, etc. Aiming at the characteristics of these raw materials, the Richi Machinery livestock feed pellet production line mainly includes systems for raw material receiving, cleaning, crushing, batching and mixing, pelleting, and packaging of finished products.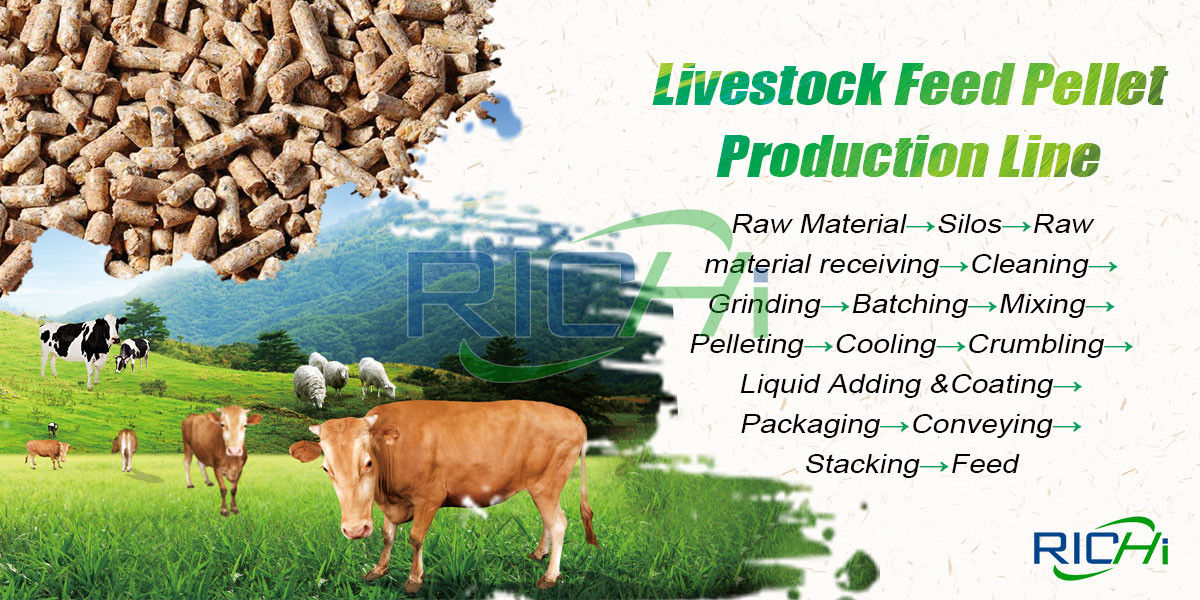 Cleaing & dosing & weighing section
Richi Machinery offers a complete program of livestock feed equipment for cleaning, dosing and weighing of raw materials and other components. The program includes among other things weighing bins, micro proportioning plant, mineral hoppers, sceen cleaners etc., with capacities of up to 3 tons per batch.
Grinding section
Richi Machinery livestock feed hammer mill is available in nine sizes, SFSP56*40a, SFSP56*40b, SFSP66*60a, SFSP66*60b, SFSP66*80a, SFSP66*80b, SFSP66*100, SFSP138*30E and SFSP138*40E with capacities up to 25 t/h. The series feed grinder machine has adjustable milling degree, has a low energy consumption, minimal dust emission and an extremely low noise level.
Mixing
RICHI mixer is a reliable, gentle feed mixer with a high mixing accuracy due to the auger with large diameter and low number of revolutions. Where high capacity and mixing accuracy are required we offer the horizontal mixer that can be equipped with pre-bin and post-bin. The horizontal livestock feed mixer is tested to a mixing accuracy of 1:100,000, which is sufficient for commercial feed production.
RICHI single and twin shaft paddle mixer is perffect for mixing of compound feed and feed ingredients. Mixing time and accuracy is verified by CE that lasts.
Conveying section
Richi Machinery offers a complete program of equipment for mechanical transportation, including flex augers, tubular augers, trough augers, bucket elevators, and chain conveyors. We offer a wide range of accessories for all types, and great reliability of operation.
Pelleting section
If pelleted feed is required, RICHI can supply customized livestock feed pelleting plants as an integrated part of the livestock feed factory. We have great experience in supplying and installing livestock feed pellet production plants throughout the world in sizes ranging from 1 to 100 t/h.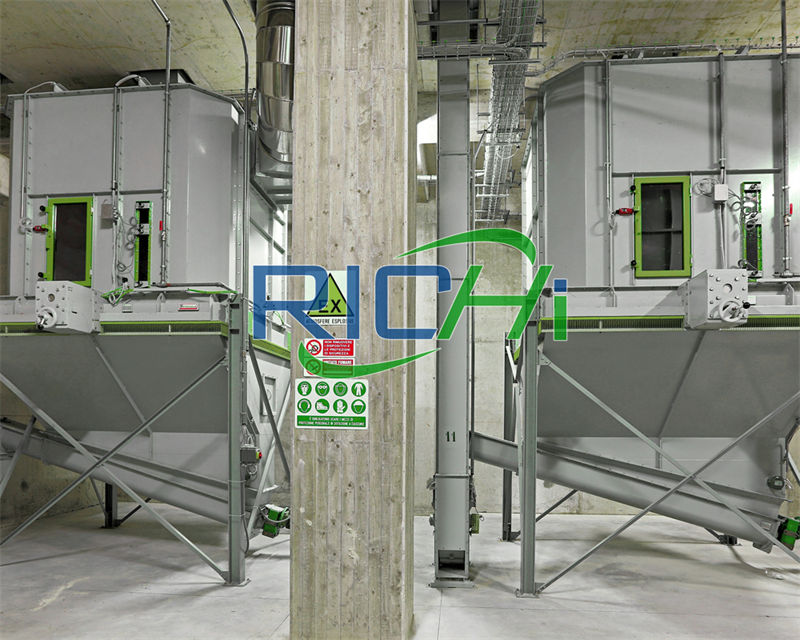 Silo system
Richi Machinery also projects and supplies complete solutions for grain storage facilities including high quality fully galvanized steel silos, flat storage plants, continuous flow grain dryers, intake pits, grain cleaners and conveying equipment, Capacities from a few hundred up to many thousands tonnes.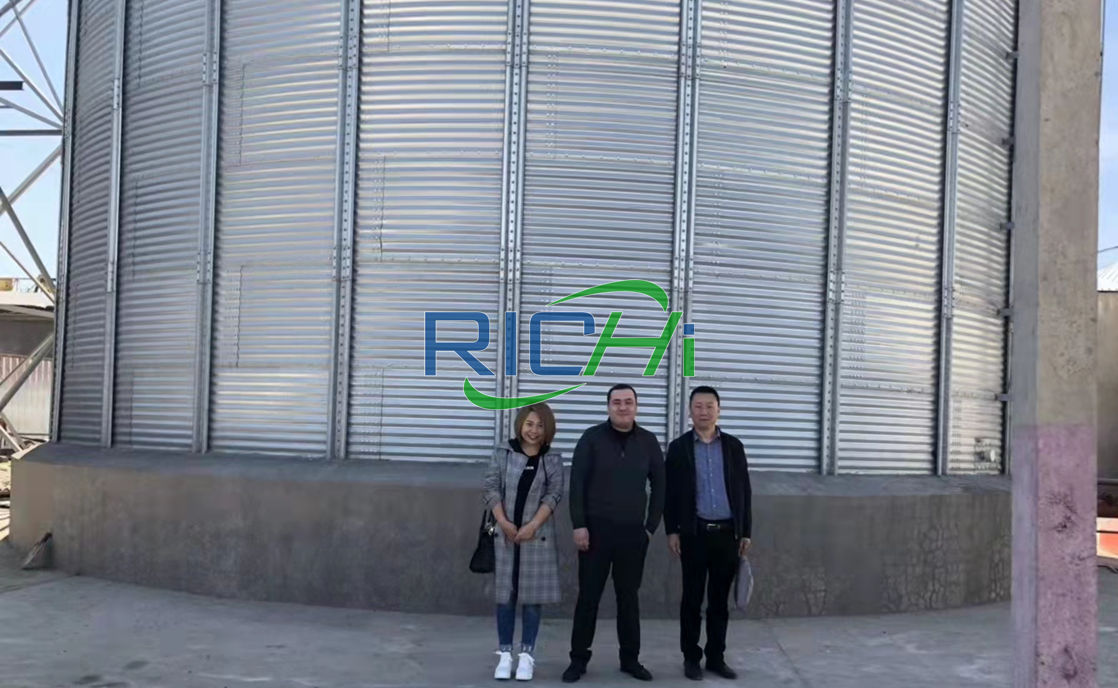 Selection of livestock feed line production technology solutions
The world's livestock feed production processes can be divided into two categories from a broad perspective, namely, the United States as a representative of the first crushing and then the batching process, and the European countries, which are more widely used in the first batching and then the crushing process. Which process is used is mainly based on the feed resources of the livestock feed plant construction area.
Take the United States as an example. Because it has a wealth of feed grains and fat cakes, that is, there are fewer varieties of feed ingredients, and fewer varieties are crushed during the livestock feed production process. Therefore, the interval for changing crushed varieties is also less. Therefore, the American livestock feed factory basically adopts the process of mixing first and then crushing.


In Europe, the grain resources in most countries are not abundant, and many types of grain substitute raw materials need to be used in feed production. In order to save the transportation cost of raw materials for livestock feed, these substitutes are basically made into pellets first, so they are used in the production process of livestock feed mills, need to be crushed again.
Due to the large variety and frequent replacement, if the crushing first and then the batching process is adopted, the number of times to change the crushed species will be more and the time required is much, so most livestock feed manufacturers in Europe adopt the first batching and then crushing process.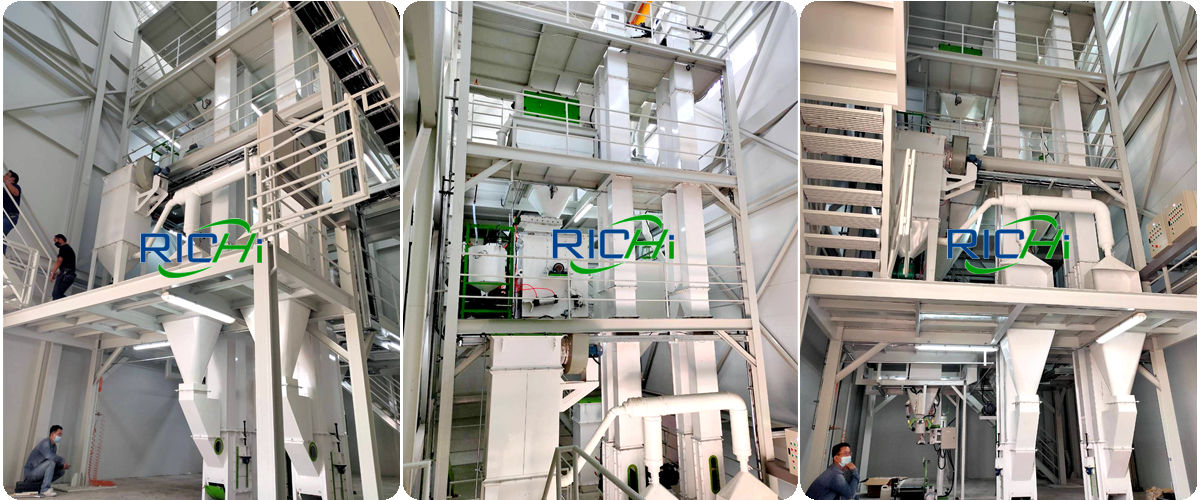 Generally speaking, Richi Machinery will select the most suitable livestock feed factory production process plan according to the national conditions of the customer's country and the feed resources of the project area. This plan must be suitable for the customer's livestock feed line project raw material characteristics and feed production management.
How to control the product quality of livestock feed production line?
Product quality standards in livestock feed mill
Many countries have formulated various feed quality standards for different production stages of livestock, poultry, fish, etc. These standards mainly involve the product's moisture index, processing quality index (particle size, mixing uniformity, etc.), nutritional index (protein, fat, fiber, ash, trace elements, etc.) and hygiene standards (toxic and hazardous substances, such as arsenic and other heavy metals) control, different feed quality requirements are also different.
After the livestock feed plant project is put into production, the livestock feed factory should conduct production and inspection in accordance with the feed quality standards stipulated by the country to which it belongs.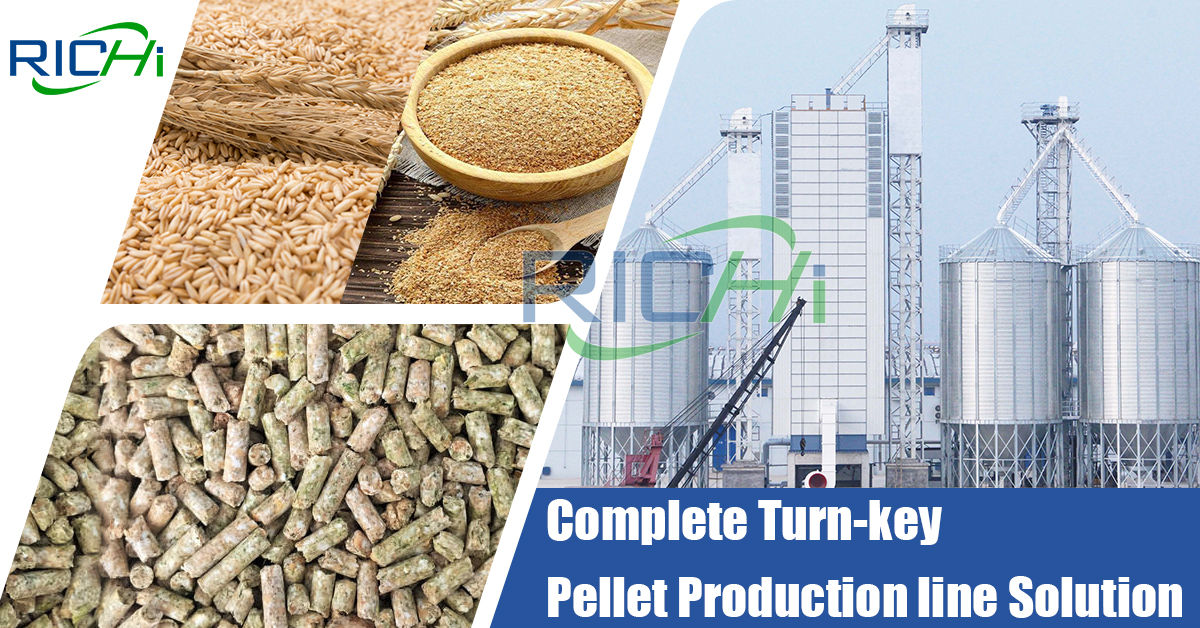 Product quality control in livestock feed mill
A strict inspection system for raw materials entering the livestock feed factory should be established to inspect the composition and hygienic indicators of the raw materials to ensure that the raw materials meet the quality requirements.
In the livestock feed production process, regular inspections of processing quality indicators, regular inspections of crushed particle size, uniformity of mixing, etc. are carried out to implement quality awareness throughout the livestock feed production process.
Before the product leaves the livestock feed factory, it must be strictly inspected, and unqualified products must not be allowed to leave the factory. In order to track the product quality, establish a finished product sample database and establish an after-sales service system.
Establish a strict product quality responsibility system.
Quality control equipment in livestock feed mill
There should be a livestock feed factory inspection laboratory in public facilities. In addition to the routine inspection equipment for raw materials and products, the laboratory can also be equipped with higher-grade monitoring instruments to ensure the quality of feed products.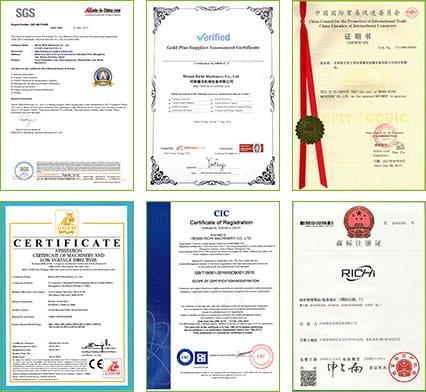 Introduction of RICHI
Strength certification

Richi Machinery is a professional manufacturing enterprise integrating scientific research and development, manufacturing, sales and service. We have developed and manufactured multifunctional pelletizers, grinders, mixers, dryers and more than ten categories and more than 30 models of complete machine products are widely used in feed, biomass, organic fertilizer, pet supplies, solid waste recycling, chemical industry, road construction and other fields. All RICHI products have passed ISO9001:2008 international quality system certification, EU CE certification and Customs Union CU-TR certification, successfully serving more than 2,000 customers in more than 100 countries and regions around the world.
Customized Design And Business Plan
In RICHI, every equipment and every pellet production line business plant can be customized. We will formulate multiple sets of pellet production process plans for comparative analysis according to the actual needs of customers, select a reasonable plan, and realize private customization. Our services run through all aspects of on-site terrain and environment survey, production line process design, raw material testing, cost requirement analysis, project investment budget, equipment installation and commissioning.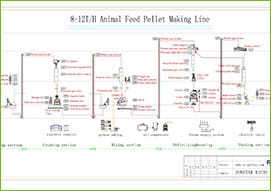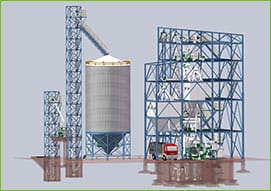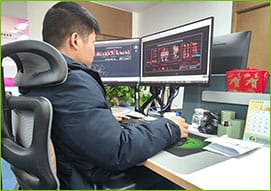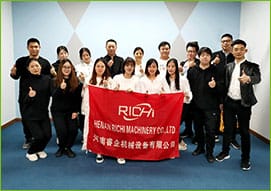 Quality Control
Richi Machinery

We adhere to the ISO9001 quality management system, and strictly implement international standards for product design and manufacturing processes. In terms of management systems, there are product quality accountability systems, product quality accountability systems, and safety production management systems; in terms of management tools, QC quality control management, SPC statistical process control, sampling inspection and measurement system analysis are used for quality control, to achieve effective control of the entire process of equipment production, and never let go of any quality hidden dangers that may affect customer operations.

Get Price & Service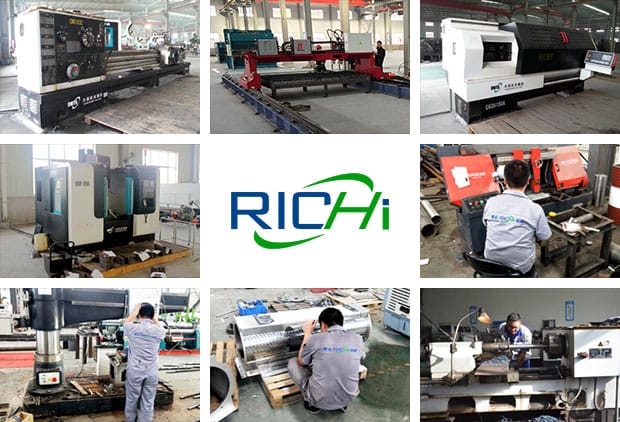 Delivery And Installation
RICHI has always been adhering to the spirit of craftsmanship to make every detail good, especially in the link of equipment preparation and delivery, we follow the standardized process: preparation order check-equipment factory quality inspection-packing list re-inspection-scientific packaging and transportation, ensure the safe and non-destructive delivery of equipment. According to customer needs, RICHI installation engineers will guide the construction of site infrastructure, equipment installation and commissioning and trial operation of the entire production line throughout the process. When the relevant project indicators reach the design standards, the client will carry out the project acceptance.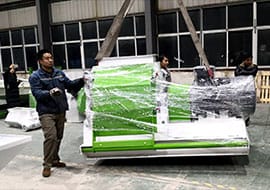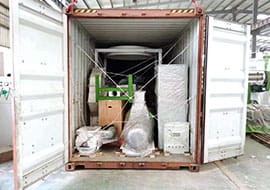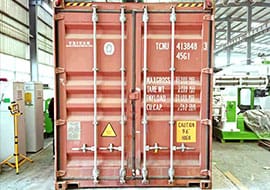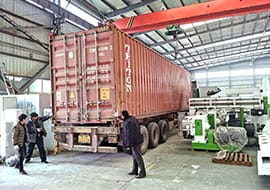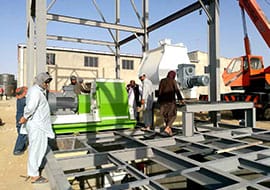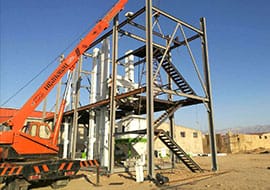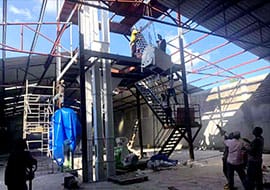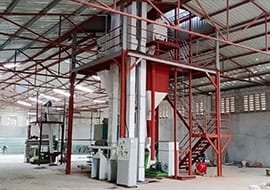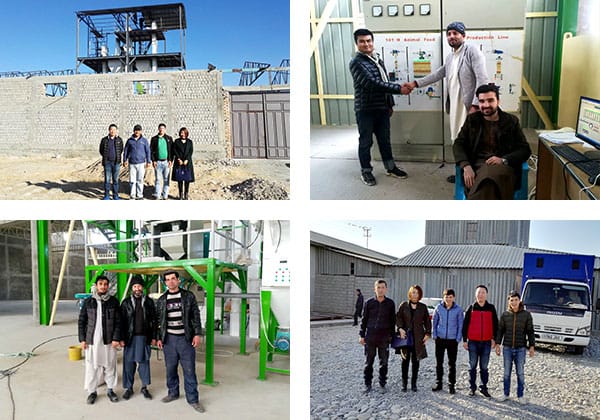 After-sales And Training
Richi Machinery

We have built a team of nearly 100 technical engineers to solve a series of problems in the project from consultation, site survey, sample analysis to plan design, installation and commissioning, and maintenance. We provide comprehensive and systematic training for the technical staff of each customer to better serve the customer's project needs. After the technicians have finished their studies, RICHI will provide follow-up technical support services, and the training engineers will follow up the project use effects in the later stage to ensure the stable operation of the customer's project.

Get Price & Service
Contact Us
GET A QUOTATION
Copyright © 2015-2022 by HENAN RICHI MACHINERY CO,LTD.All rights reserved.