1.The feed pellet mill is equipped with stainless steel feeder to guarantee accurate and reliable material feeding.

2.It adopts fully stainless steel conditioner and large open access door for convenient maintenance.

3.Stainless steel feeding pipe, door cover and scaleboard, which are beautiful and anti-corrosion.

4.Full stainless steel increased conditioning device ensure high quality of feed pellet.

5.Frequency conversion (Electromagnetic speed control) feeder, with overload protection device,equipped strong magnetic security device.

6.High output, low noise, convenient operation and maintenance.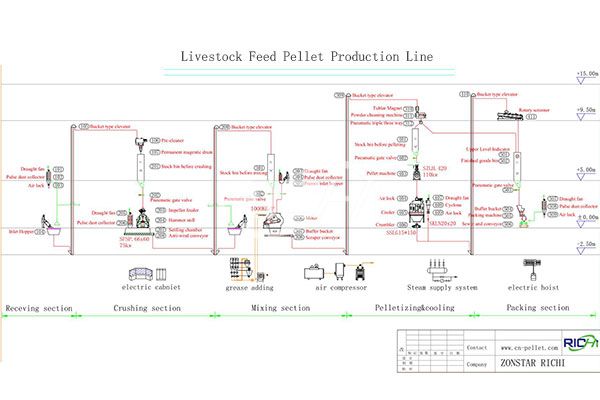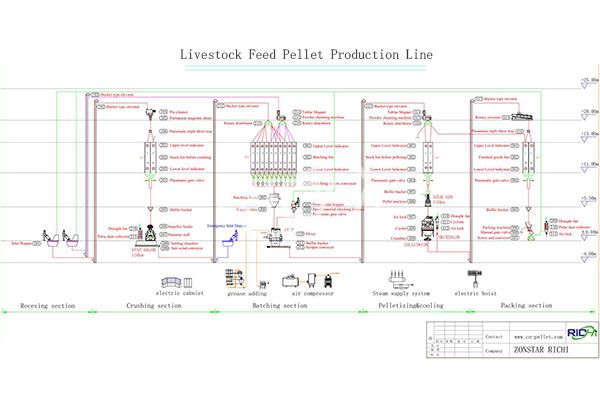 Overview
Corn, sorghum, triticale, wheat, polished rice, rice bran, rice, inferior flour, bran, barley and its products, oats and its products, tapioca flour, vegetable meal, cotton meal, peanut meal, whey powder, meat and bone meal, Fish meal, blood meal, feather meal, etc. Aiming at the characteristics of these raw materials, the Henan Richi poultry feed production line mainly includes systems for raw material receiving, cleaning, crushing, batching and mixing, pelleting, and packaging of finished products.
Working Principle
The process of producing feed pellets can roughly be described as a plastic molding operation of the extrusion type. Feed ingredients are made up of various compounds such as proteins, acids, sugars, fibers, and minerals. These products can be softened (conditioned) by the addition of heat and water. When sufficiently controlled compression is applied to the "conditioned" feed ingredients, they will form a dense mass, shaped to conform to the die against which they are pressed. When the heat and moisture is again withdrawn (dried and cooled) as to withstand moderately rough handling without excessive breakage and has retained or enhanced its nutritive value.
Parameters
| | | | | | | |
| --- | --- | --- | --- | --- | --- | --- |
| Model | Capacity(TPH) | Main Motor Power(kw) | Feeder Motor Power(kw) | Conditioner Power(kw) | Dia.of Ring Die(mm) | Final Pellet(mm) |
| SZLH250 | 1-2 | 22 | 0.75 | 1.5 | 250 | 2~12 |
| SZLH320 | 3-4 | 37 | 1.5 | 2.2 | 320 | 2~12 |
| SZLH350 | 5-7 | 55 | 1.5 | 3 | 350 | 2~12 |
| SZLH420 | 8-12 | 110 | 1.5 | 7.5 | 420 | 2~12 |
| SZLH508 | 10-18 | 160 | 2.2 | 11 | 508 | 2~12 |
| SZLH558 | 15-25 | 180/200 | 2.2 | 11 | 558 | 2~12 |
| SZLH558D | 14-22 | 160/180/200 | 1.5 | 7.5 | 558 | 2~18 |
| SZLH678 | 20-30 | 220/250 | 2.2 | 11 | 678 | 2~12 |
| SZLH678D | 15-25 | 200/220/250 | 2.2 | 11 | 673 | 2~18 |
| SZLH768 | 25-40 | 280/315 | 2.2 | 11 | 768 | 2~12 |
| SLZH858 | 25-42 | 280/315 | 2.2 | 15 | 858 | 2~18 |