Livestock Feed Pellet Production Line Process Design
How to produce livestock feed? Corn, sorghum, triticale, wheat, polished rice, rice bran, rice, inferior flour, bran, barley and its products, oats and its products, tapioca flour, vegetable meal, cotton meal, peanut meal, whey powder, meat and bone meal, fish meal, blood meal, feather meal, etc. Aiming at the characteristics of these raw materials, the Richi Machinery livestock feed pellet production line mainly includes systems for raw material receiving, cleaning, crushing, batching and mixing, pelleting, and packaging of finished products.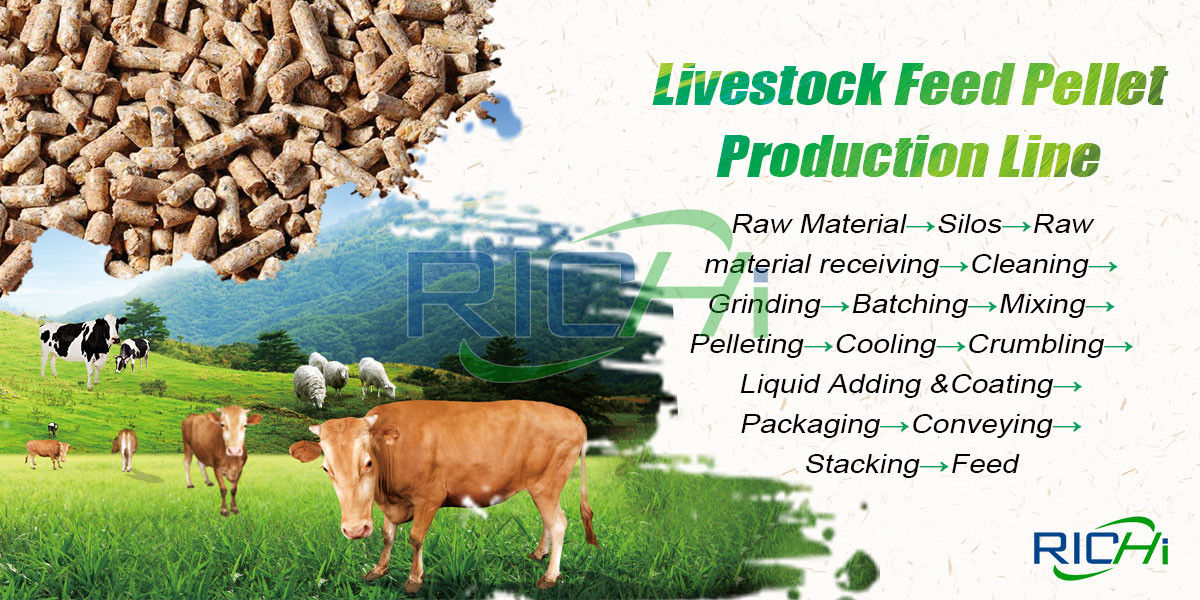 01
Cleaing & dosing & weighing section
Richi Machinery offers a complete program of livestock feed equipment for cleaning, dosing and weighing of raw materials and other components. The program includes among other things weighing bins, micro proportioning plant, mineral hoppers, sceen cleaners etc., with capacities of up to 3 tons per batch.
Richi Machinery livestock feed hammer mill is available in nine sizes, SFSP56*40a, SFSP56*40b, SFSP66*60a, SFSP66*60b, SFSP66*80a, SFSP66*80b, SFSP66*100, SFSP138*30E and SFSP138*40E with capacities up to 25 t/h. The series feed grinder machine has adjustable milling degree, has a low energy consumption, minimal dust emission and an extremely low noise level.

RICHI mixer is a reliable, gentle feed mixer with a high mixing accuracy due to the auger with large diameter and low number of revolutions. Where high capacity and mixing accuracy are required we offer the horizontal mixer that can be equipped with pre-bin and post-bin. The horizontal livestock feed mixer is tested to a mixing accuracy of 1:100,000, which is sufficient for commercial feed production.
RICHI single and twin shaft paddle mixer is perffect for mixing of compound feed and feed ingredients. Mixing time and accuracy is verified by CE that lasts.
Richi Machinery offers a complete program of equipment for mechanical transportation, including flex augers, tubular augers, trough augers, bucket elevators, and chain conveyors. We offer a wide range of accessories for all types, and great reliability of operation.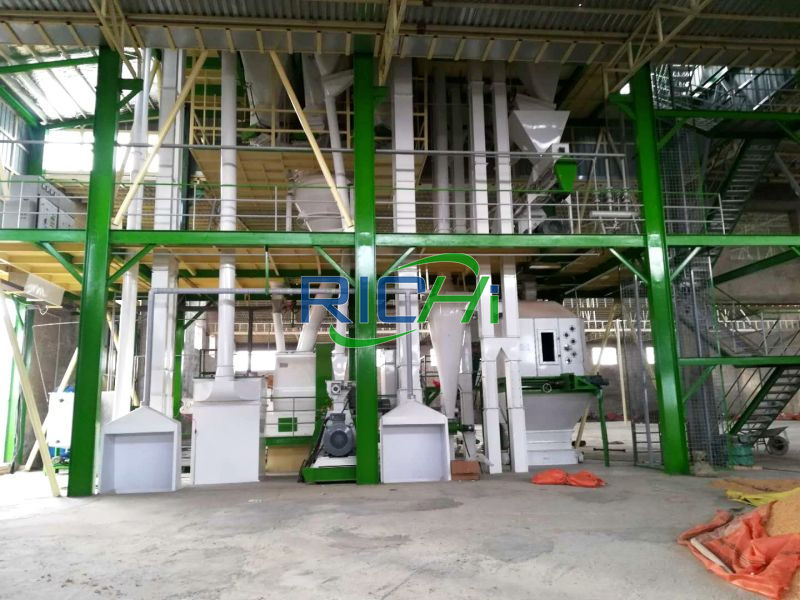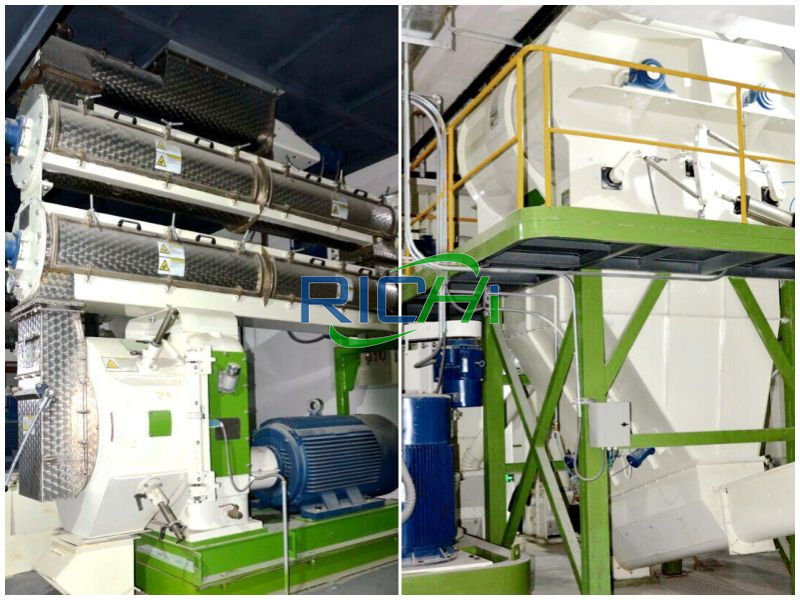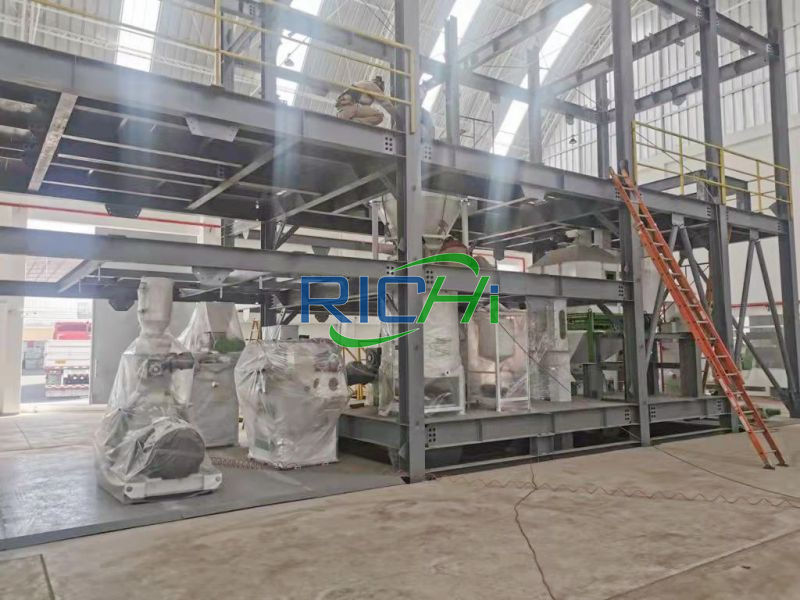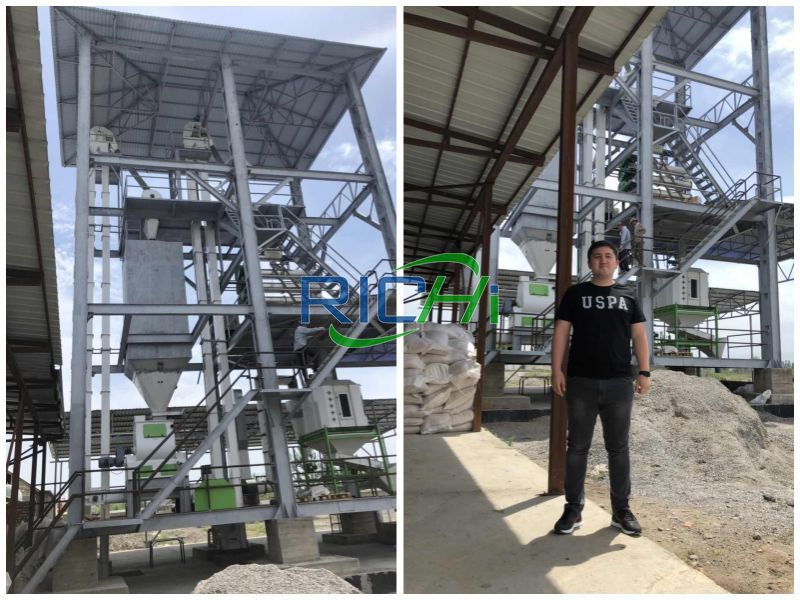 If pelleted feed is required, RICHI can supply customized livestock feed pelleting plants as an integrated part of the livestock feed factory. We have great experience in supplying and installing livestock feed pellet production plants throughout the world in sizes ranging from 1 to 100 t/h.
Richi Machinery also projects and supplies complete solutions for grain storage facilities including high quality fully galvanized steel silos, flat storage plants, continuous flow grain dryers, intake pits, grain cleaners and conveying equipment, Capacities from a few hundred up to many thousands tonnes.