Customer Guide For Animal Feed Pellet Making Machine
How much is a feed pelletizer machine?
What's the price of feed pellet machine? About this question, as a professional animal pellet machine manufacturer from China, Richi Machine has something to say for the general users or friends who are interested in building pellet production line for business. The animal pellet making equipment cost is decided by many elements including production capacity, raw materials for manufacturing the pellets, feed pellet production machine types, driving powers and your local market condition, etc.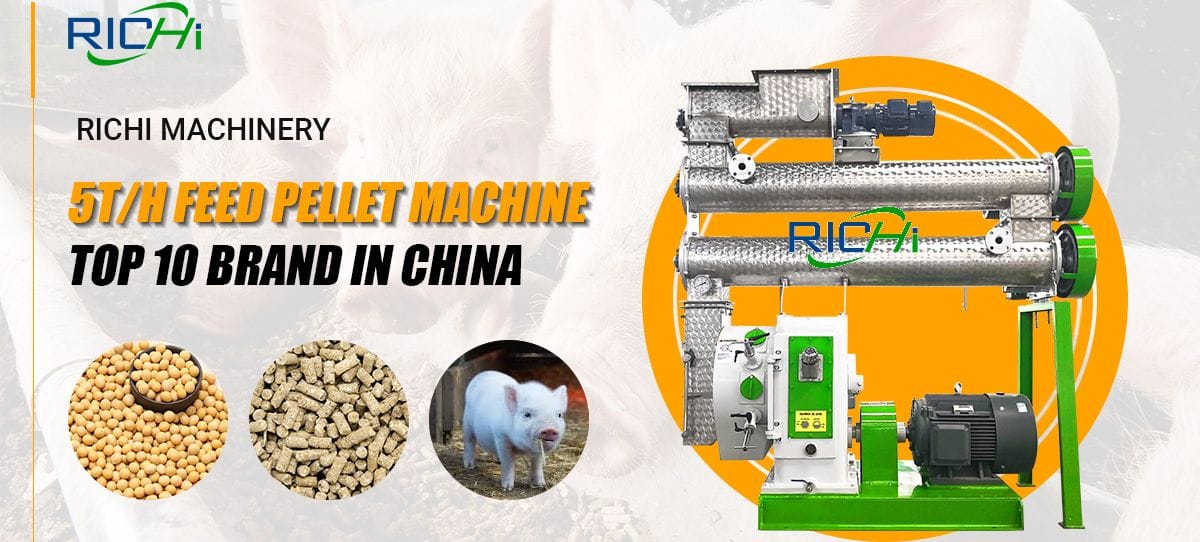 Even if the same pellet mill machine produces different kind of pellets, the actual configuration and output of the pellet press are different. For example, the fish feed pellet machine needs to be equipped with a two-layer conditioner or a three-layer conditioner, and the shrimp feed pellet machine must be equipped with at least three-layer conditioner; when processing grass pellets, if it is used to feed animals, you need to add a conditioner.
| Model | Price (USD) |
| --- | --- |
| SZLH250(1-2T/H) | 7000-10000 |
| SZLH320(3-4T/H) | 15000-20000 |
| SZLH350(5-7T/H) | 20000-30000 |
| SZLH420(8-12T/H) | 30000-40000 |
| SZLH508(10-18T/H) | 40000-60000 |
| SZLH558(15-25T/H) | 60000-70000 |
| SZLH678(20-30T/H) | 70000-80000 |
| SZLH768(25-40T/H) | 80000-90000 |
| SLZH858(25-42T/H) | 90000-100000 |
Where to buy pellet making machine for animal feed?
Many people will ask questions like: "where to buy wood pellet mill machine", "where to buy animal feed pellet making machine"; and customers from different countries have such questions "How to buy pellet mill in Zimbabwe?" ", "Where to buy pellet machine in Kenya?".
As a kind of machine, animal feed pelleting machine may be imitated by many manufacturers, but there are really not many good manufacturers. As an expert in the pellet machinery industry for more than 20 years, Richi Machinery is very qualified to comment on this issue.


For us, we wanted to make a profit at the time, but poor quality equipment was not allowed in RICHI, because what we want to do is the RICHI Brand, not to make quick money. Because we know our goals very well, even if customers don't buy our equipment, we don't want customers to be deceived when choosing equipment from certain manufacturers. Today we will give you a few points to choose a pellet mill and granulator manufacturers.
Manufacturer's brand. For a well-known brand, user evaluation is not wrong, and it pays more attention to user evaluation. The quality of the equipment produced is more reliable. Therefore, when purchasing crusher equipment, you must find a good manufacturer, and then look at its equipment sales and overall evaluation. Only in this way can we have a good idea.
Equipment quality. Because of the increasing demand for granulator equipment, granulator manufacturers have appeared on the market one after another, with uneven equipment quality and output. Therefore, users need to keep their eyes open when purchasing equipment, conduct multiple investigations, and select suitable pellet making equipment.

As far as possible, you should go to the manufacturer for on-site inspections. From the appearance, internal structure, materials of wearing parts, etc., these are the keys to your future earnings. If it is not convenient for on-site inspection, be sure to ask the manufacturer to show you more videos of equipment and on-site operation as a basis.

After-sales service. Perfect after-sales service is a manifestation of the manufacturer's strength. Large-scale equipment is not just a purchase. The later installation and commissioning, equipment maintenance, etc. are all long-term needs, this is very important. Pay special attention when purchasing pellet making equipment and signing contracts.
Sales price. Price is what customers care about most. Under the premise of qualified quality, the cheaper the price, the better. Before purchasing equipment, customers generally consult the project and equipment investment budget, because the prices of different types of equipment are different, and the same type of equipment has different prices due to different models. You can inspect from many parties, and you can go to the real customer project site to see the actual operation.
Production scale. Your production scale determines the size of the granulator equipment model. If it is mass production, so as to make full use of resources. Of course, the equipment price is generally directly related to the equipment model, and the large model also shows that the relative price is relatively high. If it is a small-scale production, there is no need for such a large site, which saves production costs.
Raw materials. The type of your raw materials and the type of granules to be processed determine the type of granulator that needs to be considered when buying a pellet making machine. The processing technology of different types of granules is different, so it is necessary to select the appropriate type of granulator.
You must avoid the following two types of situations:
The price is falsely reported. Under normal circumstances, the quotation of the pellet making machine for animal feed should be the cost price plus the profit. Now the cost of ordinary equipment is the same, so after you inspect and inquire some equipment suppliers, you should be able to get a certain type of granulator. Probably a reasonable price range. If a manufacturer's quotation is significantly higher or lower than a reasonable range, you must be careful:
(1) The quotation is too high. You may be taken as a fool. The pellet machine manufacturer is trying to obtain excess profits. Such a greedy manufacturer does not need to consider it. Of course, if its equipment has "superpowers", it can be another matter, but this The possibility is extremely small, at this point we are still very confident in our equipment;
(2) The quotation is too low, don't be happy too early, and be more careful. If the equipment is bought back, it must be turned on. If the manufacturer's profit is meager if it is too cheap, I am afraid that you will not be able to buy qualified products, so you would rather pay a reasonable price. There must be a product with good enough quality to make the product start up and running smoothly.
Some unscrupulous merchants may offer discounts on services. They only sell equipment, regardless of installation, or charge additional installation fees, or the lion opens their mouths during the after-sales service, causing customers to face great problems in the later stage. The industry regulates the behavior of testing, so customers must carefully examine the animal feed pellet making machine manufacturer's existing customers when signing a contract, and specify these details in the contract.
How to choose pellet machine for animal feed?
Nowadays, the use of pellet feed is increasing, and the utilization rate of feed pellet machine is also increasing. How to choose a suitable feed pellet machine has troubled many farmers. Many farmers do not understand the principle of feed machinery, especially feed pellet machines. They find some small manufacturers on the Internet, and they often decide to buy them because of their low prices and persuasion from salesmen.
There is no news after some have paid the deposit or the full payment, and some have not used the output promised by the salesperson at the time after receiving the goods, which directly affects the economic benefits of the farm. Therefore, in view of the various "failure" experiences of the majority of farmers, the author hereby summarizes three points for attention, and hope that the majority of farmers can benefit from reading them.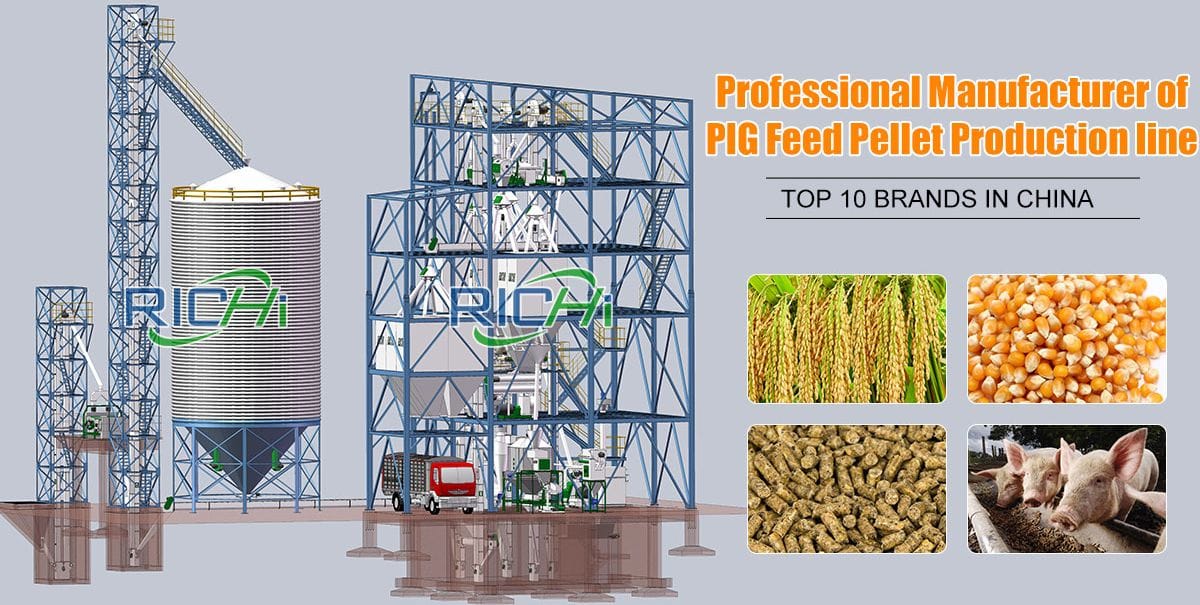 Several feed pellet making machines commonly used in the market are divided into: flat die pellet machine, ring die pelletizer machine and feed extruder. The feed extruder is mainly for the floating material of fish and shrimp, so for fish farmers, the feed extruder or the pelletizer equipped with three-layer conditioner is a good choice. Which feed pellet machine should be selected for livestock breeding on land?
Decide according to your own output. Generally speaking, the flat die pellet machine is suitable for small and medium-sized farms, because its output does not require much, so the output of the flat die pelleting machine can meet. In addition, the large feeding port of the flat die pellet machine is perpendicular to the granulating part, making the granulation fast and convenient, and it can also be added manually, which is convenient for feeding. It is worth mentioning that the pellet feed made by the flat die pellet machine has a higher hardness and a smooth surface. It does not need to add water and oil, and is very suitable for farmers with low demand.
Consider from the aspect of feed ingredients. Generally speaking, the content of grass powder in feed ingredients is relatively large, and simple grass powder pellet machine or flat die pellet machine can be considered. This is mainly based on the consideration of its cutting level. If you want to use the ring die pellet production machine, you need to be equipped with forced feeders and uniform speed feeders.
Consider from the aspect of dust. The sealing performance of the ring die pellet mill machine is better than that of the flat die pellet machine. There will not be too much dust during the pelleting production, and the ring die feed pellet manufacturing machine is generally connected to the steam engine or boiler in the farmer or feed factory. , In order to mix water vapor into the feed, not only can improve the maturation of the feed, but also improve the luster of the feed.
The above is a few simple sharings of RICHI about the pellet making machine for animal feed. Generally speaking, the price of the flat die pellet maker machine is relatively cheap, but it is only suitable for small-scale production. The ring die feed pellet machine is mainly suitable for large farms, feed production lines, and feed factories. use. Customers are advised to fully consider various factors when choosing, and not just make a decision just because of the lower price. (Do you want to know more about: Animal Feed Mill Machine)