1.Determine the scale of pig feed mill.

2.Determine the feed process and recommend pig feed machine.

3.Control mode selection.

4.Pig feed manufacturing plant structure selection.

5.Planning the general drawing of pig feed mill plant site.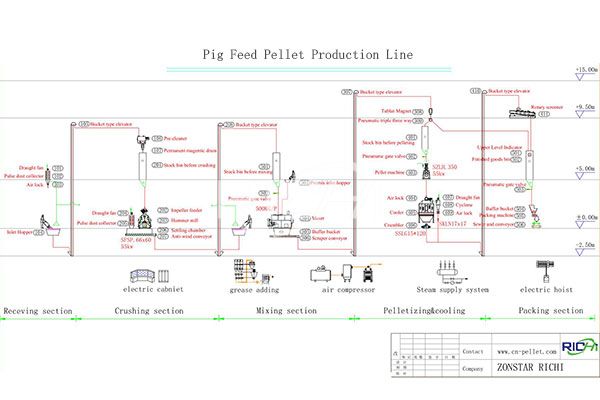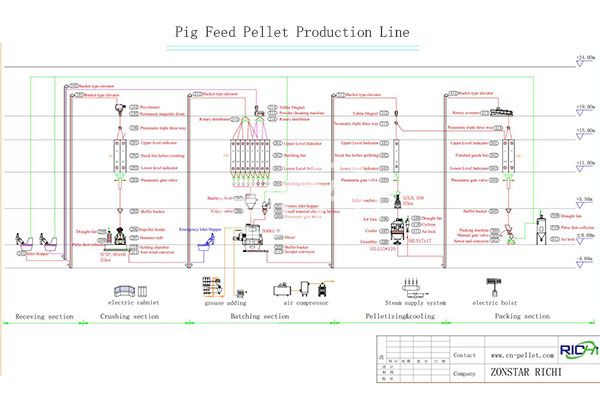 Overview
The general pig feed pellet production line is equipped with: magnetic separator, hammer-type feed grinder, conveyor, brake dragon, fan, ventilation duct, silo to be mixed, single-shaft double spiral mixer, elevator, feed pellet machine , Bucket elevator, cooler, brake dragon, fan, exhaust pipe, feed crusher, connecting pipeline, finished product warehouse, packer, electric control cabinet, etc.
Working Principle
For preparing the pig feed pellets, the raw materials need to be converted into powdered form. The resultant mixture is then put into the hopper of the Pellets Machine. A very high pressure is exerted due to the continuous rotation of the roller and the mixture gets passed through the holes made in the die. As the holes are cylindrical in shape, the pellets take the same shape and then while coming out from the other end of the die they are cut into the desired length.
Parameters
| | | | | | | |
| --- | --- | --- | --- | --- | --- | --- |
| Model | Capacity(TPH) | Main Motor Power(kw) | Feeder Motor Power(kw) | Conditioner Power(kw) | Dia.of Ring Die(mm) | Final Pellet(mm) |
| SZLH250 | 1-2 | 22 | 0.75 | 1.5 | 250 | 2~12 |
| SZLH320 | 3-4 | 37 | 1.5 | 2.2 | 320 | 2~12 |
| SZLH350 | 5-7 | 55 | 1.5 | 3 | 350 | 2~12 |
| SZLH420 | 8-12 | 110 | 1.5 | 7.5 | 420 | 2~12 |
| SZLH508 | 10-18 | 160 | 2.2 | 11 | 508 | 2~12 |
| SZLH558 | 15-25 | 180/200 | 2.2 | 11 | 558 | 2~12 |
| SZLH558D | 14-22 | 160/180/200 | 1.5 | 7.5 | 558 | 2~18 |
| SZLH678 | 20-30 | 220/250 | 2.2 | 11 | 678 | 2~12 |
| SZLH678D | 15-25 | 200/220/250 | 2.2 | 11 | 673 | 2~18 |
| SZLH768 | 25-40 | 280/315 | 2.2 | 11 | 768 | 2~12 |
| SLZH858 | 25-42 | 280/315 | 2.2 | 15 | 858 | 2~18 |