1. RICHI horse manure pellet machine, the support bar and main shaft are forged together, keep uniform gap between roller and ring die, ensure high efficiency.

2. Increased forced feeding device, output increases 10-12%.

3. Forged bearing, long durability.

4. Pneumatic fast discharging gate, avoid burning the motor or damage the equipment.

5. Add oil when starting up, user can set the adding oil volume and period according to the case, avoid wrong operation hurting the machine. Stainless steel gate, long durability.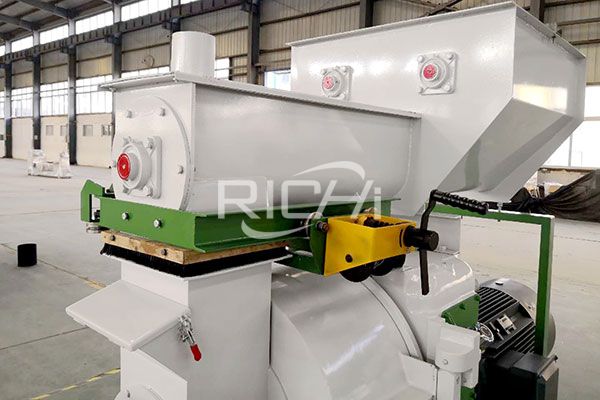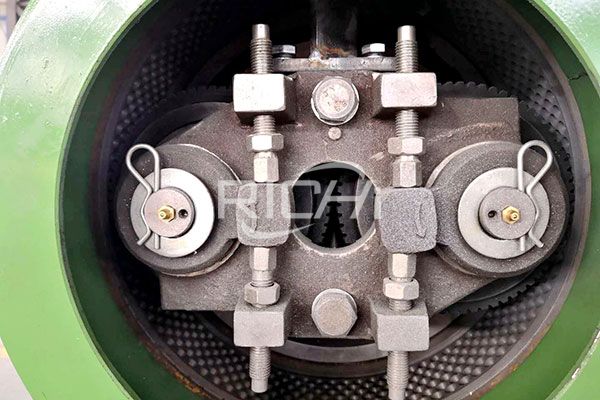 Overview

The horse manure pellet machine is a very amazing mechanical equipment, which can make horse manure and horse manure bedding materials: straw, hay, shavings, or in some cases, the actual wood pellet bedding can be made into combustible pellets or fertilizer Particles. And the raw materials are not limited to horse manure, but also cow manure, chicken manure, bird manure, pig manure, etc. If you want to use animal manure to make fertilizer pellets or fuel pellets, please contact us!
Working Principle
Do you want to know how to convert horse manure into fertilizer? This is the process of making horse manure pellet fertilizer.
The first step you need to do is to dehydrate the manure. Since there is too much water in horse manure, a solid-liquid separator should be used to dehydrate horse manure.
The second step is to use an organic fertilizer composting machine to help the horse manure ferment. If the raw horse manure is directly applied to the farmland, it will damage the crops and cause some adverse effects.
Since some fertilizers will agglomerate after fermentation, a hammer crusher is required to crush horse manure. The purpose of this step is to help you easily make horse manure pellets.
Next, you can go to the next step. That is to mix different organic materials together. Such as straw, leaves, etc. You can achieve this by using a Richi horizontal mixer.


How To Make Horse Manure Pellets?
Granulating. As an important part of the process. The purpose of this step is to help you make horse manure pellets. If you use our horse manure pelletizer, it will greatly reduce your pelleting time. And the granulation made by RICHI granulator is more beautiful and easy to store.
In order to get good quality horse manure pellets, you also need to use rotary drum drying machine, rotary drum cooling machine, vibrating screen machine and single bucket automatic packing machine to help you.
The Use Of Horse Dung
Horse Manure Used As Fertilizer
As we all know, the horse manure can apply to the farmland and help crops grow. Because there are many good nutritional ingredients exist in the horse manure. These ingredients will make crops grow better. In addition, the horse dung belongs to the organic fertilizer, so it won't hurt the soil as the chemical fertilizer.
Horse Manure Used As Fuel
The dried horse manure took a little longer than wood to ignite and once it lit it burnt well if not intensly. The manure gave off a good heat and lasted for longer than I expected - a little longer than cedar, but not as long as oak.
Horse dung used as building material
Horse manure has also been used in brick making. It's one of the components of adobe. What would a house made of manure bricks smell like in damp weather? While most people may not find the smell of horse manure offensive, most of us would draw the line here.
Benefits of Horse Manure Fertilizer Pellet
easy use – the fertilizer is supplied as pellets
gradual release of nutrients
increases the humus content in the soil and contributes to improved fertility
contains no germinable weed seeds
Dosage of Horse Manure Fertilizer Pellet
The fertilizer is mainly used for basic fertilization before planting of vegetables; it is also very suitable for fertilizing flowerbeds or preparing the soil before planting of trees and shrubs. The fertilizer is thrown over the surface evenly and incorporated into the soil.
Recommended dosage:
Basic fertilization before planting per 10 m2
Fertilization of soil in the greenhouse before planting per 10 m2
Dose per box (50 cm) of balcony plants
1.5–3 kg
2–4 kg
0.2–0.3 kg
Roses and perennials in grams per plant
Vegetables and fruits in grams per plant
Conifers and other ornamental shrubs in grams per plant
100–200 g
300–400 g
600–800 g
Parameters
| | | | | | | |
| --- | --- | --- | --- | --- | --- | --- |
| Model | MZLH320 | MZLH350 | MZLH420 | MZLH520 | MZLH768 | MZLH858 |
| Anti-caking Feeder Power | 1.5KW | 1.5KW | 1.5KW | 2.2KW | 3KW | 3KW |
| Forced Feeder Power | 0.55KW | 0.55KW | 0.55KW | 0.75KW | 1KW | 1KW |
| Capacity | 300-400kg/h | 500-700kg/h | 1.0-1.2 t/h | 2.0-2.5 t/h | 2.5-4 t/h | 3-4.5 t/h |
| Pellet Machine Power | 37kw | 55kw | 90kw | 110/132kw | 250/280kw | 280kw |
| Final Pellet | 6-12mm | 6-12mm | 6-12mm | 6-12mm | 6-12mm | 6-12mm |