RICHI High Return Pellet Plant Details
As a pellet plant manufacturer serving the world, RICHI provides high-quality pelletizing equipment and a full set of pellet plant engineering, as well as detailed technical support. According to different pellets attributes such as feed, biomass, organic fertilizer, etc., we can tailor the pellet manufacturing plant configuration and construction plan for customers. By optimizing the combination of various types of equipment, it can meet the needs of customers for high production and low consumption of different pellet plants.



Here is only for customers to show the details of the process and equipment of the feed and biomass wood pellet plant. For more pellet processing questions, please direct online or email for consultation.
Complete animal feed pellet plant for sale
How to make pellet feeds? How to make animal feed pellets? How to set up a manufacturing plant for making animal feed pellets? There are many types of animal feed pellet plants, including cattle feed pellet plant, poultry pellet feed plant, fish feed pellet plant, chicken feed pellet plant, pig feed pellet plant, bird feed pellet plant, goat feed pellet plant, etc.
There are actually differences in the processes of ruminant feed and aquatic feed pellet plants. These differences are reflected in the crushing and pelleting process. I will not repeat them here. Welcome to consult Richi Machinery directly and customize your plan.



Raw materials for animal feed production
The animal feeds raw materials include raw grains, soybeans, soybean meal, corn, fish meal, amino acids, miscellaneous meal, additives, whey powder, oil, meat and bone meal, grains, etc.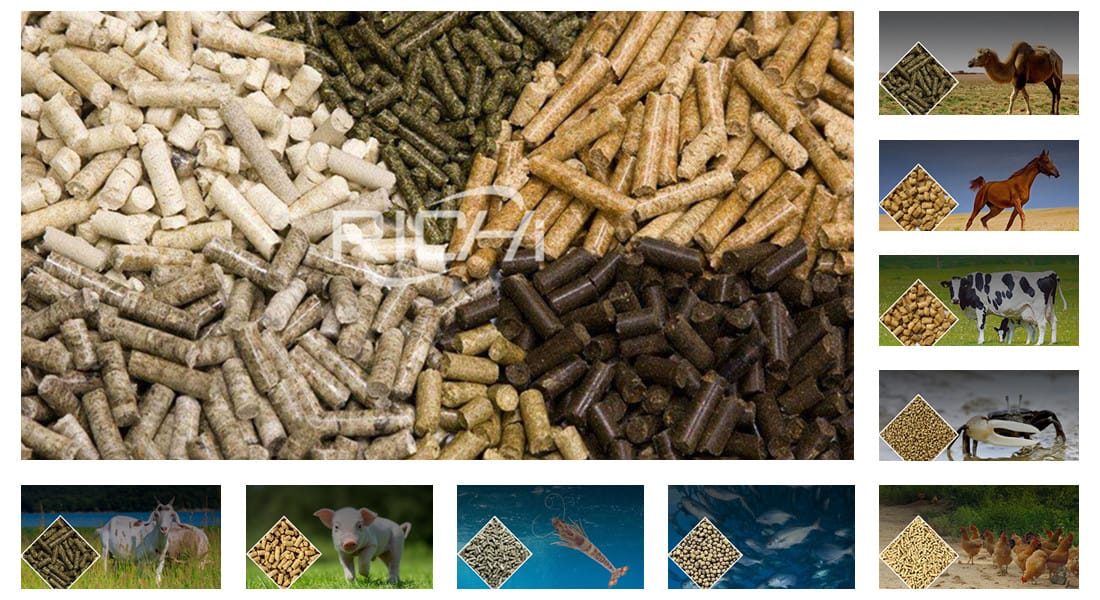 Animal feed production process in feed pellet plant
Complete biomass wood pellet plant for sale
How to manufacture wood pellets? How to produce wood pellets? Speaking of wood biomass pellet manufacturing, its scope is the widest among all pellet processing types, including sunflower pellets, bamboo pellets, sunflower husk pellets, hemp pellets for heating, tree pellets, hemp fuel pellets, green tree pellet fuel, straw pellets , etc. production.
However, in addition to natural biomass raw materials such as agricultural and forestry waste, the processing of animal manure pellets, organic fertilizer pellets, cat litter pellets, rubber pellets, waste tire pellets, and PET plastic pellets can also be included in these pellet production lines.



The most powerful aspect of the production process of this kind of pellet factory is the customization function that is completely different from the feed production line. Although the feed pellet production line can also be customized, and there are many types of customization, but based on the attributes of the feed itself, the basic process of feed production line of different animals is the same, but for the customized service of the biomass pellet plant, it can be said that the process of different types of raw materials is different.
Even if the properties of raw materials are the same, such as branches and logs, their pre-processing stages are different, but they must be crushed into wood chips for pelleting. All in all, starting a wood pellet business or other biomass pellet business, contact Richi Machinery directly, and let us customize a pellet factory for you. Remember, RICHI is a biomass pellet plant manufacturer from China.
Raw materials for biomass pellet production
The biomass pellets materials include wood, wood chips, wood sawdust, corn, stalk, animal manure, husks, shells, EFB, grass, hay, alfalfa, hemp, hops, waste tire textile, bamboo powder, wood branches, sugarcane bagasses, palm fiber, fruit tree,etc.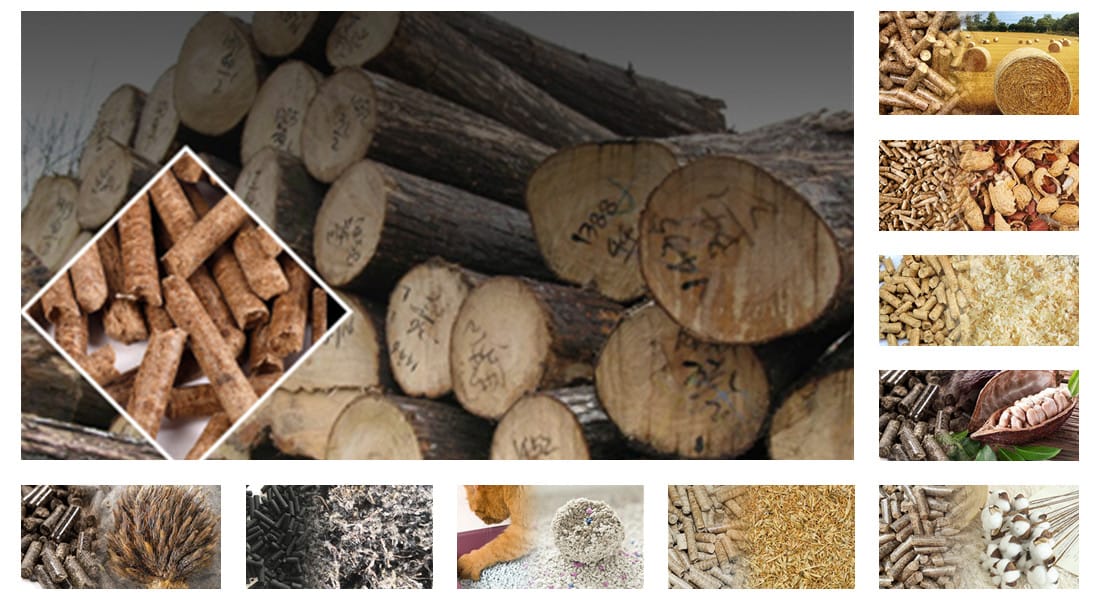 Wood pellet production process in complete wood pellet processing plant
Raw material storage
The raw material is mainly sawdust. The raw material warehouse is about 500 square meters. In order to ensure the normal and continuous production of fuel, it is necessary to ensure the raw material demand for production at least for a period of time, so a lot of raw materials need to be stacked. The roof of the raw material warehouse is protected against rain, lightning, and wind. Isolation measures and complete fire protection facilities shall be adopted to ensure safety.
The raw materials listed here are sawdust. If your raw materials are tree trunks, planks, branches, straws, etc. that have not been processed in the original state, you also need to add barberry, slicing and other pre-processing stages, and add a wood splitter, slicer, and wood chipper, grass cutter machines and other equipment.
Drying section
Biomass Pellets have strict requirements on the water content of the raw materials. After the raw materials are screened, they are transported to the drum dryer through the conveyor and dried by hot air.
Pellet plant equipment in this section: Wood Sawdust Drying Equipment


Cyclone separation section
After the raw materials are dried, in the process of conveying, a large amount of moisture is stored after passing, and the moisture is discharged through the cyclone separator. The system is equipped with a cyclone separator. After the molded fuel is cooled, a cyclone separator is also required to separate the molded particulate fuel and moisture.
Conveying section
The logistics transmission of this system requires corresponding transmission equipment. According to needs, screw conveyors, scraper conveyor, bucket elevators or belt conveyors are designed to transport materials to the corresponding equipment.
Pellet plant equipment in this section: Bucket Elevator, Spiral Conveyor, Scraper Conveyor, Belt Conveyor


Pelleting section
Biomass wood pellet maker is the key equipment of wood pellet manufacturing plant. The wood granulator system adopts ring die wood pellet making machine. This equipment can be applied to different raw materials such as sawdust, corn stalk, bean straw, cotton straw and peanut shell, and the equipment runs stably.
Pellet plant equipment in this section: Biomass Pellet Making Machine


Cooling section
The temperature of the pelletized wood sawdust pellet fuel is as high as 80~90°C, the structure is relatively loose, and it is easy to be broken. It must be cooled to normal temperature before being bagged into the warehouse or sent to the silo through a belt conveyor and bucket elevator. This stage is usually equipped with pellet plant cooler or a cooling fan and a cyclone separator, which can return the separated powder to the previous process for re-granulation.
Pellet plant equipment in this section: Pellet Cooling Machine


Screening section
After cooling, the pellet fuel is screened by a vibrating screen. After screening, the scraps are screened out to ensure the quality of the biomass pellet fuel. After screening, the scraps are returned to the previous process for re-granulation.
Pellet plant equipment in this section: Grading Machine(Sieve)


Finished product warehouse
The processed finished pellets are sent to the finished product warehouse by a hoist for bagging and storage. Use the packaging conveyor to measure and in-belt packaging, and send it to the finished product warehouse. According to user needs, bulk material transportation can also be used, that is, the pellet fuel is directly sent from the finished product warehouse to the silo for storage through a belt conveyor and elevator, and the pellet fuel is directly delivered to the user by a car.
Pellet plant equipment in this section: Package Scale