Overview of 1-2 t/h small chicken feed plant for sale Papua New Guinea
The cooperation chicken feed plant project with customers in Papua New Guinea is a 1-2 ton per hour chicken feed plant. The customer's chicken feed raw materials are corn, wheat and other conventional chicken feed materials. The required chicken pellet size is 1-4mm, and the small chicken feed plant size is 10 *4 *5m.
In Papua New Guinea, the output of poultry feed accounts for more than 90% of the country's annual feed production, followed by pig feed, duck feed, trout feed, horse feed, calf feed, dairy cow feed, etc. It can be seen that the market demand for poultry feed production such as chicken feed production in Papua New Guinea is great.

Papua New Guinea chicken feed line project customer visit RICHI factory
After fully understanding the actual situation on the customer's site, after careful discussions with customer's engineers, the chicken feed production process design plan of this chicken feed manufacturing plant was determined: grinding process, mixing process, pelleting process, cooling process and screening process. The main poultry chicken feed making machine in this small scale chicken feed production line include:
| Chicken feed equipment | Model | QTY |
| --- | --- | --- |
| Screw conveyor | TLSS16 | 1 |
| Chicken feed grinder machine | 15-200 (Directly driving type with hammers) | 1 |
| Chicken feed mixing machine | SLHY0.5A | 1 |
| Chicken feed pellet machine | SZLH250 | 1 |
| Storage bin for making pellet | 1m³ | 1 |
| Stainless steel condtioner | TZQ22*180 | 1 |
| Conterflow chicken pellet cooling machine | SKLN1.0*1.0 | 1 |
| Vibrating sifter | ZDS60*1 | 1 |
| Cooling cyclone | SK60 | 1 |
| MCC Control Center ;Mimic Control Panel | / | 1 |
Papua New Guinea's 1-2tph chicken feed line with its accessory accessories is a turnkey chicken poultry feed mill plant project. From planning and model selection to chicken feed making project construction and trial operation, Richi is responsible.
Turnkey chicken feed plant projects have clear rights and responsibilities, fixed total prices, and considerable benefits, and are ideal for chicken feed mill plant projects in recent years. It is our service tenet to provide customers with a one-stop complete chicken feed plant solution and obtain as much return as possible with as little investment as possible.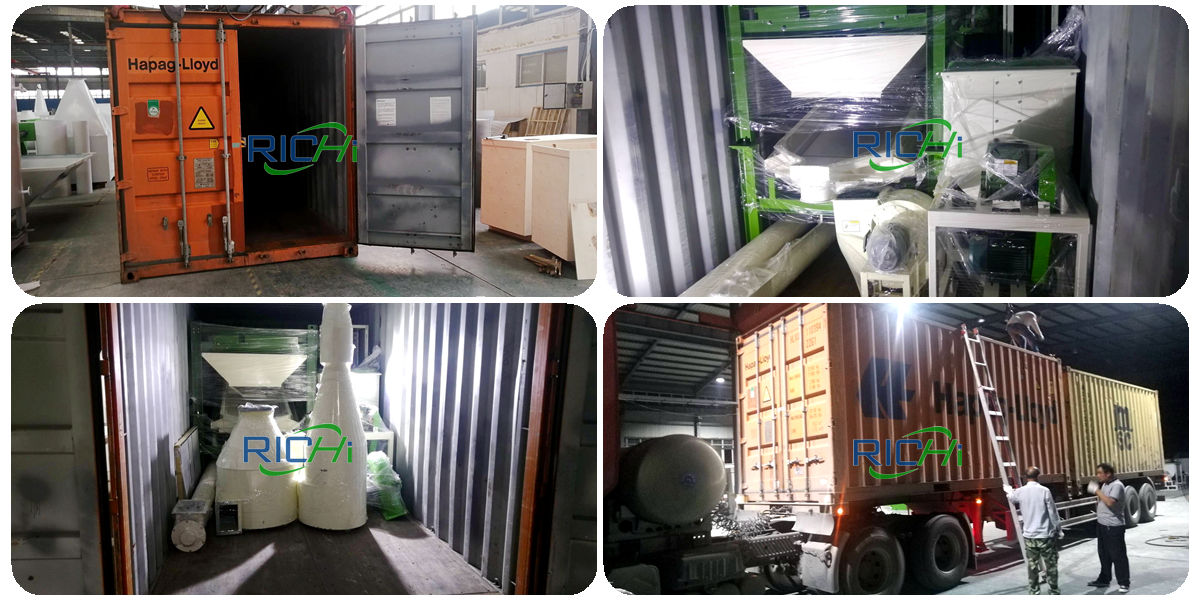 Whole 1-2t/h chicken feed milling machine delivery
Customer feedback of the small chicken feed plant
As an extremely credible enterprise in China's feed machinery industry, Richi is very good in terms of chicken feed production scale and chicken feed machine quality. After investigations by multiple manufacturers, we chose to cooperate with Richi Machinery.
At present, the chicken feed making machine of this Papua New Guinea 1-2t/h whole set chicken feed plant is running smoothly and the production capacity is strong, which meets our chicken feed production needs. The technical engineering team dispatched has also conducted professional training for our employees. We are very satisfied with this cooperation.
Start 1-2T/H Chicken Feed Plant in Papua New Guinea
As the world population is growing every year, there is more demand for food. To meet these demands a variety of nutritious food is sold in the markets globally. Chicken is one of the most consumed meats in the world. It is used in making numerous dishes.
Demand for healthy chicken meat and eggs keeps increasing throughout the world. Poultry feed production has also increased to make healthy poultry feed available to the chickens due to which 47% of the total feed produced in the world is the poultry feed.
A variety of chicken feeds (mash feed, crumble feed, pellet feed) is produced for different purposes as a single feed cannot fulfill all nutritious requirements of the birds.
The chicken feed plant makes and supplies food products for laying hens, broilers. In earlier days, forage was the most common poultry feed like grains, garden wastes, household scraps, etc. With the rise of the farming industry, farmers became aware of the fact that those forages were not enough to give proper nutrients to the flocks.
With this realization, requirement of healthy food products increased and more and more animal poultry chicken feed production plant started to use modern technical chicken feed machines and equipments to produce tonnes of these stuffs and started selling to the farms.
Chicken feed production business is a very profitable business during the time when people are consuming more and more chicken products. This business has now grown from a small to large scale business in different countries that do not only meet their own needs with the feed produced but also export it to neighboring countries. The United States, the Philippines, Thailand, and some South American countries are some of the countries that have established large scale chicken feed plants.
Setting up a chicken feed factory for business is not as difficult as it may seem. You will need proper knowledge of the business, a hard-working team, a suitable workplace, chicken feed pellet machine, and supply of raw material. So investing in this business is a good choice for you as it is an ever-growing business and its demand will never die rather it will increase more and more.
Statistics show that chicken feed plant has been increasing every year in different countries so starting this business even though the market looks saturated is still a better choice. Investing in the chicken feed plant business today will bring you the following benefits:
Pellets are light in weight and are easy to store. In the chicken pellet production volume of feed is reduced up to 50% which makes storing it in less space easy. You can store it in one season to use it in next season without fearing about getting its quality damaged.
Due to which people prefer it over other feeds so you can choose what people like in order to increase your sales. Feed pellets are a rich source of essential nutrients needed for the healthy growth of birds. People are getting aware of its uses and effectiveness.
This is an ever-growing business because birds will always need feed to stay alive and provide healthy eggs and meat. So you will not have to fear about experiencing failure in this field as it is very demanding.
Chicken feed plant business is an easy to establish business in which you do not need a large labor force to get started. You will need a few basic pieces of machinery for the production of the desired volume of pellets.
The chicken farming is organized in a much scientific way as compared to the other livestock industries. The modern machineries are used in such a way that the chicken feed plant does not have to meet with any kind of loss or shortage in supply of the 1-2t/h small chicken feed plant. These products are not only used in the local areas but also exported to many other countries as well and are of high demand due to the supreme quality and affordable price.
Anyone starting this business must first get a basic knowledge of which ingredients are good for which birds etc. because if there is any problem or if there is an imbalance of nutrients used in the production of pellets then the growth of birds can be affected badly.

With this basic knowledge regarding the field, you can start this profitable business in a suitable market to earn immense profits in the future. Chicken feed production business is continuously growing and thriving due to which you can always try making your name in this industry by providing quality products at affordable market prices.
If you have any queestions about 1-2t/h chicken feed plant setup in Papua New Guinea, please contact Richi Machinery for professional technical supports!
How To Control 1-2T/H Chicken Feed Plant Cost in Papua New Guinea?
Whichever kind of animal you make feed for, the 1-2t/h chicken feed plant production cost is the most important thing to consider, in which the chicken feed plant cost takes up a big part in complete chicken feed mill plant and the chicken feed mill equipment quality decides the final feed quality.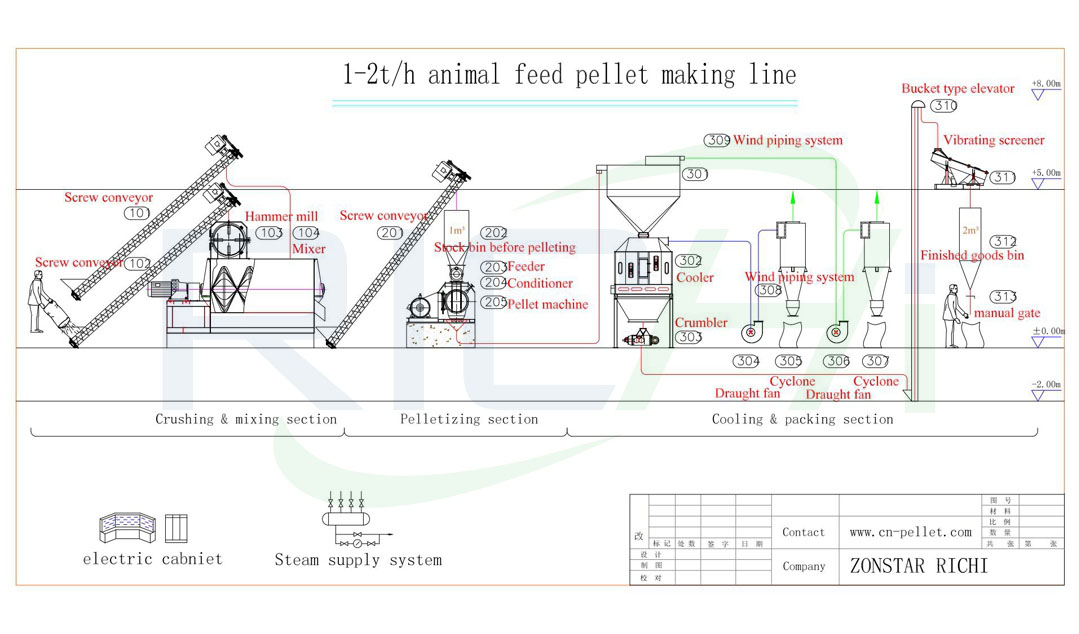 01
Chicken Feed Plant Cost in Production Process
Many people think the cost of chicken feed plant equals to its price, thus always choosing the cheap one for reduce the cost when they are buying chicken feed milling machine. In fact, chicken feed manufacturing plant cost is affected by many factors, not only meaning the turnkey chicken feed mill price.
Complete chicken feed plant includes a series process, including drying, mixing, pelletizing, cooling, sieving and packing. So the necessary equipment consists of chicken feed hammer mill, chicken pellet machine, feed pellet cooler, packing machine and other conveying equipment. So to keep the continuous production, cost of raw materials, labors, energy consumption etc. are necessary.
02
Factors of Affecting Chicken Feed Machine Price
Chicken feed plant price is ensured, but the chicken feed machine cost is not ensured, we can control it in a certain extent. The first thing is to know about the influence factors. Here we listed some the important factors that can influence the cost of chicken feed manufacturing cost, just take it as a reference. If you have any questions about it, send us massage any time, our professional service team will answer you quickly!
The first one is the feed machinery type. Richi Machinery supplies poultry feed processing machines with various types including different working principle, output capacity, driving power etc. which deciding different chicken feed plant cost.
Chicken feed production scale comes to the second element. Feed production scale can be divided into small, medium and large scale, which is depending on your requirement and the final product application. Usually large production scale needs complete chicken feed plant whose cost differ to the small and medium scale production.
Raw materials. Various raw materials can be used for making chicken feed pellets, like corn, wheat, grass, oil meals etc., collecting these raw materials cannot be a problem, while raw material preparation has very strict requirement: moisture content should kept in 12%-15% and size should be within 3mm. Unsuitable raw material requires more processing procedures, thus affecting the chicken feed plant cost.
Actual regional situation comes to the last but not the least one. Regional economic level affects the chicken feed plant greatly. For example, in developed countries, with high economic developing level, high degree of modernization, they always requires high level for automation to realize continuous production; while in developing countries or regions, they quires lower than that in developed countries, which affects the chicken feed manufacturing plant cost.
Poultry chicken feed machine manufacturers or suppliers. There are many manufacturers and suppliers among the feed production industry, they have different technology of manufacturing the machinery and building the chicken feed production line, resulting different cost of chicken feed production.

Buy poultry chicken feed plant from feed machine manufacturer or supplier at factory price, get technical instruction of chicken feed production process and business plan to set up poultry animal feed mill machine project in Philippines, Uzbekistan, Lithuania, Nigeria, Tanzania, etc., at low cost.
In a word, finding a reliable manufacturer or supplier is the most effective method to control the poultry feed manufacturing plant cost well. Reliable and experienced company can help you customize the chicken feed mill factory within your requirements and actual situation at limited cost, so as to control your cost of chicken feed plant well.
Richi Machinery is a professional chicken feed plant machine manufacturer and supplier, having been engaged in this industry for more than 20 years, possessing rich experience in customizing the feed production projects with limited cost.
Reliable Chicken Feed Plant Machine Manufacturer
RICHI has many hot sale animal feed machine that are well recognized by our customers, among which commercial chicken feed pellet machine has been sold to many countries to help customers to make their own chicken feed pellets or start their own feed pellet production business. Our chicken feed pellet making machine, are all sold at factory price, have various types and specifications, from mini scale to large scale.
The small chicken feed pellet machine designed by Richi Machinery is also suitable for other animal feed pellet production, like rabbit feed pellet, pig feed pellets, cattle and dairy feed pellets, goat and sheep feed pellets, fish feed pellets, etc..


Richi Machinery provide customized plan for different chicken feed pellet production needs and promise the most favorable chicken feed plant machine price.
When you plan to buy the chicken feed plants, please inform us of your detailed information, including: raw material type and approximate ratio, factory size, power supply, pellet diameter and production capacity requirements. The more detailed the better.
After you receive the chicken feed plant machine, we will also send professional installation and debugging personnel to debug and install the chicken feed production machine, and train relevant operations for you to help you use the chicken feed plant more correctly and skillfully.
Successful Chicken Feed Plant Projects From Richi Machinery
If you have another problems about how to setup your own chicken feed plant at low cost, please contact Richi Machinery, we will offer the best service for you!